I thought I was bidding forever adieu to my favorite chocolate ever
The Ferrero Rocher ~ whole roasted hazelnut encased with a creamy chocolate center, wafer shell and more chocolate coating.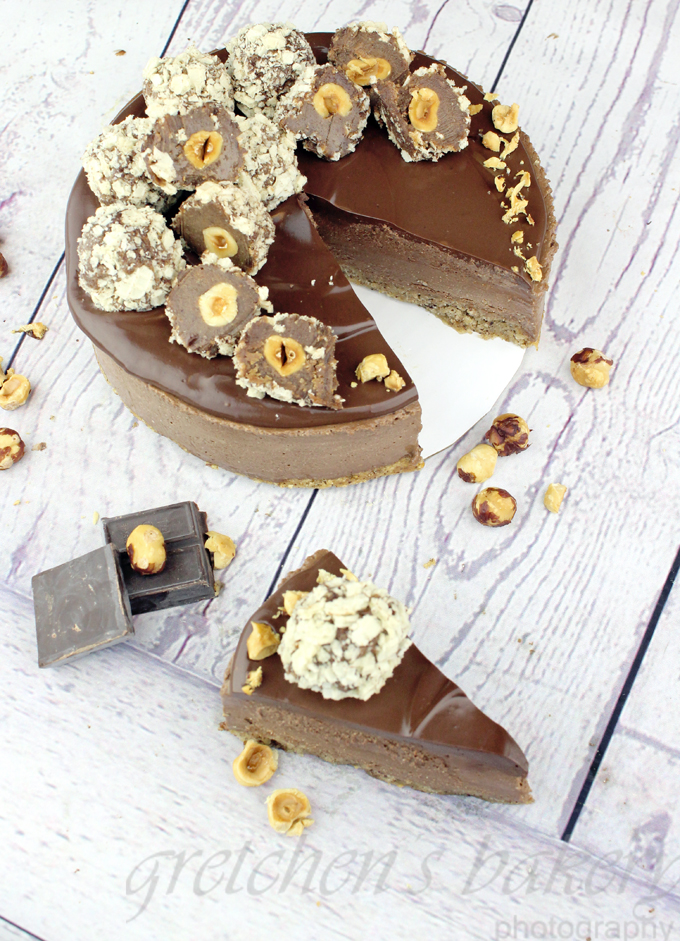 Not only have I recreated the Ferrero Rocher truffle completely vegan
But this Ferrero Rocher Mousse Cake is on another level!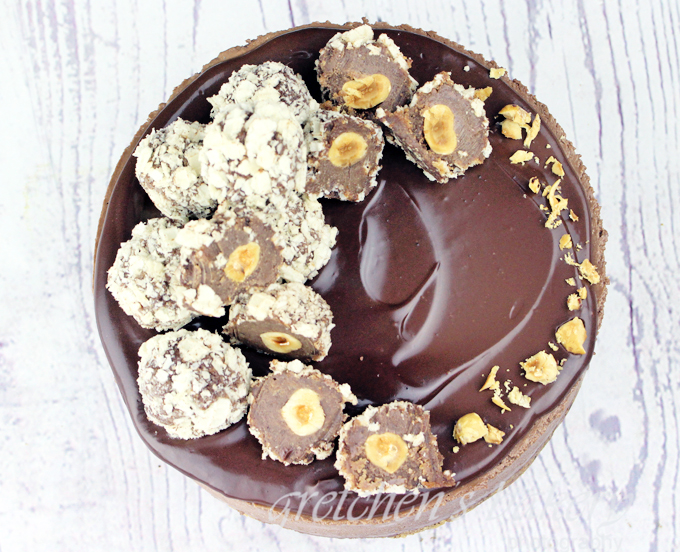 Make it easier and completely No Bake with a cookie crust of your choice
But I used a slice of my hazelnut cake for the bottom because I'm totally extra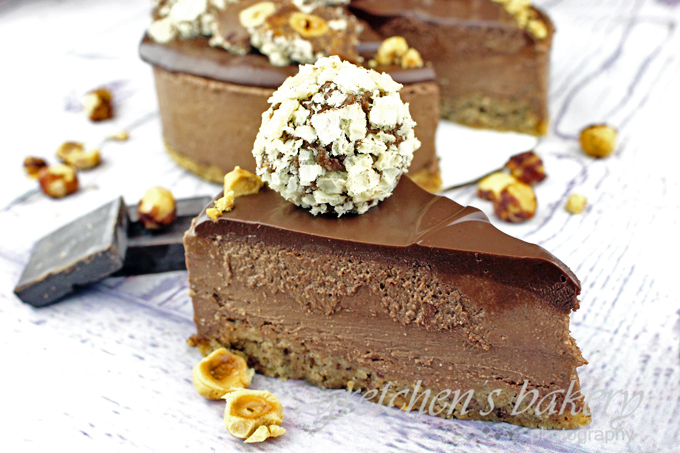 Notes for Success:
There are quite a lot of specialty ingredients in this cake but don't worry if you can't everything I am using, you can still make this recipe with some substitutions
Today I am using a special kind of chocolate called "gianduja" which is basically a hazelnut paste chocolate.
I found two companies that carry it, one here in the USA from Lake Champlain Chocolates in Vermont and the other one in the UK called VeganTown.co.uk
Otherwise just use semi sweet chocolate instead
For the wafers I used to roll the truffles you can use toasted hazelnuts
Hazelnut paste is easy enough to make but you can use any nut butter that you like or whatever you have in it's place.
CLICK HERE FOR THE FULL YOUTUBE VIDEO TUTORIAL FOR HOW TO MAKE THIS CAKE!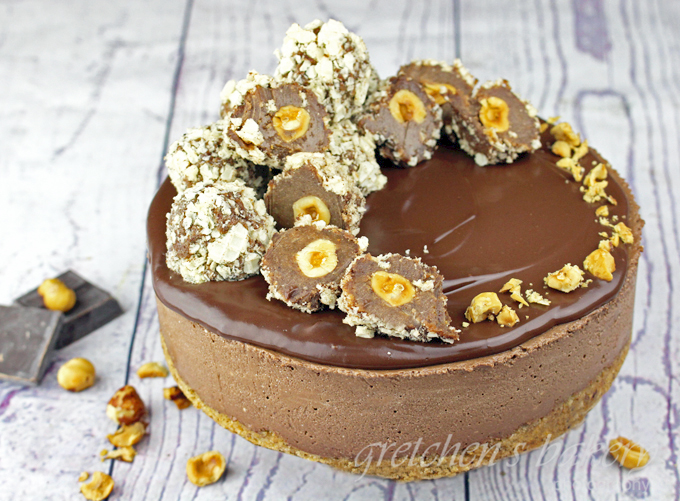 For more recipes like this one click the links below!
Chocolate Mousse Almond Sponge Cake
Yield: serves 12 ppl
Ferrero Rocher Mousse Cake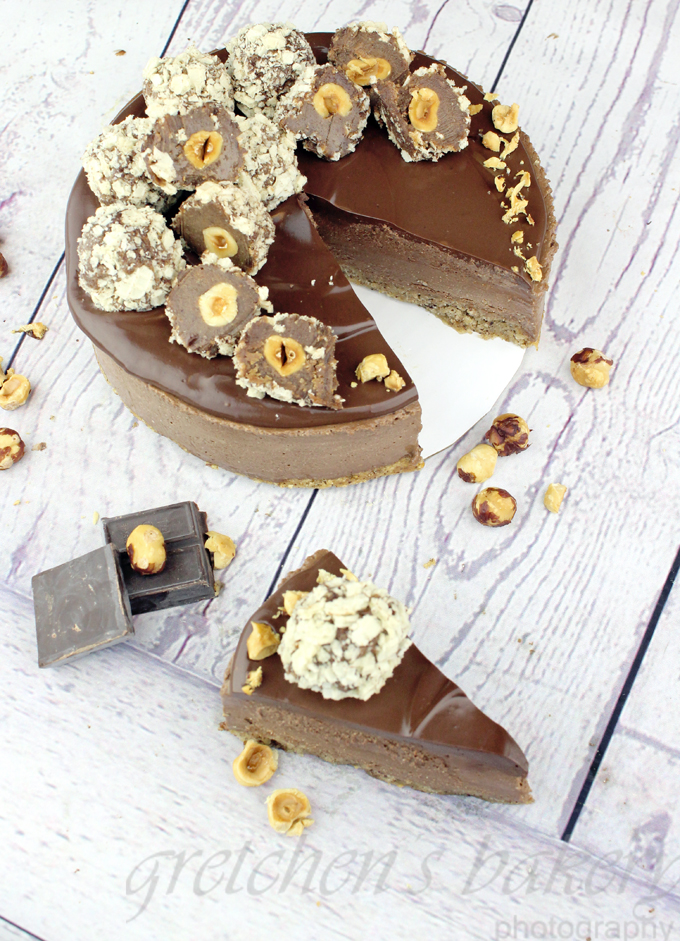 Ingredients
1 recipe Ferrero Rocher Truffles (recipe below)
For the Mousse:
Vegan Gianduja Chocolate 5 ounces (140g)
Vegan Semi Sweet Chocolate 4 ounces (113g)
Plant Milk ½ cup (118ml)
½ cup Hazelnut Butter
2 Tablespoons Cocoa Powder (24g)
2 cans full fat coconut milk refrigerated overnight
For the Ganache:
Vegan Semi Sweet Chocolate 4 ounces (113g)
Plant Milk ¼ cup (60ml)
For the Truffles:
Vegan Gianduja Chocolate 6oz (177g)
Plant Milk warmed 4 Tablespoons (60ml)
Hazelnut Butter ½ cup
Salt pinch
Vanilla Extract 1 teaspoon (5ml)
12 Whole Roasted Hazelnuts
Crushed Wafers 1 cup
OR More toasted hazelnuts crushed approx ½ cup
Instructions
First prepare the hazelnut cake recipe for the base of this cake according to the directions on that blog post, but you will bake the batter into an 8" cake pan
While the cake is cooling, combine the hazelnut butter with the cocoa powder and whisk smooth
Prepare the mousse by melting both chocolates together over a double boiler.
Add the chocolate hazelnut butter and whisk smooth
Add the hot plant milk to the chocolate mixture then whisk smooth
Open the cold cans of coconut milk and skim the fat from the tops (use coconut water that remains for another recipe)
Whip the coconut fat to stiff peaks then fold it into the chocolate mixture
Pour the mousse into the prepared ring mold with the cake inserted into the bottom.
Freeze the cake for at least 4 hours or until it is firm enough to unmold
Meanwhile prepare the Vegan Ferrero Rocher truffles
Melt the vegan chocolate in a medium bowl add the warm plant milk, nut butter, vanilla & salt and whisk smooth

Refrigerate to set to a scoopable consistency then using a 1 Tablespoon scoop place 1 toasted hazlenut inside each scooped ball of ganache
Round to a ball and set onto a parchment lined sheet pan
Roll each ball in the crushed wafers or taosted crushed hazelnuts
Prepare the icing ganache by combining the 4 ounces of semi sweet chocolate and ¼ cup almond milk together in a small sauce pot and whisk constantly to smooth and melted.
Cool slightly then pour over the mousse cake and decorate with the truffles
Notes
Ferrero Rocher Mousse cake must be kept refrigerated at all times and can be stored for up to 1 week in the refrigerator.

For longer storage freeze wrapped well for up to 2 months