One of my favorite chocolate confections to eat before going full vegan was the Ferrero Rocher.
It is a whole roasted hazelnut encased with a creamy milk chocolate center, a wafer shell and then more chocolate coating.
Since "milk" is the key ingredient in milk chocolate; I think you understand the conundrum
I thought I was bidding forever adieu to my favorite chocolate ever.
Until now!
I have recreated not only the Ferrero Rocher truffle in vegan form, but also an amazing Ferrero Rocher mousse cake that is going to have you flipping!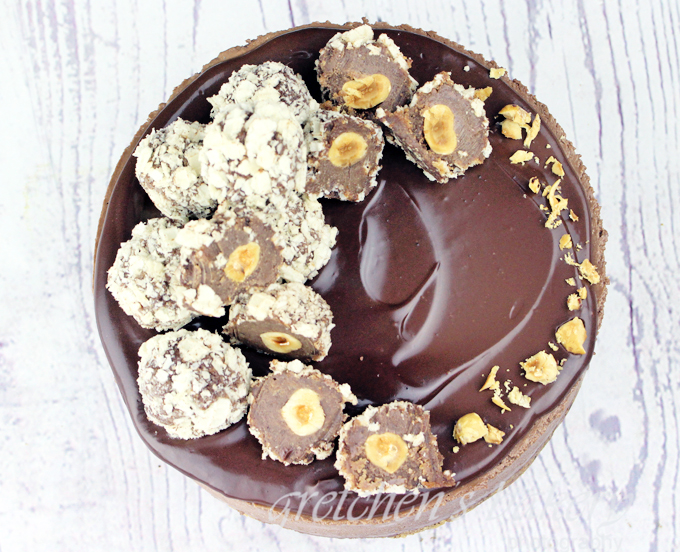 Today I am using a special kind of chocolate called "gianduja" which is basically a hazelnut paste chocolate.
This is hands down, my favorite chocolate from back in my days of being a pastry chef.
I can't even tell you how many pounds of it I probably ate over the years!
Now that Gianduja is available vegan I can once again enjoy my favorite chocolate!
Woohoo! Life is good!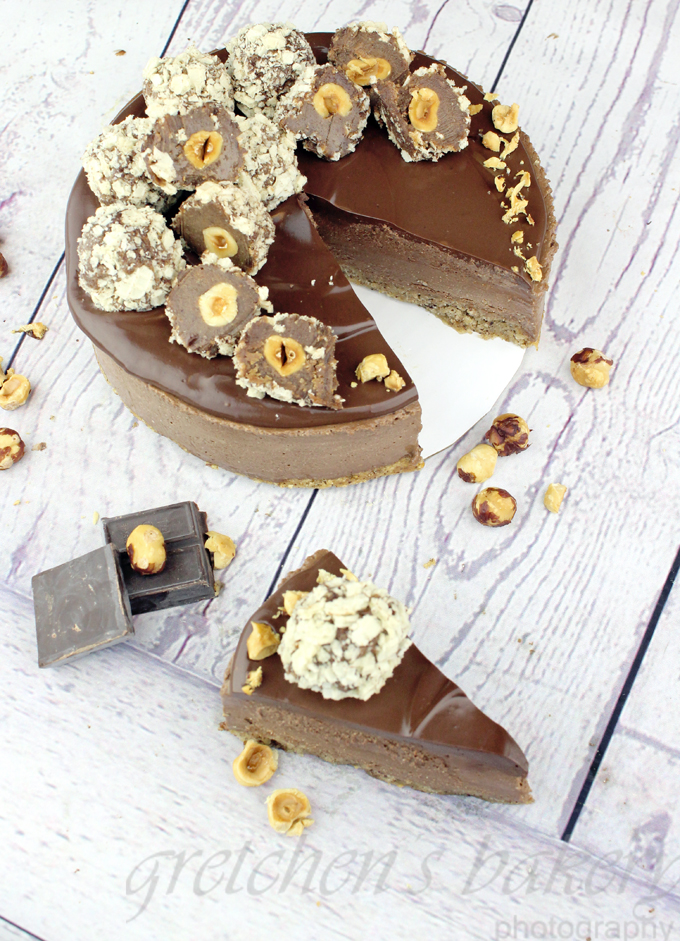 I found two companies that carry it, one here in the USA from Lake Champlain Chocolates in Vermont and the other one in the UK called VeganTown.co.uk
The real deal one happens to be in the UK and where I got mine, so If you clicked that link and it is still sold out?
Ummm yeah,  sorry about that, I basically bought the last of all they had!
But don't worry, if you can't get your hands on this vegan gianduja or vegan milk chocolate for that matter you can still make this recipe all the way through from start to finish with regular semi sweet chocolate or this hazelnut dark chocolate from Lake Champlain Chocolate in Vermont
There is so much hazelnut in every component of this cake that honestly you won't really miss the gianduja, but if you can an d want to get it you will be so happy!
Be sure to order more than you need because you will most likely eat a whole bar yourself!
I realize I listed this cake under "no bake desserts" and technically it could be if you want to forgo the hazelnut cake layer base.
It's the same cake recipe I used for my Opera Cake Recipe last month but if you want to skip one whole step just use a crushed cookie base the way I do in all my cheesecake recipes!
I know there are a lot of steps to this recipe but as I always say any great building on recipes project the work is worth the incredible result
And with this recipe, that has never been so true!
You are going to LOVE this!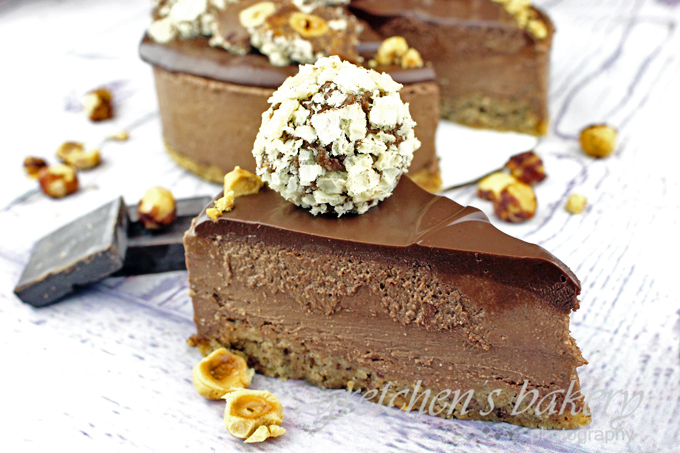 CLICK HERE FOR THE FULL YOUTUBE VIDEO TUTORIAL FOR HOW TO MAKE THIS CAKE!

Vegan Ferrero Rocher Mousse Cake
Before preparing the mousse and assembling the cake be sure to have your cake layer baked ahead of time.
The truffles can be made ahead or while the mousse is chilling to set as this will take several hours
Click here for the 8" ring mold
Serves:
1-8" cake to serve 12 people
Ingredients
1 recipe Hazelnut Butter (recipe follows)
1 recipe Ferrero Rocher Truffles (recipe follows)
½ Recipe Hazelnut Cake bake into an 8" cake pan
For the Mousse:
Vegan Gianduja Chocolate 5 ounces (140g)
Vegan Semi Sweet Chocolate 4 ounces (113g)
Almond Milk ½ cup (120ml)
½ cup Hazelnut Butter (homemade or store bought)
2 Tablespoons Cocoa Powder (24g)
2 cans full fat coconut milk refrigerated overnight
For the Ganache:
Vegan Semi Sweet Chocolate 4 ounces
Almond Milk ¼ cup
Instructions
First prepare the hazelnut cake according to the directions on that blog post, but you will bake the batter into an 8" cake pan
While the cake is cooling, combine the hazelnut butter with the cocoa powder and whisk smooth
Prepare the mousse by melting both chocolates together over a double boiler.
Add the chocolate hazelnut butter and whisk smooth
Add warmed almond milk to the chocolate mixture then whisk smooth
Open the cold cans of coconut milk and skim the fat from the tops (discard the coconut water that remains or reserve it for another recipe)
Whip the coconut fat to stiff peaks then fold it into the chocolate mixture
Pour the mousse into the prepared ring mold with the cake inserted into the bottom.
Freeze the cake for at least 4 hours or until it is firm enough to unmold
Meanwhile prepare the Vegan Ferrero Rocher truffles
Prepare the ganache by combining the 4 ounces of semi sweet chocolate and ¼ cup almond milk together in a small saucepot and whisk constantly to smooth and melted.
Cool slightly then pour over the mousse cake and decorate with the truffles
Notes
Ferrero Rocher Mousse cake must be kept refrigerated at all times and can be stored for up to 1 week in the refrigerator.

For longer storage freeze wrapped well for up to 2 months
First to make the hazelnut cake as per the instructions on that blog post, but be sure to bake the cake batter into an 8″ cake pan, not the sheet pan as shown in that video.
Next to make the hazelnut butter so you can make your Ferrero Rocher truffles (and of course you can buy hazelnut butter if you can find it) but it's not that hard to roast some hazelnuts and then grind them to a paste. (Full recipe below)
Roast at 350°F for 15 minutes
Place the hot hazelnuts in a kitchen towel and then rub the skins off of them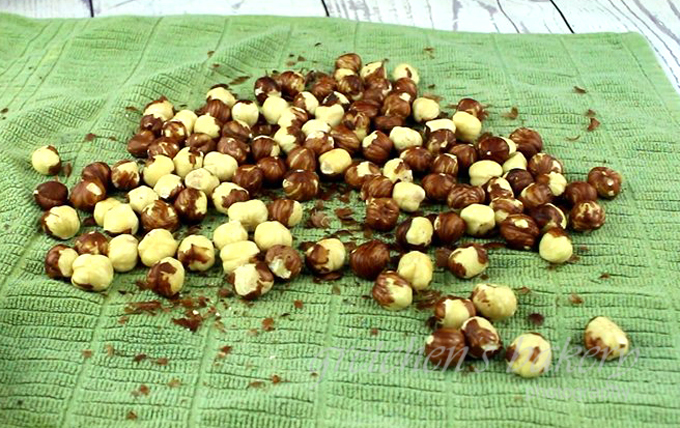 Don't worry if they don't all come off
Grind the nuts to a paste with the recipe below

Hazelnut Butter
If you want to make this recipe just to have some hazelnut butter on hand for whatever, you may want to add some sugar to it after grinding it to a paste. I did not do this because I am using it to go into my recipe where there is already sugar going to be added, but you can of course add some to your taste.
The oil is also optional for a creamier nut butter, again I left this out for the recipe since I wanted just pure hazelnut paste
This recipe is worked out exactly to go into the Ferrero Rocher truffles (recipe follows) but if you are making it just to have the nut butter, I recommend making it 3X
Ingredients
Hazelnuts 1 cup (6ounces)
*Optional Sugar 2 tablespoons
*Optional oil 1-2 tablespoons
Instructions
Toast the hazelnuts for 15 minutes at 350°F for 15 minutes
Immediately transfer the hot hazelnuts to a kitchen towel and then encasing them in the towel rub them to get the skins off. (Don't worry if you can't get them all off)
Transfer the nuts to a food processor and process to butter.
This will take 5-7 minutes, stopping to scrape the sides a couple times to make an even paste.
At this point you can add the optional sugar and if the paste seems too dry you can add the oil for a creamier spread
Notes
Store nut butter in the refrigerator in a clean airtight container for up to 2 weeks
Next to make the Ferrero Rocher truffle.
Full recipe is listed below
You will have to make these a day ahead to give the hazelnut ganache time to set up to roll them.
This part is tricky and a bit messy so use gloves and a sprinkling of cocoa powder to help them from sticking to your fingers as I show in the video tutorial.
To mimic the crispy crunch of the wafer shell that is characteristic of the Ferrero Rocher, I found Round Wafers at my local farm stand
But if you can't find those just roll them in crushed hazelnuts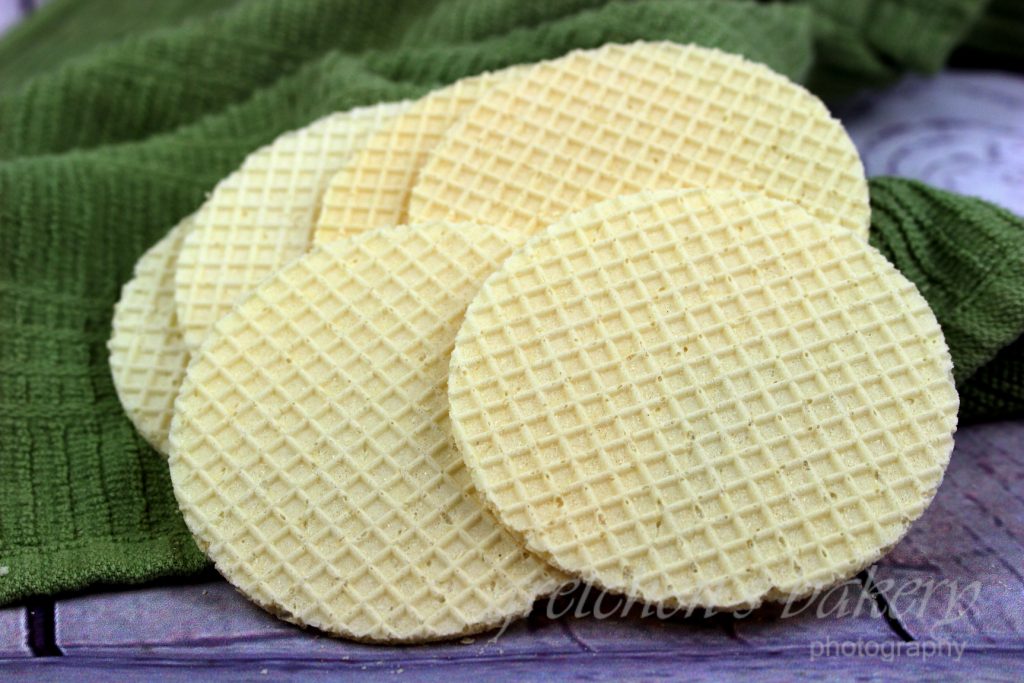 Vegan Ferrero Rocher Truffles
Real deal Ferrero Rocher has a thin wafer shell inside, but since this is near impossible to do at home, I decided to roll mine in crushed wafers to still get that crispy crunch. If you can't find wafers, simply use crushed hazelnuts for rolling
Ingredients
Vegan Milk Chocolate 5ounces
Almond Milk 2 Tablespoons (30ml)
Salt pinch
Vanilla Extract 1 teaspoon
Hazelnut Butter from above recipe ¼ cup + 2 Tbs
12 Whole Roasted Hazlenuts
1 cup crushed wafers or ½ cup chopped hazelnuts for rolling
Instructions
Melt the vegan milk chocolate and heat the almond milk
Pour the warmed almond milk into the melted vegan milk chocolate whisking constantly to a smooth ganache
Add the pinch of salt and the vanilla extract and the hazelnut butter last.
Whisk smooth
Refrigerate overnight
Once the ganache is firm enough to handle scoop it will a #100 scoop and then flatten each ball and place 1 roasted hazelnut in the center, roll the truffle encasing the nut inside.
Dip the truffles in chopped hazelnuts to coat them evenly, refrigerate until needed