Pineapple Upside Down Cake is the stuff childhood memories are made of!
Throwing it back to the good ol' 1970's with this veganized version of mom's favorite dessert!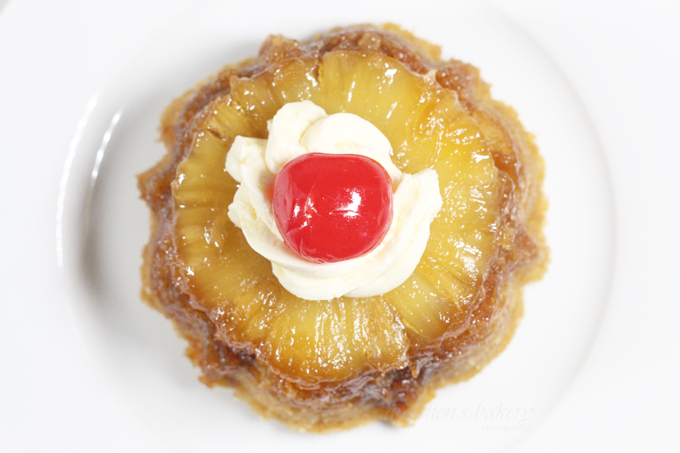 If you are younger than forty then you probably don't have the same nostalgia attached to this cake as many of us do
But there's no better time than today to start making your own dessert memories with Pineapple Upside Down Cake!
A can of pineapple rings and a simple one bowl mix of cake and you're almost there!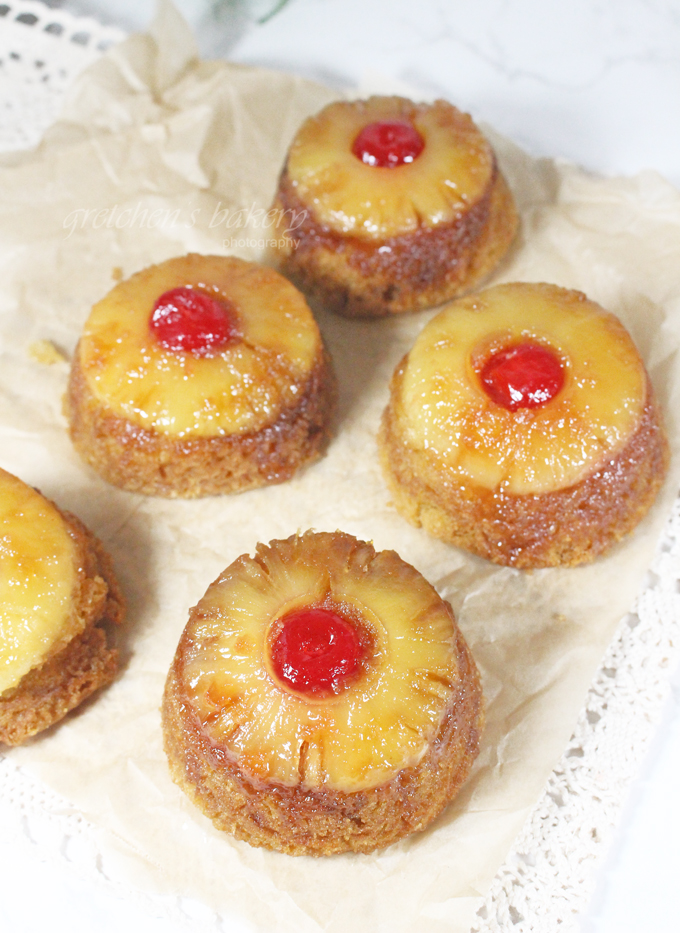 This website may contain links as part of the Amazon Affiliate program, which means when you click a link and make a purchase through my website I may earn a small commission at no additional cost to you
Notes for Success:
The recipe below makes 12 individual jumbo muffin sized cakes or 1-9″ family style cake
Be sure to use the Professional Bakery Pan Grease Recipe for the pans

I am using my famous bakery style Yellow Cake recipe for this one however you can use whatever vanilla cake recipe you love the most
Even my Box Cake Hack will work great here!
As you can see I have baked mine into individual portions simply by using a jumbo muffin pan
The mini bundt pan variation turns this little cake into a whole new desert experience with pineapple buttercream filling for the center!
Traditional Pineapple Upside Down Cake is baked in a round cake pan, typically a 9″ pan
Whatever you decide to bake them in, just be sure to use my professional bakery pan grease especially if you are making them in the muffin tins like I did.
No matter what pan you are baking with you will not let the cakes cool all the way like we normally do.
The sugar mixture if allowed to cool to cold will be very difficult to unmold so be sure to tip these cake into a cooling rack while the pans are still almost hot to the touch
I am using a combination of cake flour and all purpose flour here, but if you have trouble getting cake flour you may use all ~all purpose flour instead
CLICK HERE FOR THE FULL YOUTUBE VIDEO TUTORIAL FOR HOW TO MAKE PINEAPPLE UPSIDE DOWN CAKE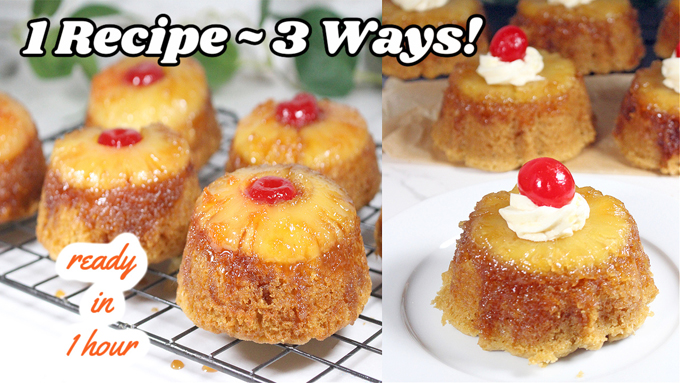 For more recipes like this one click the links below!
Yield: 12 ind or 1-9"
Vegan Pineapple Upside Down Cake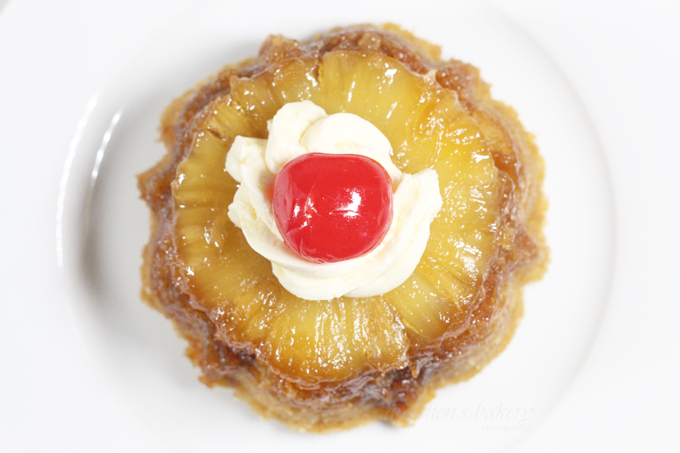 Ingredients
For the Sugar Schmear:
Vegan Butter 2/3 cup (150g)
Light Brown Sugar 1+1/3 cup (275g)
For the Cake Batter:
Soy Milk 1½ cups (355ml)
White Vinegar 1½ Tablespoons
Vegan Butter ½ cup (113g)
Vegetable oil of your choice ½ cup (117ml)
Granulated Sugar 1¾ cup (350g)
Salt ½ teaspoon
Vanilla Extract 3 teaspoons (15ml)
All Purpose Flour 2 cups (250g)
Cake Flour 1 cup (120g) *see notes above
Baking Soda 2 teaspoons
1 Can Pineapple Rings *see notes above
1 Jar Maraschino Cherries
Instructions
Preheat the oven to 350°F
Grease your muffin pans or cake pan generously with professional bakery pan grease DO NOT USE PARCHMENT PAPER LINERS
First prepare the sugar schmear by melting the vegan butter in a medium sauce pot then add the brown sugar whisking constantly while heating until the sugar is dissolved and bubbling
Remove from the heat then pour about 2 Tbs into each of the greased cavities of the muffin tins or pour the entire sugar mixture into greased cake pan for the larger family style cake
Arrange the pineapple slices into the pan *if using a cake pan or place one pineapple ring into each muffin cavity
Place a maraschino cherry into the center of each pineapple ring
Next prepare the cake batter by combining the vegetable oil with the melted vegan butter together with the vanilla extract in a small bowl or glass measure and set it aside
Combine the soy milk with the vinegar and let stand for 5 minutes to thicken.
*If you are not using soy milk which is the only plant milk that will thicken like buttermilk, you must still use the vinegar to aid in the reaction with the baking soda
Sift all the dry ingredients together in a large mixing bowl with the sugar.
Pour all the wet ingredients into the dry ingredients and whisk smooth
Pour the cake batter over the arranged pineapples and cherries in the cake pan or scoop the batter into each muffin hole filling each cavity almost to the top with batter
Bake immediately in a preheated 350°F oven for about 20-25 minutes or when a toothpick inserted into the center comes out with moist crumbs
If baking in the larger 9" pan it may take a few minutes longer, but the toothpick test if the best indicator to know when it is done
Let the cake cool slightly in the pans but not enough to let the sugar cool and stick in the pans or they will be impossible to unmold
I usually let them cool for just 5 minutes
While the pans are still hot unmold onto a wire cooling rack with parchment paper under it to catch the excess sugar drips
I like to serve these cakes still warm, but read more below for storage information
Notes
Pineapple Upside Down Cake can be left at room temperature for up to 4 days wrapped loosely to prevent drying.

For longer storage refrigerate for up to 1 week wrapped well
For those wanting to make the pineapple buttercream filling for the baby bundt style cakes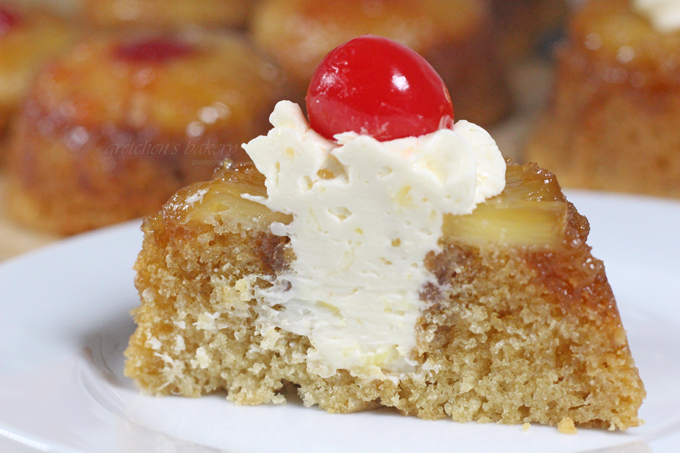 I simply took about 1½ cups of my favorite buttercream recipe, which happens to be the American Style
Because I am super lazy!
Added in a well drained ½ cup of crushed pineapple and 2 teaspoons of Spiced Rum Extract from Olive Nation!
If you want to go check out Olive Nation they are offering a 20% discount code for your order just for hanging out with me!