This new royal icing and sugar cookie recipe is egg free, meringue powder free and dairy free and so easy to make and use!
This is my favorite recipe for sugar cookie dough because it keeps the shape of whatever you are cutting out and doesn't spread in the oven!
Not to mention they taste amazing! I was never a big fan of eating decorated cookies since to me the royal icing was just too hard and I don't care for that taste so much.
But these…… these are different.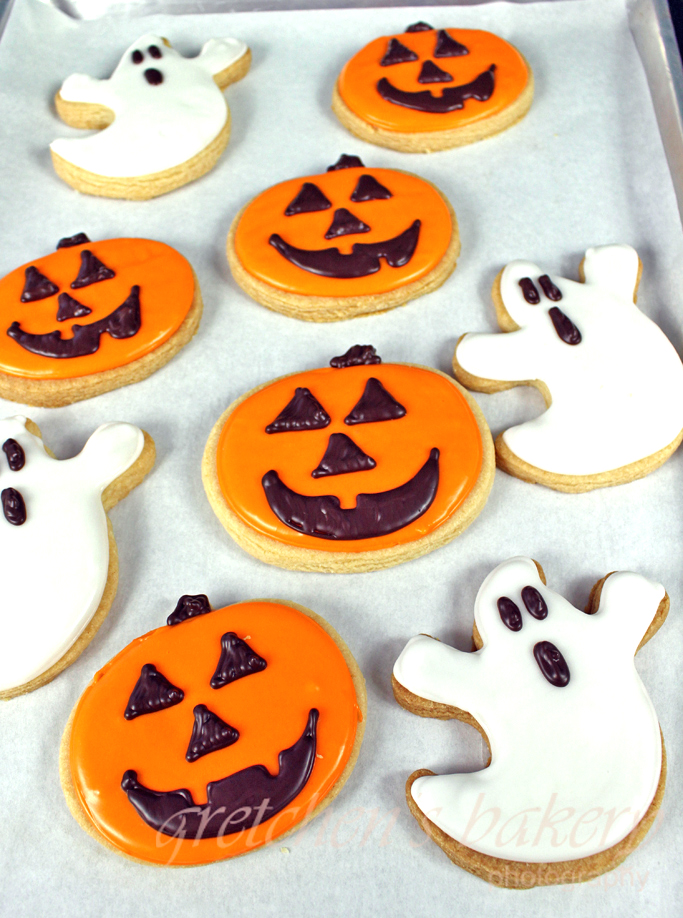 First of all they don't dry hard like traditional royal icing cookies.
So that right there is Win #1 for me
The cookies, although they are not made with butter, are so buttery tasting it is really deceiving!
Be sure to get a vegan chocolate to pipe on the faces, or if you want to avoid chocolate altogether, just save out a bit of that white icing from the start and color it black.
The icing recipe listed below is a perfect amount for 12 large cookies.
The ghosts and pumpkins cookies cutters were approximately 4″ diameter to give you an estimated size.
Ok, now I'm going to get all salesman like here for a quick minute~ not something I try to do here,  but you will notice in the video I am using the Dough EZ Pastry Rolling Mat.
If you guys know me, you know I typically do not get on board with extra gadgets in the kitchen, but this has become a lifesaver for me!
I noticed the last time I made Lavender Shortbread Cat Cookies that my dough rolling was far from perfect and I had some cock-eyed looking dough.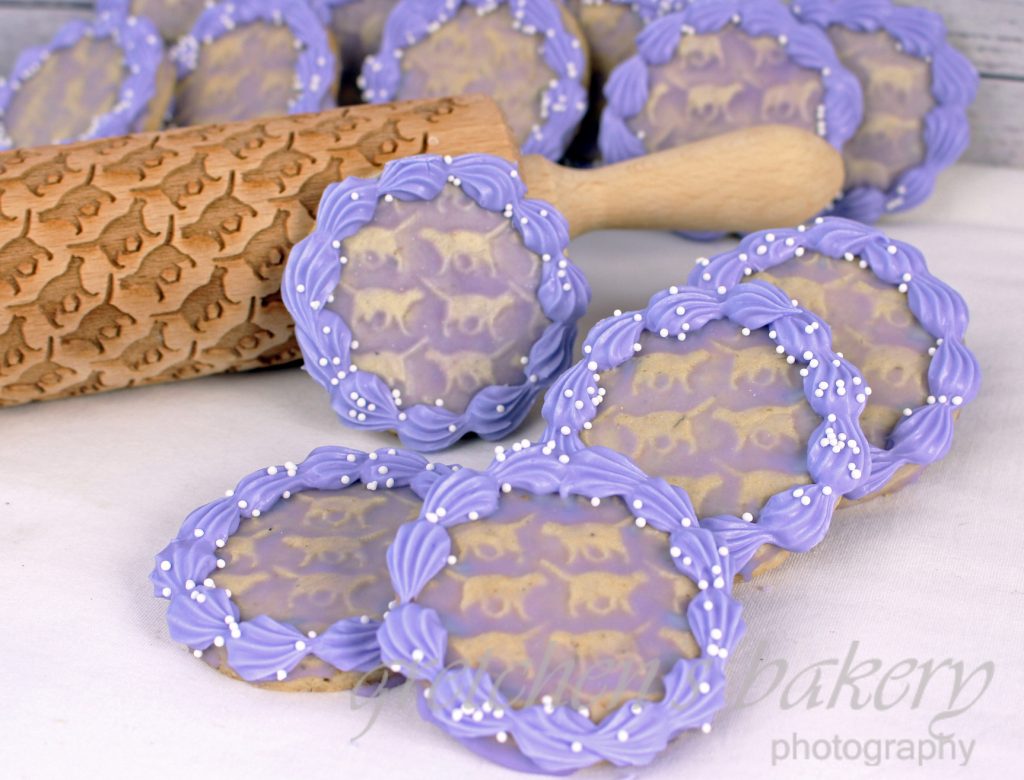 (I didn't show you guys that part! But trust me, I had some cock-eyed lookin' dough!)
Watch the video below as I show you how this new dough handles like a dream with this rolling mat and if you like what you see, be sure to check out the Dough EZ Rolling System for perfect rolled cookies everytime!
And BONUS! You get 20% off your order if you mention Gretchen's Bakery! Just enter GRETCHENS in the apply coupon area at checkout here at DoughEZ!
What a great gift for the pastry chef on your list this year!
Ok enough with the infomercials! Let's get to the recipe!
Vegan Halloween Sugar Cookies
For chocolate dough, take out ¾ cup of the flour and replace with ¾ cup of natural cocoa powder
Ingredients
For the Sugar Cookie Dough
All Purpose Flour 3 cups (375g)
Baking Powder 1½ teaspoons (7g)
Salt ½ teaspoon (3g)
Hi Ratio Vegetable Shortening or Earth Balance Buttery Sticks 1 cup (226g)
Granulated Sugar 1 cup (200g)
Aquafaba 4 Tablespoons (60ml)
Vanilla Extract 1 teaspoon (5ml)
Lemon Extract *optional ¼ teaspoon
Lemon Zest 1 lemon
For the Vegan Royal Icing
EnerG Egg Replacer 4½ teaspoons (20g)
Warm Water 6 Tablespoons (90ml)
Vanilla Extract ½ teaspoon
Confectioner's Sugar 4 cups (480g)
Instructions
For the cookie dough
Cream the shortening with the sugar until light and fluffy, about 3- 5 minutes.
Add the lemon zest, the aquafaba and the extracts to the creaming butter/sugar mixture and then stop the mixer and scrape the sides of the bowl
Next sift together the flour baking powder and salt and add it all at once to the creamed mixture. Mix just until it is all combined.
Wrap this dough disc in plastic wrap and chill for at least 2 hours or overnight before using or you can store it for up to 1 week wrapped in plastic wrap in the refrigerator, or in the freezer for 2 months.
You must re work this dough with some additional flour to a pliable consistency after it has been chilled. Do not skip this step.
Knead it with some flour until it is no longer a crumbly mass, but a soft pliable dough
Roll out the dough to ¼" thick and cut shapes as desired
Transfer cookie cutouts to a parchment lined sheet pan and bake in preheated to 350° F oven for approximately 18-22 minutes or until light golden brown.
Cool the cookies while you prepare the vegan royal icing
For the Royal Icing:
Combine the egg replacer with the warm water and whisk smooth
Place the sifted confectioners sugar in a mixing bowl and then add the vanilla extract and the egg replacer mixture.
Mix on medium to high speed until it is smooth
Color as desired with gel paste food colors and decorate as you like
Allow cookies to dry slightly at room temperature