Caramelized Chai Pear Cake for delicious holiday elegance
Lower sugar recipes throughout makes this one a total win!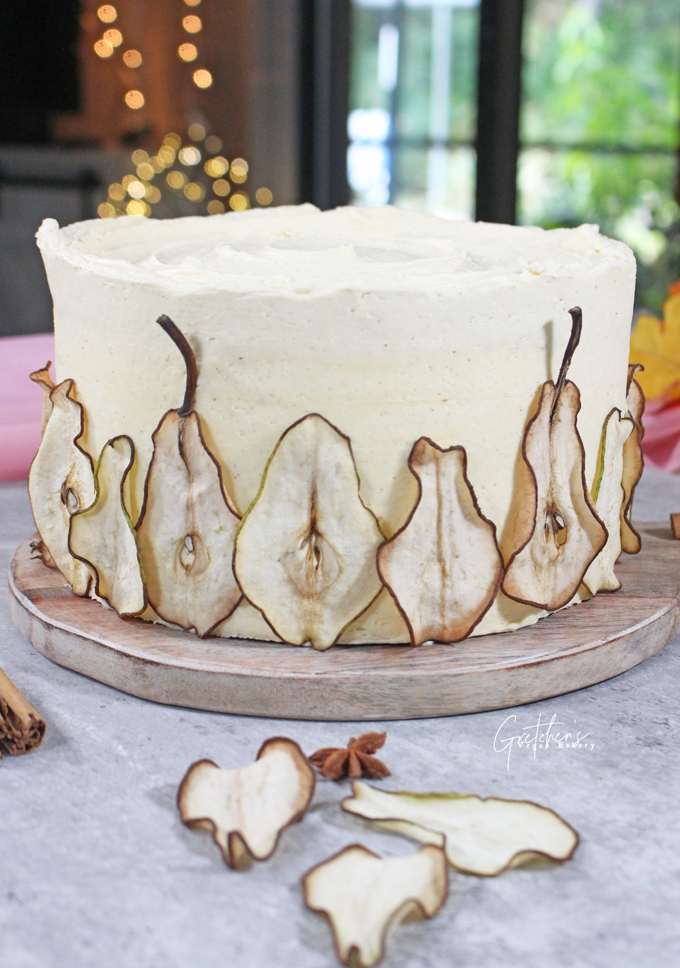 Fluffy layers of chai spiced vanilla cake filled with caramelized buttery pears
Vanilla bean custard filling with a perfect layer of refined sugar free jam too!
Silda's Jam is at it again with their amazing jam, paired up beautifully with my chai spiced buttercream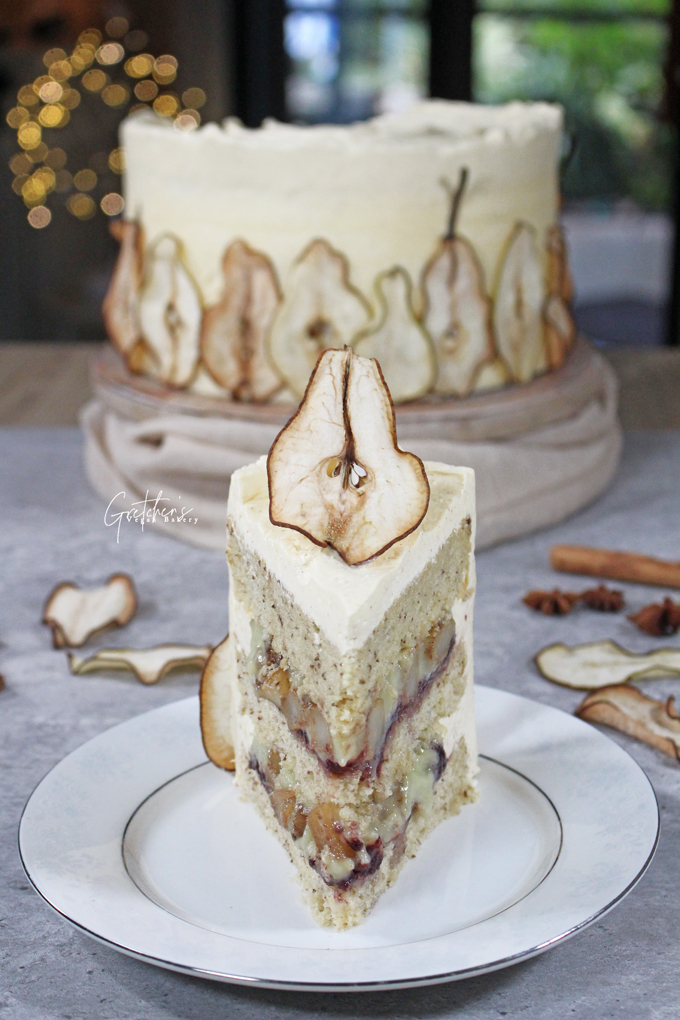 A rustic deckled edged buttercream iced look with dehydrated pear slices for garnish
This cake is so beautiful and sophisticated!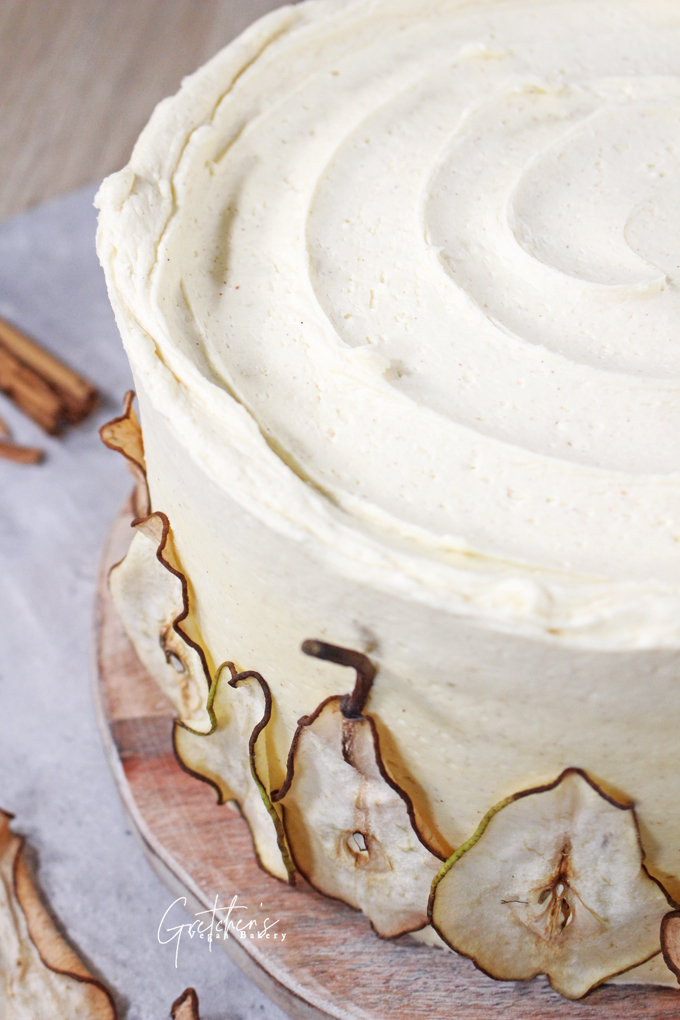 This website may contain links as part of the Amazon Affiliate program, which means when you click a link and make a purchase through my website I may earn a small commission at no additional cost to you
Notes for Success:
Today I used my original fluffy vanilla cake recipe for the cake layers infused with chai spices
A double recipe was needed since I like to make my holiday cakes larger as you see here with this four layer 8″ cake, versus the 7″ cakes I typically make
Of course you can use your favorite recipe for vanilla cake EVEN GLUTEN FREE! Just add the chai spiced to the batter!
Any buttercream recipe you love the most will be great with the addition of chai spice at the last stage of mixing
However today I wanted to use up all the pears for a lower refined sugar buttercream made from a base of cooked pears
Resulting in a silky smooth Ermine Buttercream spinoff!
Using a mandoline slicer is the best way to get paper thin slices of pears for dehydrating.
If you don't have a dehydrator setting on your oven just keep them at the lowest possible setting for a couple hours and they will eventually dry out.
Silicone mats are the best option for dehydrating fruits
Making this cake with sugar substitutes is your option, you can of course use all granulated sugar instead
Read more about Sugar Free Baking here
WATCH THE VIDEO FOR HOW TO MAKE THIS CAKE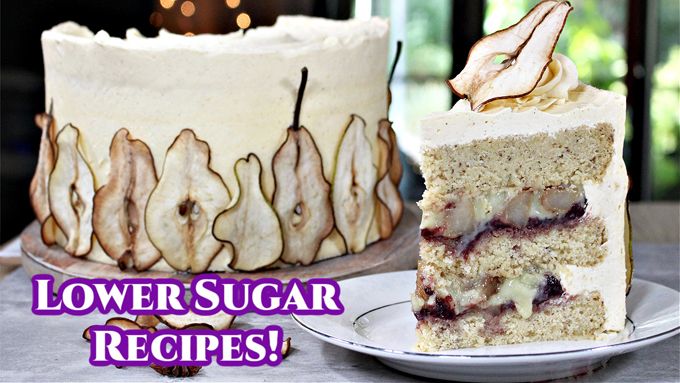 Yield: serves 14-16ppl
Caramelized Chai Pear Cake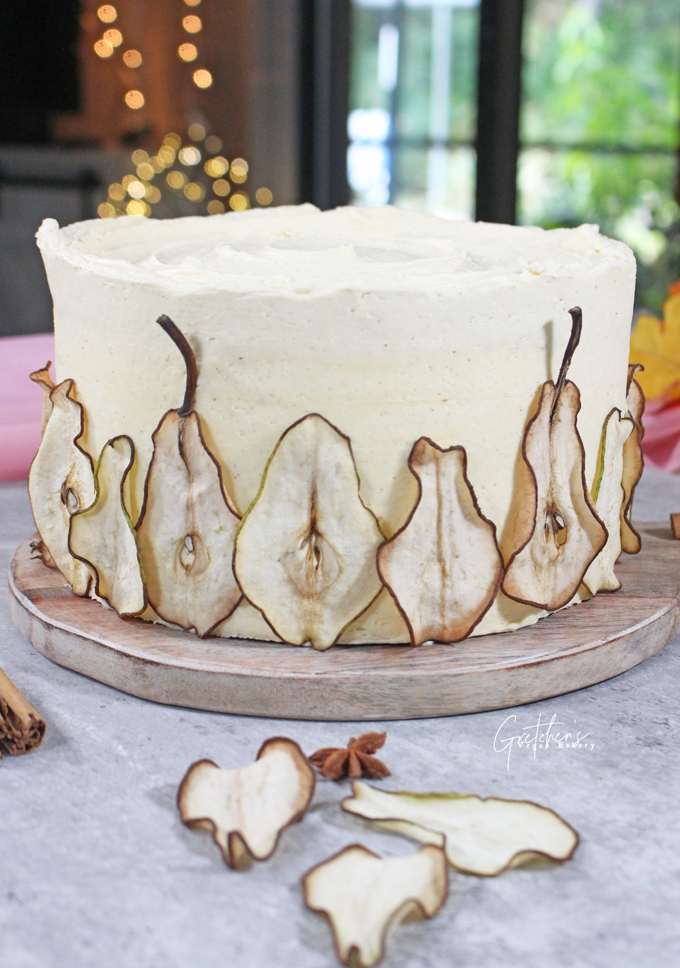 Total Time
3 hours
30 minutes
Ingredients
For the Chai Spice Mix:
Cinnamon 2 Tablespoons
Cardamom 2 teaspoons
Nutmeg ¼ teaspoon
Ginger 3 teaspoons
Cloves ¼ teaspoon
Allspice ¼ teaspoon
For the Pear Compote:
4 Medium Bartlett Pears chopped into pea sized cubes
Vegan Butter 4 Tablespoons (56g)
Sugar or Allulose 2 Tablespoons (28g)
Chai Spice 2-3 teaspoons
Brandy *optional 2 Tablespoons (30ml)
For the Custard:
Soy Milk 1¼ cup (296ml)
Monk fruit Sugar or Granulated Sugar 1/3 cup (70g)
Cornstarch 2 Tablespoons (16g)
Turmeric ¼ teaspoon *optional for color
Vegan Butter 1 Tablespoons (14g)
Vanilla Extract 1 teaspoon (5ml)
Instructions
First mix your chai spices together set aside
Next make the vanilla cake recipe as listed on that recipe post & video tutorial but be sure to add 2 Tablespoons of thee chai spices to the dry ingredients
Divide the batter between 3-8" greased & parchment lined cake pans and bake in the preheated oven for approx 30 minutes or when a toothpick inserted comes out with moist crumbs, not raw batter
Next make the caramelized pear compote by peeling, coring & chopping your pears into small pea sized cubes (you will get about 2- 2½ cups total
Heat a large skillet with the vegan butter until melted & sizzling then add the pears,
Stir to coat the pears and then add the sugar of your choice, stir well then add the chai spices and cook until tender then add the optional brandy to deglaze the pan and then transfer to a bowl to cool
Next prepare the custard: combine all the ingredients except for the vanilla extract and the vegan butter in a medium sauce pot over and cook over medium to high heat and bring to a boil stirring constantly to avoid scorching the bottom .
Once it starts to bubble let it boil on low heat for about 10 seconds.
Remove from the heat and add the vegan butter and vanilla extract and stir until melted and smooth.
Now make the lower sugar buttercream recipe according to the instructions on that page but INSTEAD OF APPLES YOU WILL USE PEARS
Add the last tablespoon or so of chai spices to the buttercream recipe at the last stage of mixing
Once the cakes are completely cooled (I Like to refrigerate or freeze mine for several hours to make sure they are very COLD)
Build the cake with a ring of buttercream to hold in the jam layer and then half of the pear compote and half of the custard filling.
Repeat with the next layer of cake then do a crumb coating and refrigerate to set for at least 3o minutes
Ice the cake with the remaining buttercream and decorate with dehydrated pears *see notes above
Notes
Caramelized Pear Chai Cake can be displayed at room temperature for a couple hours but due to the custard filling it should be kept refrigerated until serving.
Will stay fresh in the refrigerator wrapped loosely for up to 5 days