Authentic Florida Key Lime Pie is just 3 ingredients
Poured into a pie shell with whipped cream icing
But to mimic the authenticity of the original I had to do some science-y sleuthing!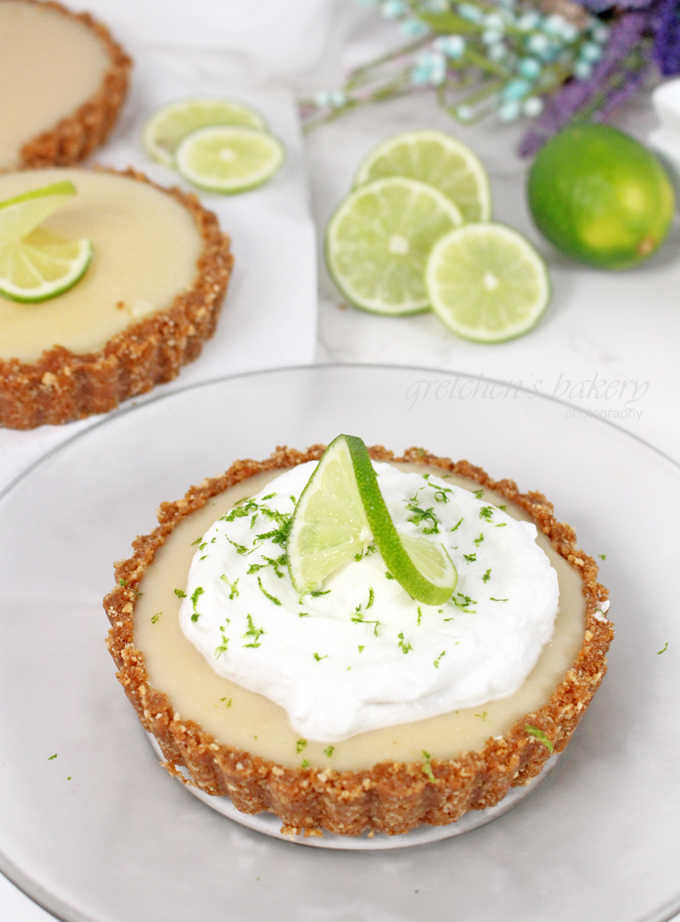 In my search for the best vegan Key Lime Pie recipe
I discovered that most recipes included things like vegan cream cheese or tofu
And I just didn't want to introduce those foreign ingredients into one of the simplest recipes out there!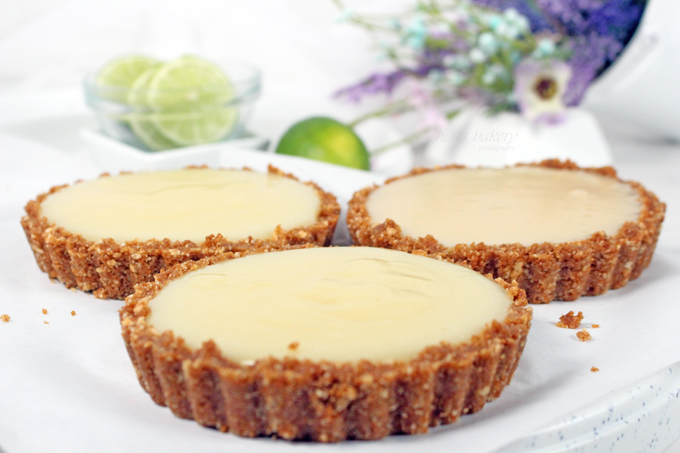 So my version is just four basic ingredients that should be fairly easy to find!
NO TOFU! NO NUTS! NO CREAM CHEESE!
*not sponsored by any of these companies
Don't worry I have an alternative recipe below for Non ~ Condensed milk version for the filling as well as a homemade vegan condensed milk recipe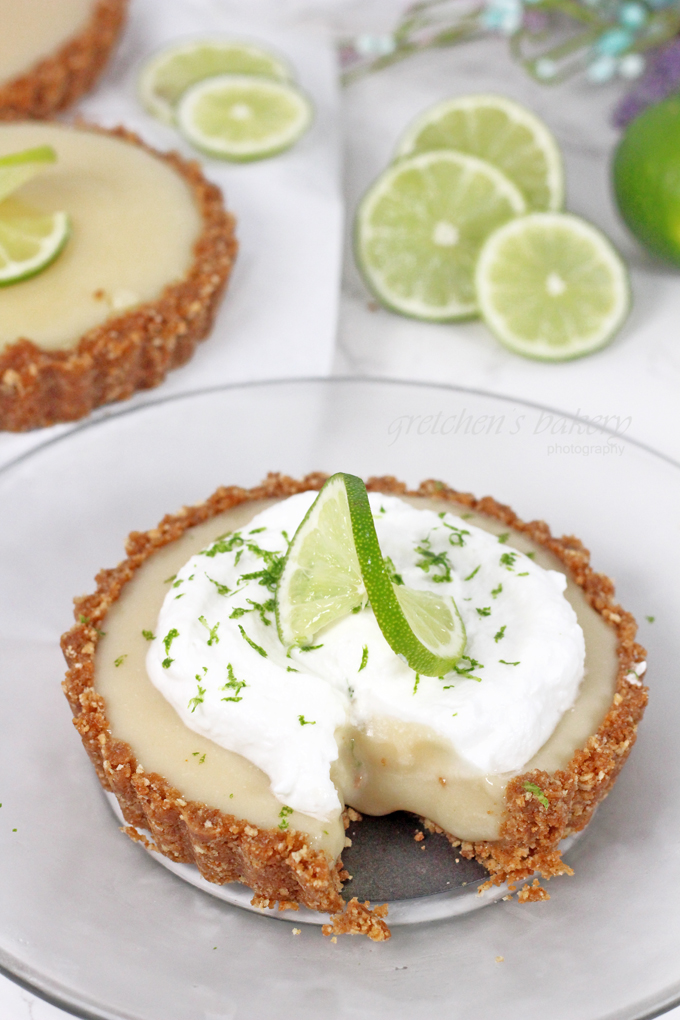 Now Let's Talk About the Texture!
Vegan custard can be difficult to master since the texture will border on "rubbery" *see notes below about measuring cornstarch
A traditional Key Lime Pie has a very unique texture due to the egg yolks in the recipe
To mimic that texture I was careful about how much thickener to use in my recipe below
*see more notes below about Sweetened Condensed Milk in this recipe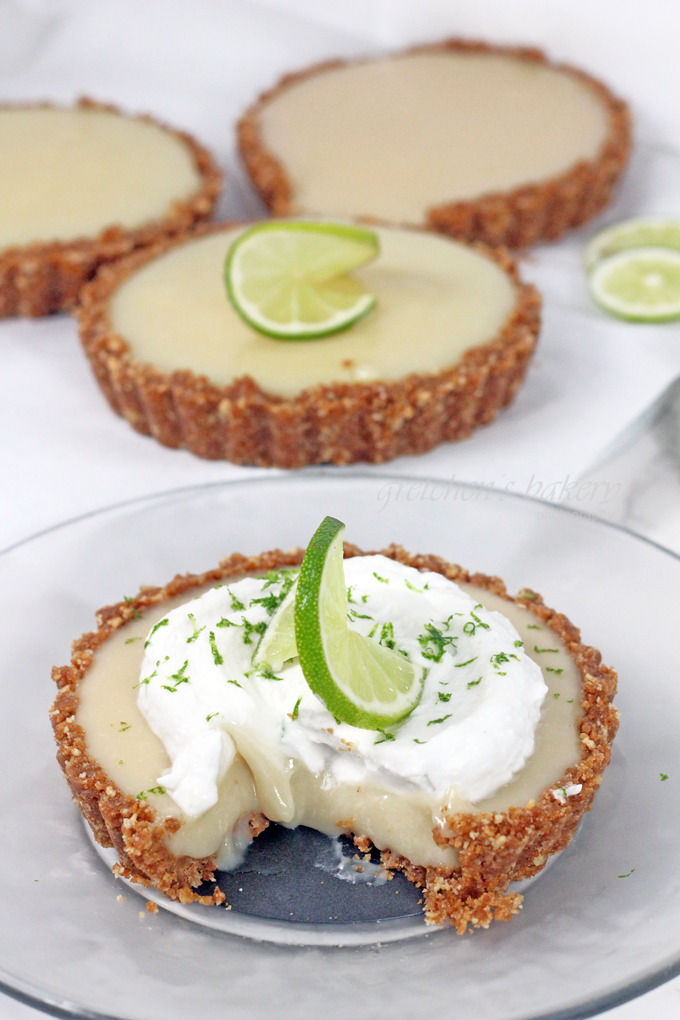 NOTES FOR SUCCESS:
Be sure to have your crusts prepared ahead of time though because this is one fast recipe!
I am using 4.75″ tart molds with removable bottoms
However you can easily adapt this entire recipe to make an 8″ pie instead
Cornstarch is a very difficult ingredient to measure consistently with a volume spoons measure
So while I list both measures below I cannot stress enough how the grams measure with a scale is going to give you the best results.
Many times people have complained that their custard is like rubber and they don't know why!
This is from a heavy measure of cornstarch when using volume measuring spoon vs the 100% accurate scale measure in grams.
Canned ~vegan~ Sweetened Condensed Milk is the absolute key to success in this recipe
However I know this may be a difficult ingredient to get
If that is true for you it is quite simple to make your own!
By simmering coconut or soy milk with some sugar until it is thick like the canned version
But wait! I also have a No~ Condensed Milk version for you too! *recipe below
First of all though, I will say I prefer the sweetened condensed milk version much much more
The texture that is achieved from this ingredients is the closest to the original key lime pie recipe that I remember, resulting in a thick, gooey filling
I am using Nellie & Joe's Key Lime Juice *not sponsored but fresh squeezed key lime juice works great too!
For the vegan whipped cream I am using Silk brand heavy whipping cream * not sponsored
But if you cannot get this or do not want to buy it I have several homemade vegan whipped cream options for you here on my website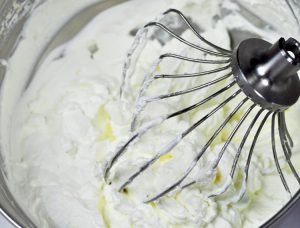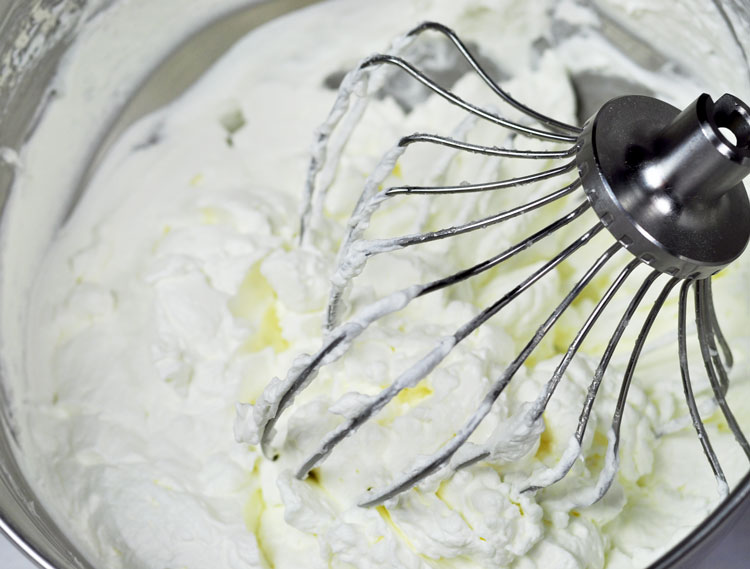 Or, add a ripe avocado to about 1/3 of the can of coconut milk (liquid included) + ½ cup confectioners sugar and then just whiz it all up in a high speed blender or magic bullet
Instant avocado whipped cream that is the perfect compliment to this Key Lime Pie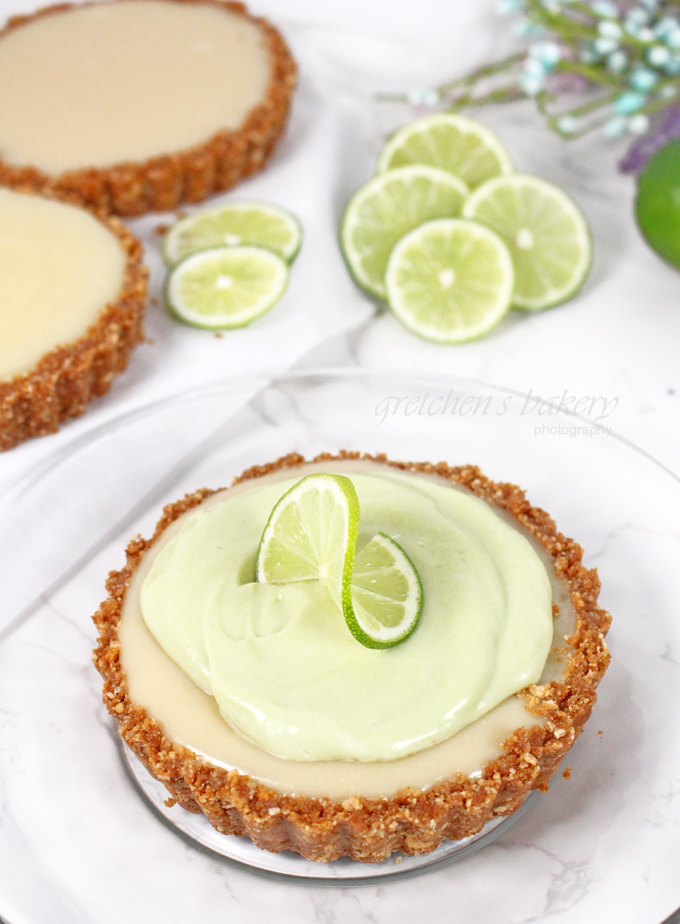 For more zingy summer recipes click the links below!
No Bake Key Lime Pie Cheesecake
Yield: serves 8ppl
Next Level Key Lime Pie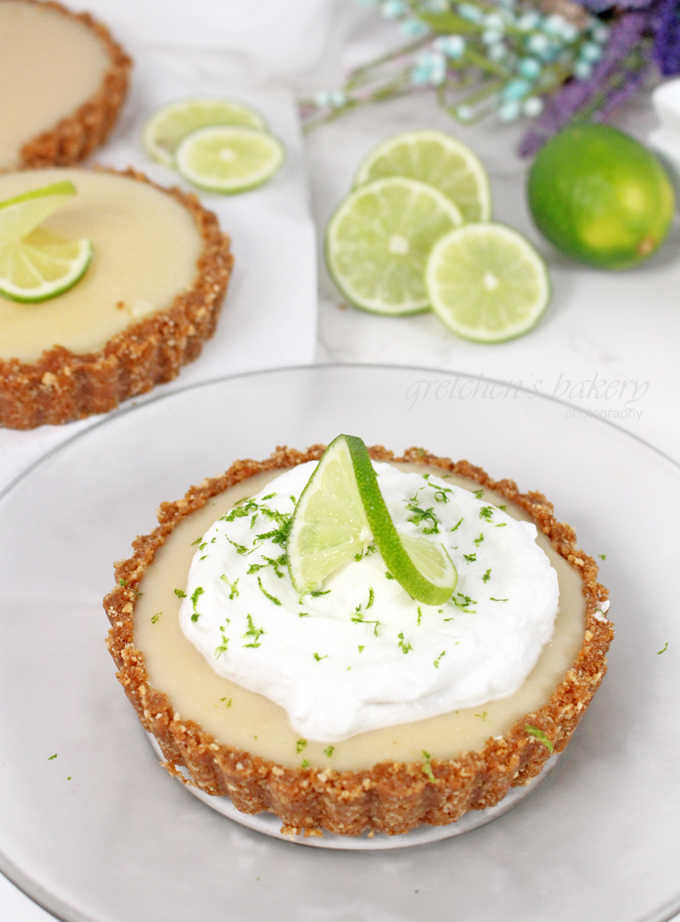 I am using 4.75" tart molds for individual desserts, but you can use an 8" pie shell with no changes to the recipe below
Total Time
1 hour
5 minutes
Ingredients
For the Crust:
Graham Crackers 3 cups crushed (345g)
Vegan Butter 8 Tablespoons (113g)
For the Custard:
Sweetened Condensed Milk 2 ~ 11oz cans (660g)
OR Homemade recipe listed below 1½ cups (660g)
Plant Milk 12 Tablespoons (180ml) *I am using soy milk
Key Lime Juice 1 cup (240ml)
Water 8 Tablespoons (118ml)
Vegan Butter 2 Tablespoon (28g)
Cornstarch 7 Tablespoons (56g)
For the Whipped Topping:
1 Recipe Vegan Whipped Cream
OR 2 Pint SILK brand heavy whipping cream
*I use ½ cup sugar per 1 pint SILK
Instructions
If you are using my homemade recipe for vegan whipped cream, read the entire recipe post and prepare that recipe the day before for best results
Prepare the crust by crushing the cookies in a food processor or by hand to fine crumbs
Add the melted vegan butter and combine until it resembles wet sand
Press the crust mixture into the bottom & sides of your tart molds or pie shell
Freeze while you prepare the custard
For the custard combine the water with the cornstarch & whisk smooth
Next combine all the ingredients including the cornstarch slurry, (but not the vegan butter) together in a medium sauce pot and bring to a boil while whisking constantly
Once the custard boils and is visibly getting thicker, add the vegan butter and whisk smooth
Remove from the heat and pour the custard into your prepared crust(s)
Refrigerate until set then top with vegan whipped cream
Notes
Key Lime Pie must be kept refrigerated at all times and will stay fresh in the refrigerator for up to 1 week
You can freeze the key lime pies without the whipped cream for up to 1 month wrapped well to prevent freezer burn
No Condensed Milk Version Recipe
Yield: serves 8
No Condensed Milk Version~ Key Lime Pie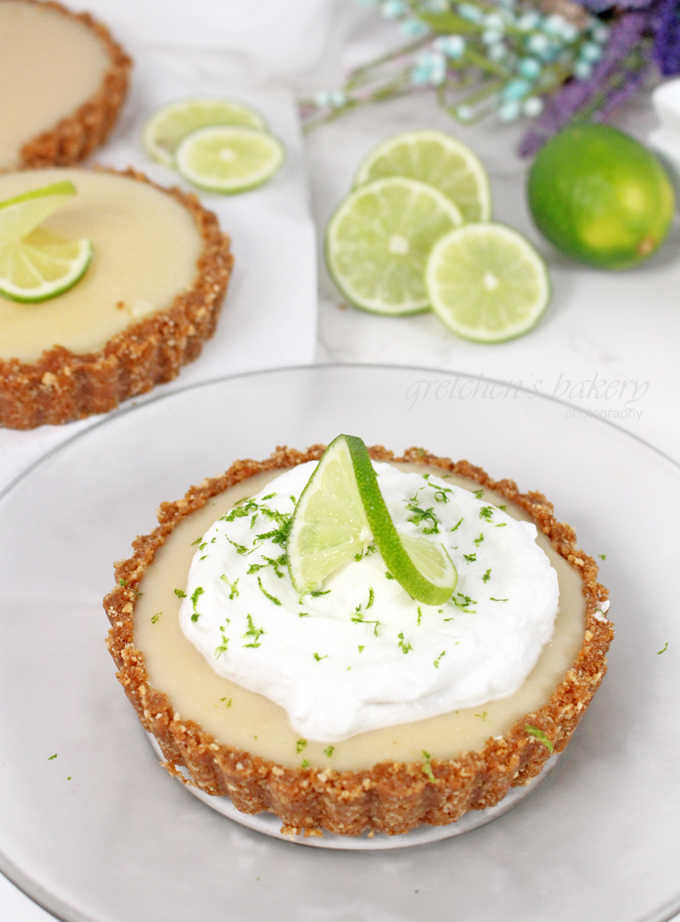 Follow the recipes in the first recipe above for the crust & the whipped cream
Total Time
1 hour
5 minutes
Ingredients
For the No Condensed Milk Key Lime Custard:
Full Fat Canned Coconut Milk 2 Cups (474ml)
Key Lime Juice 1 cup (240ml)
Granulated Sugar 1 cup (200g)
Cornstarch 7 Tablespoons (56g)
Vegan Butter 4 Tablespoon (54g)
Instructions
Combine the cornstarch with the sugar & whisk to incorporate through
Next combine all the ingredients except the vegan butter together in a medium sauce pot and bring to a boil while whisking constantly
Once the custard boils and is visibly getting thicker, add the vegan butter and whisk smooth
Remove from the heat and pour the custard into your prepared crust(s)
Notes
Key lime pie must be kept refrigerated at all times and will stay fresh in the refrigerator for up to 1 week

Freeze without the whipped cream wrapped well for up to 1 month
Homemade Sweetened Condensed Milk
Yield: 2 cups
Homemade Sweetened Condensed Milk Recipe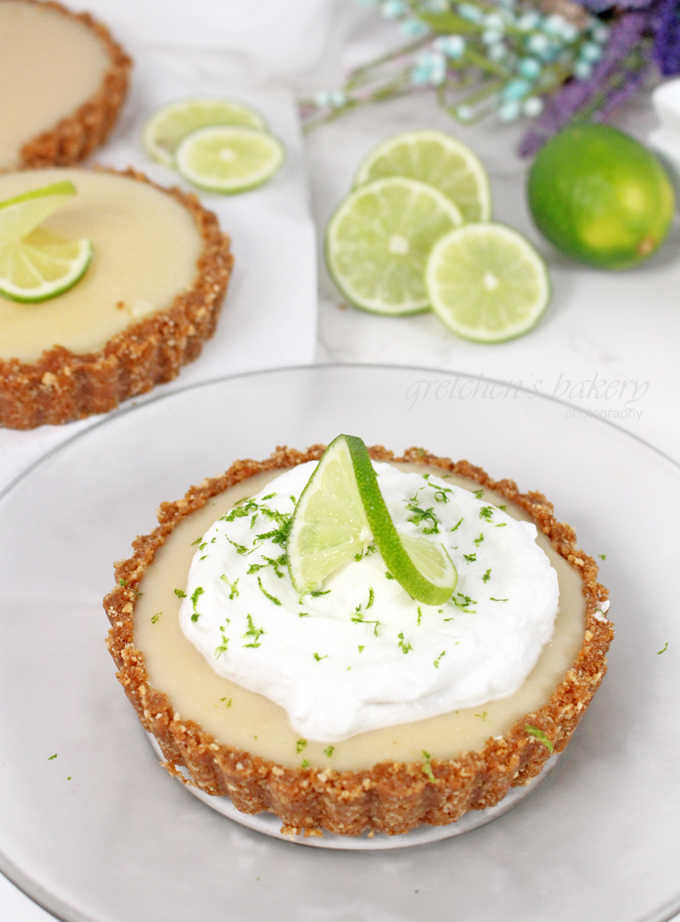 Total Time
1 hour
5 minutes
Ingredients
2- 14ounce cans full fat coconut milk
OR Soy Milk works great 28fl oz.
2/3 cup granulated sugar (135g)
Instructions
Combine the plant milk with the sugar in a heavy bottom sauce pan and bring to a boil over high heat stirring often
Once it boils reduce heat to low, and simmer for 45-60 minutes stirring occasionally and watch it closely so it doesn't burn or boil over
By the time 45 minutes approaches it should have reduced down to close to 2 or 2¼ cup total volume and starting to get very thick
It will thicken more as it cools.
Cool completely then use it in your recipes
Notes
Homemade sweetened condensed milk must be kept refrigerated & will stay fresh for up to 2 weeks in a clean airtight container.

Freeze for up to 4 months