When you've got an awesome base recipe like this pumpkin cake
The spinoff possibilities are endless!
The best pumpkin recipe just keeps on giving!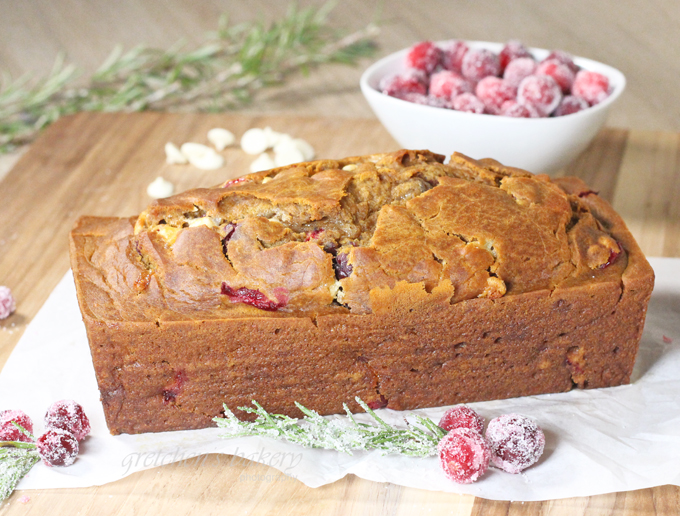 This White Chocolate Cranberry Pumpkin Bread will definitely change yours!
White chocolate and cranberries are meant to be together!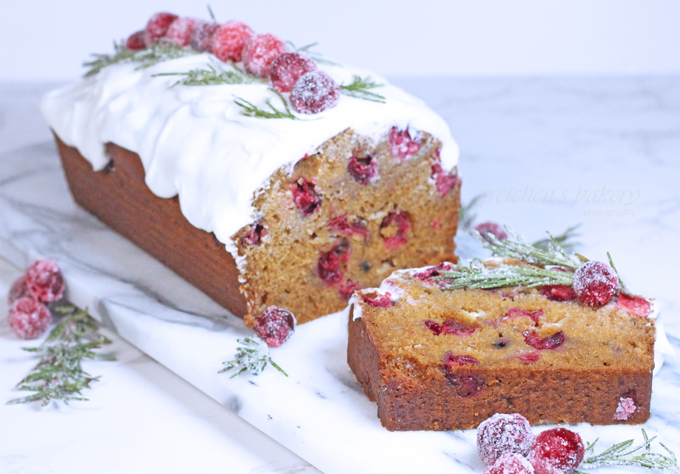 The tart cranberry and the sweet white chocolate are literal perfection in this
Super moist pumpkin cake that identifies as a loaf bread
I mean let's face it, any cake recipe can be turned into a loaf or a muffin for that matter!
Studded with vegan white chocolate chips and fresh cranberries
And iced with my new recipe for No Refrigerator Cream Cheese Icing!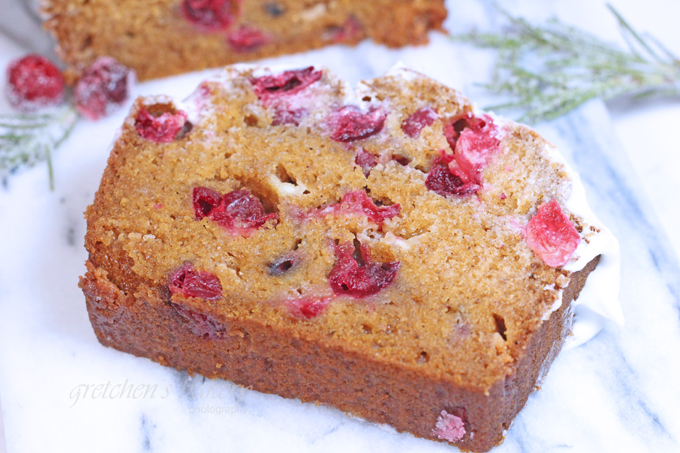 This is actually my No Shortening recipe for buttercream that I've added a secret ingredient to make it taste exactly like Cream Cheese Icing!
Only there's no need to refrigerate it because there is NO CREAM CHEESE IN THE RECIPE!
The icing is definitely optional because this cake, I mean bread, can surely stand alone!
But why no go the full length with this one and add some decadence!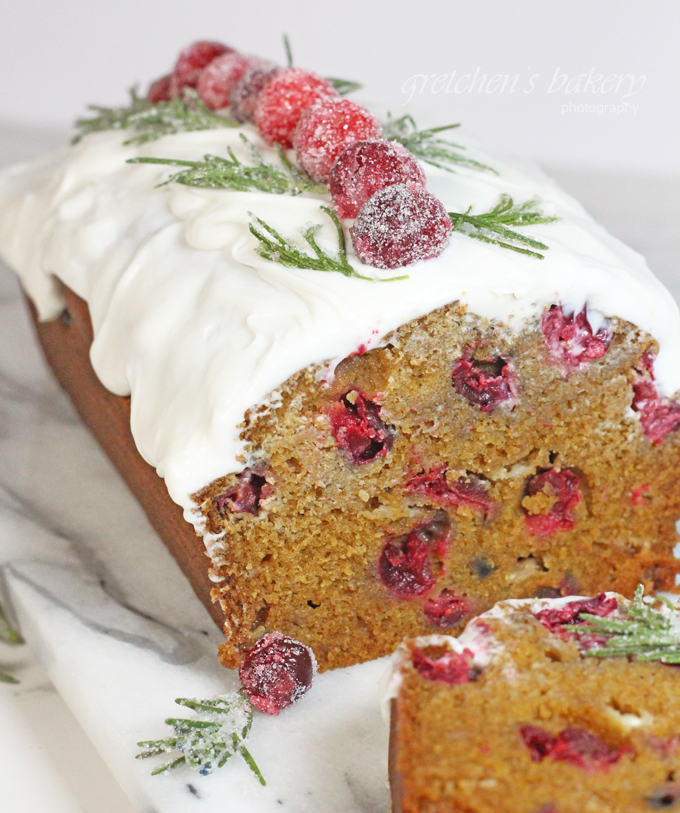 The candied cranberries and rosemary for garnish are also optional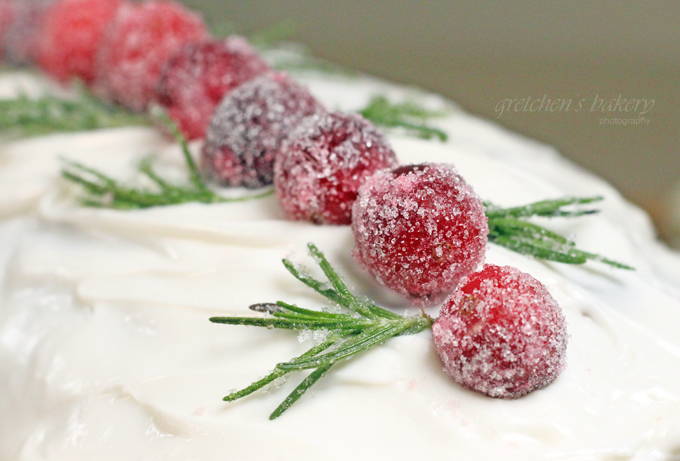 However they sure do make a really pretty presentation
This small easy recipe for candied cranberries turns this loaf into a beautiful holiday cake!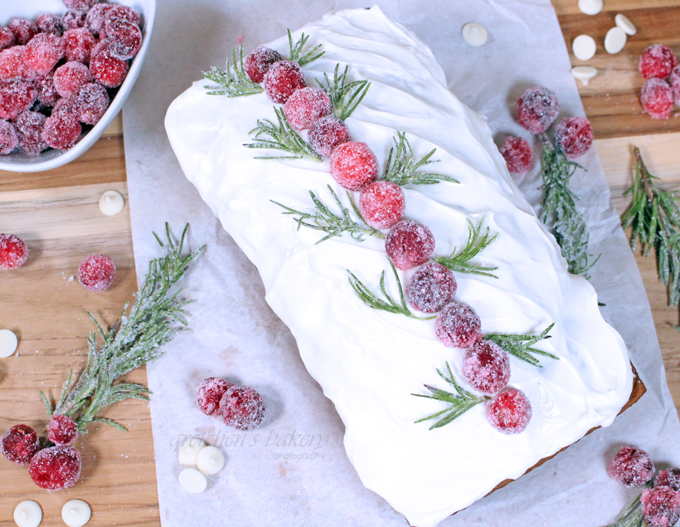 Notes for Success:
I am using a large 1.5lb loaf pan for this recipe today
The White Chocolate Chips are optional and can be left out with no changes to the recipe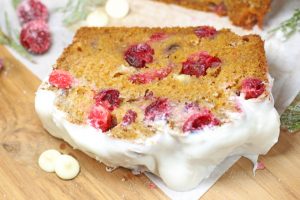 The candied cranberries and rosemary can be made weeks in advance and stored in the freezer.
Simply re-toss them with some more granulated sugar after they thaw to refresh the shiny glistening sugar coating!
I added frozen cranberries to my batter because as they thaw they break down slightly which is better for baking inside of a bread.
I don't love giant whole fresh cranberries in my bread but if you have fresh ones
Simply rough chop them before adding to the batter this way they are a bit smaller for each bite.
CLICK HERE FOR THE FULL YOUTUBE VIDEO TUTORIAL FOR HOW TO MAKE THIS CRANBERRY PUMPKIN BREAD!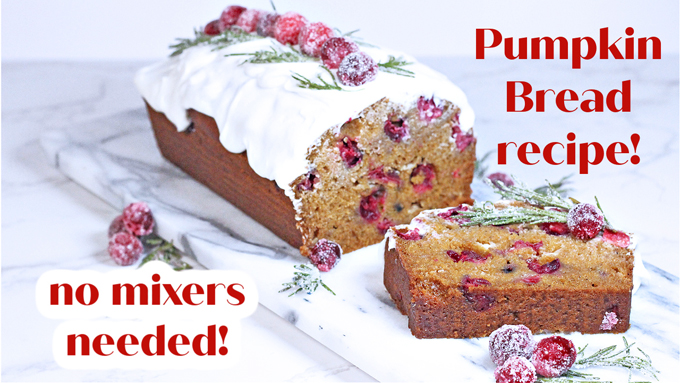 For more awesome cranberry recipes click the links below!
White Chocolate Cranberry Pumpkin Cupcakes
Cranberry Mocha Fudge Brownies
White Chocolate Cranberry Pumpkin Bread
Ingredients
For the Pumpkin Bread
Vegetable Oil 12 Tablespoons (180ml)
Light Brown Sugar 1 cup (210g)
Plant Milk *I use soy 1½ cup (354ml)
Vinegar 2 teaspoons (10ml)
Canned Pumpkin 1 cup (250g) *see notes for homemade puree in the article above the recipe
Salt 1 teaspoon
All Purpose Flour 3 cup (375g)
Baking Soda 2 teaspoon
Ground Cinnamon 1 teaspoon
Ground Ginger 1 teaspoon
Ground Cardamom ½ teaspoon
Ground Cloves pinch
Ground Nutmeg ¼ teaspoon
1 cup fresh or frozen cranberries *I use frozen see notes above recipe
1 cup white chocolate chips
For the Candied Cranberries & Rosemary *optional
¾ cup water
¾ cup sugar + additional sugar for tossing them
2 cups cranberries
Springs of rosemary as needed *washed and picked of the best sprigs
Instructions
Preheat your oven to 350°F
Grease the loaf pan well
Combine the vinegar with the soy milk (soy milk is the only milk that will thicken with vinegar, but you can use another plant milk of your choice)
In a large mixing bowl combine the oil, brown sugar, salt, pumpkin, and then the thickened vinegar/plant milk and whisk to combine well
Sift the flour with all the spices and the baking soda and add it all at once to the wet mixture in the bowl
Whisk smooth
Add the roughly chopped fresh or frozen cranberries and the vegan white chocolate and mix to distribute evenly
Pour into the greased loaf pan
Bake immediately in the preheated 350°F oven for approximately 45-55 minutes or when a toothpick inserted into the center comes out clean
If your bread looks like it is getting too browned on the top you can turn the oven temperature down to 325°F at mid way through and bake until it's done.
Prepare the candied cranberries & rosemary by combing the sugar & water together in a medium sauce pot and bring to a boil, boil for 3 minutes them remove from the heat
Add the cranberries & rosemary and leave them in for about 5 minutes to steep
Drain and then toss the cranberries & rosemary in a bowl of sugar then shake off the excess and place on a parchment lined sheet pan to dry for about an hour or overnight
Prepare the no shortening recipe for buttercream icing as per the instructions on that page and be sure to add the secret ingredient to make it into a No Refrigerator Cream Cheese Icing!! 🙂
Ice the loaf when cooled and then garnish with the candied cranberries & rosemary
Notes
Pumpkin Bread iced with cream cheese icing must be kept refrigerated, but if you are only using regular buttercream it can stay at room temperature, covered for up to 5 days.

Un-iced bread can be frozen for up to 1 month