Can you imagine a fall baking season without a Gingerbread Cake! Me neither!
Wacky Gingerbread Cake and no fridge cream cheese icing!
And Bonus: No weird egg replacers or obscure ingredients here!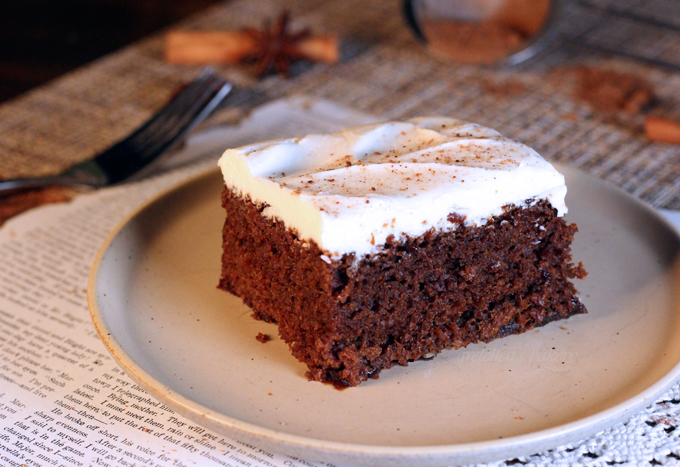 For those having a hard time finding vegan cream cheese like me,
Or worse having it all turn into cream cheese soup the minute you give it a stir!
Introducing a life hack that is going to have you jumping for joy! Shelf stable, no refrigeration Cream Cheese Icing recipe!
By adding vegan lactic acid to your favorite buttercream recipe, you have instant cream cheese icing!
CLICK HERE FOR THE CREAM CHEESE BUTTERCREAM RECIPE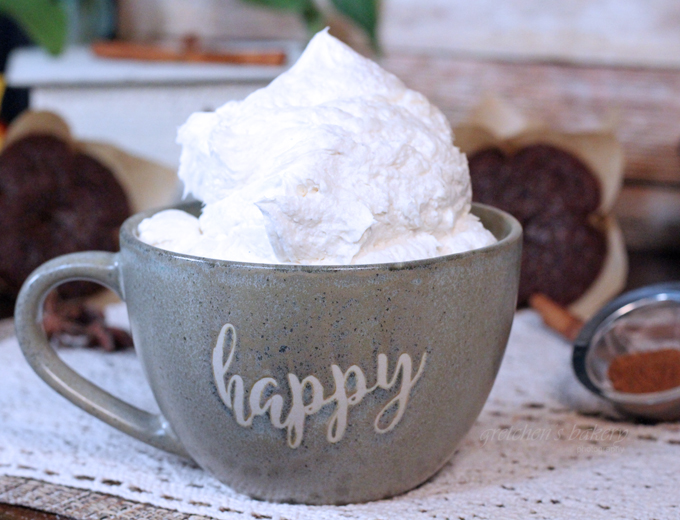 There's need to refrigerate this cake since we are not using vegan cream cheese!
But let me just say that cold gingerbread cake with cream cheese icing tastes just like a super fudge gingerbread cheesecake brownie!
You're welcome 🙂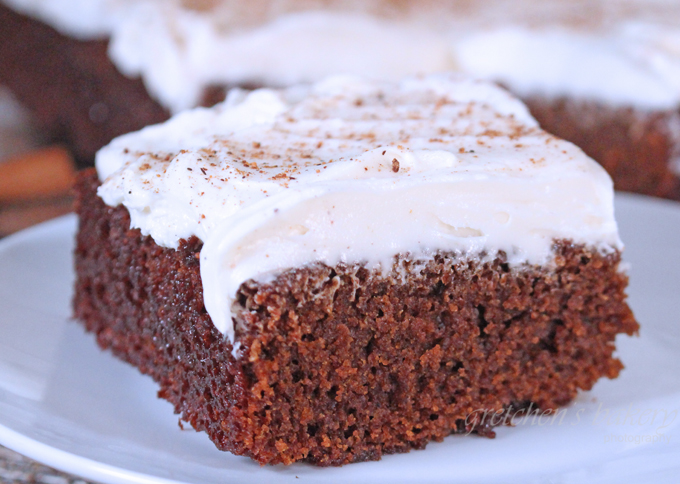 CLICK HERE FOR THE FULL YOUTUBE VIDEO TUTORIAL FOR HOW TO MAKE THIS CAKE!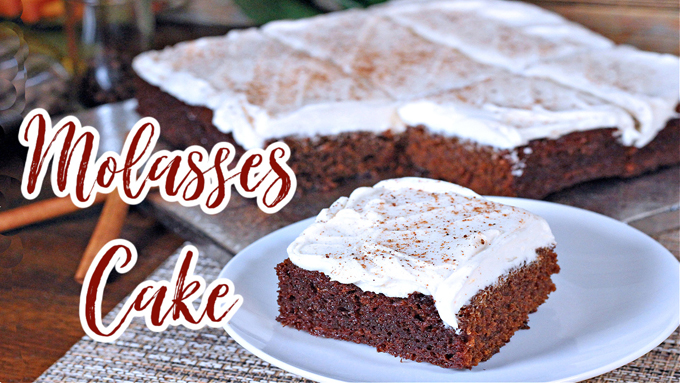 Notes for Success:
I am baking this recipe in an 8″ x 8″ square pan for 1 layer to serve 9 people
Double the recipe for a 9″ x 13″ pan, a 6-cup capacity Bundt Pan or 12 standard cupcakes or 2-8″ cake layers
This recipe bakes into sheet cakes, loaf cakes, bundts and round layers and perfect cupcakes too!
I know many people cannot get molasses which is essential in any gingerbread recipe since it's not just a sweetener but the deep rich robust flavor it imparts is what makes it all taste so darned good!
If you cannot get molasses you can substitute any other liquid sugar like Golden Syrup, Maple Syrup or even dark corn syrup will do.
Just remember sadly, that the taste will not be the true authentic gingerbread molasses experience.
You will notice I add a spot of cocoa powder to my gingerbread cake recipe, this is optional, if you decide to leave it out just replace with a scant tablespoon of more flour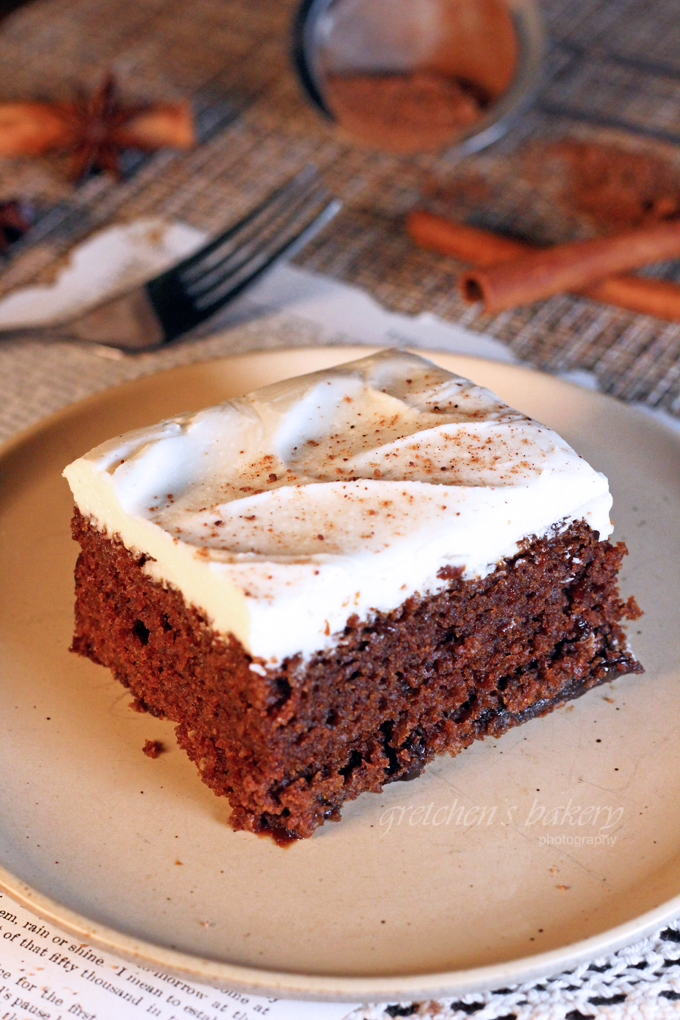 For more awesome easy one bowl sheet cake recipes click the links below!
Bakery Recipe for Perfect Yellow Cake
One Hour ~One Bowl Vegan Chocolate Cake Recipe
Truly White ~ Vegan White Cake Recipe
Yield: serves 9ppl
Wacky Gingerbread Cake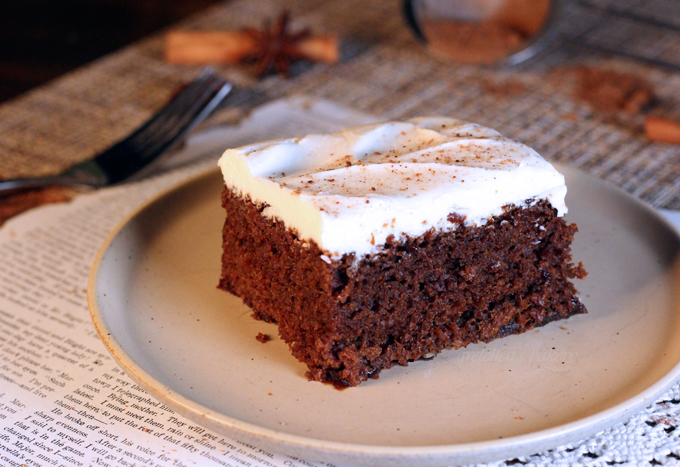 Ingredients
For the Cake Batter:
Vegetable Oil 1/3 cup (78ml)
Light Brown Sugar ½ cup + 2 tablespoons (132g)
Flax Meal 1 Tablespoon (8g)
Hot Water 3 Tablespoons (45ml)
Water 1/3 cup (78ml)
Molasses ½ cup (118ml)
Baking Soda ½ teaspoon
Baking Powder ½ teaspoon
Salt ½ teaspoon
Ground Ginger 1½ teaspoons
Ground Cinnamon ¾ teaspoon
Ground Cloves 1/8 teaspoon
All Purpose Flour 1¼ cups (218g)
Natural Cocoa Powder 1 Tablespoon (8g)
For the Cream Cheese Icing "hack"
Lactic Acid Powder 1¼ teaspoon
Instructions
Preheat the oven to 350°F
Grease & parchment line an 8" x 8" cake pan
Combine the flax meal with the first measure of hot water in a small bowl and whisk to combine, let stand for 5 minutes to thicken to a paste.
In a large bowl combine the light brown sugar with the oil and then add the thickened flax paste
Add the other measure of water and the molasses and whisk smooth
Sift the flour with the cocoa powder, spices, salt, and the baking powder & soda
Add to the wet ingredients in the mixing bowl all at once and whisk to a smooth batter
Pour into your prepared pan(s) and bake immediately in a preheat3ed 350°F oven for approximately 25-30 minutes or when a toothpick inserted into the center comes out with moist crumbs, not raw batter
*It's hard to say how long to bake because it depends what size pans you are using, but the 8" x 8" baked in 30 minutes
*cupcakes would most likely take 22 minutes, but I like to check at 18minutes to be sure
While the cakes are cooling prepare the buttercream recipe as per the recipe on that page
You can also use your favorite buttercream recipe if it is not mine! Simply add 1¼ teaspoons vegan lactic acid to about 6 cups of buttercream for that characteristic tang of cream cheese icing
Notes
Gingerbread cake does not have to be refrigerated and will stay fresh for up to 4 days at room temperature loosely covered.
For longer storage refrigerate for up to 1 week (7days) or freeze wrapped well for up to 2 months