Finally a soft rolls hamburger bun that is suitable for my double decker California style vegan cheeseburger with all the works! (scroll to the bottom to see that masterpiece! yummmm!)
They almost didn't make it to the burger part though since I was devouring these soft rolls faster than they could cool down out of the oven!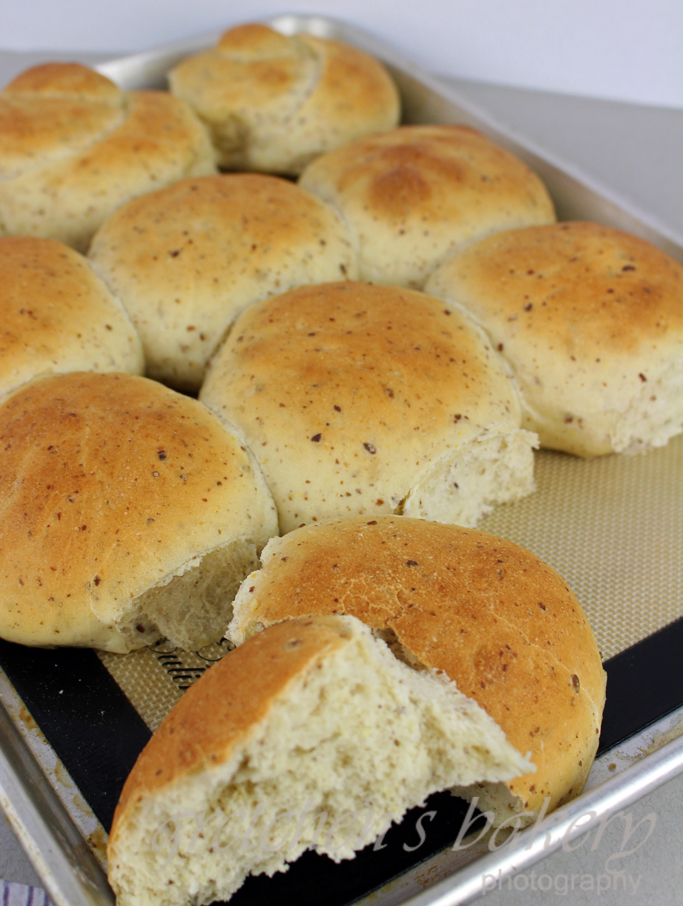 If any one knows what a potato roll tastes like? This is a the best way I can describe how these taste.
They are so soft and light, yet they will hold up to the drippiest of decadent burgers or sandwiches.
Make them slightly smaller and serve them up in a basket along with your dinner spread.
They also freeze nicely and well….what more can you ask for!?
They are super easy to make and even if you don't have a stand mixer you can do all the mixing by hand!
Watch the video for a demonstration of the professional rolling technique for making perfectly shaped rolls in no time.
Vegan Soft Rolls Recipe
IF YOU WANT SMALLER ROLLS FOR A DINNER BASKET, JUST WEIGH THEM AT 2 OUNCES EACH
Ingredients
Almond Milk 1½ cup (360ml)
Ground Flax Seeds 3 Tablespoons (24g)
Hot Water 6 Tablespoons (270ml)
Bread Flour 5-6 cups adjust as needed (650g-780g)
Dry Yeast 1½ teaspoon (4g)
Earth Balance ¼ cup (56g)
Granulated Sugar ¼ cup (50g)
Salt 2½ tsp (15g)
* optional Aquafaba for the wash as needed
Instructions
THE ALMOND MILK IS AT ABOUT 90°F ADD THE YEAST AND LET STAND FOR 5 MINUTES
COMBINE THE FLAX MEAL WITH THE HOT WATER LET STAND 5 MINUTES
MEASURE ABOUT 5½ CUPS OF FLOUR INTO YOUR MIXING BOWL
ADD THE SUGAR AND SALT
THEN GET IT MIXING WITH THE DOUGH HOOK TO COMBINE WELL
ADD THE MILK YEAST MIXTURE AND THE FLAX EGGS AND CONTINUE MIXING ON LOW SPEED TO INCORPORATE EVERYTHING WELL
GIVE IT SOME HELP SINCE THE DOUGH HOOK ALWAYS NEEDS A HELPING HAND IN THE BEGINNING STAGES OF MIXING
ONCE IT STARTS TO COME TOGETHER INTO A FRAGMENTED LOOKING DOUGH ADD THE EARTH BALANCE AND CONTINUE MIXING ON LOW SPEED FOR ABOUT 5 MINUTES.
THEN GIVE IT ANOTHER FLIP WITH YOUR SPATULA TO HELP IT MIX EVENLY AND MIX ON MEDIUM SPEED FOR ANOTHER 3 MINUTES
IF YOUR DOUGH SEEMS PARTICULARLY WET AND STICKY YOU CAN ADD A BIT MORE FLOUR
LIGHTLY OIL A BOWL AND PLACE THE DOUGH INSIDE
COVER AND LET IT REST IN A WARM SPOT TO DOUBLE IN SIZE THIS SHOULD TAKE ABOUT AN HOUR IN MOST NORMAL CONDITIONS
TURN IT OUT ONTO A LIGHTLY FLOURED SURFACE AND GENTLY PRESS OUT THOSE GASSES AND SHAPE TO ABOUT 12" X 18" X ¼"
CUT THE DOUGH IN HALF LENGTHWISE AND THEN INTO EQUAL SIZED PORTIONS AT 4 OUNCES EACH THESE ARE DEFINITELY FOR HAMBURGER BUNS
NEXT TAKE EACH PIECE OF DOUGH AND KNEAD IT LIGHTLY INTO A BALL
TRANSFER EACH ROLL TO A SHEET PAN WITH A SILICONE MAT OR PARCHMENT PAPER
REPEAT THE PROCESS WITH ALL THE ROLLS
COVER THEM AGAIN AND PLACE IN A WARM SPOT TO RISE ABOUT 40MINUTES TO AN HOUR
THEY WILL BE FLUFFY AND PUFFY AGAIN AND JUST AT THE LAST 15 MINUTES OF PROOFING, GET THE OVEN PREHEATING TO 375°F
BRUSH WITH AQUAFABA AND THIS WILL GIVE THEM A REALLY GREAT COLOR AND SHINE TO THE FINISHED BUNS
BAKE FOR ABOUT 15 - 22 MINUTES IT REALLY DEPENDS ON WHAT SIZE YOU MADE~THE BIGGER THE BUNS THE LONGER THE BAKE AND VICE VERSA
Notes
Like any yeast bread these will go stale before they will go bad.

Store in a ziploc bag or an airtight container at room temperature for up to 3 days

Freeze for longer storage