Summer baking means easy baking!
This Pineapple Crush Cake fits that description!
With just three simple recipes you can have this perfect refreshing summer cake in no time!
Fluffy layers of vanilla cake, pineapple filling and the best vegan buttercream icing!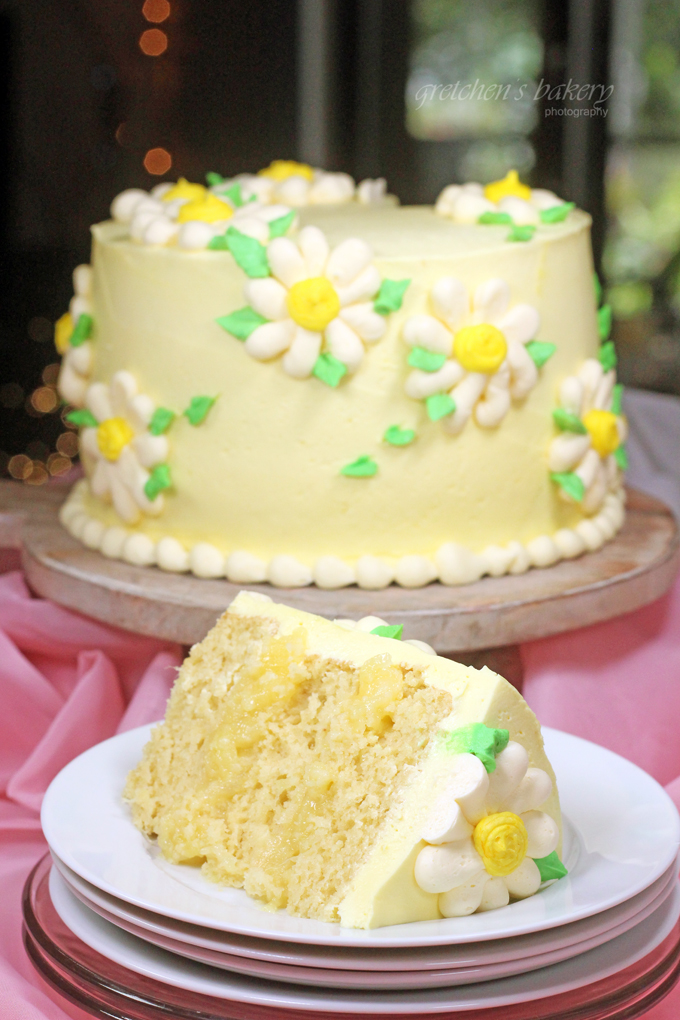 Inspired by my Piña Colada Cheesecake bars
I desperately needed another way to showcase the Pineapple Butter Rum topping
It is so good you will have to stop yourself from just eating it with a spoon!
Simply by thickening up the natural juice from a can of crushed pineapple
Add Spiced Rum Extract *optional and some vegan butter for instant thick pineapple butter rum pudding!
All you need now is some buttercream icing and this Pineapple Crush Cake is yours!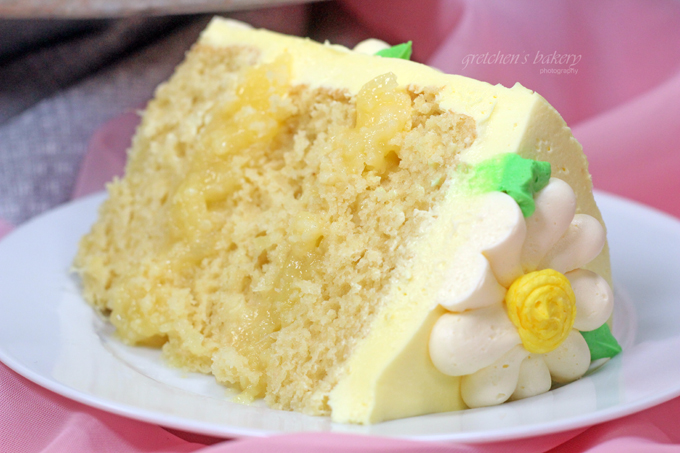 Olive Nation has some really great baking ingredients and I've worked with them in past collaborations
They will still honor the 20% discount just for clicking through from my website to theirs!
Enter GVB20 in the coupon area at checkout for 20% off your order!

The daisy chain buttercream decor is completely optional but really fun and easy too!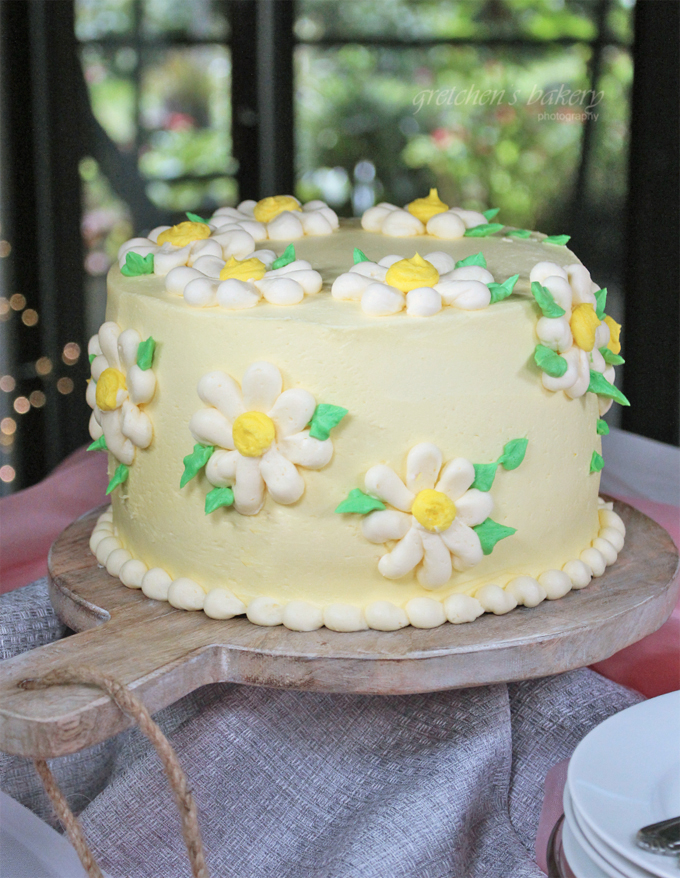 PRO TIP:
I have not been using shortening in my buttercream recipes lately since I got away from decorating my cakes like I did in the bakery
But I've been sort of getting back to some old school decorating so for the flower decor I did use the buttercream recipe including the shortening
Hi Ratio cake & icing shortening is the best way to go for making icings
Since it will add stability for piping and decorating a cake like this
Click here for a small batch resource for Hi Ratio Cake & Icing Shortening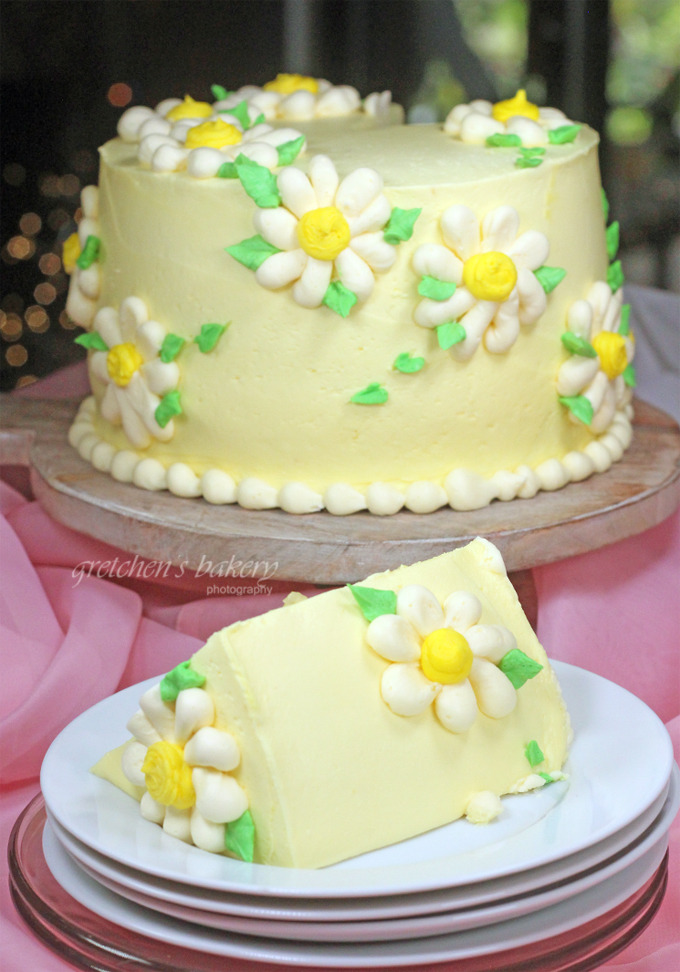 VIDEO TUTORIAL HERE!
CLICK HERE FOR THE YOUTUBE VIDEO TUTORIAL FOR HOW TO ASSEMBLE THIS CAKE!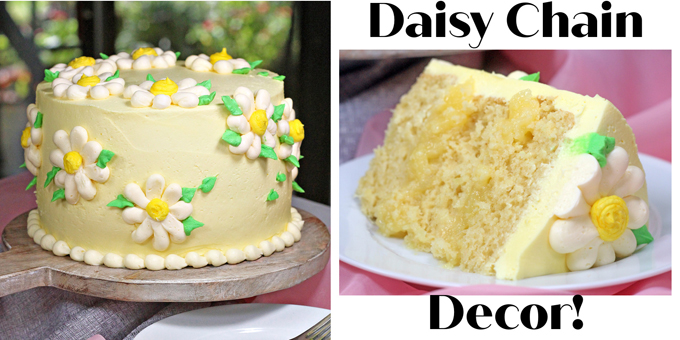 Notes for Success:
Cornstarch is a very difficult ingredient to measure consistently with a volume spoons measure
So while I list both measures below I cannot stress enough how the grams measure with a scale is going to give you the best results.
Many times people have complained that their custard is like rubber and they don't know why!
This is from a heavy measure of cornstarch when using volume measuring spoon vs the 100% accurate scale measure in grams.
I like to bake my cake layers into 3-7″ cake pans
If you don't have 7″ pans simply divide the cake batter recipe listed below into 2-8″ pans for a 2 layer cake instead of 3
American style buttercream with the addition of shortening is the recipe I am using today
However I have five or six different recipes for you to choose from here on my website!
Just pick the one you like the best!
CHOOSING THE BEST BUTTERCREAM RECIPE
For more easy layer cake recipes click the links below!
Strawberry Vanilla Ruffle Cake
Pineapple Crush Cake
Ingredients
For the Pineapple Topping:
1 Can 20oz Crushed Pineapple in 100% juice (this is equivalent to approx 2.5 cups crushed Pineapple in 1 cup juice)
Cornstarch 2 Tablespoons (16g)
Vegan Butter 4 Tablespoons (56g)
Spiced Rum Extract or Spiced Rum 4 teaspoons (20ml) *optional
Instructions
Preheat the oven to 350°F
First prepare the yellow cake recipe and bake in 3- greased & parchment lined 7" cake pans
While the cakes are baking prepare the buttercream recipe as per the instructions.
If you are making the daisy decor, you will then separate out ¼ cup buttercream for the yellow, ¼ cup for green & about 1½ cups white for the daisy petals
The rest of the buttercream can be tinted a light yellow for the icing & building of the cake
Meanwhile prepare the pineapple topping by draining all the juice from the pineapple can into a small sauce pot with the cornstarch and whisk completely smooth
Cook over medium high heat whisking constantly until it comes to a full boil
Remove from the heat and add the spiced rum extract and the vegan butter stirring until melted & combined well
Add the crushed pineapple, transfer to a bowl or container to cool, reserve until ready to build the cake
Once the cakes are baked & completely cold build the cake as shown in the video tutorial
Notes
Pineapple Crush Cake can be stored at room temperature for up to 3 days

For longer storage keep refrigerated for up to 10 days