It's that time of year again where everything goes from pink and red and hearts all over, to all things GREEN!
Lucky for me green is my favorite color
So BRING ON THE GREEN FOOD!
This Vegan Grasshopper Cheesecake is going to start off the month of March right!
A slightly minted cheesecake made with mint cookies and Creme De Menthe liquor!
For those of you who do not do alcohol, no worries!
Just leave it out altogether and add a drop of mint oil or extract to compensate!
Be careful not to over-do it with the mint though or this luscious, creamy cheesecake can go from so delicious to terrible toothpaste in seconds!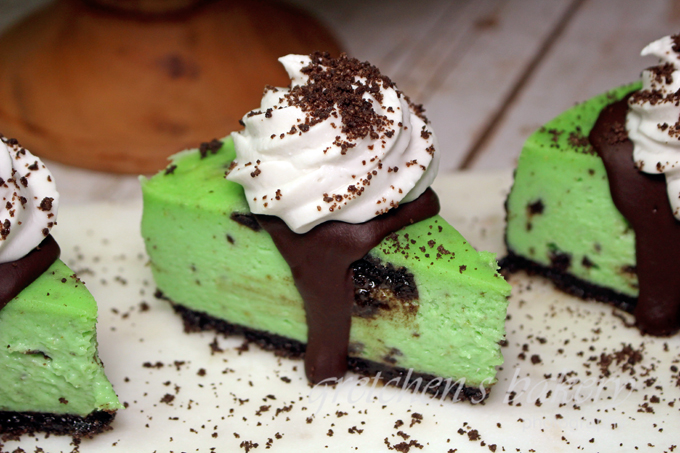 The good thing about vegan desserts is we can taste as we go!
No worries about getting sick from raw ingredients with vegan recipes! 
And I will urge you to taste the batter before baking since all mint extracts are not created equally and you will want to give it a little taste to make sure it is up to par.
I used 1 drop of mint essential oil and it was plenty!
The mint from the cookies in combination with the liquor was actually enough all by itself
Honestly I really didn't need that extra drop!
Also if you cannot find a decent Mint Cookie recipe to use for the base as well as for folding into the batter
You can always make my Copy Cat Girl Scout Thin Mints Recipe!
Just leave off the chocolate dipping part since that wouldn't be necessary if you are using it solely for this cheesecake.
But the mint shortbread cookie part is so good!
You may forget all about making the cheesecake once you make those cookies!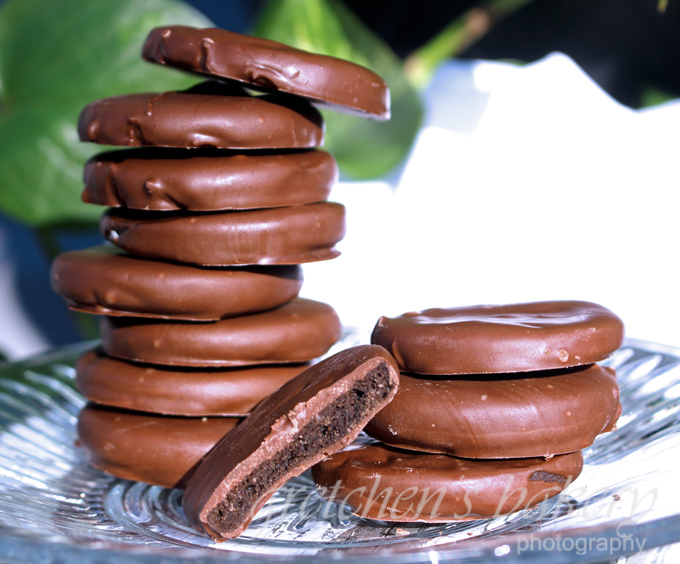 As you will see in the video and the written recipe below I made a ganache with Creme De Menthe liquor
But of course you can make a traditional Vegan Ganache with plant milk instead!
CLICK HERE FOR THE FULL STEP BY STEP YOUTUBE VIDEO TUTORIAL FOR HOW TO MAKE THIS CHEESECAKE!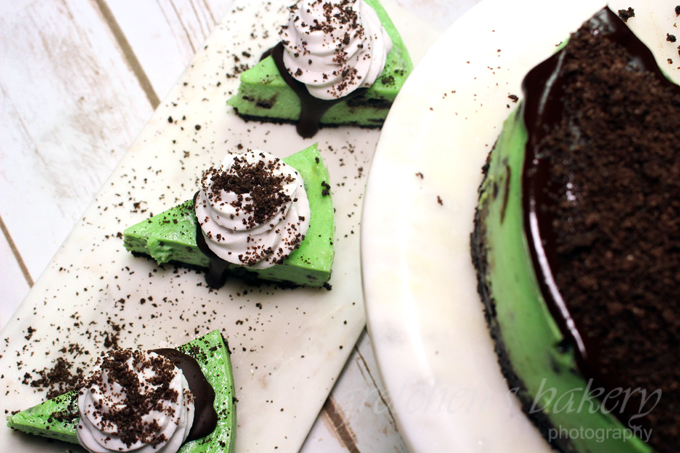 Coconut whipped cream is optional but always awesome, so why not!
Perhaps you already know this, but my vegan cheesecake recipes happen to be the best around
And they are so easy to make.
The only caveat is in regards to the Brand of Vegan Cream Cheese.
My only success has been with Tofutti Brand *not sponsored
I am not quite sure why this is the only brand that works in BAKING (for cold preparation desserts any brand will do!)
But when it comes to baking vegan cream cheese, not all brands are going to work!
I had that first hand experience when I made my annual cranberry cheesecake recipe and opted for the super expensive Violife brand!
What a disaster!

Vegan Grasshopper Cheesecake
I am using The Plant Based Egg- egg replacerin this recipe because I like the added stability and creaminess it lends to the recipe, but it is not necessary! Just add 1 teaspoon more cornstarch instead
Prepare your cake pan with pan grease & parchment paper liner
Preheat the oven to 350°F
Ingredients
I package (13ounces) Vegan Mint Sandwich Cookies *I used Newman's O's *You won't need the whole package
OR
1 recipe Copy Cat Thin Mints Recipe * omit the chocolate dipping step
For the Crust:
Vegan Butter 3 Tablespoons (42g)
For the Cheesecake Batter:
Vegan Cream Cheese *I use Tofutti Brand 1½ packages (12ounces)
Firm Tofu drained 4 ounces (1/4 of a package)
Granulated Sugar ¾ cup (150g)
Cornstarch 4 Tablespoons
All Purpose Flour 2 Tablespoons
The Plant Based Egg Egg Replacer 3 teaspoons *see note above
Plant milk *I use soy ½ cup (118ml)
Vegan Butter Melted 2 Tablespoons (28g)
Creme De Menthe Liquor ¼ cup (60ml) *or leave it out and add more plant milk
Green food color *optional
½ Recipe Vegan ganache OR make the creme de menthe ganache as I list below in the recipe notes
Instructions
Prepare the crust by crushing approx 14 of the sandwich cookies in a food processor and then add the melted vegan butter
*If you are making my Thin Mint Recipe you will need closer to 28 cookies for the crust and more for folding into the batter
Press it into the prepared 7" cake pan and freeze while you prepare the cheesecake batter
Place all cheesecake ingredients (except the remaining cookies) into a food processor and process until smooth.
Add green color if you wish (I did)
Crush the remaining cookies to big chunks and add to the cheesecake batter
Pour batter into prepared pan with the crust and bake in a water bath in a preheated 350°F oven for 1 hour, then turn the oven off and leave the cheesecake inside for another hour.
Remove from the oven and refrigerate overnight before unmolding
For a closer look at how to un-mold a cheesecake in a regular cake pan, click here
(Skip to 1:19 in the video for a visual tutorial)
I made a Creme de Menthe ganache (which is just 3.5 ounces chocolate melted with 1½ Tablespoons of Creme de Menthe liquor melted together over a low heat whisking constantly until melted and smooth.)
garnish with Optional Coconut Whipped Cream and crushed cookies
Notes
Cheesecake must be kept refrigerated but will be OK for up to 4 hours at room temperature.

Store in the refrigerator for up to 1 week
3.5.3226