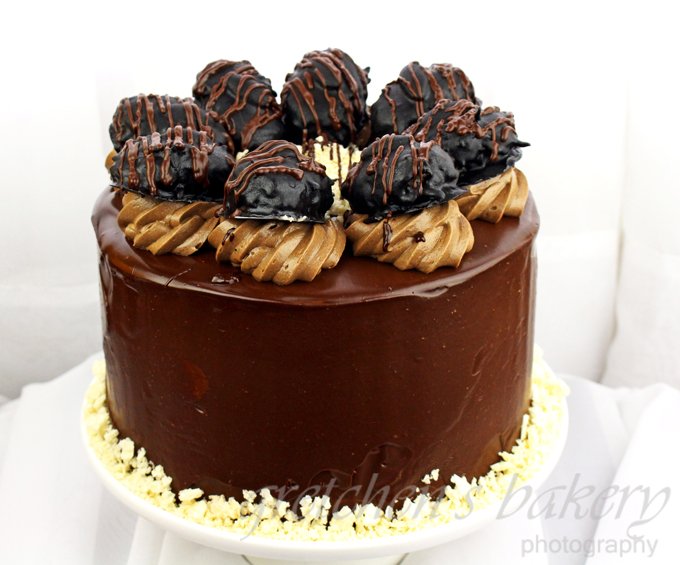 One of my favorite candy bars as a kid and even into my adult years was the Almond Joy.
Two bite candies made from sticky coconut filling covered with chocolate and an almond on top of each one.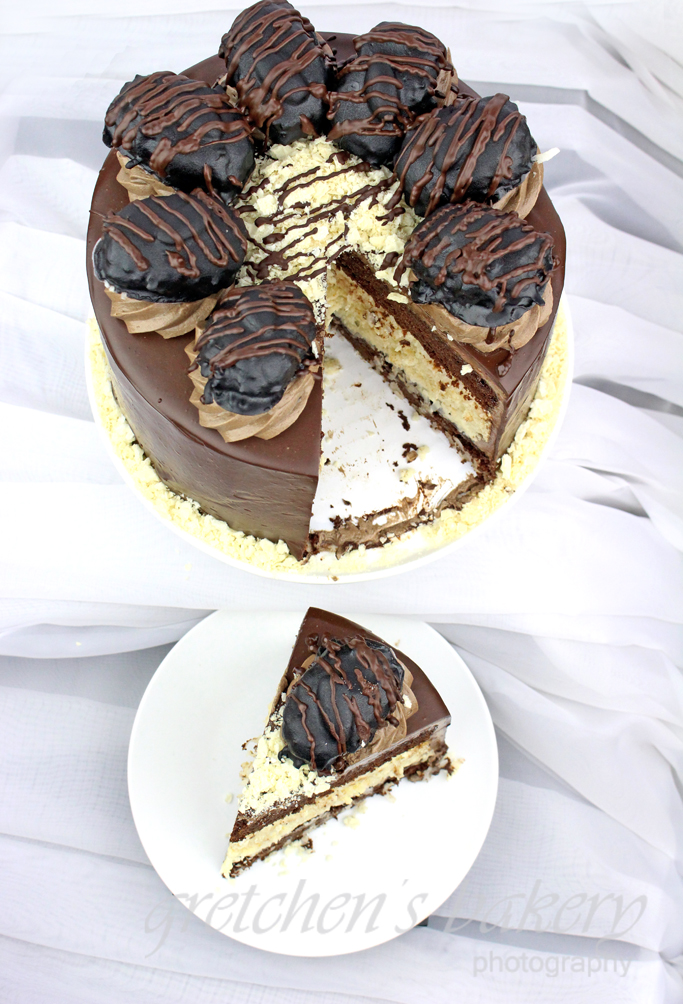 Now that I have gone vegan I pass up the candy aisle without a second thought, and I know full well that to enjoy my favorite treats of yesteryear I've got to recreate them myself!
That's ok though, since I have outdone the originals with homemade versions time after time anyway.
This rendition of the Almond Joy Cake includes my best recipes for chocolate and vanilla cake layers with that sticky, gooey coconut filling in between each layer.
A thin coating of chocolate buttercream and ganache poured over every inch of it!
Complete with homemade almond joy candy bars to adorn the top!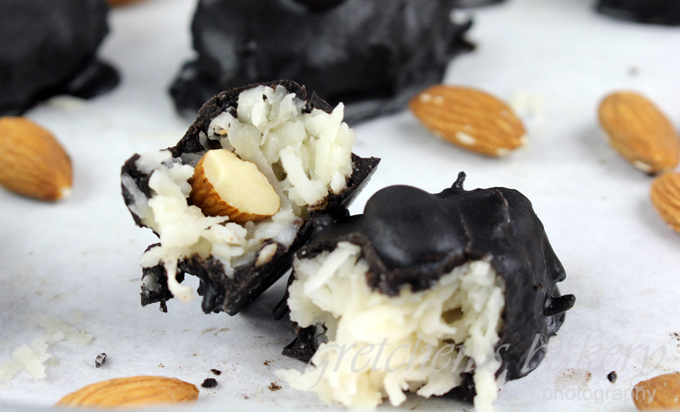 The recipe for coconut filling is really simple however it does require sweetened condensed milk which is available in some specialty food stores; but I just decided to make my own.
It's really easy and all you need is a can of full fat coconut milk and some sugar (or agave or vegan hon-ee) simmered for about an hour to a thick creamy condensed milk perfect for recipes!
This is a building on recipes project which as you know takes several recipes to get to the final layer cake, but if you work ahead and prep some things a day or two before it makes the job less stressful.
I always have a recipe of buttercream on hand so for me this cake was a breeze once I baked my cake layers.
Check out the recipes you will need below.
I suggest to make the buttercream as far ahead as a week (and just keep it in the refrigerator. Re-whipping it back to proper consistency after it's been cold can be tricky though, so click here for more info on how to do that successfully)
The cakes can be baked a day or two ahead too, and I always freeze my cake layers before assembling any cake, so then all you have to do is make the quick coconut filling and build that cake!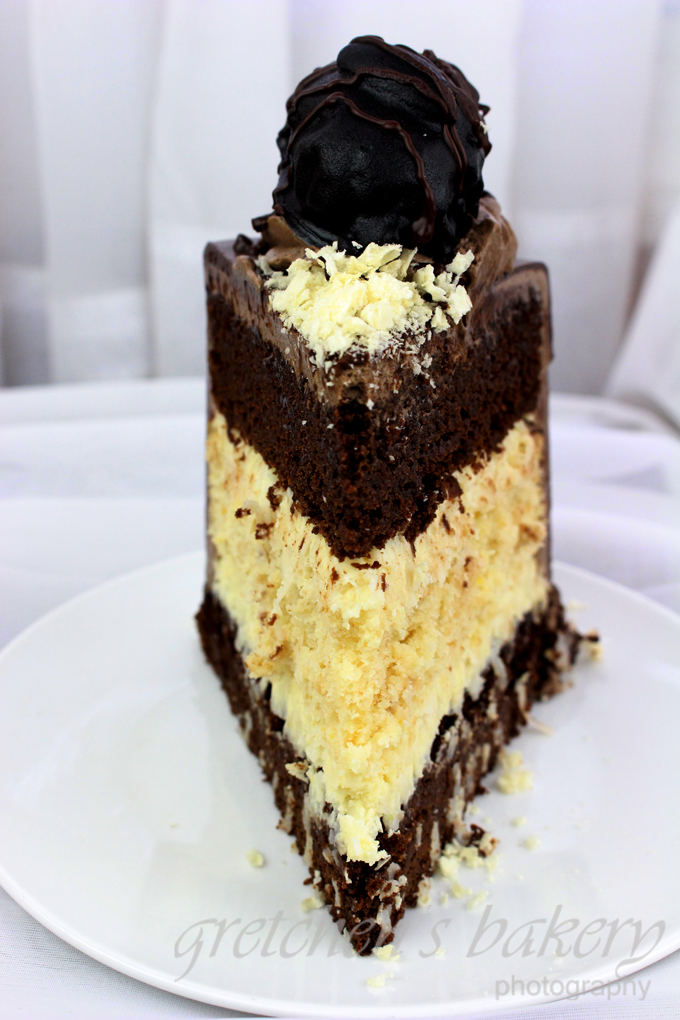 Almond Joy Cake
Serves:
7" cake to serve 10 pepole
Ingredients
Cocoa Powder 3 Tbs to make a portion of it chocolate
For the Vanilla Cake Layer
Ground Flax Seeds 2 tablespoons (16g)
Hot Water 5 tablespoons (75ml)
White Vinegar 1 Tablespoon (15ml)
Soy Milk ½ cup (120ml)
Vanilla Extract 1 teaspoon (5ml)
Cake Flour 1¼ cup (150g)
Granulated Sugar ¾ cup (150g)
Baking Powder 2 teaspoons (10g)
Salt ½ teaspoon (3g)
Vegan Butter 6 Tablespoons (84g)
For the Chocolate Cake
All Purpose Flour ¾ cup (94g)
Granulated Sugar ⅓ cup (67g)
Salt pinch
Baking Powder ¾ teaspoon
Baking Soda ¾ teaspoon
Coconut Oil 4 Tablespoons (56g)
Boiling Water ¾ (177ml)
Dutch Process or Natural Cocoa Powder ⅓ cup (70g)
Ground Flax Seeds 3 Tablespoons (24g)
Hot Water 5 Tablespoons (75ml)
Vanilla Extract 1 teaspoon (5ml)
For the Coconut Filling
Sweetened Shredded Coconut 3 cups
Vegan Sweetened Condensed Milk 1 cup *recipe follows
Vanilla Extract 1 teaspoon
Almond Flour or Coconut Flour ½ cup
For the Ganache Icing
Vegan Semi Sweet Chocolate 8 ounces
Soy Milk or Almond Milk ¾ cup
Instructions
For the Vanilla Cake:
Combine the flax meal with the hot water and let stand for about 5 minutes to thicken
Add the vinegar to the soy milk to sour
Sift the flour with the baking powder and salt
Cream the vegan butter with the sugar until light and fluffy and this may take about 3-5 minutes on medium to high speed
Add the thickened flax paste while mixing on medium speed, scrape the bottom and sides of the bowl to incorporate evenly, add the vanilla extract
Add about ⅓ of the flour to the creamed mixture then add half of the soured milk
Add another ⅓ of the flour and then the remaining sour milk
Add the last amount of flour and mix just to combine evenly.
Pour the batter into a greased and parchment lined 7" cake pan and bake in a preheated 350°F oven for approximately 25minutes or until it is springy to the touch when you gently press the centers
For the Chocolate Cake:
Combine ground flax seed with the 5 Tbs of hot water and whisk smooth
Let stand for 5 minutes to thicken to a paste
Combine the flour, sugar, salt, baking powder & soda together in a large mixing bowl
Combine the coconut oil, ¾ cup boiling water and cocoa powder together and whisk smooth
Add the cocoa mixture and the flax eggs mixture along with the vanilla extract to the flour mixture and whisk smooth
Divide the batter between 2-7" cake pans filling slightly more than half full and bake in a preheated 350°F oven for approximately 22 - 38 minutes or until they are springy to the touch when you gently press the centers
For the Coconut Filling:
Combine all the ingredients for the filling together in a large mixing bowl, form your almond joy candies from a small portion of this (I made 12 fun sized candies and had exactly enough filling left for my cake) add 1 cup of the buttercream from above to the coconut filling for a creamier cake filling
Assemble the cake as shown in the video
Chocolate Glaze for the Candies
Ingredients
For the Glaze:
8 Tablespoons coconut oil
10Tablespoons cocoa powder
3 Tablespoons agave syrup
Instructions
Combine all ingredients together in a small sauce pot and heat on low stirring constantly until melted
Vegan Sweetened Condensed Milk Recipe
Ingredients
1 -14ounce can full fat coconut milk
⅓ cup sugar
Instructions
Bring the coconut milk to a boil then add the sugar and reduce the heat to a simmer and cook for 45 minutes to 1 hour or until the mixture reduces down to 1 cup and is thickened.
It will get thicker as it cools