Yes it's true this is the exact recipe for Blueberry Crumb Buns that I sold daily in my bakery
There was never a day without piles of Crumb Buns freshly made each morning.
The only question was: "Original or Blueberry?"
I'll let you decide which way is best, but I'll give you a clue
The blueberry ones always sold out!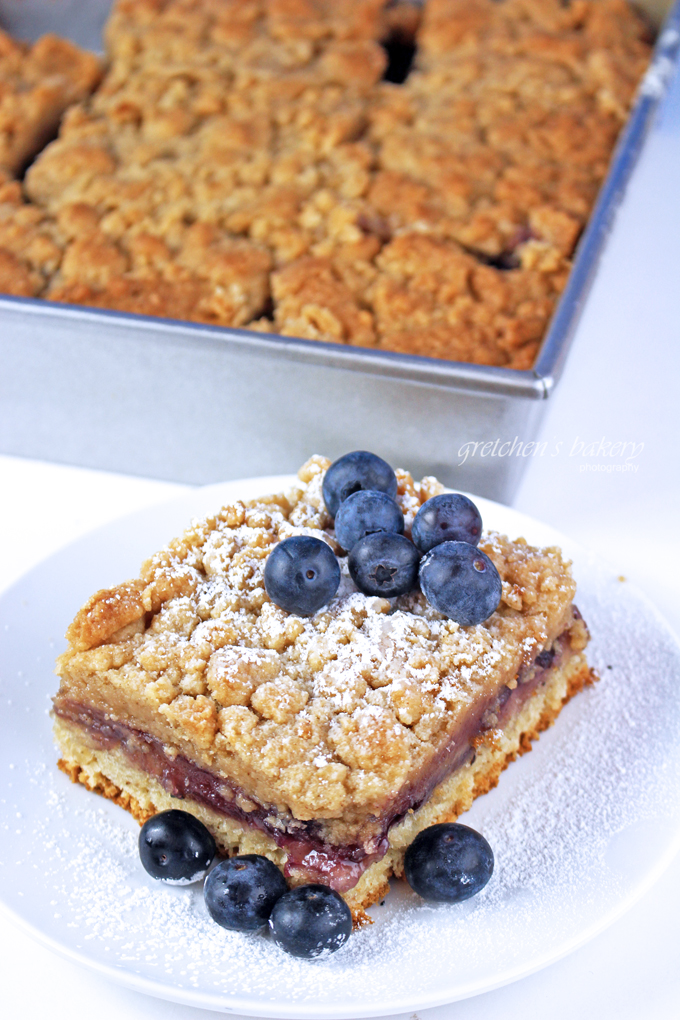 Blueberry Crumb Buns are not to be confused with crumb cake which is slightly different
Because the way that I make them is with an actual yeast bun rather than cake
These thick, buttery, crumb topped, fluffy buns of joy also have a layer of blueberry filling running through the middle!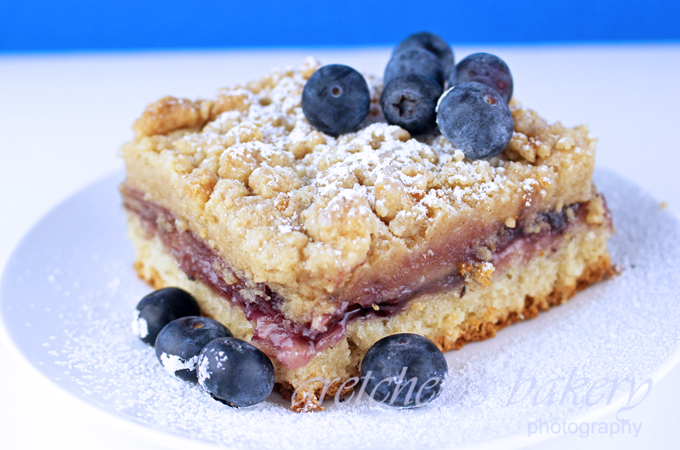 You can of course substitute any fruit filling if Blueberry is not your favorite fruit.
I've made Apple, Cherry and even Pumpkin Filled Buns!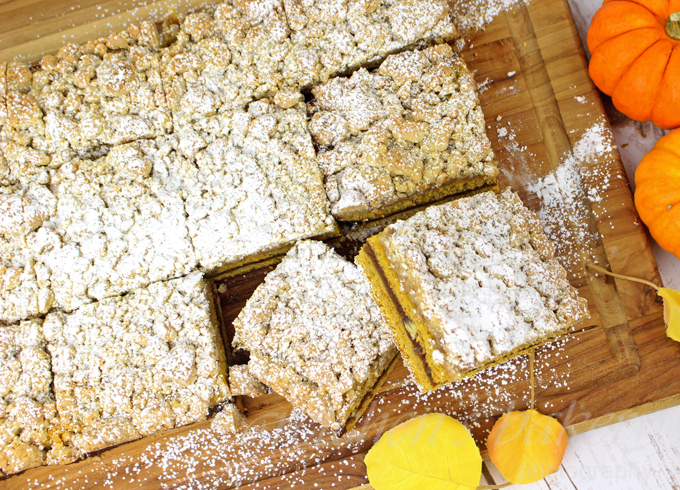 Today I am using canned blueberry pie and pastry filling because I am lazy
But of course you can make your own fruit compote just the same!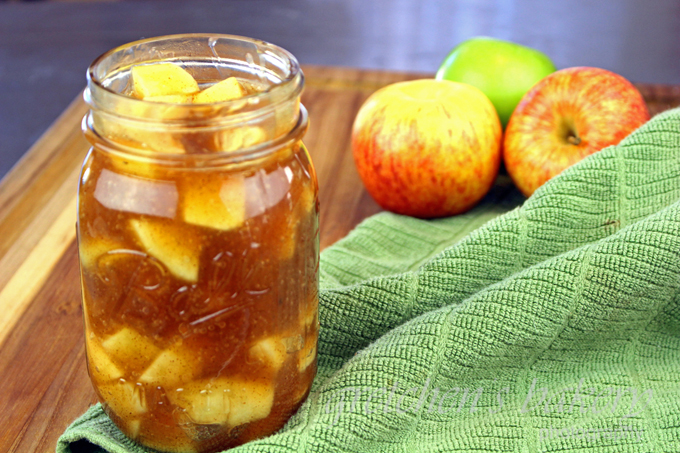 The only warning I have for you when using the fruit is: "Don't be tempted to use too much!"
I have been heavy handed with the fruit layer several times and I've regretted it each and every time!
Too much fruit filling will prevent proper baking and you will have raw dough! Not good at all!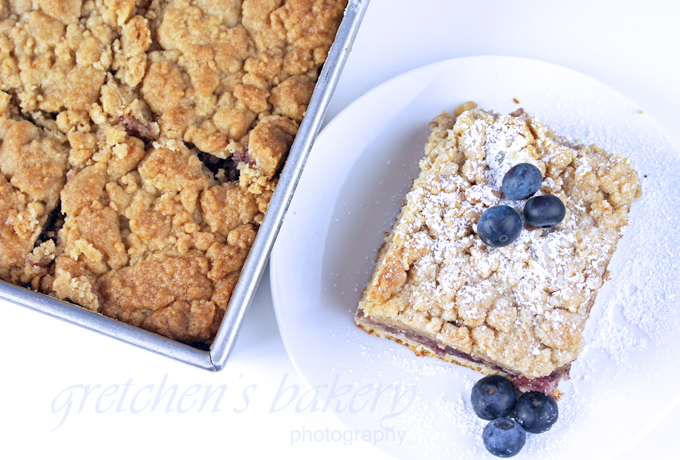 Notes for Success:
You will notice the streusel topping recipe contains cake flour and I know that some people have trouble knowing what that is or even finding it in the store
Cake flour is a softer wheat flour that has less protein and gluten forming ability than plain or all purpose flour and it will absorb much less liquid than those formerly named flours
So I like to use it here to ensure a softer crumble topping
Alternatively you can use all plain or all purpose flour but remove ¼ cup (30g) from the total listed below in the Streusel Topping section on the recipe
CLICK HERE FOR THE FULL YOUTUBE VIDEO TUTORIAL FOR HOW TO MAKE THESE BLUEBERRY CRUMB BUNS!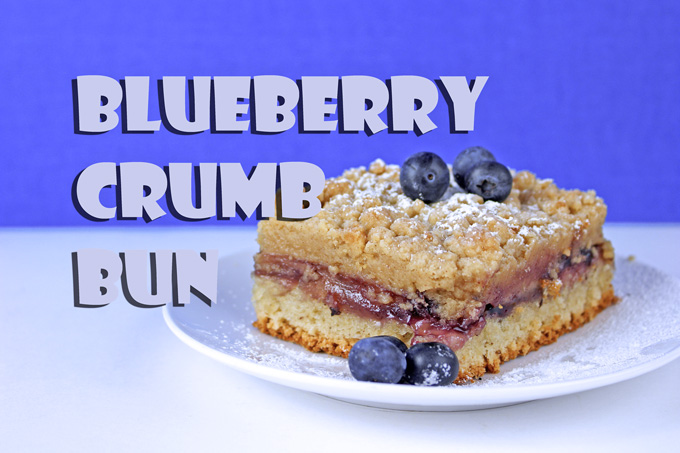 For more recipes like this one click the links below!
Yield: 12 Buns
Blueberry Crumb Buns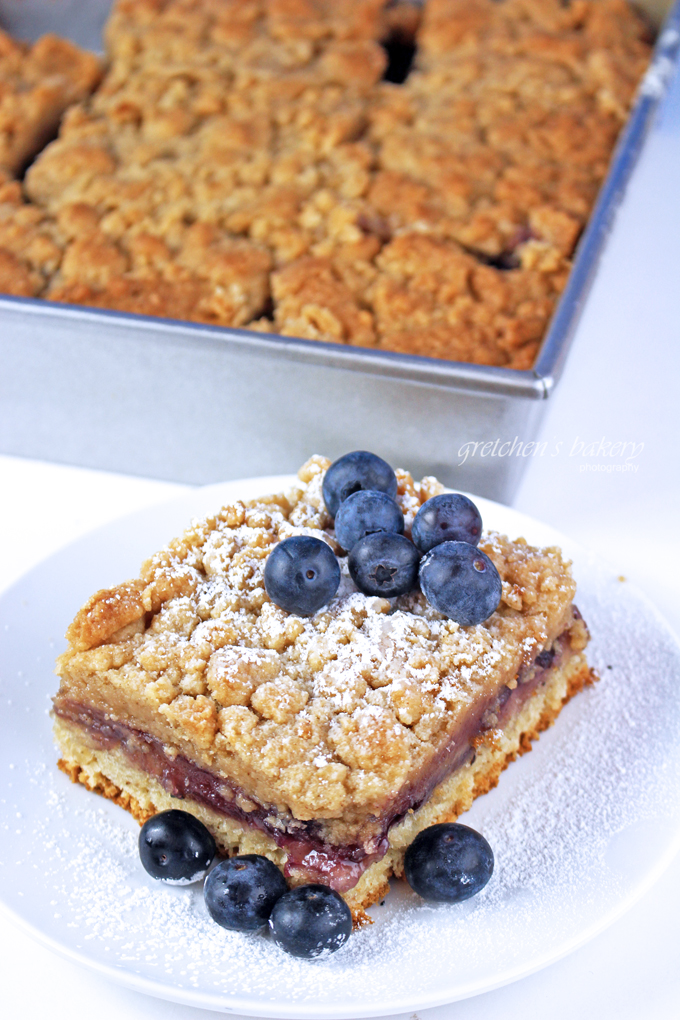 Prepare a 9" X 13" pan with pan grease, but do not use a parchment paper liner
Ingredients
For the Bun Dough:
Ground Flax 1 Tablespoon (8g)
Hot Water 3 Tablespoons (45ml)
Dry Yeast 2¼ teaspoons (10g)
Plant Milk warm to 90°F ¾ Cup + 2 Tablespoons (210ml)
Granulated Sugar ¼ cup (50g)
Vegan Butter 6 Tablespoons (84g)
Salt 1 teaspoon (6g)
All Purpose Flour 2 ½ cups (315g)
For the Streusel Topping:
Light Brown Sugar ¾ (150g)
Granulated Sugar 1 cup (200g)
Salt ½ teaspoon (3g)
Ground Cinnamon ½ teaspoon
Vegan Butter 3 sticks (340g)
Cake Flour 3¼ cups (390g) *see notes above
For the fruit Filling:
¾ can from a -12 ounce can blueberry pie filling
Instructions
Combine the ground flax with the hot water and let stand to thicken about 5 minutes
First prepare the bun dough by combining the yeast and warm milk with a pinch of sugar
After 5 minutes it should be frothy and that proves it is alive and working, so you can proceed to mix the recipe
Combine all of the ingredients including the yeast milk and the flax paste into the work bowl of your stand mixer with the dough hook attachment and mix for 2 minutes on low speed. Stop the mixer to scrape the bottom and sides of the bowl to help the dough incorporate evenly.
If the dough looks particularly sticky you can add another tablespoon or 2 of flour
Mix for another 4 minutes then turn the dough out onto a generously floured surface and knead for 20-30 strokes until it forms a smooth ball of dough, adding flour if necessary but do not add too much or you will have a very stiff dough.
Place dough in a lightly oiled bowl cover and allow to rest for about 1 hour at room temperature.
In the meantime prepare the streusel topping by creaming the cold butter with both sugars - about 2 minutes.
Add the cinnamon, salt and flour and mix just until combined and keep in the refrigerator until needed.
After 1 hour of resting the dough, begin preheating your oven to 375° F. (I also like to use a pizza stone for baking crumb buns, if you have one, Great! Use it!)
Remove the dough from the oiled bowl onto a lightly floured work surface and gently press the dough to release the gasses and and shape into a rectangle shape the size of your pan (9" X 13")
Dock the dough with a fork to allow stream to escape while baking
At this point you will spread with blueberry fruit filling
Cover the entire bun with streusel topping but do not use too much pressure to push the streusel into the pan, but rather use a fluffing motion and gently spread the streusel around the dough covering the entire dough
Bake on the center rack in on the pizza stone in a preheated 375°F oven for 15 minutes, then turn the oven down to 325°F and bake for another 35 to 45 minutes or until the streusel is no longer doughy. (You can check this simply by moving a larger piece of streusel to the side with a fork or spatula to see if the center is still raw)
Cool to warm before serving, cut into desired portions and sprinkle powdered sugar over the top of the buns.
Notes
Like any yeast pastry blueberry crumb buns are best served the day they are made, but you can wrap them tightly to keep them fresh for up to 4 days at room temperature.

They will tend to dry out after a couple days, so I heat them wrapped in a damp paper towel in the microwave to make them slightly more moist to re-serve