This recipe contains a sponsored ingredient!
Check out Silda's Jam for the best refined sugar free jam around!
Fun and easy Franken Jam Cakes for Halloween!
Individual cakes stuffed with Silda's Jam and iced up in that gory green Frankenstein color!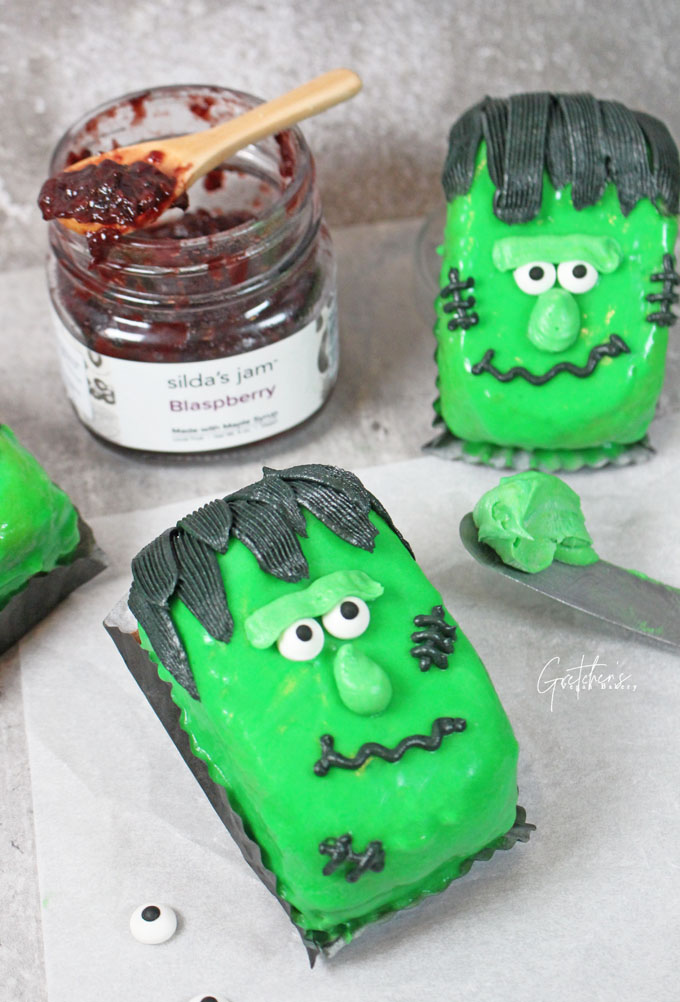 Buttercream Drip technique for a fast pour able icing , but I actually did two variations
One with hand iced buttercream and the other with pourable drip, and I have to say I think I like the drip technique on this one!
It was a much cleaner icing with rounded edges versus the square and messier look of the hand icing with buttercream
Not to mention icing these little cakes with buttercream by hand is tedious work! But either way you still have to make buttercream to hold in the jam.
Using Betty Crocker accidentally vegan vanilla frosting and some food color
It's so easy to pour on the icing and in minutes it's ready for decorating! *not sponsored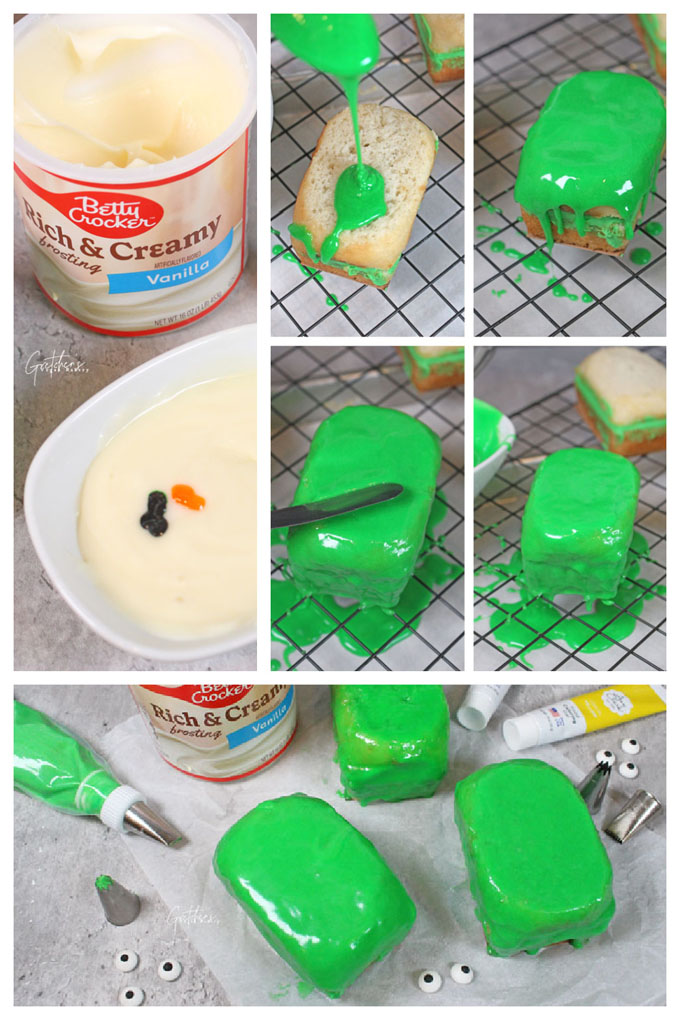 Decorating is fun and fast with just a couple of piping tips that you probably already have!
Listed below are all the tools, piping tips and food coloring I'm using here, including my homemade candy eyeballs using just two ingredients!
Instantly you can see these Franken Jam Cakes for Halloween come alive!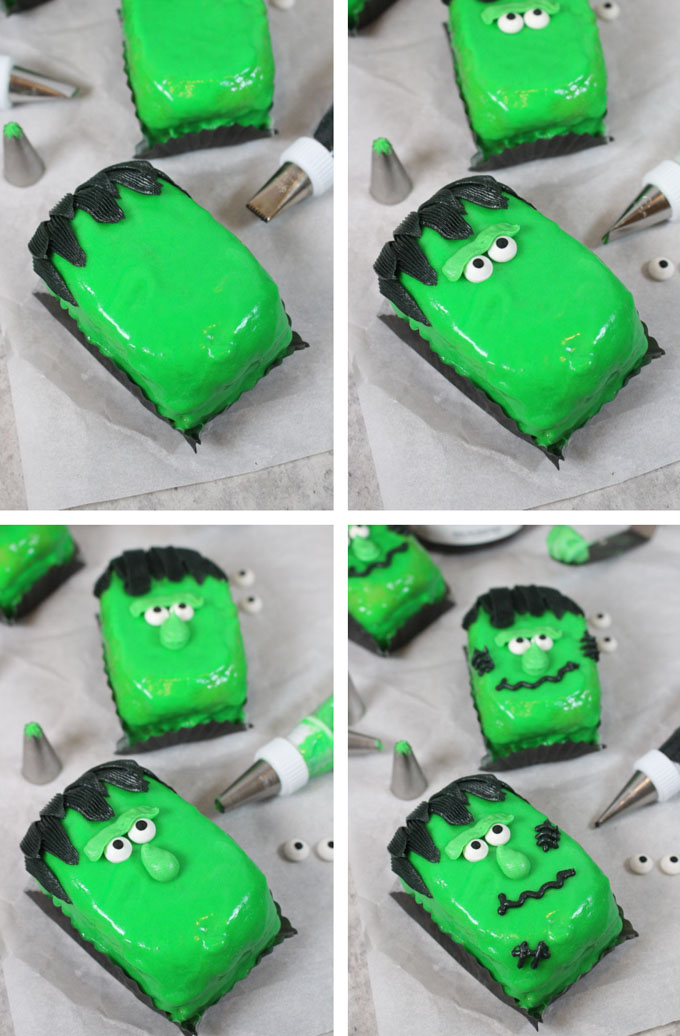 Rewind to the actual filling of the cakes though!
Using my white cake recipe, American buttercream and the best Blaspberry jam from Silda's Jam!
I would recommend cutting out some thin cardboard to fit under the cakes for easier icing and moveability, especially if you are glazing the cakes on a rack with the buttercream drip technique.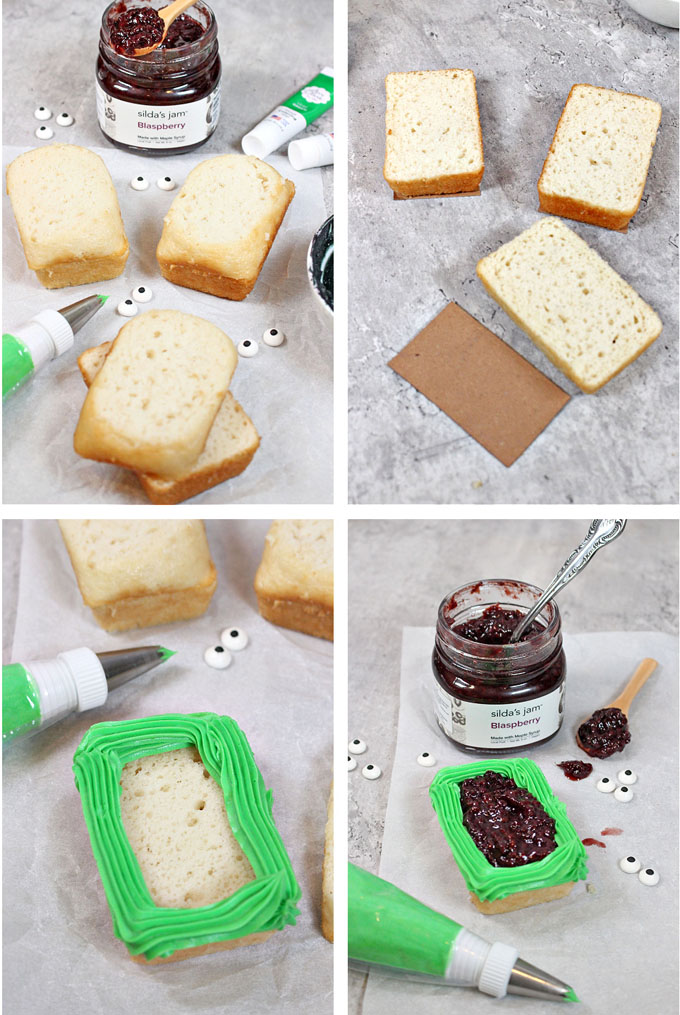 Add these to the Mummy Cakes with Jammy Guts and you have yourself a real monster bash!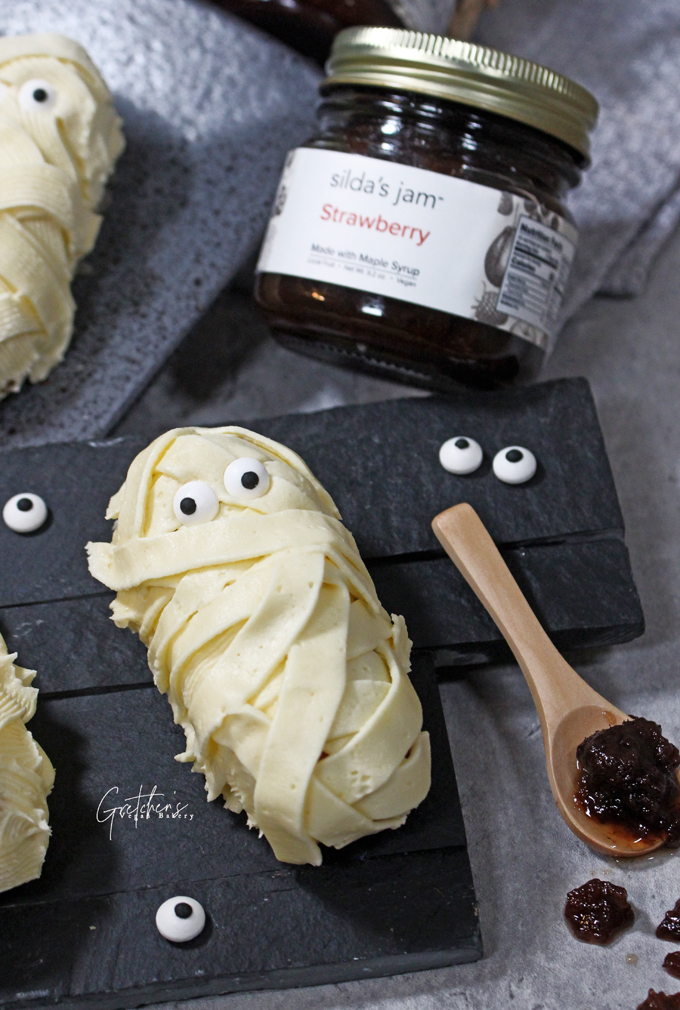 This website may contain links as part of the Amazon Affiliate program, which means when you click a link and make a purchase through my website I may earn a small commission at no additional cost to you
Notes for Success:
There is no video tutorial for these cakes but I show you the buttercream drip technique in my recent Funfetti Cake video here
Leaf green and yellow food color together makes that sickly looking green color perfect for Franken Cakes!
The white cake recipe will make approximately 10 mini cakes if you are using the same cake mold I linked below
Half recipe of American Buttercream is more than enough for the icing dam as well as for all the decorating
I used basketweave tip for the hair, petal tip for the eyebrows, small round piping tip for the mouth and scars and a larger one for the nose.
As well as a rosette tip to pipe the buttercream dam that holds in the filling
The Ateco kit listed below contains of of those tips and more.
Recipes & Tools I'm Using:
Ateco tips for the mouth, nose, hair, and eyebrows