Who needs cannoli when you can have a Cannoli Roll Cake!
Ok I need cannoli too!
But let's focus here! Today it's all about CAKE!
In my old age I have come to love no mixer required recipes!
This Cannoli Roll Cake is in that category for sure!
From the easy hand mixing of the cannoli cream filling to the equally simplistic roulade, this cake is even easier to eat!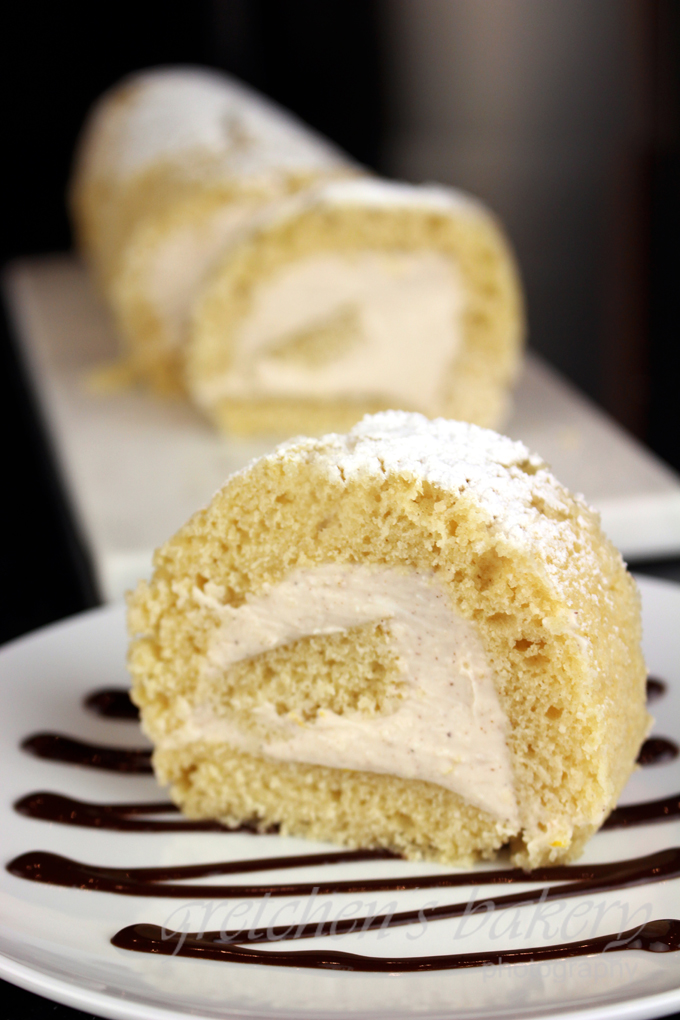 It's hard to put a precise serving quantity on this recipe because well, I ate half of it myself so maybe three?
Three people?  Me, Myself and I!
Haha, just kidding (not really!)
Ok enough blah blah blah… here's the recipe!
Cannoli Roll Cake
Ingredients
All Purpose Flour 1 Cup + 2 tablespoons (140g)
Cake Flour 1 cup (120g)
Baking Powder 4 teaspoons (20g)
Confectioners Sugar 1¼ cups
Melted Coconut Oil or Vegan Butter 9 Tablespoons (126g)
Plant Milk warm1½ cups (354ml)
Vanilla Extract 2 teaspoons (10ml)
Instructions
In a large bowl or a 4 cup Pyrex measuring cup add the vanilla to the warmed plant milk and then add the melted butter or coconut oil to that
In another large mixing bowl sift the flours, with the sugar, baking powder and salt.
Add the liquids and whisk smooth.
Pour the batter into a greased and parchment lined 12" x 18" sheet pan and bake immediately in a preheated 375°F oven for approximately 18 minutes or when it is springy to the touch when you gently press the center
Cool for about 5 minutes in the pan then loosen the edges with a small spatula and slide it out onto your work table.
Sprinkle the top with a small amount of sugar (to prevent sticking to the paper) then roll it up jelly roll style while it is still warm and let it cool completely
Meanwhile prepare the cannoli cream recipe below.
Once the cake is completely cooled you can fill it as shown in the video
Cannoli cake must stay refrigerated at all times, keep covered for up to 1 week
Notes
Note about Cake Flour- I know some people cannot get cake
flour so you can use 100% all purpose flour (plain flour) with
a total weight of 275g.

Baking powder contains sodium bicarbonate (aka baking
soda), which is technically sodium in terms of taste, adding
488mg of sodium per teaspoon!
By using sodium free baking powder you can diminish this
salty effect in your recipes
FOR THE CANNOLI CREAM FILLING:
Cannoli Cream Filling
Ingredients
Tofutti Ricotta Cheese 1½ cup (375g)
Tofutti Cream Cheese 1 cup (226g)
Confectioners Sugar ½ cup + 2 Tablespoons (75g)
Vanilla Extract 1 teaspoon (5ml)
Orange Zest ½ teaspoon
Ground Cinnamon ½ teaspoon
Instructions
Combine the vegan cream cheese, cinnamon, sifted confectioners sugar, orange zest and vanilla extract together and paddle it smooth by hand with a large spoon or spatula.
Fold in the vegan ricotta cheese.