This is my new take on the classic Strawberry Shortcakes, only now made with Corn Cake Biscuits!
That's right! Strawberry Corn Cakes have hit the scene, and just in time for summer strawberry season!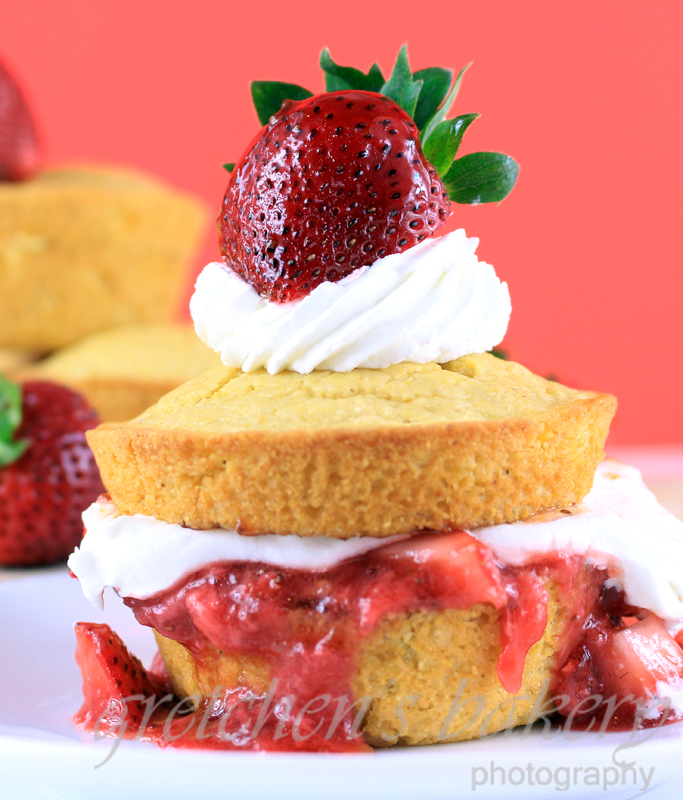 These little cakes can be whatever you want them to be!
Serve them just as muffins or go the full gambit and get all summer-y shortcake-y with yo bad self!
I know I just showed you how to make the classic Strawberry Shortcake Biscuit recipe, but this is a new twist on a classic
This recipe, which is essentially a corn bread recipe, just got tweaked up and make into a luscious summer berry biscuit!
Loaded with fresh strawberry compote, glazed with strawberry preserves and piled with whipped cream!
The recipe for the corn cake is amazing all by itself.
I can contest to that, since I polished off about half a dozen of these muffins in less than a day ~ all by myself!
Ugggh, damn me and my fabulous recipes!!!
Thank goodness this recipe happens to be FAT FREE!
Yep, you heard me!
But the taste is not compromised, you would never know this had I not mentioned it!
They are not too sweet too,  so the preserves and additional coconut whipped cream really tie this whole dessert together!
Ok now check out another one of my "One Bowl Mixes" for this easy and delicious corn cake recipe!
Oh yeah, I am using my Jumbo Muffin tin but you can use a standard muffin tin if you don't want to buy the large one
Strawberry Corn Cakes
Ingredients
Cornmeal 1 cup (120g)
All Purpose Flour 1 cup (125g)
Vegan Sugar ¼ cup (50g)
Baking Powder 1 Tablespoon (15g)
Milk Alternative (* I love Oat Milk) 1 cup (240ml)
Apple Cider Vinegar (or white vinegar) 2 teaspoons (10ml)
Unsweetened Apple sauce ¼ cup (50g)
Frozen or Fresh Corn Kernels 1 cup
Salt pinch
Vanilla Extract 1 teaspoon
For the Strawberry Compote:
Fresh or Frozen Strawberries 1 pint
Fresh Strawberries 1 pint
Granulated Sugar *optional 1 Tablespoon - ¼ cup ~ adjust sweetness to your liking
For the Coconut Whipped Cream:
2 Cans full fat unsweetened coconut milk
Granulated or Confectioners Sugar 4 tablespoons
Instructions
Combine the vinegar with the milk alternative then add the vanilla extract & applesauce to that
Combine all the dry ingredients in a large mixing bowl and sift or whisk together to blend well.
Add the liquids to the dry ingredients and whisk smooth
Add the corn and mix well
Portion into muffin tins (I am using a Jumbo Muffin pan but you can use a standard size pan and you will get 12 muffins)
Bake in a preheated 350°F oven for approximately 30 minutes for the large ones (the time will vary depending on the size of your muffins CLICK HERE FOR MORE) but a general rule of thumb for done-ness is when they are springy to the touch when you gently press the centers - see video demo for this
Cool the muffins while you prepare the strawberry compote
For the Compote:
Place the first measure of fresh (or frozen) strawberries in a heavy bottom sauce pot and add the optional sugar
Cook over medium heat stirring frequently until the berries break down to a mushy pulp, the mixture may boil but be careful not to scorch, best to keep at a high simmer
You can leave the compote chunky or puree in a blender or with a stick blender to your desired consistency
Add the other pint of fresh chopped strawberries
For the Coconut Whipped Cream:
Be sure to place the cans of coconut milk in the refrigerator overnight before beginning this project
When you open the cans they will have a layer of coconut fat on top.
Skim the coconut fat off the top and save the leftover coconut milk for another recipe or it is great in a breakfast smoothie!
Place the coconut fat in a large mixing bowl and with a whip attachment whip to soft peaks, add the sugar and whip to firm peaks
Assemble the corn cakes as shown in the video
Notes
Corn Muffins will stay fresh at room temperature wrapped well for up to 4 days

Freeze for up to 1 month

Compote must be refrigerated for up to 2 weeks