Caramel. Chocolate. Cheesecake.
All three of my favorite things together in one dessert!
New York Style Caramel Cheesecake
Creamy and dense with caramel in every bite!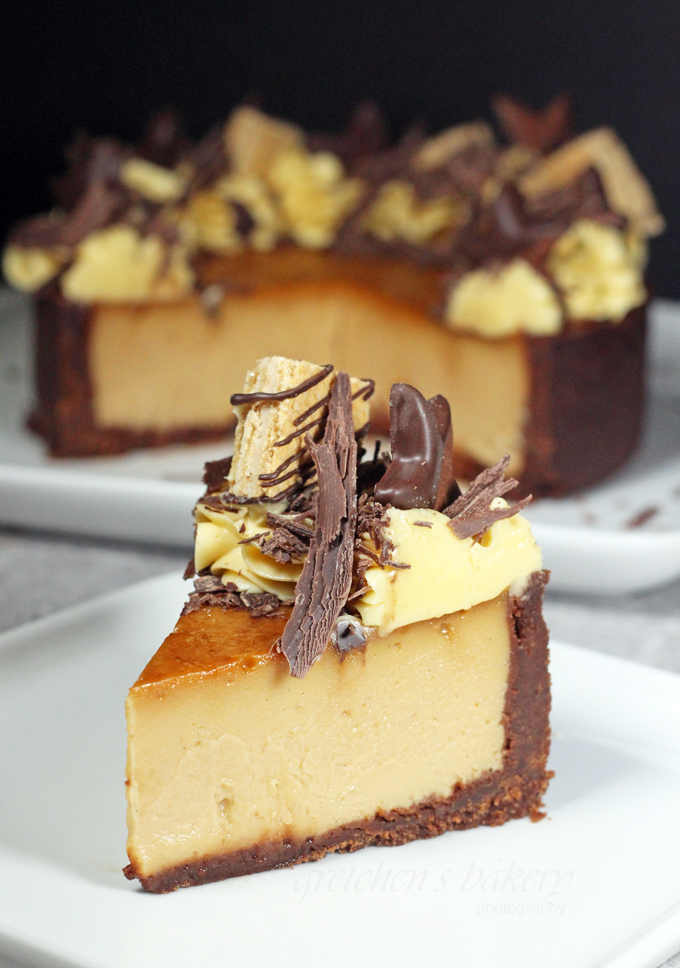 Sometimes I add tofu to my cheesecake recipes in place of some of the vegan cream cheese
But this time I went all cream cheese for that heavier, dense texture that is characteristic of a New York Style Cheesecake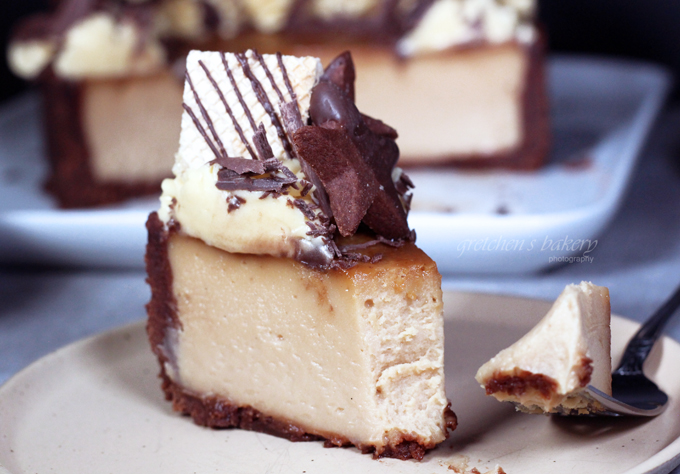 Be sure to have lots of people to share with or this caramel cheesecake can become a single serving pretty quick!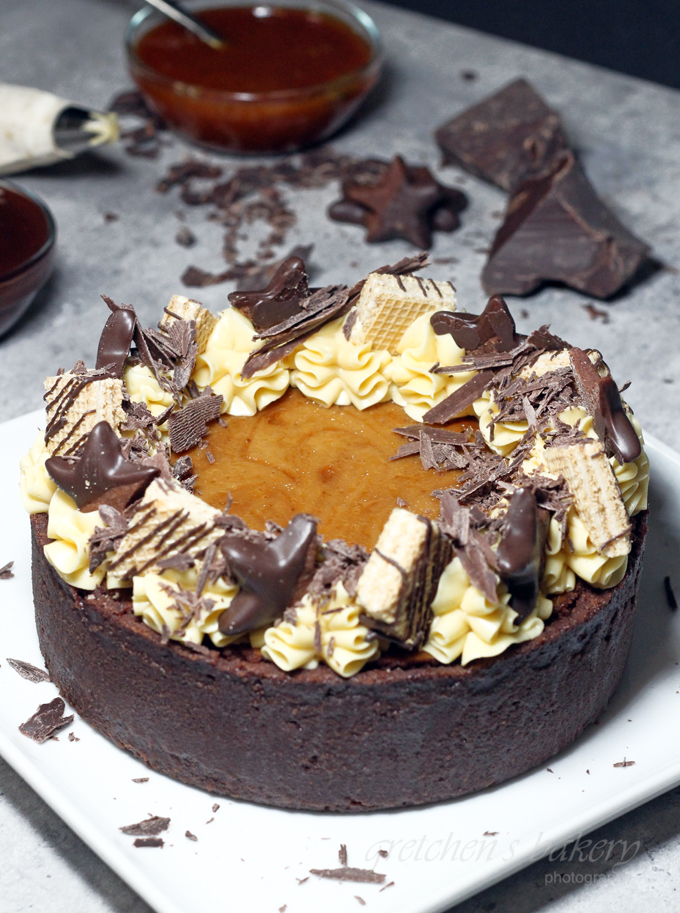 But enough about me! This is all about YOU!
Usually it's right about now that I tell you how easy my vegan cheesecake recipe is to make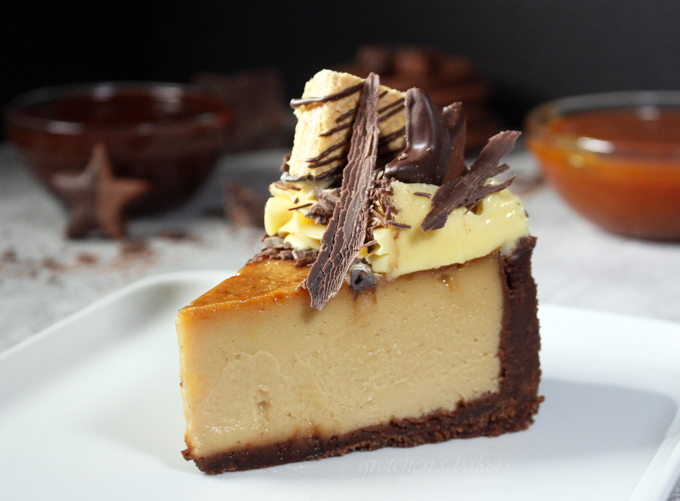 However this time there is an added step since we have to make the caramel not only for the top
But this time I added caramel to the cheesecake batter too! *see notes in recipe section to skip this step
For all the vegan caramel options click here!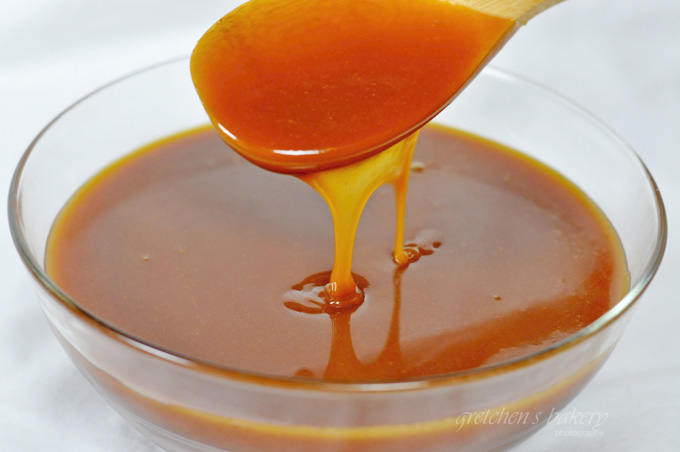 Homemade chocolate shortbread cookies for the base and more for the stars decor!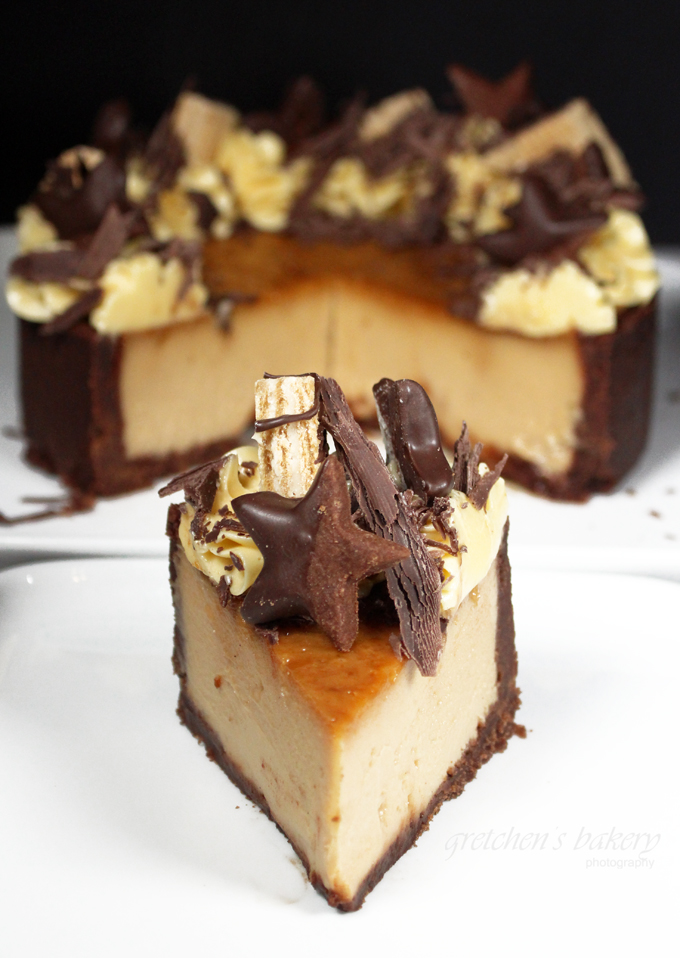 You can use any cookie you like best for the crust and store bought would eliminate one more step
CLICK HERE FOR THE FULL YOUTUBE VIDEO TUTORIAL FOR HOW TO MAKE THIS CARAMEL CHEESECAKE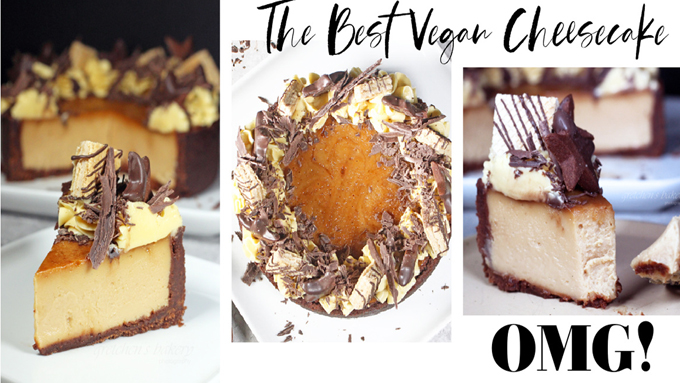 Notes for Success:
I have the caramel listed as one recipe and you will separate out ½ cup of it to go inside the cheesecake batter
The remaining gets drizzles (or poured!) onto the final baked cheesecake, either on each slice before serving or pour over the top of the whole cheesecake
If you do not want to make the extra caramel recipe I have done it with just the cooking of the brown sugar and the vegan butter as described in the recipe below
By adding the extra caramel sauce you will definitely get a more pronounced caramel flavor
But the first version without it was still a recognizable caramel cheesecake
At times I add an addition of firm tofu in place of some of the cream cheese for a lightened up version and to cut some of the fat calories.
I do not find an extremely noticeable difference in the outcome of straight vegan cream cheese versus the tofu addition,  so for me I like the tofu version.
I only use Tofutti Cream Cheese for my BAKED recipes. *not sponsored
I have not had success with any other brand in BAKED recipes.
For some reason the other more expensive brands I've tried have broken down into an oily mess when baked.
When measuring cornstarch I cannot stress enough that a kitchen scale is the best way to go. 
Cornstarch is a very difficult ingredient to measure consistently with a volume spoons measure
So while I list both measures below I cannot stress enough how the grams measure with a scale is going to give you the best results.
Many times people have complained that their cheesecake is like rubber and they don't know why!
This is from a heavy measure of cornstarch when using volume measuring spoon vs the 100% accurate scale measure in grams.
Last~ I always make 7″ cheesecakes, for a larger cake double the recipe and bake in a 9″ pan
Also I do not use spring form pans, CLICK HERE FOR MORE INFO ON WHY!
For more caramel recipes click the links below!
Caramel Cheesecake
The caramel sauce recipe makes a bit more than you need, but I always like to have excess things in my refrigerator! 🙂 The recipe below calls for ½ cup to go into the batter, if you are skipping this recipe, add an additional ¼ cup brown sugar & ¼ cup plant milk
Ingredients
For the Crust:
or Sandwich Cookie *fillings intact you will need approx 1½ cups crushed cookies (140g)
Vegan Butter 4 Tablespoons (56g)
For the Caramel Sauce: *see notes in notes for success section above
Granulated Sugar 2 cup (400g)
Water ½ cup (120ml)
Lemon Juice or Vinegar 1 teaspoon (5ml)
Plant Milk *highest fat milk works best 1 cup (237ml)
Salt *optional ¼ teaspoon
For the Cheesecake Batter:
Vegan Cream Cheese *see notes for success above recipe 2 cups (454g)
Vegan Butter melted 4 tablespoons (56g)
Light Brown Sugar 1 cup (200g)
Cornstarch 4 Tablespoons (32g) *see notes
All Purpose Flour 3 Tablespoons (24g)
Plant Milk *I use soy milk 4fl oz (118ml)
Vegan Lactic Acid or apple cider vinegar ½ teaspoon
Salt pinch
Vanilla Extract 3 teaspoons (15ml)
Caramel sauce from recipe above ½ cup (120ml) *optional see notes above
Instructions
You can prepare the caramel sauce days in advance
Combine the sugar, water & lemon juice (or vinegar) together in a large heavy bottom sauce pot
The pot must be larger than you think because once you pour in the plant milk it will bubble up aggressively
I cannot stress enough to BE CAREFUL when cooking caramel!
Stir the sugar, acid and water only until is dissolved not after it starts to boil or you will get crystals in your caramel! The acid helps to prevent this, but it can still happen if you stir after it starts boiling
Watch it carefully as it turns from a light amber to medium amber, take it off the heat when it is medium amber as it will continue to cook and darker even after you remove it from the heat
Slowly & carefully pour in the plant milk and once the bubbling subsides stir it to a smooth sauce
Pour into a heat proof container and refrigerate until needed *it will thicken as it sits!
Prepare the cookie dough ahead of time and roll out the shapes ~ I just made round cut outs for the cheesecake base since they will be crushed anyway, and extra stars for decor for the final cheesecake out of the excess dough
First prepare the crust by crushing the cookies in a food processor to fine crumbs.
Add the melted vegan butter and pulse until it resembles wet sand
Grease & parchment line a 7" cake pan then press the crumbs evenly on the bottom and up the sides.
Freeze while you prepare the cheesecake batter
First combine the brown sugar and the vegan butter together in a medium sauce pot
Cook stirring occasionally until everything melts and the hot sugar starts to look like lava *see video tutorial
Cook the sugar mixture while you gather the rest of your cheesecake ingredients.
Place all of the cheesecake ingredients including the slightly cooled sugar/butter into the work bowl of your food processor and pulse to blend
Scrape the sides of the bowl to ensure an even mix then blend again to a smooth mixture
Pour the batter into the crust and I added about 2Tbs more caramel sauce to the top for a swirl, but it got lost in the batter so this is optional
Bake in a greased and parchment lined 7" cake pan in a water bath in a preheated 350°F and bake for 70 minutes
The cheesecake will no longer be liquid in the center but jiggly like jello.
Turn off the oven but let the cheesecake stay inside to cool for another hour
Remove from the oven and refrigerate for at least 3 hours or overnight
Un mold the cheesecake onto your serving platter and decorate as you like.
I added some extra caramel to my buttercream recipe for the rosettes and drizzled the caramel sauce over each slice at serving
Notes
Caramel Cheesecake must be kept refrigerated at all times and will stay fresh wrapped loosely for up to 10 days.

I do not like to freeze vegan cheesecakes as I find their texture changes and gets soggy on the thaw.