Ever since we found out we could make whipped cream from coconut fat, what is everyone doing with all that leftover coconut water?
Aside from adding it to your daily smoothie, here is a recipe for Chocolate Cinnamon Rolls that will help to use up that leftover coconut water from the can!
To me they do not taste like coconut with just the water for the dough recipe, so I added so toasted shredded coconut for that extra something something!
Completely optional, if you are not a big fan of coconut you can totally leave that part out and just do straight up chocolate!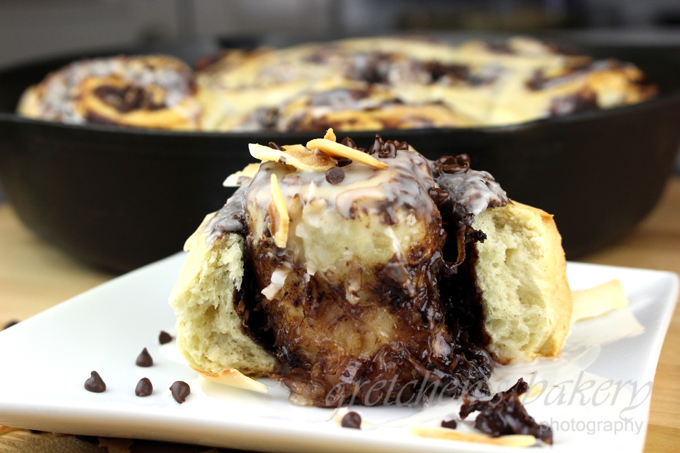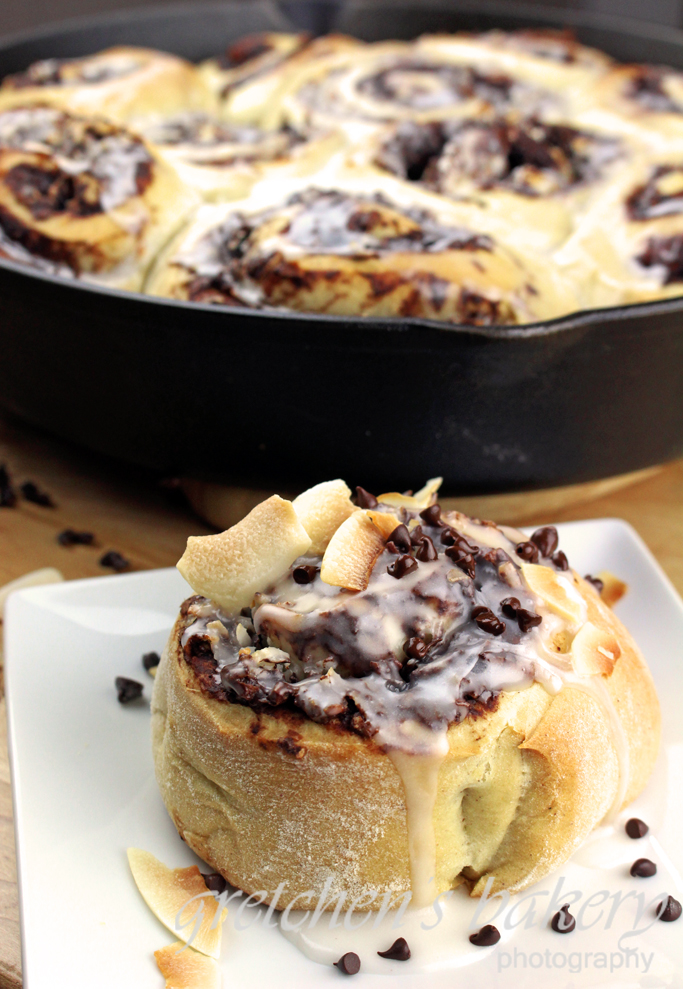 Chocolate Cinnamon Rolls
Ingredients
For the Bun Dough
Active Dry Yeast 3 teaspoons (9g)
Coconut Water ½ cup (120ml)
All Purpose Flour 4 - 5 cups (520g-650g)
Salt 1½ teaspoons (9g)
Granulated Sugar ½ cup (100g)
Vegan Butter 8 Tablespoons (113g)
Coconut Milk or more Coconut Water 1 cup (237ml)
For the Chocolate Schmear
Water 4 tablespoons (60ml)
Granulated Sugar 8 Tablespoons (10g)
Unsweetened Cocoa Powder ½ cup
Shredded Coconut 1½ cups
Sugar Glaze
Confectioners Sugar 2 cups (240g)
Almond Milk 2 Tablespoons or more as needed to your desired consistency
Instructions
Prove your yeast by mixing it with the room temperature coconut water and a pinch of the sugar.
If it gets bubbly and frothy after about 5 to 10 minutes, you have proven that the yeast is alive and you may proceed with the recipe. (*if it does not froth, it is good chance your yeast is old and dead and you should buy a fresh package)
Combine all of the remaining ingredients, including the proven yeast into the bowl of your Kitchen Aid mixer with a dough hook attachment
Follow along in the video tutorial for mixing this dough.
Transfer the dough to a lightly oiled bowl and cover with a towel and set in a nice warm spot to double in size. This will take approximately 1 hour depending on the conditions in your kitchen.
Meanwhile prepare the chocolate schmear:
Combine the water and sugar together in a small sauce pot and bring to a boil.
Add to the cocoa powder and whisk smooth.
Set aside to cool, but if it gets to hard to spread, just rewarm it slightly
Once the dough has doubled, you will gently "punch down" the dough to release the gasses and proceed to roll the buns as shown in the video.
Press the dough into the best square or rectangle you can by hand, and then roll with a rolling pin to approximately 12" X 20"
Spread the entire surface with chocolate schmear recipe and then the shredded coconut
Roll up jelly-roll style and then cut into 12 equal portions. (OR the traditional cinnamon sugar mixture below)
Arrange the buns in a greased 9" x 13" baking dish or a cast iron pan as I am using this time in the video, spaced so they are about 1″ apart.
Cover with a towel and place the baking dish in a warm, draft free spot to rise again.
About 1 hour depending on your kitchen conditions.
Once the buns have risen they will most likely be touching each other or almost touching each other and be soft and airy when you poke them, bake them in a PREHEATED 350° F oven for approximately 20- 30 minutes or until golden brown and center buns are fully baked
Cool slightly and then ice with sugar glaze by combining the confectioners sugar and almond milk together and whisk smooth
For traditional Cinnamon Buns follow the same method for mixing, rolling and baking the dough, but you will use the following recipe for cinnamon filling instead of the chocolate and coconut.
Traditional Cinnamon Filling for Buns
Ingredients
Granulated Sugar 4 Tablespoons
Brown Sugar 3 Tablespoons
Ground Cinnamon 3 teaspoons
Instructions
Combine everything together except for the vegan butter.
Melt the vegan butter and brush on the dough *in the video I used the chocolate schmear, you will use the melted butter here
Then sprinkle the cinnamon sugar mixture evenly over the entire dough/melted butter surface
I also have a recipe for Pumpkin Cinnamon Buns CLICK HERE!