Easter was always my favorite time in the bakery.
The store was just bursting in pastels with cakes & cookies adorned in everything Easter!
Last year I went pretty extravagant with my Easter Bunny Butt Cake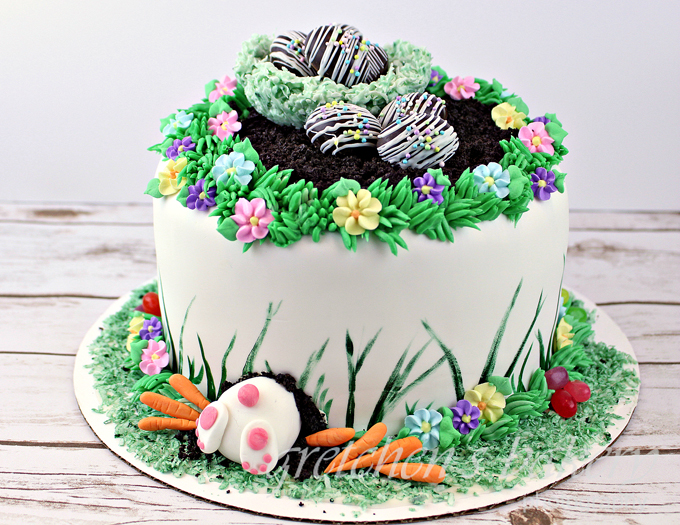 But this year I wanted to keep it simple.
Simple and delicious with these Chocolate Peanut Butter Speckle Cakes.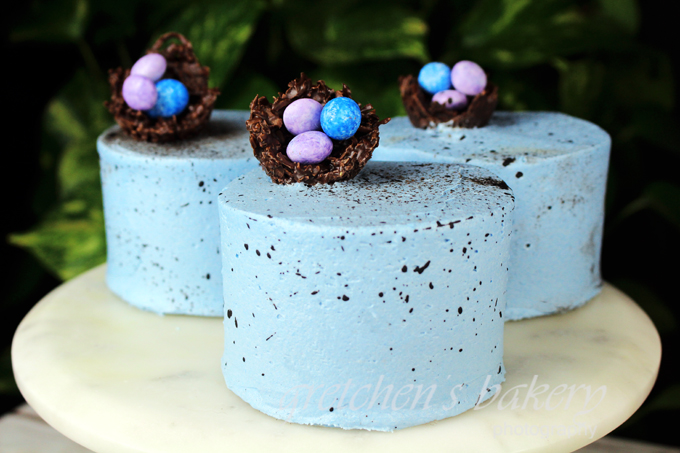 With my best recipe for Chocolate Cake which happens to be a really easy one bowl mix
And one recipe for your favorite buttercream divided to make Peanut Butter Buttercream for the filling
To the remaining vanilla buttercream portion blue spirulina is a prefect natural food coloring for the robins egg blue icing!
Don't let the look of these little cakes and the fact that these are indeed multiple miniature cakes sway you away from trying them!
By baking the chocolate cake batter into a half sheet pan
Then using a 3½" cookie cutter to cut out rounds for each layer
Your time in the kitchen is cut literally in half
Of course you can make this into one larger family style cake by baking the batter into 8″ cake pans instead
I just really liked the idea of sharing these precious little cakes with my friends and family this year for Easter
Instead of the usual slices that I am always trying to give away!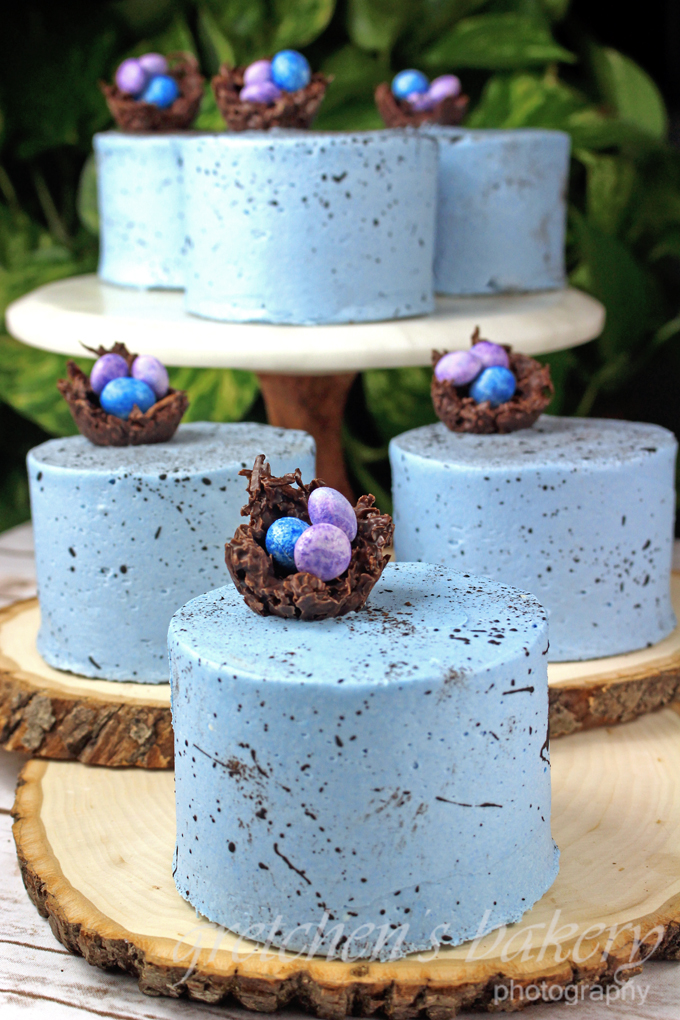 Each cake is speckled like a robins egg and a tiny chocolate coconut nest on top.
All you need is coconut flakes and melted vegan semi sweet chocolate and a mini muffin tin lined with plastic wrap!
The full YouTube video below shows the step by step on how to make all of these decorations for this cake
As well as my secret trick to getting those Robins Eggs speckled like this!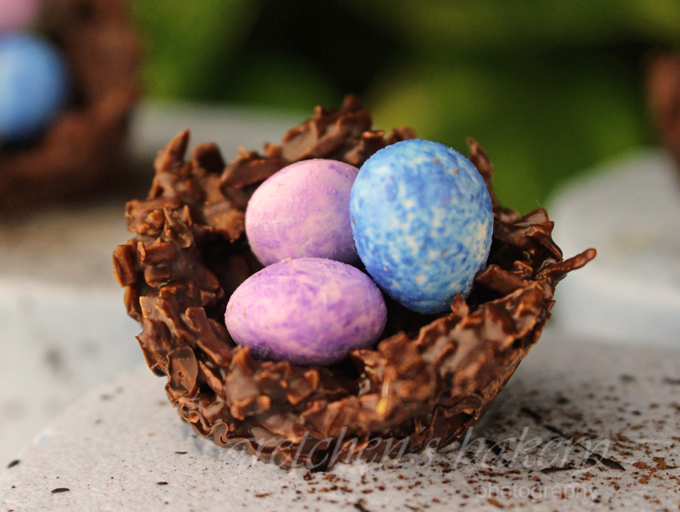 I used Little Secrets chocolate candies for the "eggs" since they are vegan and taste just like Peanut M&M's!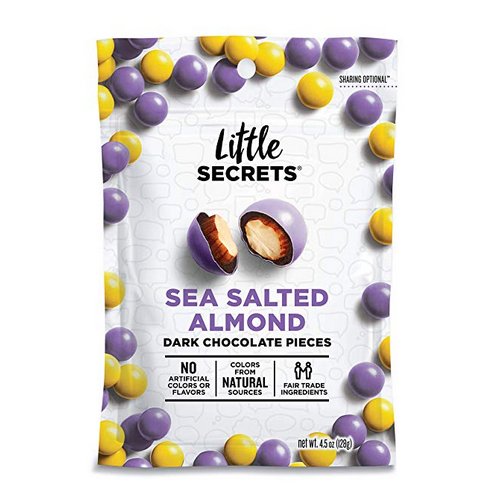 These mini cakes are a really easy way to make a beautiful dessert this spring!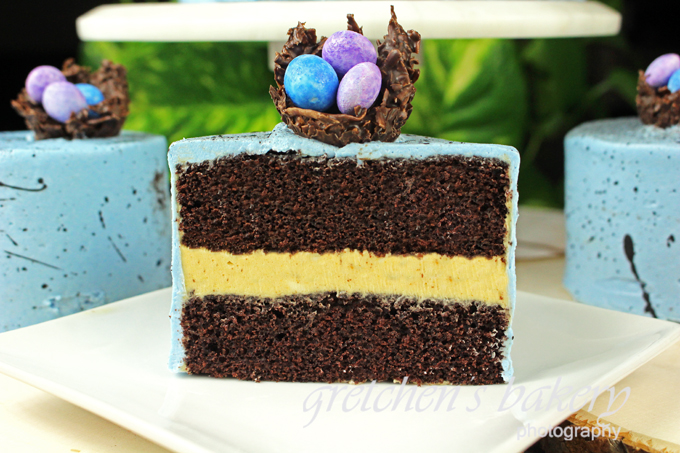 FOR THE FULL STEP BY STEP YOUTUBE VIDEO TUTORIAL CLICK HERE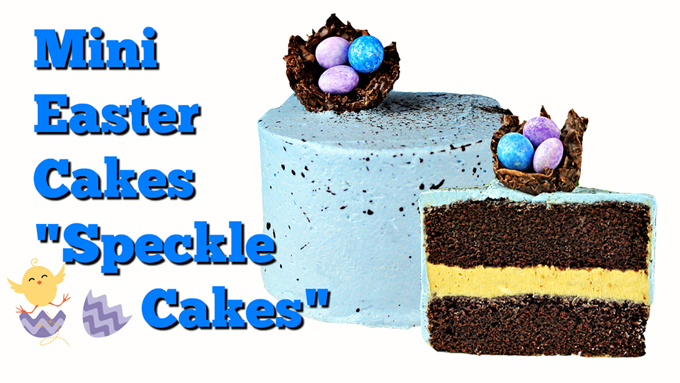 Chocolate Peanut Butter Speckle Cakes for Easter
You can make the entire recipe into a larger cake, the batter that I used for the sheet pan to cut my cake rounds is the same you would use for 3-7" cake pans or 2- 8" pans
I used a 3½" cookie cutter to make my individual cakes and with 2 layers in each and a nice amount of filling, these cakes could easily serve 2 people!
Serves:
6 mini cakes or 1-8" Cake
Ingredients
1 Recipe of my best Vegan Chocolate Cake
1 Recipe Buttercream of your choice *I used American
Peanut Butter Powder Or Creamy Peanut Butter ¾ cup
Unsweetened Flake Coconut 1 cup
Vegan Semi Sweet Chocolate 4ounces
Candy eggs or jelly eggs for nest as needed
Garnish:
Cocoa Powder 2 teaspoons
Vodka or Vanilla Extract 1 Tablespoon
Instructions
First prepare the chocolate cake recipe as instructed on the blog post for that recipe, but bake all the batter into a greased and parchment lined 12" x 18" pan (half sheet pan)
Next prepare the buttercream recipe of your choice *I used the American Recipe
Divide the buttercream recipe in half and add ¾ cup of peanut butter powder (*or peanut butter) to half and a full packet of the blue spirulina food color to the other half.
Make the coconut nests by combining 1 cup unsweetened flake coconut with ¾ cup semi sweet vegan chocolate (melted) press a heaping tablespoon into mini muffin tins lined with plastic wrap.
Once they are set they will pop right out of the molds and peel off the plastic
Combine the cocoa powder & vodka or vanilla extract together and whisk smooth for the speckling effect
Assemble the cakes as shown in the video
Notes
The cakes will stay just fine at room temperature for up to 3 days in an airtight container.


For longer storage keep refrigerated for up to 8 days, covered well