This idea for Cinnamon Roll Cake came to me while I was making one of the twelve recipes of cookies for my 12 Days of Christmas Cookies Recipe series!
These Cinnamon Bun Cookies are quite possibly my favorite, not only to add a unique twist to your holiday cookie platters but for any ol' time of year!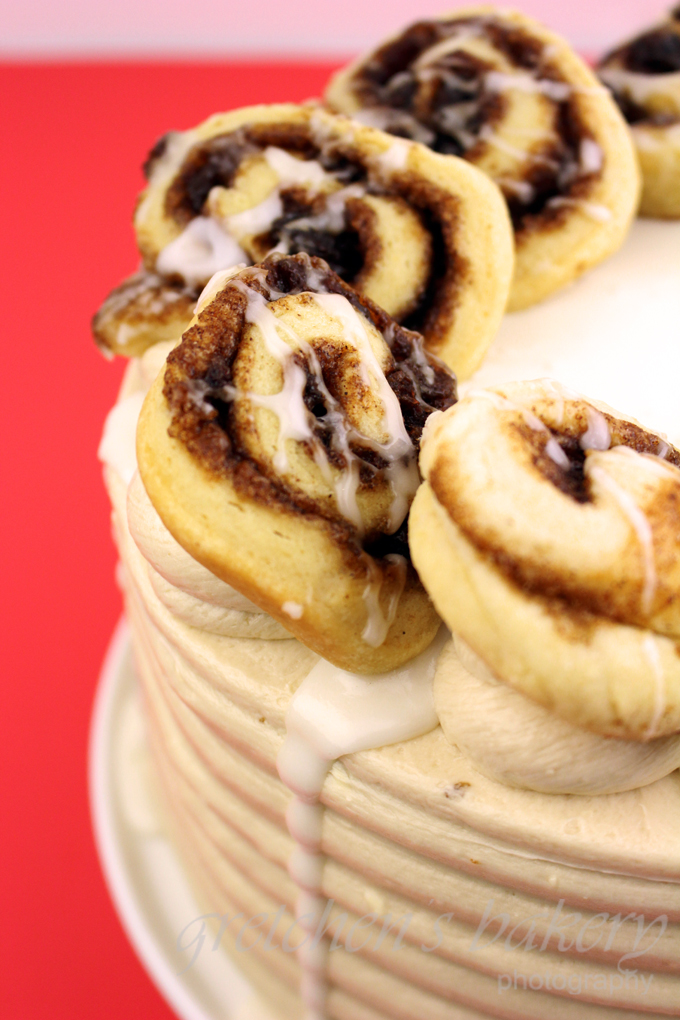 What better way to incorporate them than with this awesome Cinnamon Roll Cake!?
The cinnamon sponge is so light and fluffy, after all it's a spin off of my Best Vanilla Cake Recipe!
With Cream cheese filling and icing and of course those adorable and delicious cinnamon roll cookies for decor!
I'm not sure which is the star of this show, the cookies or the cake?
You decide!
Cinnamon Roll Cake
Ingredients
For the Cake:
White or Apple Cider Vinegar 1 Tablespoon (15ml)
Soy Milk 1 cup (237ml) *or any milk alternative of your choice
Vanilla Extract 2 teaspoon (10ml)
Cake Flour 2½ cup (300g) *all purpose is ok if you cannot get cake flour CLICKHERE
Flax meal 4 Tablespoons (36g)
Hot Water 8 Tablespoons (118ml)
Granulated Sugar 1½ cup (300g)
Baking Powder 4 teaspoons (20g)
Ground Cinnamon 3 teaspoons
Salt 1 teaspoon (6g)
Vegan Butter 12 Tablespoons (170g)
For the Icing:
Vegan Butter 8 tablespoons (112g)
Confectioners Sugar 2 cups (240g)
Vanilla Extract 1 teaspoon
Vegan Cream Cheese 2 -8ounce packages (454g)
Apple Cider Vinegar 1 teaspoon
Instructions
For the cake: Combine the flax meal with the hot water and let stand to thicken
Add the vinegar to the soy milk to sour then add the vanilla extract
Sift the flour with the baking powder, cinnamon and salt
Cream the vegan butter with the sugar until light and fluffy and this may take about 3-5 minutes on medium to high speed
Add the flax paste to the creaming mixture while mixing on medium speed, scrape the bottom and sides of the bowl to incorporate evenly, whip on high for 30 seconds
Add about ⅓ of the flour to the creamed mixture while mixing on low speed just until combined, then add half of the soured milk
Add another ⅓ of the flour and then the remaining sour milk
Add the last amount of flour and mix just to combine evenly.
Portion the batter between your greased and parchment lined cake pans and bake immediately in a preheated 350°F oven for approximately 25-30 minutes or until they are springy to the touch when you gently press the centers.
Cool in the cake tin until you can safely touch them with your hands and then flip them out onto a wire rack to cool completely.
Next make the icing: Mix the softened vegan butter with the confectioners sugar until smooth
Add the vanilla extract and the apple cider vinegar then add the vegan cream cheese and blend smooth, mix gently or the vegan cream cheese can get too soft and soupy (you can mix this entire icing recipe by hand too)
Notes
This cake must be kept refrigerated, but I find it is best served room temperature so set it out for about 1 hour before serving.

Store for up to 1 week in the refrigerator covered for freshness