Everyone needs a coconut cake in their life!
Although coconut anything was always a hard sell in my bakery
I guess geography and demographics play into whether you are nutty for coconuts or not
No matter what though I will say it again, everyone needs a coconut cake in their life!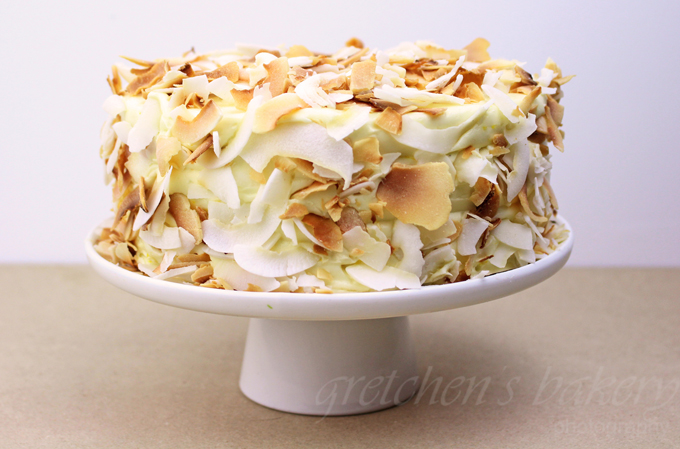 So today is your lucky day because this is the best coconut cake you will ever try!
Super moist layers of coconut cake, with chocolate fudge filling and orange scented buttercream.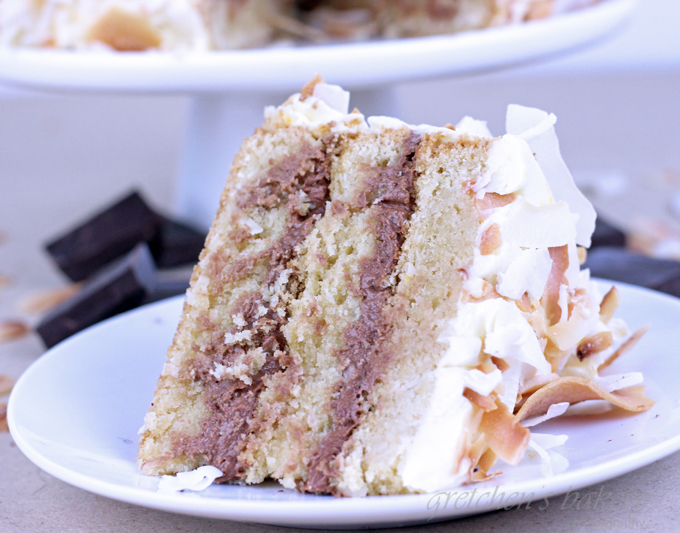 This combination of flavors is out of this world!
For me I can't do much of anything without putting chocolate in it.
But I will admit I did think twice before doing it here, and I am so happy I did it.
This thin layer of fudge is just the right amount of bittersweet chocolate against that moist luscious coconut layer cake.
This cake is a very light fluffy cake that reminds me more of a European sponge cake than the typically dense cakes we are used to.
The orange in the buttercream sends it all to heights you have never imagined possible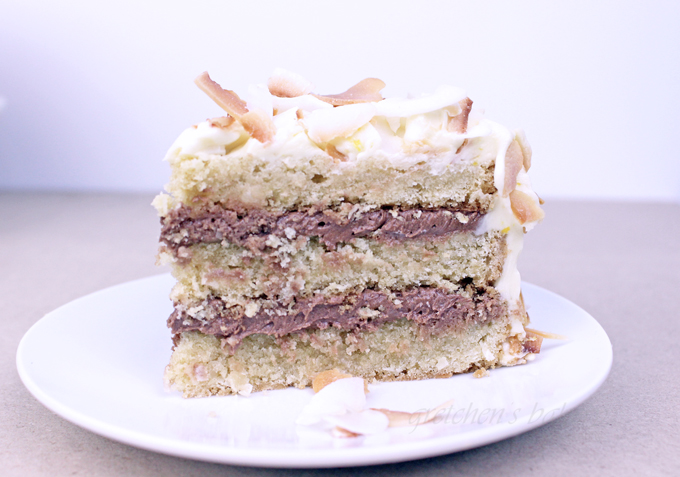 This new recipe for coconut cake layers has quite a few ingredients and you will notice that I am using a proprietary blend for this one.
The egg replacer is quite interchangeable so if you prefer to use aquafaba or even flax egg you can sub it in here with no trouble.
I will let you in on a secret too, I forgot to add the egg replacer this last time and it still came out great
If you are using aquafaba take out 3 tbs of the coconut milk and replace it with 3Tbs of the AF.
For flax egg, add 2 Tbs flax meal thickened with 3Tbs of plant milk from the recipe
I know some people cannot get yogurt, so if that is you simply replace the yogurt amount listed below with more plant milk
CLICK HERE FOR THE FULL YOUTUBE VIDEO TUTORIAL FOR HOW TO MAKE THIS CAKE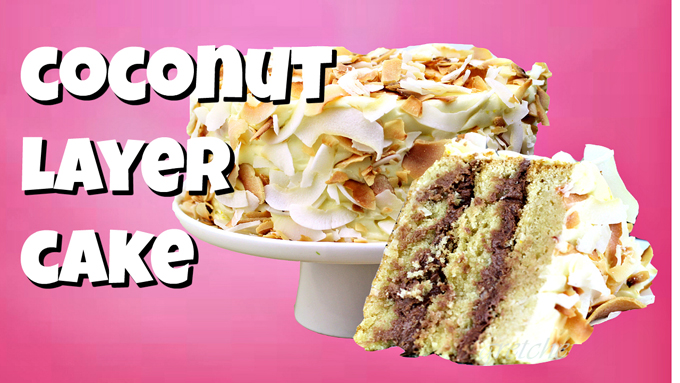 For more recipes using coconut click the links below!
3 Recipes that use coconut water
Toasted Coconut Caramel Ice Cream Sandwiches
RECIPE UPDATE: I have recently created a new cake recipe that is guaranteed no fail with less ingredients and easier to mix!
CLICK HERE FOR MY STRAWBERRY COCONUT SHORTCAKE recipe where I take my Fluffy White Cake and add coconut to the batter making the most perfect, moist, fluffy Coconut Layers!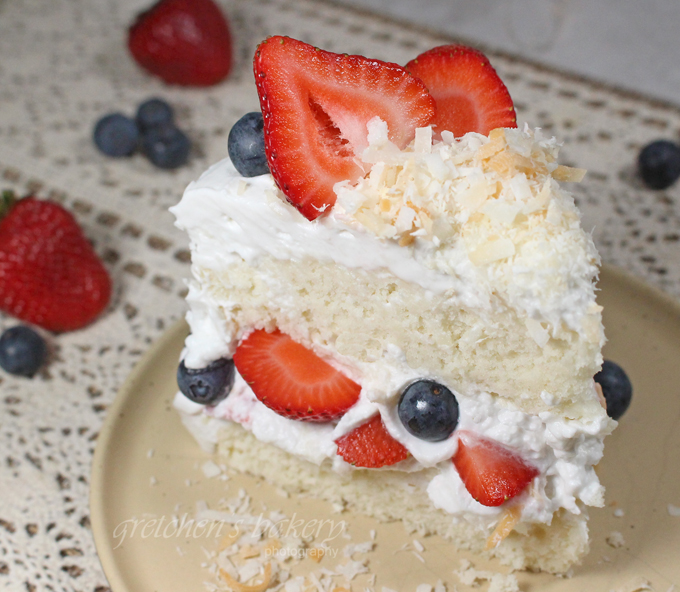 It's a tweaked up IMPROVED version of the recipe listed below!

Coconut Orange Fudge Cake
Ingredients
For the Coconut Cake
Granulated Sugar 1 ¾ cups (350g)
Vegan Butter 14 Tablespoons (196g)
Coconut Oil or any vegetable oil ½ cup (118ml)
Unsweetened Coconut Yogurt ½ cup *or more plant milk
Vanilla Extract 1 teaspoon
All Purpose Flour 2 ½ cups (312g)
Coconut Flour ½ cup *you can replace with more AP if you do not have this ingredient
The Plant Based Egg *see notes in body of text above 2 teaspoons
Baking Powder 1 teaspoon
Baking Soda 1 teaspoon
Salt ½ teaspoon
Light Coconut Milk or any milk alternative 1 cup (237ml)
Sweet or Unsweetened Shredded Coconut 1 cup
1 Recipe Buttercream of your choice
Zest from 1 large orange approx 1 Tbs
Juice from 1 - 1½ Oranges approx 4Tbs
¼ Recipe Fudge Filling *see note below in the instructions
OR for a less sweet filling use Chocolate Buttercream
Instructions
Preheat your oven to 350°F
Grease and parchment line your cake pans
Sift the flour with the coconut flour, the egg replacer (*see notes in text of article above), salt, baking soda and baking powder.
Combine the coconut milk with the coconut yogurt and all the extracts
Cream the vegan butter and coconut oil with the sugar until light and fluffy approximately 3-5 minutes until it is light and fluffy *It's ok if your coconut oil is melted and liquid I have done it both ways with fine results
Mix well, then add ⅓ of the sifted dry ingredients while mixing on low speed just until it is combined then add half of the milk mixture.
Add another ⅓ of the dry ingredients, the remaining milk mixture and then the last of the dry ingredients.
Add the shredded coconut then mix on medium speed for about 10 seconds to develop the batter
Portion into the greased and parchment lined pans and bake in a preheated 350°F oven for approximately 30 -35 minutes or until they are springy to the touch when you gently press the centers or a toothpick inserted comes out with moist crumbs.
Cool in the pan until you can touch the pan easily without burning yourself and then tun out onto a cooling rack to cool completely.
Meanwhile prepare the buttercream as per the instructions on that post and add the orange juice and zest at the last stage of mixing.
Prepare the optional fudge filling as well.
You will only need about ¼ recipe of the fudge filling for this cake, but I always prepare an entire batch because you can never have too much fudge icing! It does refrigerate for up to 1 month and freezes for several months. Be careful with your math is you do decide to divide the recipe into ¼
Notes
This cake can stay at room temperature for up to 2 days or refrigerate for longer up to 1 week wrapped well to prevent drying.

Cake layers can be frozen wrapped airtight for up to 1 month
3.5.3251