Zucchini season is right around the corner and it's a good thing too because these little Vegan Zucchini Cakes with cream cheese glaze are going to make you flip!
Although zucchini's are pretty much available year round now, if you have trouble finding them you can substitute carrots instead for a luscious carrot cake version!
So moist, so delicate, not too sweet and just bursting with cinnamon and zucchini goodness!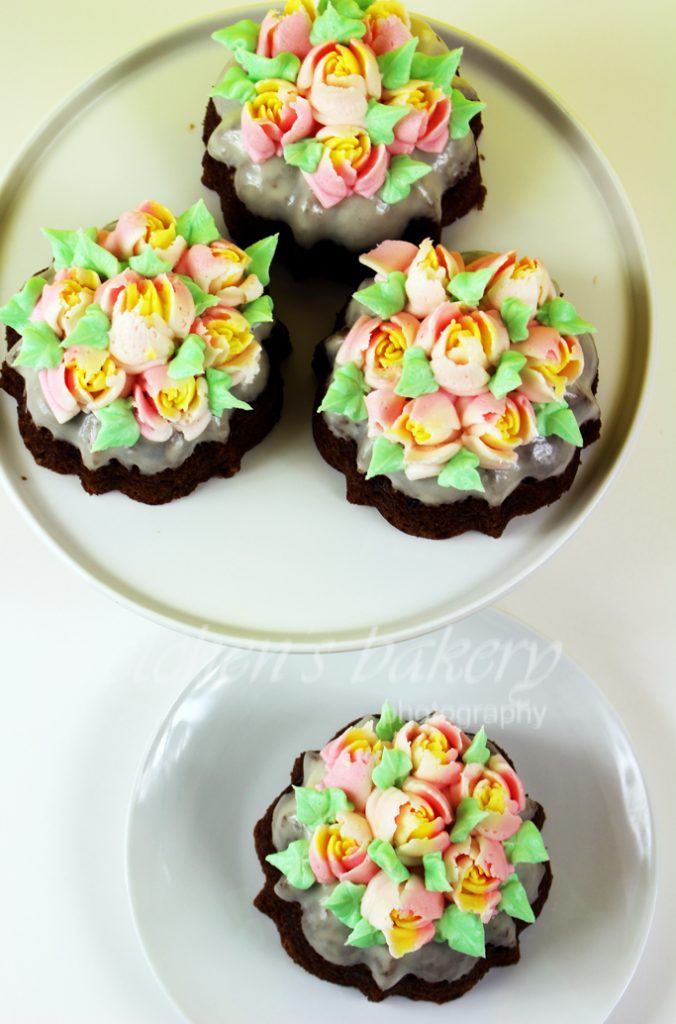 Also known as Courgettes, this versatile veggie cake is perfect as muffins, miniature cakes like I made here or bake the entire batter into a 6- Cup capacity Bundt Pan for a family style cake.
The cream cheese glaze is what puts this recipe into another dimension.
I mean c'mon who doesn't love zucchini cake with cream cheese glaze!

Vegan Zucchini Cakes with Cream Cheese Glaze
Serves:
6 Mini Bundt Cakes
Ingredients
All Purpose Flour 1¼ cup (156g)
Ground Oats ¼ cup (30g)
Baking Soda 1 teaspoon (5g)
Baking Powder ½ teaspoon (2.5g)
Salt ½ teaspoon (3g)
Ground Cinnamon ¾ teaspoon (2.5g)
Vegetable Oil ¼ cup (60ml)
Unsweetened Apple Sauce ¼ cup (60ml)
Granulated Sugar ¾ cup (150g)
Flax Seeds ground fine 4 Tablespoons (28g)
Hot Water 10 Tablespoons (150ml)
Milk Alternative ¼ cup
Vanilla Extract 2 teaspoons
Shredded Zucchini 1¼ cup (225g) (approx. 1 medium zucchini)
For The Cream Cheese Glaze:
Vegan Cream Cheese ½ cup
Vegan Butter 2 Tablespoons
Confectioners Sugar 1 cup
Vanilla Extract 1 teaspoon
Milk Alternative 2- 4 Tablespoons
Instructions
Preheat oven to 350°f (177°c)
For the Cake Batter:
In a small bowl combine the ground flax seeds with the hot water. Let stand for about 5 minutes to thicken.
Combine the vanilla extract with the milk
Shred the zucchini and set aside
In a large mixing bowl combine the sugar, vanilla extract, oil and applesauce whisking vigorously to smooth.
Add the flax paste to the sugar mixture and whisk smooth.
Sift the flour, cinnamon, salt, baking soda and baking powder and then add to the sugar mixture with the oat flour. Whisk smooth
Add the shredded zucchini and then fold together with a large spoon until evenly mixed
Distribute batter evenly in a greased pan of your choice
Bake for approximately 28 - 35 minutes or until they are springy to the touch when you gently press the centers.
Cool completely then glaze with the cream cheese glaze.
Cream Cheese Glaze:
Smooth the vegan cream cheese on the mixer then add the almost melted butter
Add the vanilla extract and the sifted confectioners sugar and mix smooth
Add the milk slowly to desired consistency
Notes
Zucchini Cake can be stored at room temperature WITHOUT the icing in an aitight container for up to 4 days.

For longer storage or for the cakes that are iced wtih glaze, be sure to keep refrigerated for up to 1 week.

Freeze wrapped well for up to 1 month