Perhaps more than pumpkin everything season I love cranberry everything season a little bit more!
This cranberry cake takes my love of cranberries to new heights!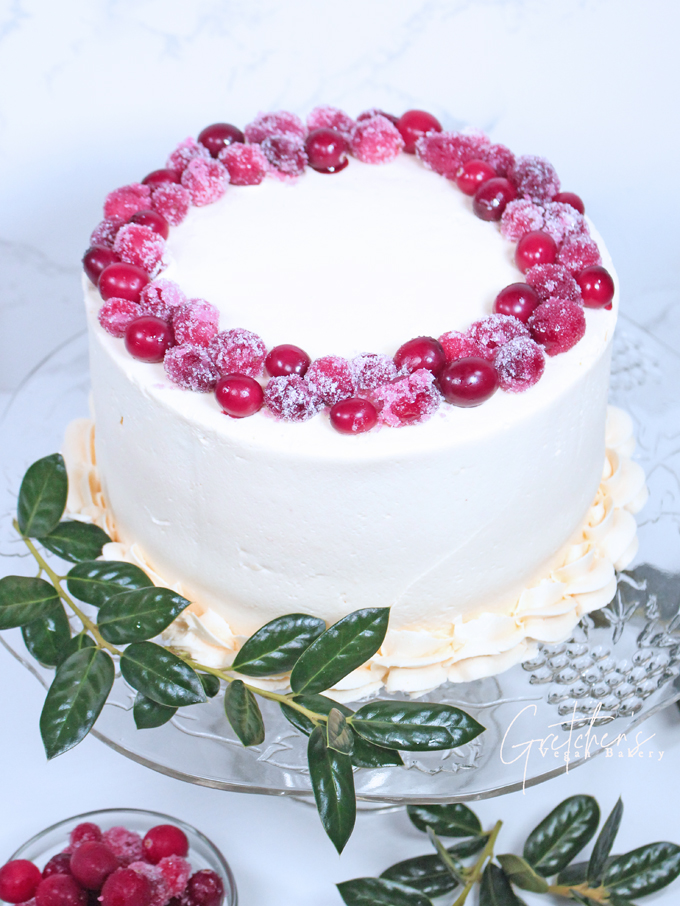 My food processor cake method is fast becoming the most sought after style on the internet!
Who doesn't love easy baking? It's literally a "throw everything into the food processor and whiz it up" cake batter!
The resulting cake layers are light and spongy with cranberries studded throughout!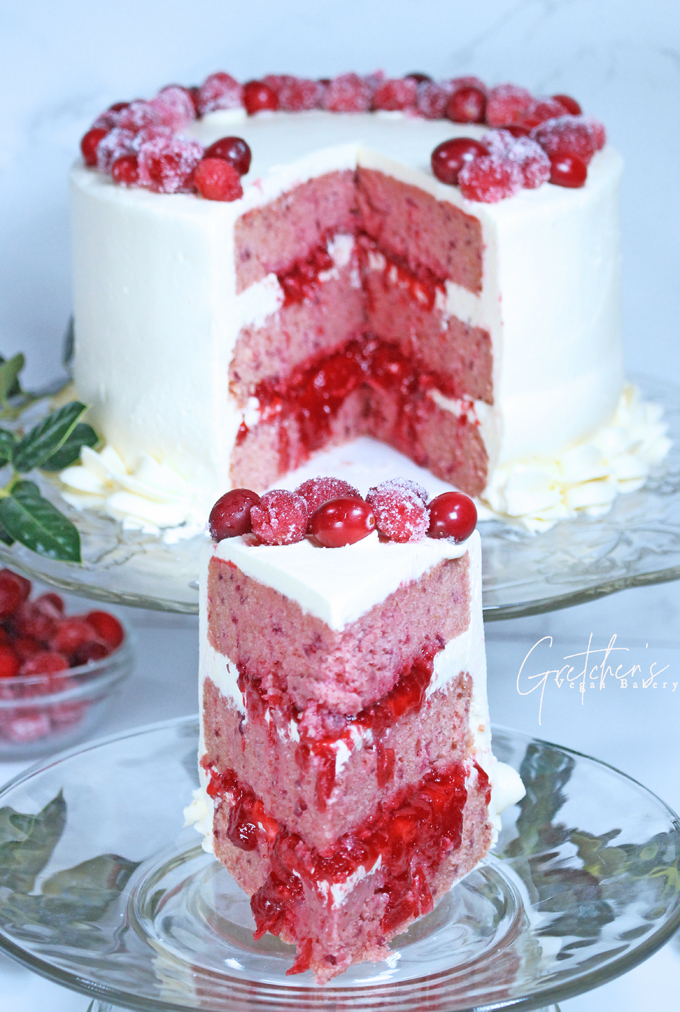 Basically this cake creation was just an excuse to eat more of my famous cranberry compote!
With a layer of buttercream between each layer
You know me and my obsession with candied cranberries at holiday time!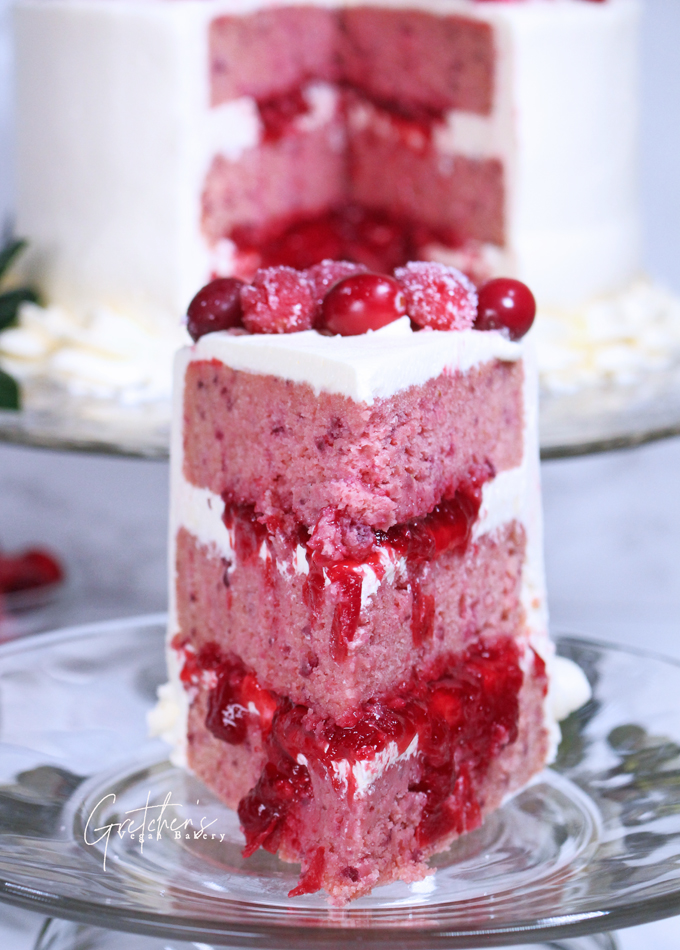 It's the ultimate beautiful, natural edible decor!
This is one cake that is not only easy to make but so pretty for the holiday table this year!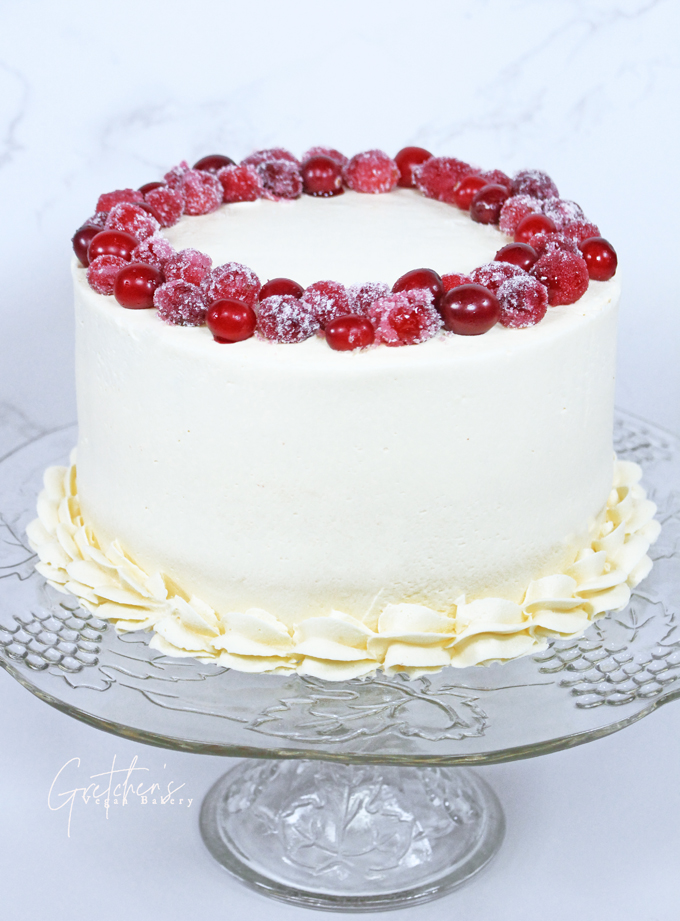 This website may contain links as part of the Amazon Affiliate program, which means when you click a link and make a purchase through my website I may earn a small commission at no additional cost to you
Notes for Success:
I've added a few teaspoons of beetroot powder to get this vibrant color, but you can use a drop or two of red food color for the same result
Totally optional but when I did not use either, the cake was a dull pink that just didn't do it for me!
You can also omit the beet root powder with no changes to the recipe but I would add a drop or two of pink color to make the final cake layers more vibrant
On my first test I used neither and the color was a drab pink
The candied cranberries can be stored in the freezer but they may have the tendency to bleed slightly as they thaw on the cake
I had to re-sugar mine to get them nice and fresh looking
However they are really easy to make so you can do small batches (like the recipe I listed below) rather than have excess
I list cake flour as an ingredient in this recipe but for those who cannot get it you can use all ~ all purpose flour in the total weight of 440g
CLICK HERE FOR MORE INFORMATION ABOUT CAKE FLOUR
7″ Cake Pans are my choice but if you only have 8″ pans just divide the batter between 2-8″ cake pans for a 2 layer cake instead
For those with egg replacer questions, I use Bob's Red Mill but I have also made this cake with no egg replacer at all and had great results!
CLICK HERE FOR THE YOUTUBE VIDEO TUTORIAL FOR HOW TO MAKE THIS CAKE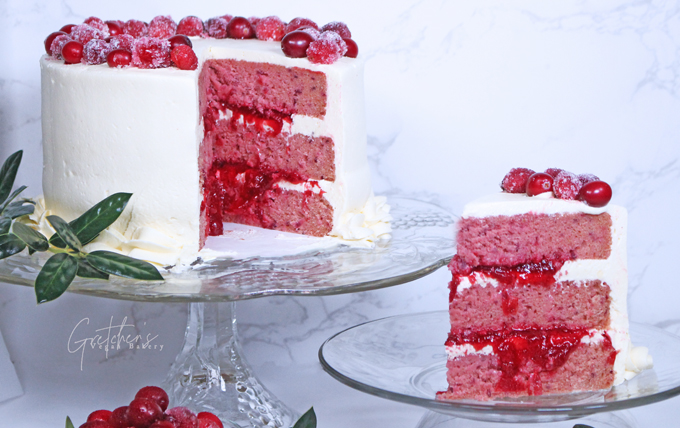 This recipe also makes beautiful cupcakes!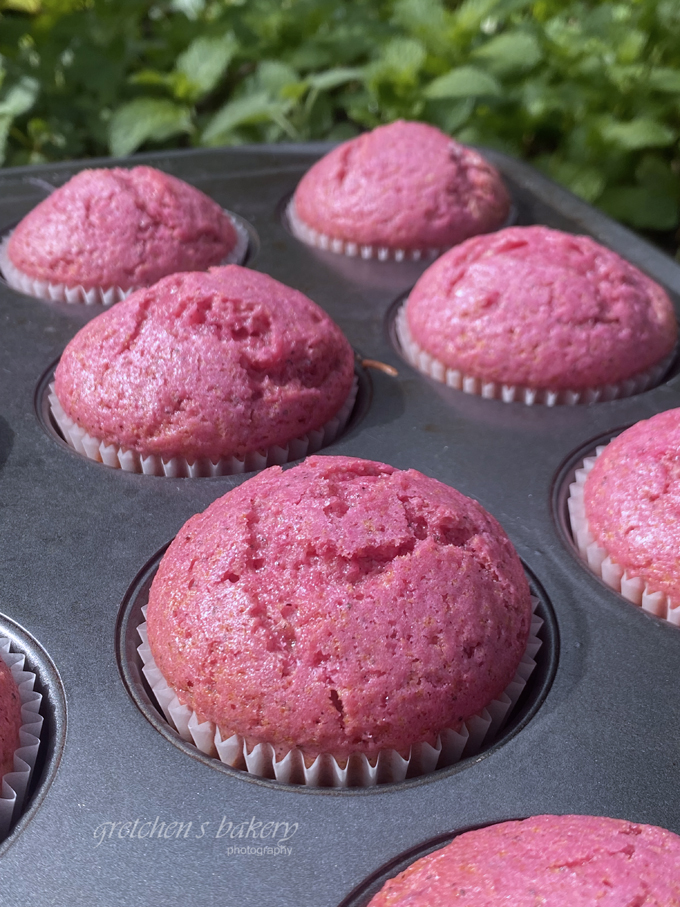 Yield: serves 10ppl
Cranberry Cake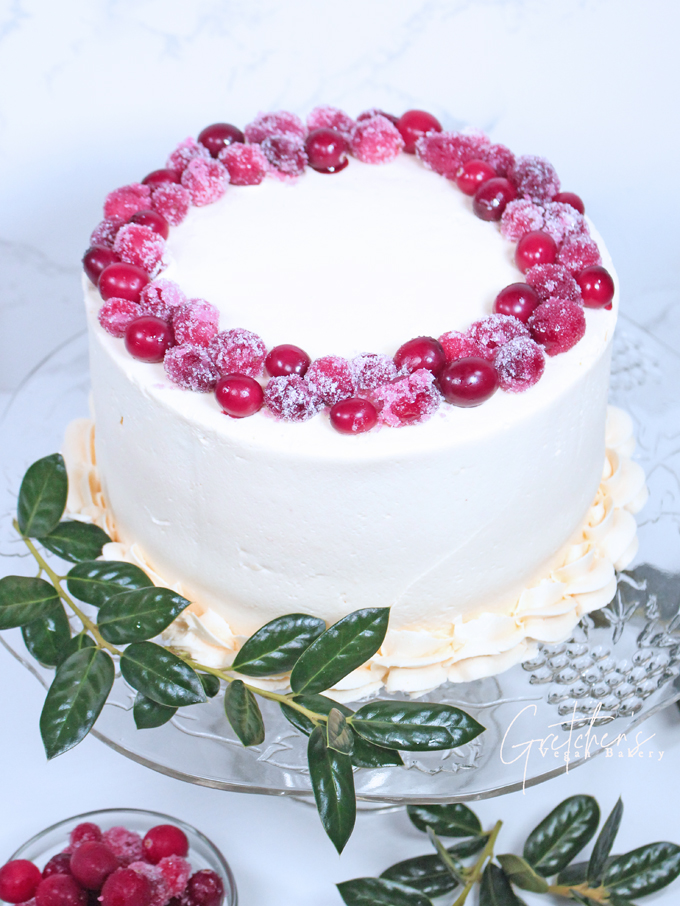 Total Time
3 hours
25 minutes
Ingredients
For the Cranberry Cake Layers:
All purpose Flour 1¾ cup (218g)
Cake Flour 2 cups (240g)*see notes above
Beet Root Powder 3 teaspoons (8g) *see notes above
Egg Replacer 2 teaspoons *I am using Bob's Red Mill
Granulated Sugar 1 cup + 2 Tablespoons (228g)
Baking Powder 6 teaspoons
Salt 1¼ teaspoons
Ground cinnamon ½ teaspoon
Ground Cardamom 1 teaspoon
Vegetable Oil or melted vegan butter 18 Tablespoons (270ml)
Plant Milk * I use soy milk 1½ cups (360ml)
Vanilla Extract 2 teaspoons (10ml)
Cranberries fresh or frozen 1½ cups (150g)
For the Cranberry Compote:
Cranberries fresh or frozen 1- 12 ounce bag (336g)
Granulated Sugar 1¼ cup (250g)
Cranberry Juice or Cranberry Moscato Wine 1 cup (237ml)
Vanilla Extract 2 teaspoons
Star Anise Pods 4
Cinnamon Sticks 2
For the Sugared Cranberries:
Fresh or Frozen Cranberries ½ cup
Water ¼ cup
Granulated Sugar ¼ cup
Instructions
For the Cake Batter:
Preheat the oven to 350°F and grease & parchment line your 3-7" cake pans
Combine all the ingredients for the cake in your food processor and process to a smooth batter
Divide the batter evenly amongst the prepared cake pans and bake for approx 25 minutes or when you gently press the center they are springy to the touch (toothpick test is also a good measure)
Cool the cake layers in the pans until you can safely touch then without burning yourself then flip them onto a cooling rack to cool completely
Make the sugared cranberries: bring the water & sugar to a boil in a small sauce pot
Boil for about 2 minutes then add the cranberries remove from the heat and then drain the cranberries
Toss them into the granulated sugar and lay them on a parchment lined sheet pan to dry overnight
For the Cranberry Compote:
In a heavy bottom sauce pot, combine the cranberries with the liquid of your choice along with the sugar and spices and bring to a boil over high heat.
Lower the temperature to a simmer for 15 -20 minutes, the sauce will begin to thicken and the berries will begin to pop.
Discard the anise pods and cinnamon sticks and then add the vanilla
Using a stick blend or a food processor puree the compote slightly leaving it chunky
Cool in refrigerator while you prepare the buttercream recipe as per the instructions on that recipe post
Assemble the cake as shown in the video tutorial
Notes
Cranberry cake can be kept at room temperature in a cool spot for up to 1 day

For longer storage refrigerate for up to 1 week loosely wrapped to prevent drying of the cut sliced area.

Freeze cake layers wrapped well for up to 2 months