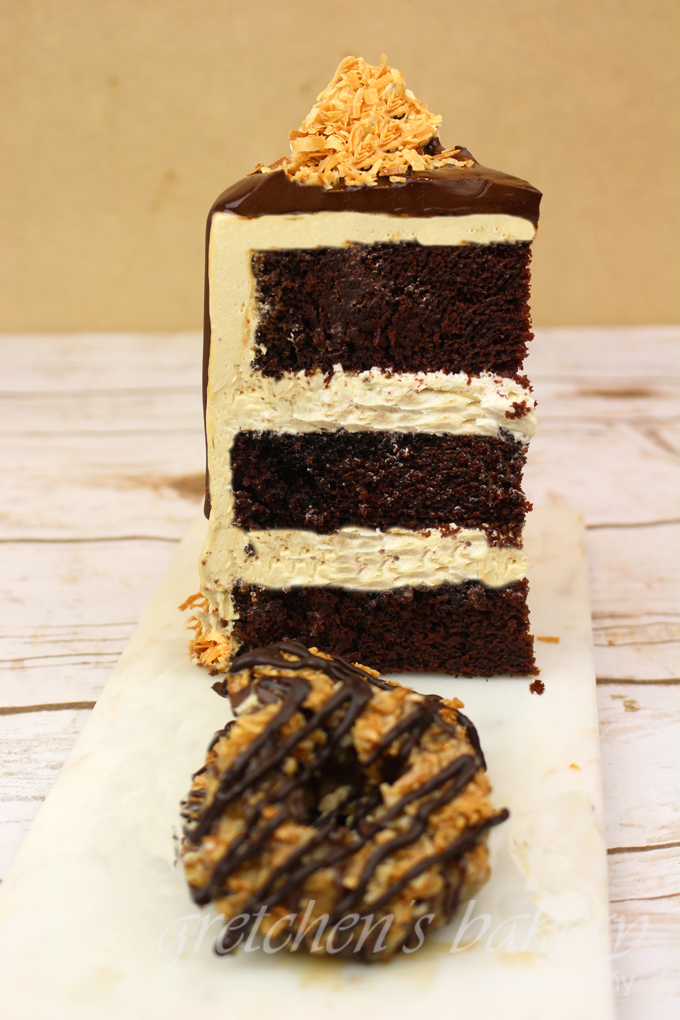 The best cookie recipe that happened this year here at Gretchen's Vegan Bakery was definitely my knock off recipe for Girl Scout Samoa Cookies!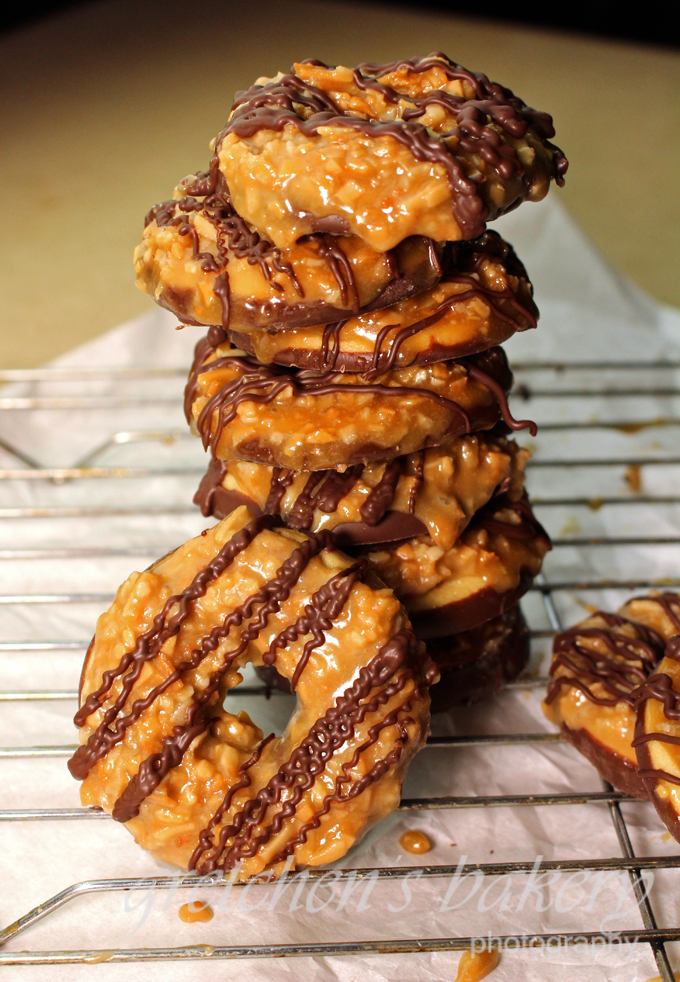 And the best cake that happened so far is this Girl Scout Samoa Cake!
Tall chocolate cake layers filled with caramel coconut buttercream and cookie butter icing!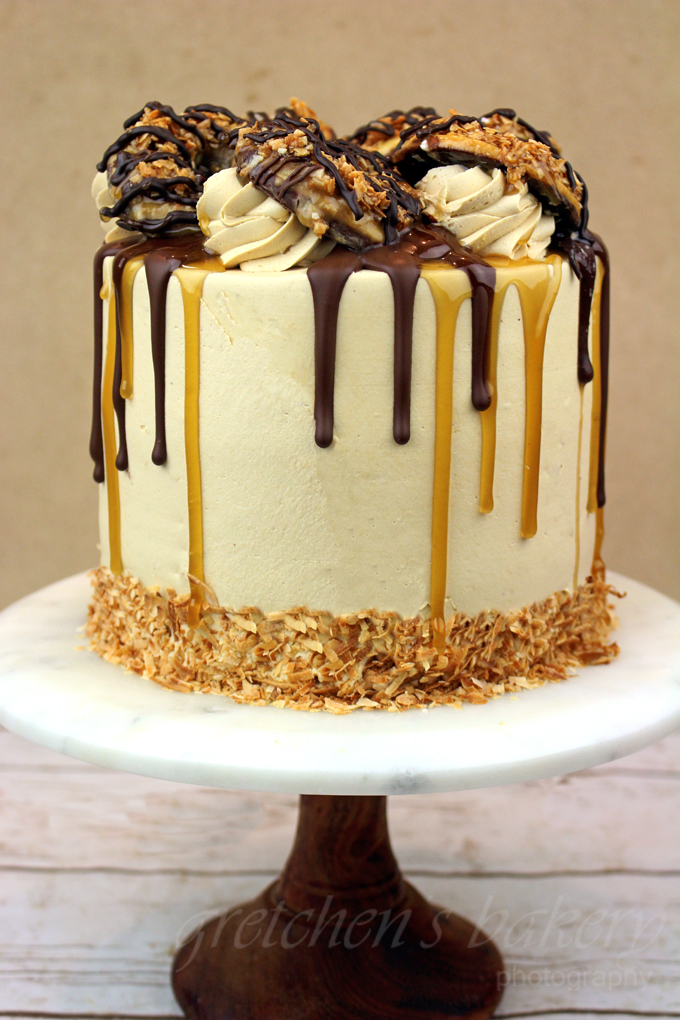 The caramel layer I added in between the layers of cake and coconut caramel buttercream basically soaked right into the chocolate cake.
So while I was disappointed when I cut into it and did not see the layer of caramel as expected, I have to say the cake was so good with that addition of caramel soaked right in!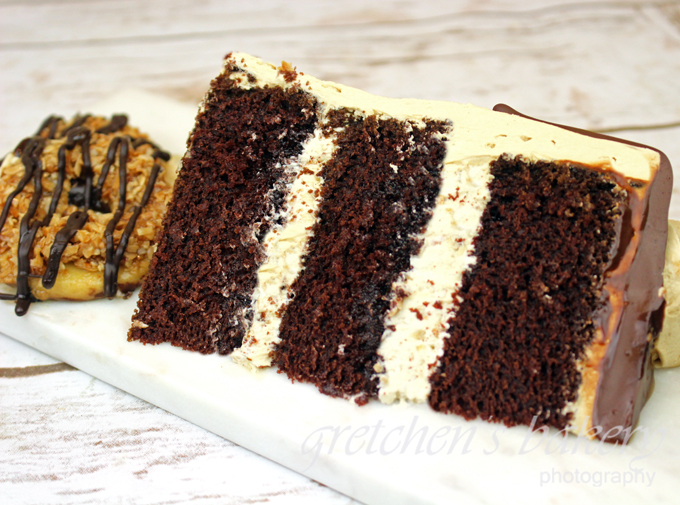 The Samoa Girl Scout Cookies on top are just perfect with vegan chocolate ganache & caramel drips that we are all pretty much addicted to nowadays!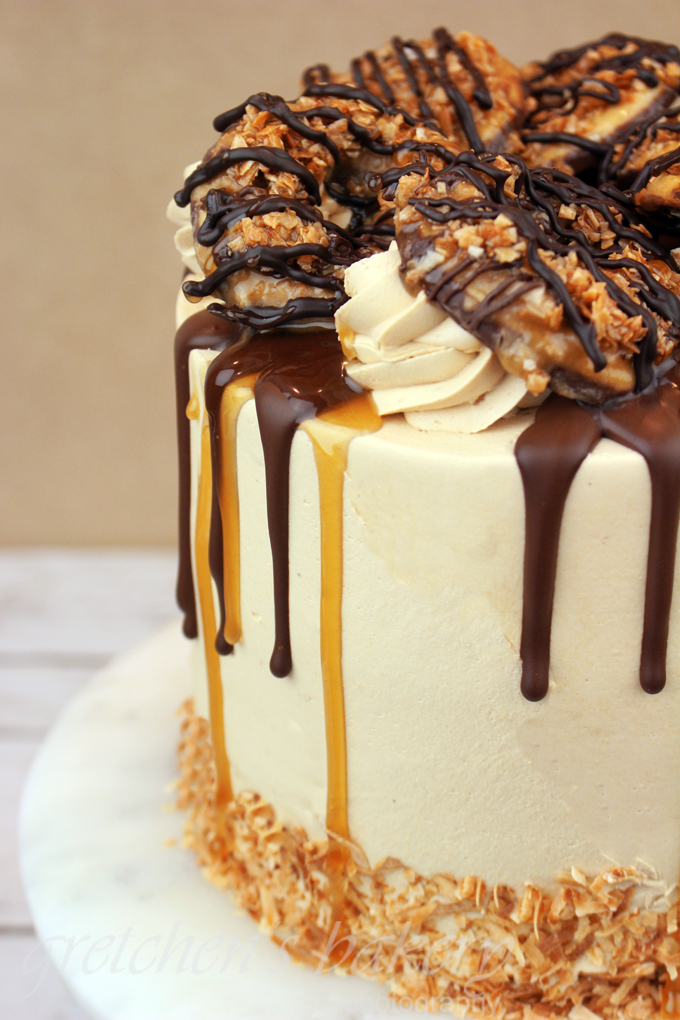 This is a pretty intense building on recipes project, so it is wise to make many of these recipes in advance, so the say you are building the cake it is a simple assembly.
Just follow along with all the recipes below and then on the day you need the cake, just put it all together.
The cake can be made 1 day in advance, wrapped airtight and refrigerated.
The caramel can be made up to 1 week in advance and stored in the refrigerator.
The buttercream can also be made up to 1 week in advance, stored in the refrigerator, then bring it to room temperature and rewhip the day you are to assemble the cake.
The ganache can also be made up to 1 week in advance and then rewarmed before pouring onto the cake.
The cookies stay beautifully in the freezer for up to 1 month! Yes I had mine in the freezer for 1 month and they were as good as the say I made them!
Girl Scout Samoa Cake
Ingredients
1 Recipe Chocolate Cake baked in 3-6" or 7" Pans
1 Jar 10 ounces Biscoff Cookie Butter
½ Recipe Caramel Sauce *I used Deborah's recipe from Vegan Kitchen Magick it is the best!
Toasted Coconut unsweetened flakes 1½ cups
Instructions
Prepare all your recipes as per the instructions on each blog post. The notes above this recipe will give you a good guide as to how far in advance you can prepare to make the day of assembly a breeze!
Add the cookie butter to approximately ¾ of the buttercream recipe and the other ¼ gets 1¼ cup of the toasted coconut and approximately ½ cup of the cooled caramel recipe.
Assemble the cake as shown in the video tutorial.
Notes
The iced cake will stay fresh in the refrigerator for up to 1 week covered to prevent drying of cut slices.

The uncut cake will stay fresh as the buttercream acts as a great seal to protect the cake from drying out