Thanks to a facebook article titled "What cake was the most popular the year you were born?"
The Hummingbird Cake has been popping up everywhere!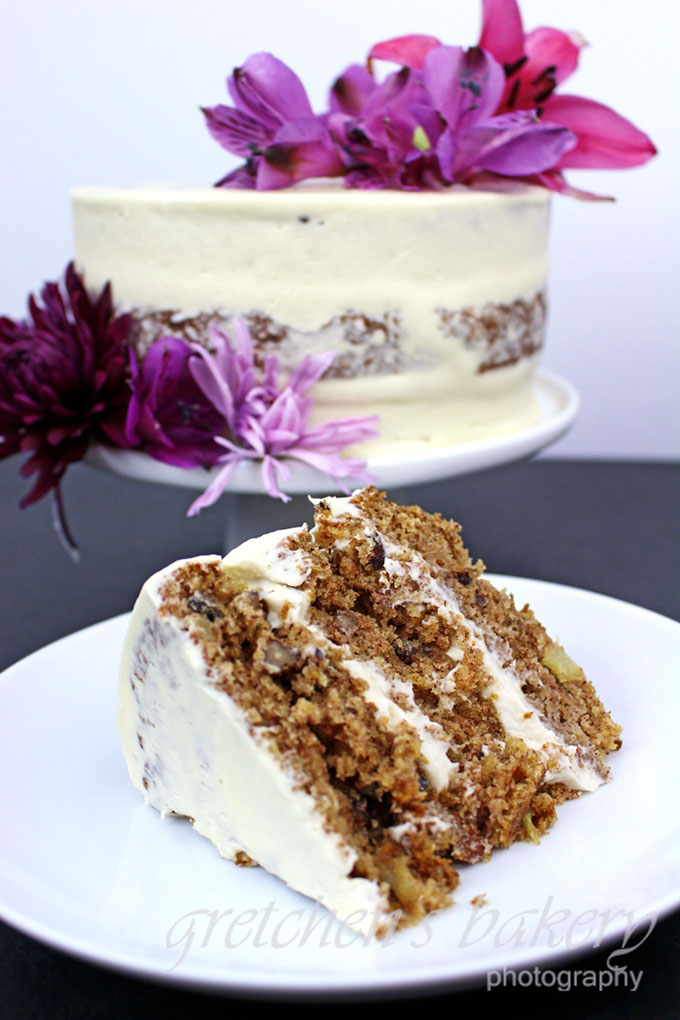 This cake was widely featured back in the late 1970's and has recently regained popularity.
Since I was just a wee one back in the late 70's I was not too familiar with this cake, but upon researching it I discovered it is really not that different than a traditional carrot cake.
So naturally when I set out to recreate it, I used my carrot cake recipe as a starting point.
The Hummingbird Cake is of Jamaican decent and was known as the Dr. Bird Cake; an appropriate nickname after the Red-billed Streamertail hummingbird native to the island.
It is said that the cakes sweetness is enough to attract hummingbirds just as they would be attracted to nectar.
Perhaps the original recipe made from pineapple and bananas was sweeter than my version because I have to say my veganized rendition of this classic is not too sweet but rather just perfect!
With a light cream cheese filling and buttercream icing this cake is going to have you back for seconds!
The subtle cinnamon and a hint of nutmeg tie it all together and the fresh flower decor is (in my opinion) the winning touch!
If you are using fresh flowers for decor like I did, be sure to dip the end stems into white chocolate as a buffer from getting anything unwanted from inedible flowers into the cake, or siply use edible flowers to avoid causing any harm to anyone eating the cake.
Hummingbird Cake
I use
7" cake pans
for 3 layers of cake, but you can use 2-8" pans for 2 thicker layers
Serves:
1-7" cake serves 8-10 people
Ingredients
Vegetable Oil ½ cup (118ml)
Applesauce ½ cup (113g)
All Purpose Flour 1¾ cup (220g)
Baking Powder 1 teaspoon (4g)
Baking Soda 1 teaspoon (4g)
Salt ¼ teaspoon
Ground Cinnamon 1¼ teaspoon
Nutmeg ½ teaspoon
Brown Sugar ½ cup (105g)
Granulated Sugar ½ cup (100g)
Ripe Banana 1½ large or equivalent to 1cup
Crushed Pineapple Drained 1 cup
Vanilla Extract 1½ teaspoons (7ml)
Orange Zest from ½ large orange approx 1½ teaspoon
Toasted Pecans 1¼ cup
Instructions
In a large bowl combine the sugars with the oil, vanilla extract, mashed banana and applesauce, whisk smooth
Add the orange zest
Then sift together all of the dry ingredients directly into the bowl and whisk smooth
Add the pineapple and the nuts then mix smooth
Pour batter into greased and parchment lined cake pans and bake immediately at 350°F in a preheated oven for approximately 28-40 minutes depending on the size of your pans. Or until the cakes are springy to the touch when you gently press the centers
Cool cakes while you prepare the Cream Cheese Icing recipe below and then assemble cake as shown in the video
Notes
The baked layers of this cake can be wrapped well and stored in the freezer for up to 1 month, or go ahead and fill and ice your cake as soon as it is completely cooled.
For the Cream Cheese Filling Recipe:
Cream Cheese Filling
I often use apple cider vinegar in recipes that call for cream cheese, since vegan cream cheese does not have that characteristic tang of regular cream cheese.
I did not add it in the video, but you can (as I often do) add 1 teaspoon with the extracts
Ingredients
Vegan Cream Cheese 2 Tubs (2cups) (454g)
Vegan Butter 1 stick (½ cup) (112g)
Confectioner's Sugar 1½ cups (180g)
Vanilla Extract 1 teaspoon
Almond Extract 1 teaspoon
Apple Cider Vinegar *optional 1 teaspoon - see note above
Instructions
Smooth the vegan butter with the sifted confectioners sugar either by hand with a large wooden spoon or with an electric mixer, and then add the extracts
Be sure to scrape the bottom and sides of the bowl to ensure you don't have any lumps.
Add the vegan cream cheese and mix smooth
Try to not to whip it to fast (if you are using an electric mixer as this will cause your icing to go "soupy")
Refrigerate until you are going to use it to fill & ice your cake
Notes
Cream cheese icing (and any cakes made with cream cheese icing) must stay refrigerated.

This recipe will last for up to 10 days in a clean airtight container in the refrigerator or as an icing or filling for your cake
I used my
vegan Buttercream recipe
for the icing, but you can go all cream cheese for the filling and for the icing if you prefer, simply by doubling the cream cheese recipe above.