One of the most popular cakes in my bakery was this combination of
Yellow cake, chocolate mousse and ganache icing
You can see why just by looking at it!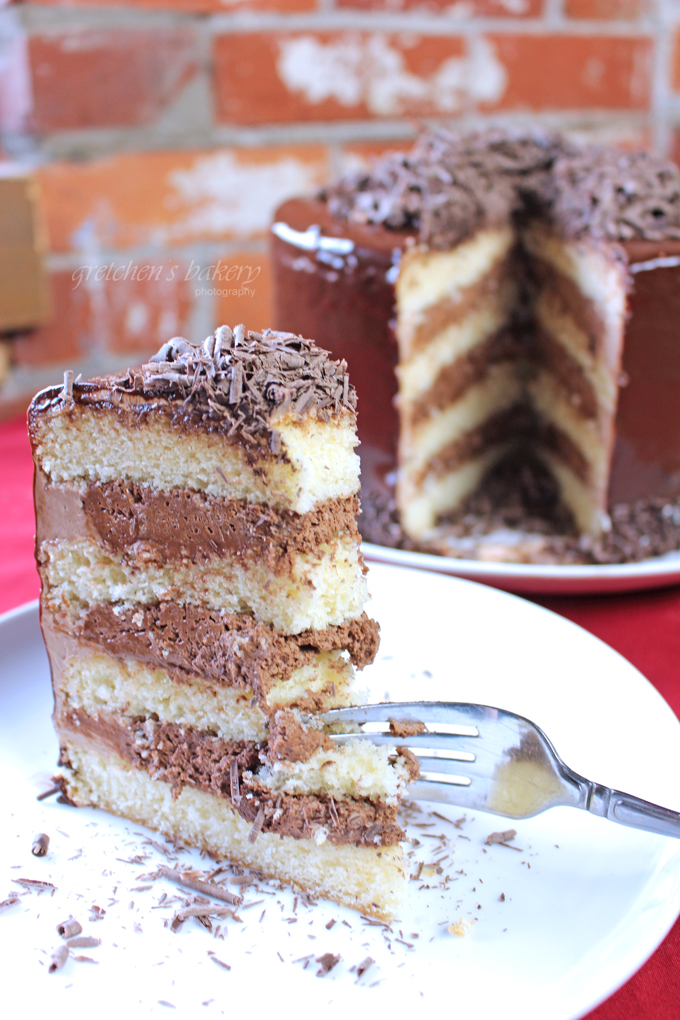 My super easy vanilla cake recipe a.k.a Bakery Style Yellow Cake
Is a great cake to use for a mousse cake like this one!
Yellow cake layers are sturdy
With a texture more like pound cake
Creamy chocolate mousse filling and simple two ingredient ganache to finish it off!
It's an easy cake to make
The hardest part is waiting for everything to be at the right temperature before you can build it!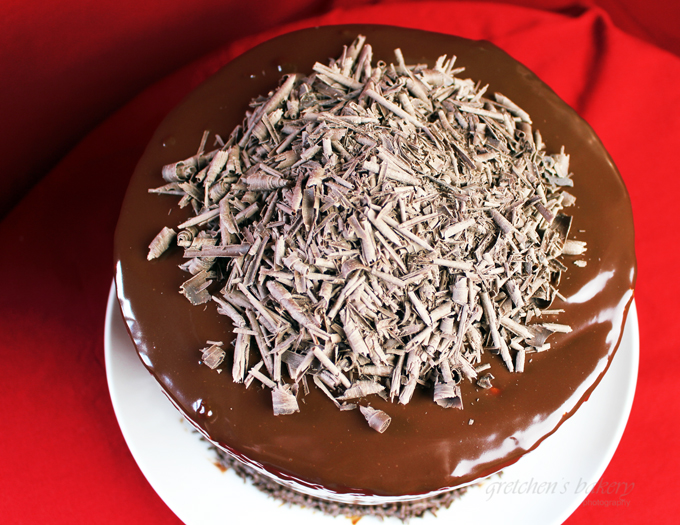 Mixing the yellow cake is easy since it's a one bowl mix that literally takes 5 minutes!
While the cake is baking you can whip up the ganache and let that start cooling
The chocolate mousse has to be made after the cakes are completely cold though
Since I like to allow the mousse to set inside my cake layers
Rather than let the mousse set in the refrigerator and then scoop it in like a regular cake filling
It is just my preference, you can of course do it the other way
But for me I like the strength of a mousse that sets inside the cake rather than one that has been spread into the layers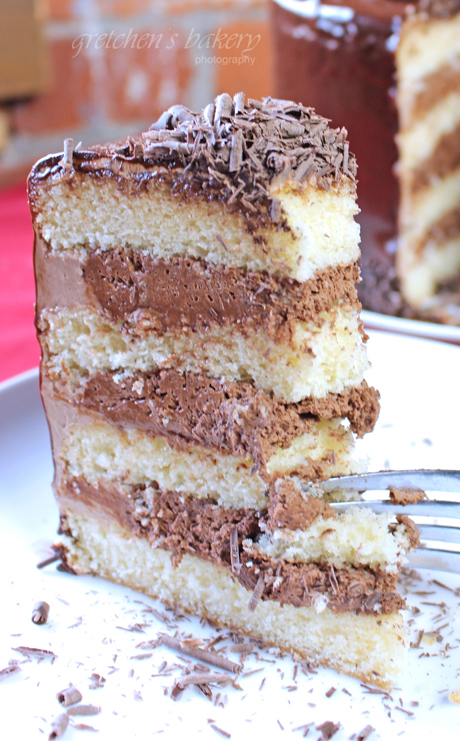 My method does require an acetate cake strip to ensure a tight build inside of a ring mold
PRO TIP:
By icing the set mousse cake with a thin ganache coating and refrigerating it before pouring the final glaze will ensure a smooth finish
Chocolate shavings are optional but a really nice look to the finished rustic Mousse Cake!
Notes for Success & Substitutions:
I use soy milk as the milk for the majority of my baking.
Soy milk is the only milk that will sour upon adding vinegar which is what we do to make a mock "buttermilk"
You can use any plant milk of your choice if you are staying away from soy
However you will still need to add the vinegar, as that is also the activator for the baking soda to leaven this recipe
I am using a combination of cake flour and all purpose flour here, but if you have trouble getting cake flour
You may use all ~all purpose flour instead, just take out ¼ cup of the total amount of flour
FOR A LOOK AT HOW TO BUILD A CAKE LIKE THIS ONE WATCH THIS YOUTUBE VIDEO FOR A SIMILAR CAKE BUILD!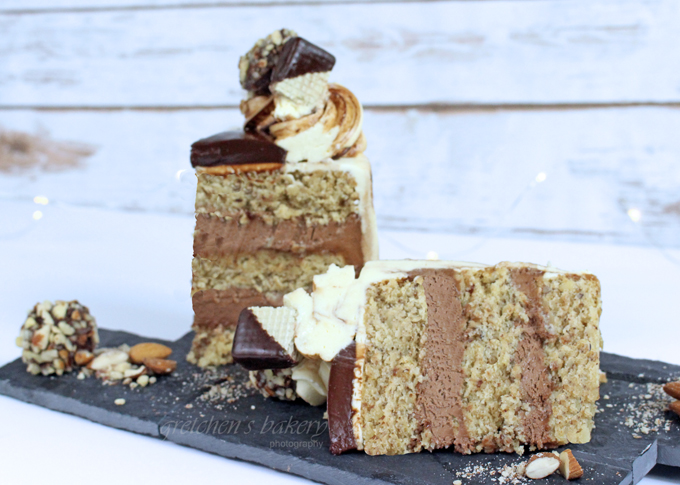 For more bakery style layer cakes like this one click the links below!
Chocolate Mousse Cake ~ Almond Sponge Cake
Easy Chocolate Mousse Cake
Ingredients
For the Cake:
Soy Milk 1½ cups (355ml) *soy milk is the only plant milk that will thicken like buttermilk, but you can use whatever plant milk you prefer
White Vinegar 1½ Tablespoons
Vegan Butter ½ cup (113g)
Vegetable oil of your choice ½ cup (117ml) *or more vegan butter melted
Granulated Sugar 1¾ cup (350g)
Salt ½ teaspoon
Vanilla Extract 3 teaspoons (15ml)
All Purpose Flour 2 cups (250g)
Cake Flour 1 cups (120g) *see notes in body of the text article for more info on cake flour
Baking Soda 2 teaspoons
Chocolate Mousse:
Semi Sweet Vegan Chocolate 8ounces
Strong Brewed Coffee 3 Tablespoons
Agar Powder ½ teaspoon
Coconut Milk 2 - 15 ounce cans refrigerated overnight
Aquafaba ½ cup
Instructions
Remember to refrigerate your coconut milk overnight before beginning.
First prepare the cake recipe:
Grease & parchment line 4-7" cake pans (or 2-8" pans for a 2 layer cake if that is all you have)
Preheat the oven to 350°F
In a large mixing bowl combine the vegetable oil with the melted vegan butter add the vanilla extract and set aside
Combine the soy milk with the vinegar and let stand for 5 minutes to thicken.
Sift all the dry ingredients together including the sugar.
Add the sifted dry ingredients to the wet ingredients in the bowl and whisk smooth, this will be the plant milk mixture and the butter/oil mixture
Whisk smooth for about 40 strokes to develop the batter
Pour the batter into the greased and parchment lined pan(s) and bake immediately in the preheated 350°F oven for 15 minutes, then turn the open temperature down to 325°F to bake the rest of the way, approximately 20 minutes more or when you gently press the centers they are springy to the touch. Or do the toothpick test for moist crumbs.
Cool in the pan(s) until you can safely touch without burning yourself then turn the cake(s) out onto a cooling rack to cool the rest of the way.
Once the cake are completely cold
Prepare the chocolate mousse by melting the vegan chocolate over a double boiler or in the microwave.
Sprinkle the agar powder over the hot coffee and keep it warm in a pan of hot water to prevent it from setting.
Whip the coconut fat from the tops of the cans of coconut milk
Next prepare the aquafaba by whipping the bean liquid in a high speed balloon whip stand mixer until thick & glossy
Whip the warm agar/coffee into the chocolate & whisk smooth
Fold (whisk) in the coconut cream ONLY WHEN THE CHOCOLATE MIXTURE IS COOL TO THE TOUCH , then fold in the whipped aqaufaba.
Immediately pour into your cake layers set up in the ring mold then refrigerate everything until firm & set
Meanwhile prepare the ganache recipe by heating the chocolate & plant milk in a small sauce pot over medium heat whisking constantly until melted & smooth
Let cool at room temperature to a pour able consistency
Once the mousse inside the cake is set & firm you can unmold it, remove the acetate strip and then pour the chocolate ganache over the entire cake set on a cooling rack over a parchment paper sheet pan to catch the excess drips. Be sure to scrape up the excess ganache and use for another project
I usually have excess ganache in my refrigerator ~ in a clean container it will stay fresh for up to 3 weeks