The Classic Napoleon Cake
It's origins haven't been agreed upon, but some of the theories are quite amusing!
One theory suggests that the Emperor Napoleon ate too many of these luscious cream filled flaky pastries before a battle and the rest was history!
Well, wherever it originated I know where it ends up! Right here in my mouth!
Quite possibly the most fantastic pastry ever invented!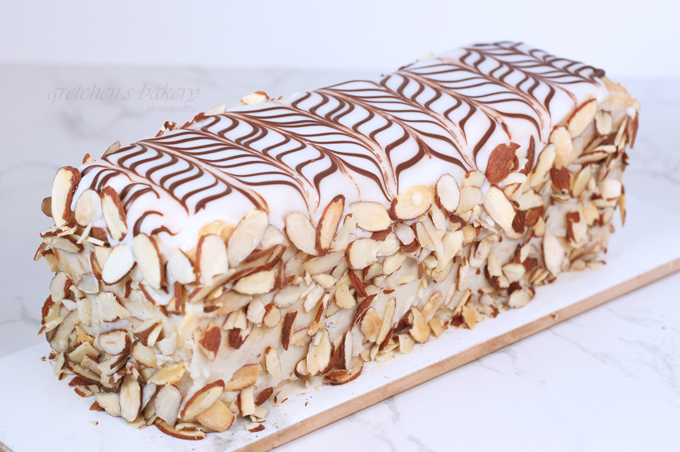 Creamy Vanilla Diplomat Cream sandwiched between three flaky layers of puff pastry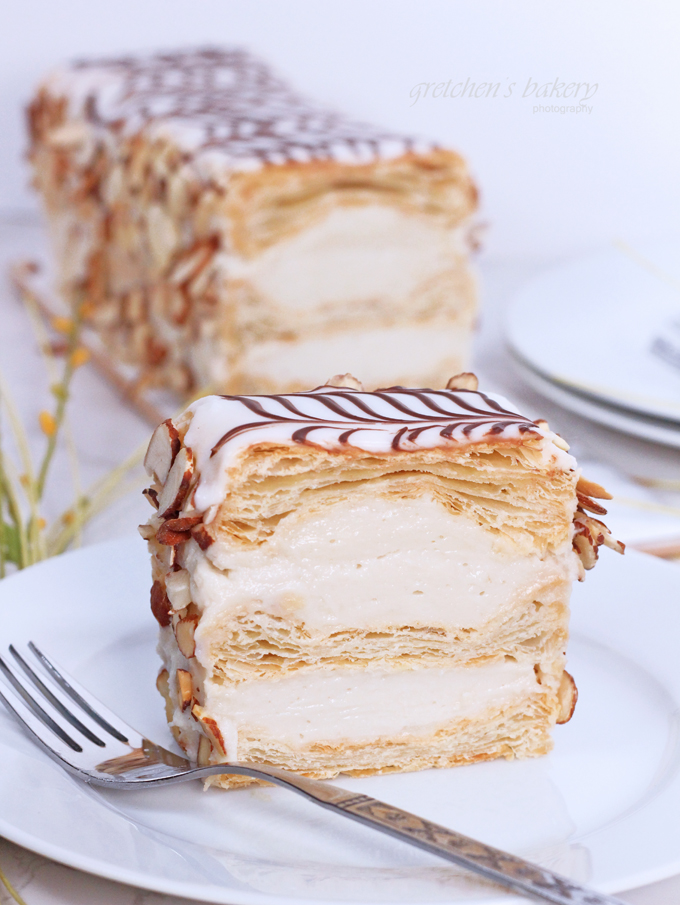 A thin sugar glaze with stripes of chocolate and toasted almonds really bring it all together!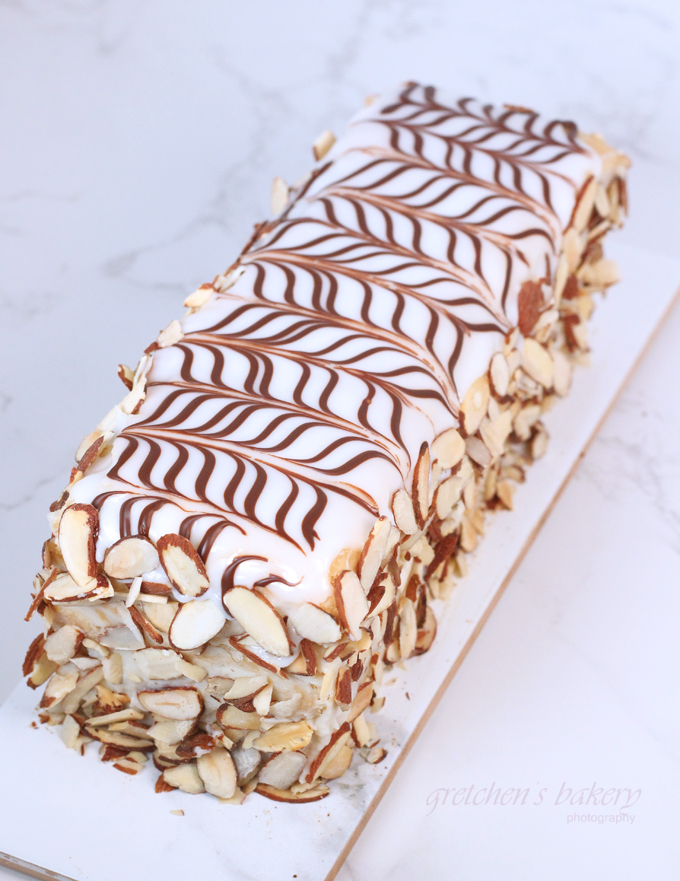 A very simple dessert to make because the Puff Pastry sheets can be bought in the frozen section of your grocery
Diplomat Cream we have already mastered in the recent Fraisier Cake
Also part of this Classic Cakes Veganized series!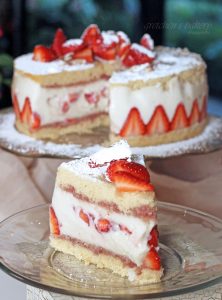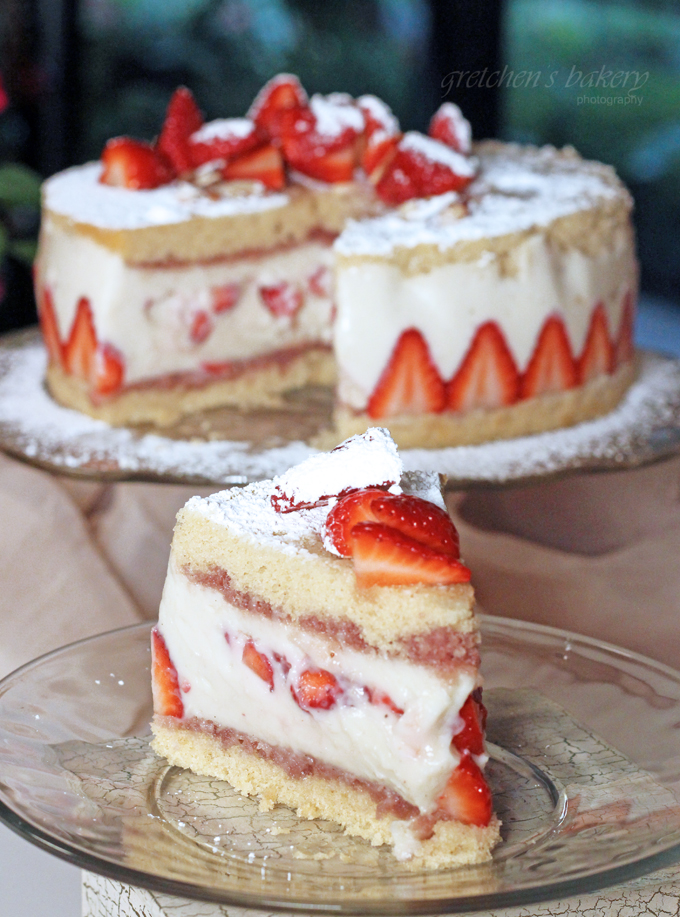 Today for the Napoleon Cake though,  you see I make the rectangle strip cake style
For me it is just way easier to cut a cake that is this size versus a cake that is double size
I also prefer the smaller portions that are easy to handle as finger food as well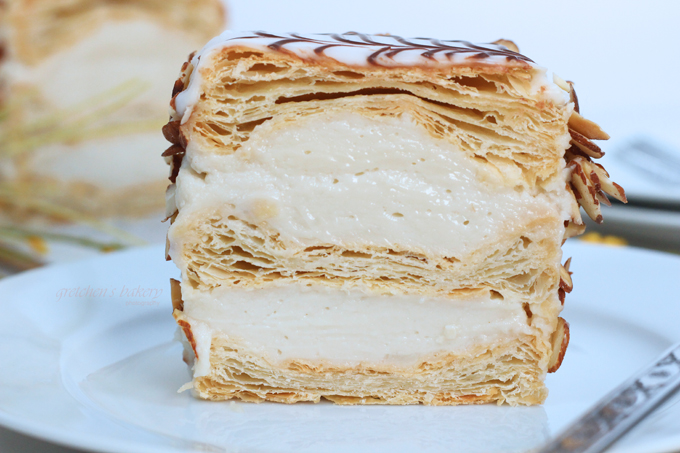 When I owned my bakery we sold Napoleon Cake pastry more than any other miniature pastry in the store!
Creamy vanilla custard and flaky pastry will become your new obsession!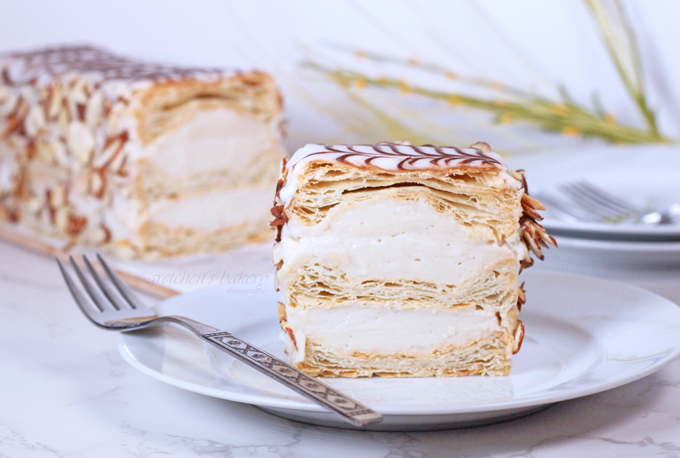 CLICK HERE FOR THE FULL YOUTUBE VIDEO TUTORIAL FOR HOW TO MAKE NAPOLEON CAKE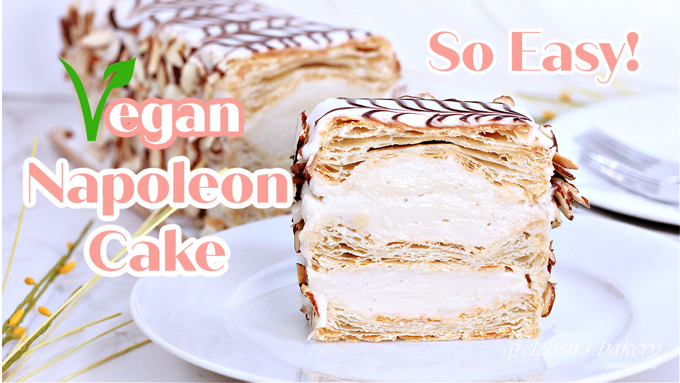 Notes for success:
It is really important to find an agar brand that you like and stick with it.
Not all brands are created equally and you must know what strength you are working with to ensure consistent results every time
I use this brand in all my desserts with a gel strength of 900
If your brand is different be sure to adjust the recipe accordingly
Cornstarch is a very difficult ingredient to measure consistently with a volume spoons measure
So while I list both measures below I cannot stress enough how the grams measure with a scale is going to give you the best results.
Many times people have complained that their custard is like rubber and they don't know why!
This is from a heavy measure of cornstarch when using volume measuring spoon vs the 100% accurate scale measure in grams.
The acetate cake strips are very helpful when making cold preparation molded desserts like this one.
I am using SILK brand whipping cream for the whipped cream portion of this diplomat cream *not sponsored
If you cannot get this product I have several other options that work equally great
CLICK HERE FOR VEGAN WHIPPED CREAM
For more classic cakes veganized, click the links below!
Dobos Torte~ The Original 7 Layer Cake
Storage Information:
The Napoleon Pastry will start to absorb the moisture from the custard and also from general refrigeration, but this for me made it get better over time!
It was also easier to cut after the first day since the pastry was slightly softer and easier to handle
I also put some of it in the freezer with the icing and after 4 days and a thaw overnight the sugar glaze was still as perfect as it was on the first day!
Major wins all around for this Napoleon Pastry!
Re: Pepperidge Farm puff pastry being vegan?
Pepperidge Farm puff pastry contains mono and diglycerides, which can be animal-derived if not specified that it comes from a plant source.
But I found a statement on Campbell's website (Pepperidge Farm's parent company) stating that their puff pastry products are vegan:
Our puff pastries are vegan and Kosher certified, making them an offering for a larger range of patrons.
Vegan Napoleon Cake
Ingredients
½ Box Pepperidge Farm Puff Pastry Sheets
For the Diplomat Cream
Plant Milk 1½ cups + 3 Tablespoons (400ml)
Granulated Sugar ½ cup (100g)
Cornstarch 4½ Tablespoons (42g)
Agar powder 1 teaspoon
Vegan Butter 1 Tablespoon (14g)
Vanilla Extract 2 teaspoon (10ml)
Vegan Whipped Cream 1 cup (237ml)
For the Icing
Confectioners Sugar ½ cup (60g)
Almond extract ¼ teaspoon
Plant milk or water 2 teaspoons
Vegan Chocolate or chocolate chips 2 Tablespoons melted for the striping
Sliced toasted almonds for garnish *optional 1 cup
Instructions
Preheat the oven to 400°F
First thaw the puff pastry (I do this overnight in the refrigerator) unfold one sheet then cut it along the folds
Arrange the 3 rectangles of pastry on a parchment lined sheet pan and dock each one with a fork for steam vents
Bake for 15 minutes then cool completely
Lightly press each puff pastry rectangle to flatten them out slightly
Arrange your standard loaf pan with acetate cake strips inside the pan to use as a molding vessel to build this cake *see video tutorial
Prepare the vegan whipped cream *I use SILK brand whipping cream *not sponsored and reserve in the refrigerator until needed
Prepare the pastry cream custard by combining the sugar with the cornstarch & agar powder and then add that to the plant milk in a large sauce pot
Bring everything to a full rolling boil over medium to high heat whisking constantly to avoid scorching
Once it comes to a full boil remove from the heat and add the vegan butter and the vanilla extract, whisk smooth
Transfer the hot custard to a large mixing bowl & whisk to release the intense heat.
Continue whisking every so often until the custard is slightly cooler than body temperature, once it is cool add the vegan whipped cream in 2 additions, whisking & folding gently to incorporate
Pour half of the diplomat cream over the first layer of puff pastry in the pan and then place the second pastry rectangle over that, pressing gently to compress.
Add the remaining custard over the pastry and top it with the last layer of pastry
Freeze until set *approx 1 hour
Take the cake out of the loaf pan, remove the acetate cake strips and glaze the top with the confectioners sugar, almond extract and water glaze, making a very thick glaze that is still spreadable *you may have to adjust the amount of water needed to make a thick spreadable glaze
Melt the vegan chocolate and stripe the top then using a skewer make the design by dragging it through the chocoalte striping
Garnish the sides with sliced toasted almonds
Notes
Napoleon pastry must be kept refrigerated & will stay fresh in the refrigerator for up to 1 week
It is best served on day one though, because the flaky pastry will start to absorb the moisture from the custard over time though and lose it's crispness.
I have frozen the assembled (*un-iced) napoleon cake for 2 weeks