Summer is around the corner so that means key lime is about to pop on the scene!
Key lime everything is perfectly okay with me though!
I love, love, love lime; and combined with a cheesecake?
Well that is a no-brainer!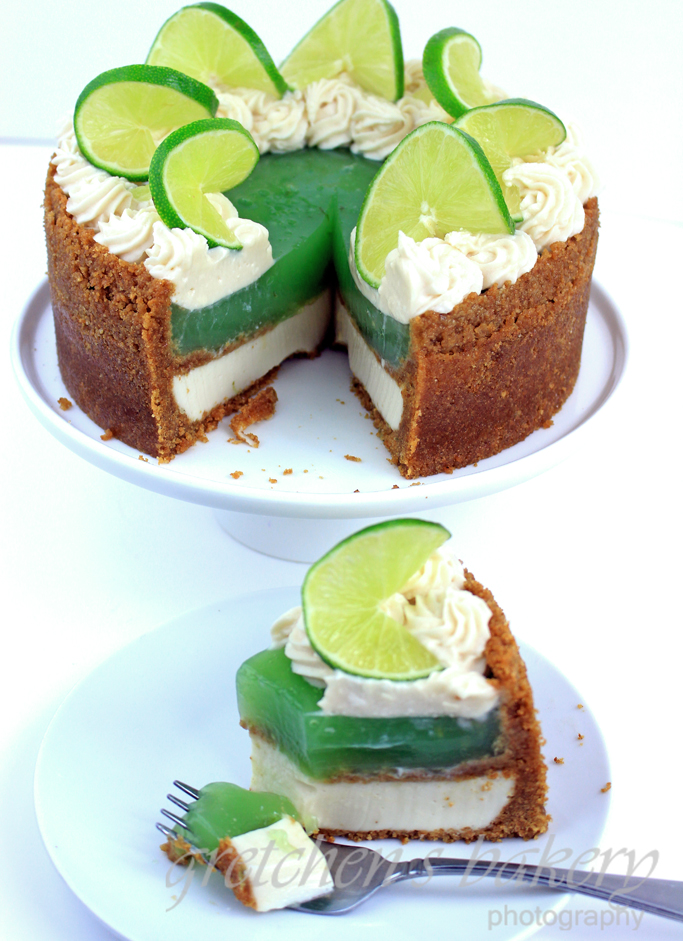 By request I have been asked to make a No Bake Key Lime Pie Cheesecake.
With this request, I got to thinking about how I have never really gotten into making No Bake desserts; not even in my "non vegan" days.
I'm not exactly sure why though! LOL
Perhaps because I was never a fan of gelatin and typically (not always) that is what is going to set a no bake dessert.
But now that I have transitioned to vegan obviously gelatin is out of the question (thankfully, yuck!) so the options for no bake are a bit different here.
Most of the recipes for no bake vegan cheesecakes I have seen are nothing more than a cashew cream base that is then frozen and served semi frozen.
To me that is not really a cheesecake. It is more of a frozen nutty, cream cheese pie type thingamajiggy.
Not to mention I have a tendency to stay away from nuts most of the time, perhaps my experience in my bakery and all the people who are just terrified of nuts because someone they know is allergic keeps me wary.
Not to mention the cost is astronomical and I know many people will automatically ask me for a substitute.
But I digress. Today I have a no bake key lime pie cheesecake that is not made with a cashew nut base, and it is not intended to be served frozen.
It does however require agar for the thickener.
Now I do have to talk a bit about agar so if you are really not that interested skip below to the recipe, but I will warn you~ not all agar is created equally!
Click here for an in depth look at agar in regards to desserts recipes.
Otherwise, let's get right to the making of this no bake key lime cheesecake!
Ok WAIT! I have more to say.
I did NOT get right to a perfect outcome for this No Bake Key Lime Cheesecake, as you will see in the video below I had some major challenges this week with this recipe!
But on my 5th and final attempt, I nailed it with the recipe below!
No Bake Key Lime Cheesecake (v)
Ingredients
For the Crust:
Graham Crackers (or digestive biscuits) 2 package from the box- approx 20 sheets to make 3 cups crumbs
Vegan Butter 8 tablespoons (113g)
Vegan Sugar 6 Tablespoons (85g)
For the Cheesecake Layer:
Vegan Cream Cheese 1 package 8 oz (226g)
Vegan Granulated Sugar ¾ cups (155g)
Soy Milk 6 fl ounce (175ml)
Powdered Agar ¼ teaspoon
Apple Cider Vinegar ½ teaspoon
For the Key Lime Pie Layer
Water ⅓ cup (80ml)
Powdered Agar ½ teaspoon
Lime Juice ⅔ cup (160ml)
Lime Zest from 1 lime (approx 1 teaspoon)
Granulated Sugar ½ cup (100g)
Corn Syrup 3 Tablespoons
Arrowroot 3 Tablespoons
Milk Alternative of your choice (*I used Evaporated Coconut Milk) 1¼ cup (300ml)
Green & Yellow gel paste color *optional
Instructions
To make the crust melt the vegan butter.
Combine the graham crackers and sugar to a food processor and process to find crumbs.
Add the melted vegan butter and process to the consistency of wet sand.
Take out approximately ½ cup of the crust mixture and reserve
Press the remaining crust into the bottom and all the way up to the top of the sides of a 2½" tall springform pan or a ring mold then freeze while you prepare the cheesecake layer
For the Cheesecake Layer:
Combine half of the soy milk with the sugar in a sauce pot and heat to a boil then reserve it, set over very low to keep it warm to about 140°F
In another sauce pot warm the rest of the soy milk to almost boiling then add the powdered agar, whisk smooth
Continue whisking over high to and bring to a boil then reduce heat and simmer for 2 minutes.
Remove from heat and reserve for a moment.
Next place the cream cheese in a food processor and add the first hot milk/ sugar mixture and the apple cider vinegar while blending to smooth
Add the thickened agar milk mixture and then pour immediately into the prepared frozen crust
Refrigerate until set, this should only take about an hour or two
Once the cheesecake layer is set cover it with the remaining crust that was reserved from earlier., then you can make the lime pie layer
For the Key Lime Pie Layer
Combine the arrowroot with the milk and whisk smooth, reserve.
Combine the water and agar together in a sauce pot and heat to boil. Reduce heat and simmer for 2 minutes
Add the corn syrup, sugar, zest and lime juice and whisk to combine and dissolve the sugar.
Add the milk/ arrowroot mixture and continue heating and stirring until thick, just under a boil.
When you see small bubbles forming you can remove from heat.
Add the optional food color, pour over the set cheesecake and crust layer in the mold
Refrigerate to set.
Meanwhile make the optional cream cheese icing recipe:
Unmold then garnish with optional cream cheese icing and fresh lime slices
Notes
No Bake Key Lime Cheesecake made with agar is super stable to stay out at room temperature for about 4 hours.


Keep refrigerated until serving and store leftovers in the refrigerator for up to 10 days.
Here is a picture of my first attempt, while it was still really eye catching the texture and flavor was just not right.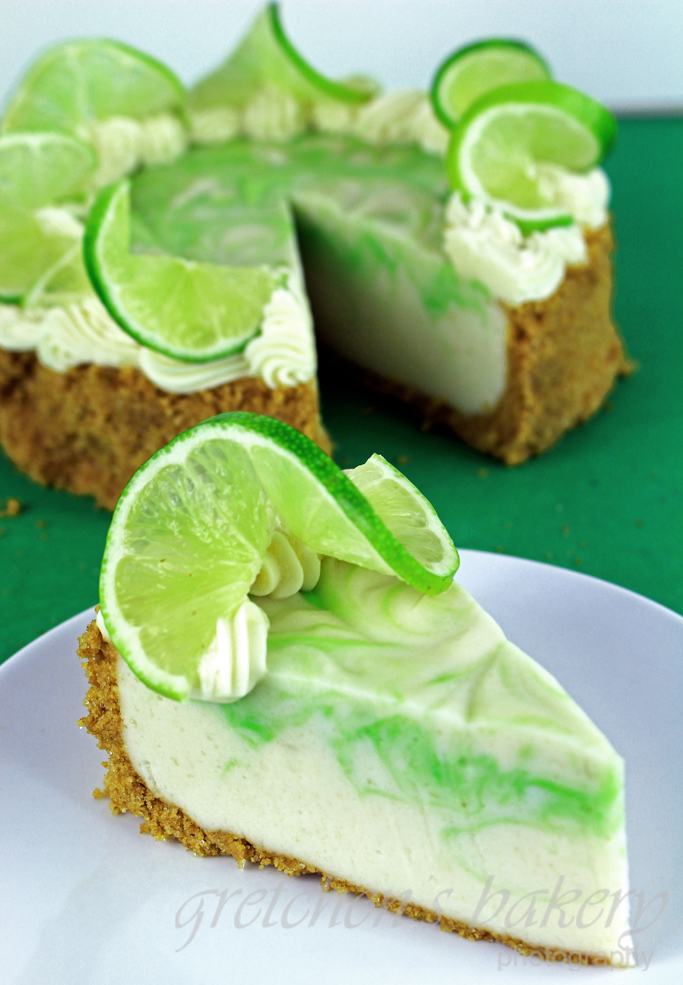 I really prefer how the above recipe came out, obviously or I never would have shared it!
So I hope you will try it!
I was really very surprised that I liked it so much!
I was so sick of eating Key Lime Pie Cheesecake all week that I thought I would never eat another bite!
But I finished off the entire slice…. and then…ummmm… the rest of the cake in a matter of days! LOL