I've found myself once again in No Bake Dessert Land
This time not by choice
Recently I moved to Florida and set out to make my first recipe just in time for Pumpkin Everything Season!
Only to be horrified to find out that in this particular neck of the woods
It has been impossible to find Tofutti brand cream cheese
*not sponsored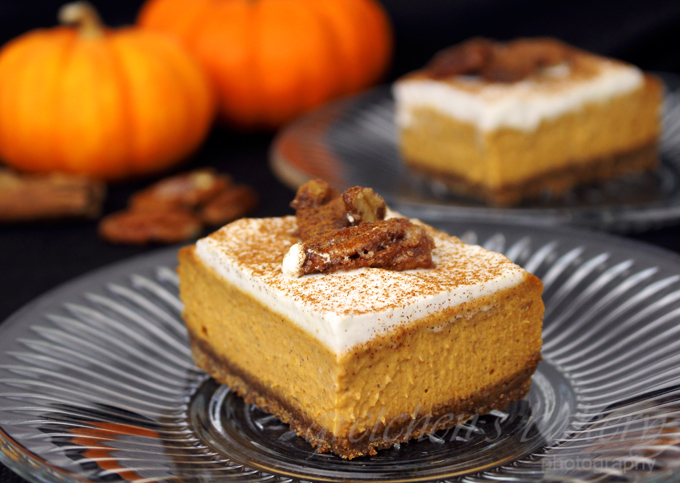 Which is the only brand that bakes to perfection in in my famous vegan cheesecake recipes! *not sponsored
If you don't believe me, check out my horrific Cranberry Cheesecake VIOLIFE FAIL from last year when I tried to get all bougie and use the super expensive Violife Cream Cheese brand!
It was shear disaster!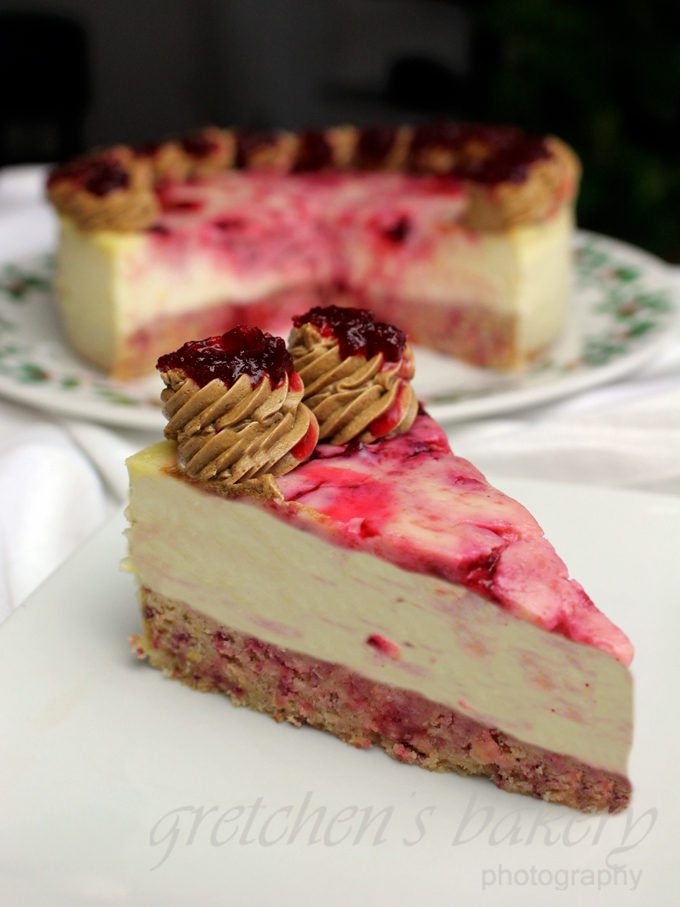 So with this jarring realization that Florida is Tofutti Brand Free and perhaps completely vegan cream cheese free!
I may just have to move back to New Jersey! Umm. No.
My only option seemed to be to drive an hour north to Jacksonville to the Whole Foods which quite honestly I just did not want to do.
So instead I pulled up my big girl pants and dove head first once again into No Bake Cheesecake territory.
If you watch the entire video below, in the first 9 minutes I'm giving a little backstory and then my opinion about no bake cheesecakes in general
Specifically ones that are made with a cashew cream base.
For various reasons I highlight in the video, I just don't love cashew based desserts OR no bake cheesecakes!
Sorry all you cashew lovers!
So whether you want to check out my commentary on this topic, why I got here and how I got out of it check out the video!
If you want to get right to the recipe (video timestamp at 8:55 minutes) check out the two versions below for No Bake Pumpkin Cheesecake!
CLICK HERE FOR THE YOUTUBE VIDEO TUTORIAL FOR NO BAKE PUMPKIN CHEESECAKE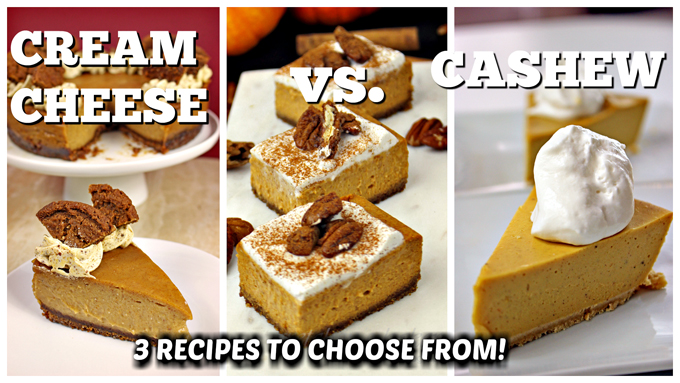 Note that the video is demonstrating a half recipe for testing purposes only.
But the following recipe is already doubled to give you a 7″ Cheesecake!
If you are of the lucky ones and you can still get Tofutti Brand Cream Cheese
CLICK HERE for my Awesome Baked Pumpkin Pie Cheesecake complete with gingersnap cookie crust!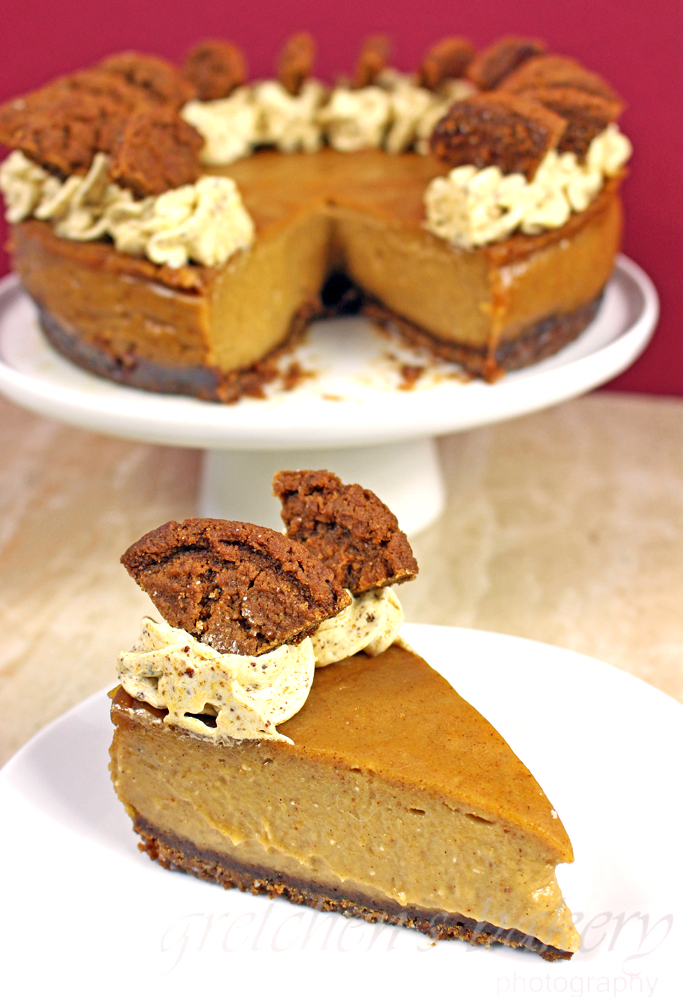 Notes for Success:
When measuring cornstarch I cannot stress enough that a kitchen scale is the best way to go.
Cornstarch is a very difficult ingredient to measure consistently with a volume spoons measure
So while I list both measures below I cannot stress enough how the grams measure with a scale is going to give you the best results.
Many times people have complained that their cheesecake is like rubber and they don't know why!
This is from a heavy measure of cornstarch when using volume measuring spoon vs the 100% accurate scale measure in grams.
Additionally agar can be a tricky ingredient in No Bake Desserts such as this one.
A heavy hand ~ even a pinch too much~ can be the difference between creamy delicious and rubbery inedible!
Pay attention to the strength of agar you are using in comparison to the one that author of the recipe is using
I use 900 Strength agar in my recipes
CLICK HERE FOR THE EXACT BRAND *not sponsored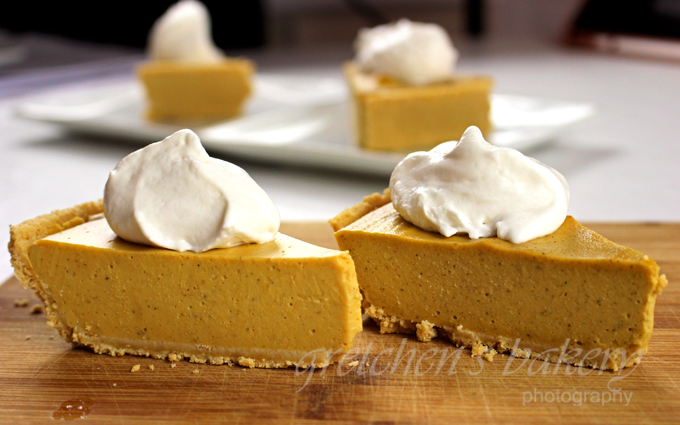 For more of the best Pumpkin Recipes, click the links below!
No Bake Pumpkin Cheesecake~ Cream Cheese Recipe
Lightly spray a
7" springform pan
with pan spray, although we are not baking this it will help release the no bake dessert.
See notes on
Pumpkin Puree recipe
if you are making your own homemade pumpkin puree
Ingredients
For the Crust:
Gingersnap Cookies enough to make 3 cups of crumbs
Vegan Butter melted 4 Tablespoons (60ml)
For the Cheesecake:
Vegan Cream Cheese *any brand will do here since we are not baking it! 2 cups (454g)
Vegan Sour Cream 4 Tablespoons (60g)
Confectioners Sugar ⅔ cup (80g)
Vegan Lactic Acid or Apple Cider Vinegar ½ teaspoon
Plant Milk 1 cup (237ml)
Pumpkin Puree ⅔ cup (160g)
Vegan White Chocolate 4 Tablespoons (70g)
Agar Powder 1½ teaspoons
Ground Cinnamon ½ teaspoon
Ground Ginger ¼ teaspoon
Nutmeg ¼ teaspoon
Cloves ¼ teaspoon
Instructions
Prepare the crust by crushing the cookies fine in a food processor and then add the melted vegan butter, press into the bottom of the prepared springform pan and freeze until needed.
For the cheesecake, combine the plant milk, pumpkin puree, confectioners sugar, spices, lactic acid and white chocolate together in a medium saucepot over medium heat and stir constantly.
Once it's hot you can add the agar powder.
Switch to a whisk and whisk smooth until boiling.
Once boiling, remove from the heat and transfer the hot mixture carefully to a high speed blender or food processor and then add the vegan sour cream and the vegan cream cheese.
Puree to a smooth consistency
Pour the batter into your prepared crust and then refrigerate until set.
Usually it just takes about 2 hours to set before you can unmold it, but overnight is also fine.
Remove it from the springform pan and transfer to a serving plate.
Serve with vegan whipped cream and a sprinkle of cinnamon
Notes
Cheesecake must be kept refrigerated at all times, but can withstand room temperatures for up to 3 hours.

Cheesecake will stay fresh for up to 10 days wrapped well in the refrigerator.

I found that freezing these No Bake varieties had a much better result than when I freeze my baked cheesecakes! SO that is one more SCORE for the No Bake!

Freeze wrapped well for up to 1 month
No Bake Pumpkin Cheesecake~Cashew Cream Recipe
Lightly spray a
7" springform pan
with pan spray, although we are not baking this it will help release the no bake dessert.
Ingredients
For the Crust:
Gingersnap Cookies enough to make 3 cups of crumbs
Vegan Butter melted 4 Tablespoons (60ml)
For the Cheesecake:
Raw Cashew soaked for 12 hours, then drain well 2 cups (350g)
Vegan Sour Cream 4 Tablespoons (60g)
Confectioners Sugar ⅔ cup (80g)
Vegan Lactic Acid or Apple Cider Vinegar ½ teaspoon
Plant Milk 1 cup (237ml)
Pumpkin Puree ⅔ cup (160g)
Vegan White Chocolate 4 Tablespoons (70g)
Agar Powder 1½ teaspoons
Ground Cinnamon ½ teaspoon
Ground Ginger ¼ teaspoon
Nutmeg ¼ teaspoon
Cloves ¼ teaspoon
Instructions
Prepare the crust by crushing the cookies fine in a food processor and then add the melted vegan butter, press into the bottom of the prepared springform pan and freeze until needed.
For the cheesecake, combine the plant milk, pumpkin puree, confectioners sugar, spices, lactic acid and white chocolate together in a medium saucepot over medium heat and stir constantly.
Once it's hot you can add the agar powder.
Switch to a whisk and whisk smooth until boiling.
Once boiling, remove from the heat and transfer the hot mixture carefully to a high speed blender or food processor and then add the vegan sour cream and the soaked cashews.
Puree to a super smooth consistency making sure there are no nuts remaining.
Pour the batter into your prepared crust and then refrigerate until set.
Usually it just takes about 2 hours to set before you can unmold it, but overnight is also fine.
Remove it from the springform pan and transfer to a serving plate.
Serve with vegan whipped creamand a sprinkle of cinnamon
Notes
Cheesecake must be kept refrigerated at all times, but can withstand room temperatures for up to 3 hours.

Cheesecake will stay fresh for up to 10 days wrapped well in the refrigerator.

I found that freezing these No Bake varieties had a much better result than when I freeze my baked cheesecakes! SO that is one more SCORE for the No Bake!

Freeze wrapped well for up to 1 month