Here I go again with another Vegan Cheesecake Recipe!
I know I can't get enough cheesecake in my life
But this time it's no bake and it's delicious!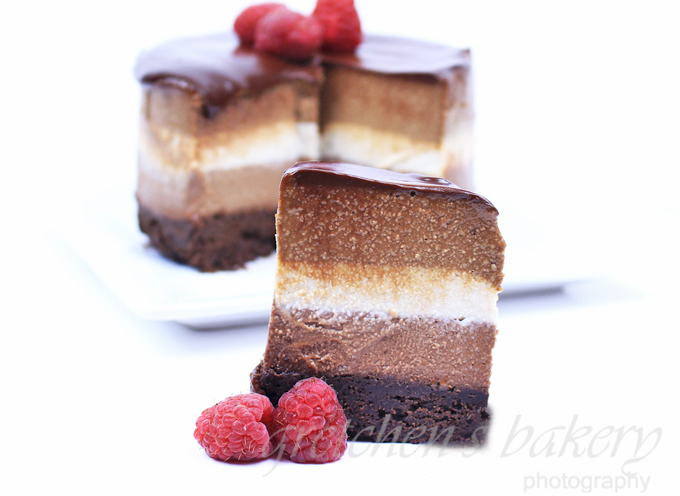 It's just been way too hot for ovens lately
Although, I must correct myself to say that it is actually not 100% no bake, because I used a brownie layer for the base!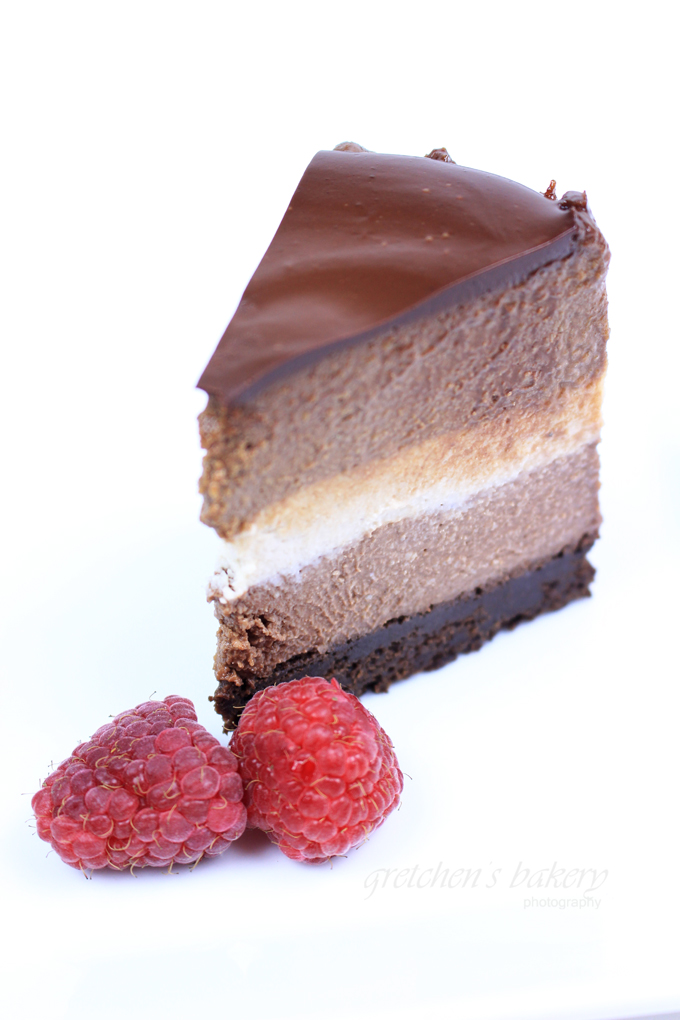 Woops, sorry!
I usually have random cake layers and such in my freezer for a spur of the moment project like this one
So technically I still did not turn on my oven~ well at least not today!
However for those who don't have obscene stashes of bakery items in their freezer
This cheesecake can be made with a quick cookie crust instead.
Both options will be provided for you in the recipe listed below
As you may remember when I talked about my vegan cream cheese conundrum almost a year ago when I moved to Florida,
I mentioned how much I do not prefer cashew cream based cheesecakes and I thought I would be locked into making them!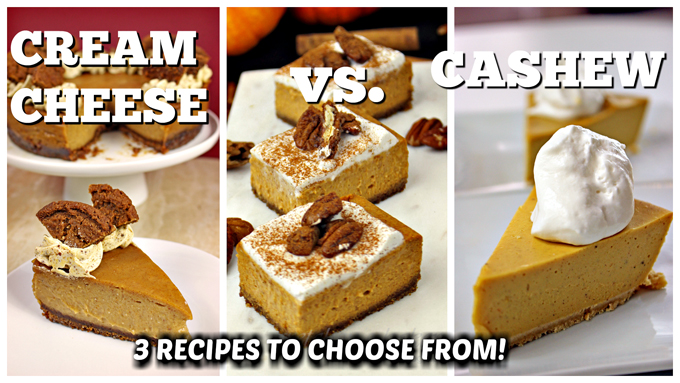 CLICK HERE FOR THE VIDEO EXPLANATION OF CREAM CHEESE VS CASHEW CHEESECAKES
Well, this is a cashew cream based cheesecake!
Every so often I will veer off from my norm and every time I do, I am so thrilled with the results!
So while I say I don't prefer the cashew based cheesecake, this one is a total win!
With chocolate, vanilla and mocha layers, it's simple to make since it all stems from one base recipe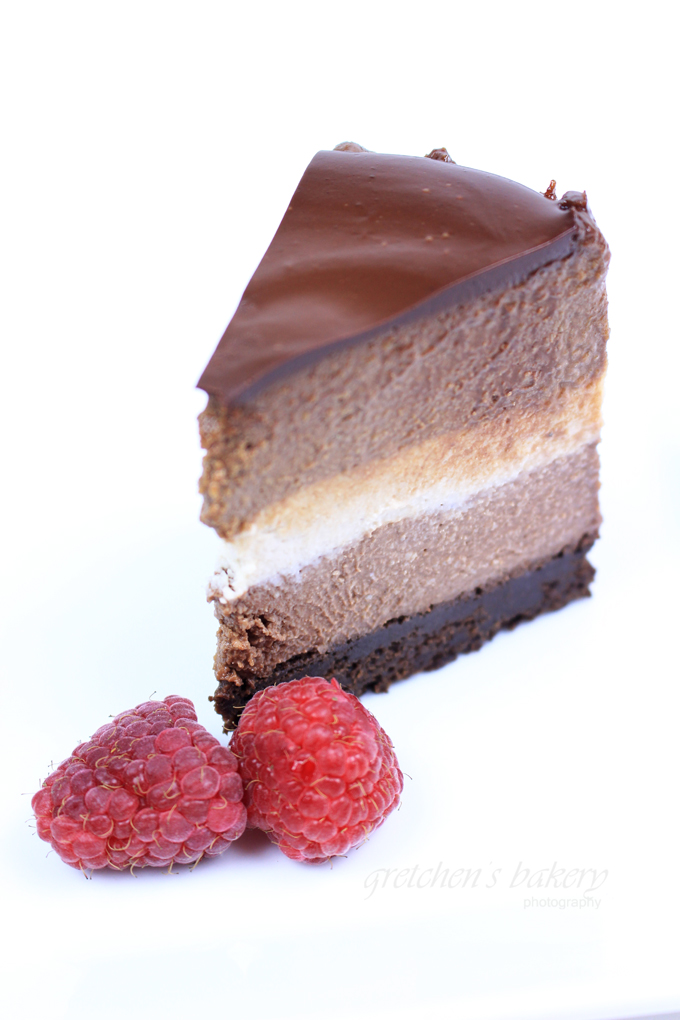 Notes for Success:
You will have to give yourself some extra prep time because each layer has to set in the freezer before you can pour over the next layer
Be sure to soak the cashew nuts ahead of time.
Not only does this soften them for the recipe, but the soaking process also releases enzyme inhibitors which make the nuts easier to digest therefore making them more nutritionally valuable.
Simply pour water over the nuts in a large bowl and soak 8 hours or overnight. Then drain them and rinse them before using in the recipe
If you forget to do it a day in advance simply pour hot boiling water over the nuts and let them sit for 1 hour.
You will need a heavy duty  blender, something equivalent to a VitaMix because the number key to a successful cashew cream based cheesecake is the smooth texture
I have the Blender from Ventray Kitchen and it does a prefect job for a fraction of the cost
Also using a stainless steel cake ring mold to make this cheesecake is necessary, but you can get a way with using a springform pan with the bottom removed for an easy fix!
Acetate cake strips are a great investment and since I often make molded desserts this is something essential in my bakery pantry
While it is not 100% necessary, it will be helpful for clean sides and easy unmolding.
CLICK HERE FOR THE FULL YOUTUBE VIDEO TUTORIAL FOR HOW TO MAKE THIS CHEESECAKE!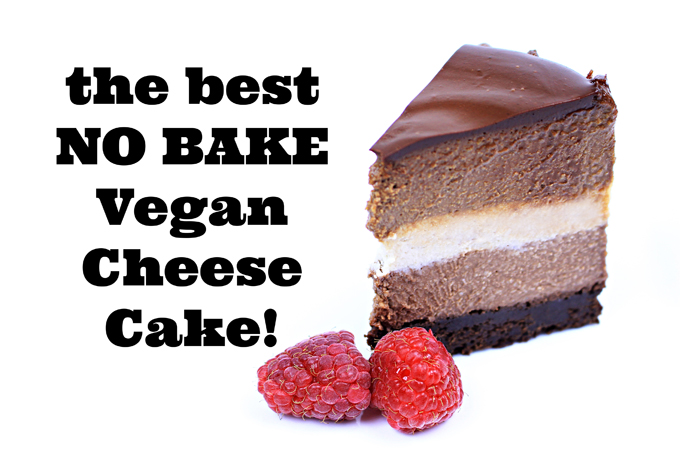 No Bake Triple Layer Cheesecake
I am making a 5" cake but for a larger 8" size, double the recipe below
Ingredients
For the Cheesecake Batter:
Cashews *soaked 8 hours or overnight 1½ cups (255g)
Vegan Sour Cream or Cream Cheese ½ cup (113g)
Coconut Oil or cocoa butter melted ¼ cup (56g)
Coconut Milk (unsweetened full fat) ½ cup
Apple Cider Vinegar 1 Tablespoon (15ml)
Confectioners Sugar (or regular sugar) ¾ cup (90g)
Vanilla Extract 2 teaspoons (10ml)
Vegan Chocolate Semi or Bitter Sweet 2 ounces (56g)
Instant Coffee Granules ½ teaspoon *or more to your taste
Hot Water 2 teaspoons
For a No Bake Cookie Crust:
Graham Crackers or your favorite sandwich cookies 1 package of graham crackers= 10 sheets (140g)
Vegan Butter melted 4 tablespoons (56g)
½ Recipe Ganache for the topping
Instructions
First bake your brownie layer for the base or prepare the cookie crust by crushing the graham crackers or cookies in a food processor to fine crumbs.
Add the melted vegan butter and pulse until it resembles wet sand
Press the crumbs into the bottom of the ring mold and freeze until needed
For the cheesecake you must soak your cashews ahead of time, read the notes in the text above this recipe for how to do that.
Combine the instant coffee with the hot water and reserve for later.
Place all of the other ingredients including the drained cashews that have been soaked into a blender (except for the chocolate) and blend to a super smooth batter. *At the time of making this recipe back in 2017~ I did not have a super heavy duty blender (Like a Vitamix) so I used the food processor and you can see that it did not puree the nuts as smooth as I would have liked, since then I use the blender and it is much better! So if you have one definitely use it!
Divide the cheesecake batter in half and add the melted chocolate to one half.
Then take half of the vanilla and pour into a medium mixing bowl and take half of the chocolate and add that as well.
Add the coffee paste to the vanilla~ choco mixture and whisk smooth
Layer the 3 different flavors into the ring mold on top of your preferred base but be sure to freeze each layer for at least 1 hour or until it is completely set
Un mold when the entire cake is set then top with optional ganache
Notes
Cheesecake must stay refrigerated or frozen. Store covered loosely for up to 10 days.



Freeze for up to 2 months