I don't know about you, but for me whenever I go food shopping, as I scan the aisles it is there that I come up with endless ideas for new cakes and pastries.
That, along with my insatiable hunger cravings are the two most alluring factors.
As the end of summer is approaching, also ending is the abundance of fresh fruits and berries that come along with the season.
Knowing this, I decided to have one last hurrah with a few pounds of fresh strawberries to make this White Chocolate Strawberry Cake.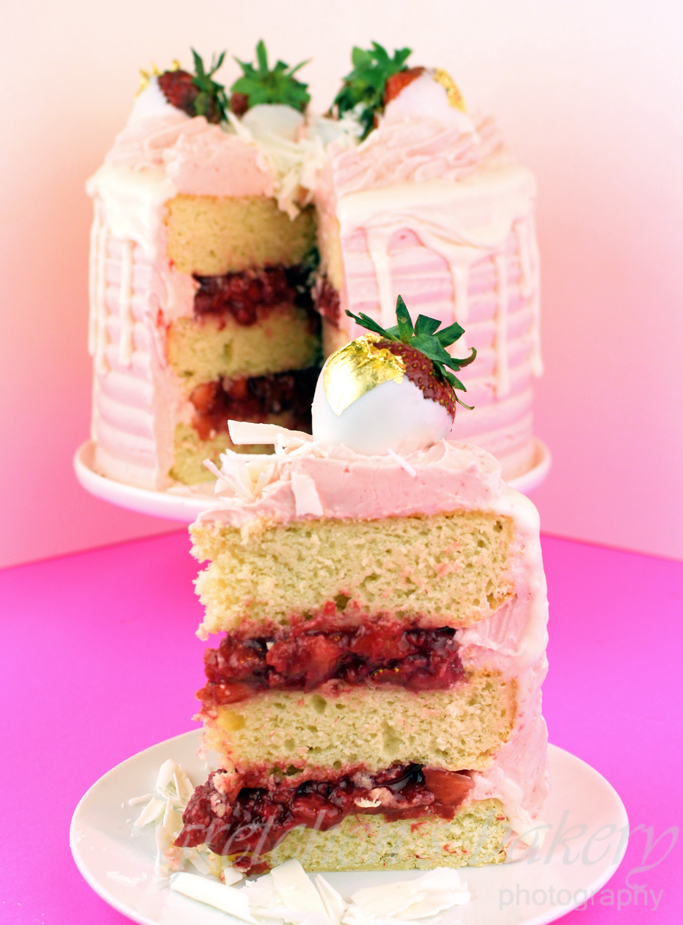 I thought, fresh strawberry compote with a douse of Grand Marnier cooked to a thick chunky preserve like consistency for the filling, between moist layers of white chocolate cake.
Now, if any of you know me you will know that I am not a big fan of white chocolate.
I just think it's just too sweet and honestly it's not really even chocolate, technically.
But without going into that whole topic, let me just say that I LOVE white chocolate baked into a cake!
I think you will love it too once you see how easy it is to make and the moistness from the cocoa butter makes this pound cake style cake a real winner to hold up the thick filling and white chocolate strawberry buttercream.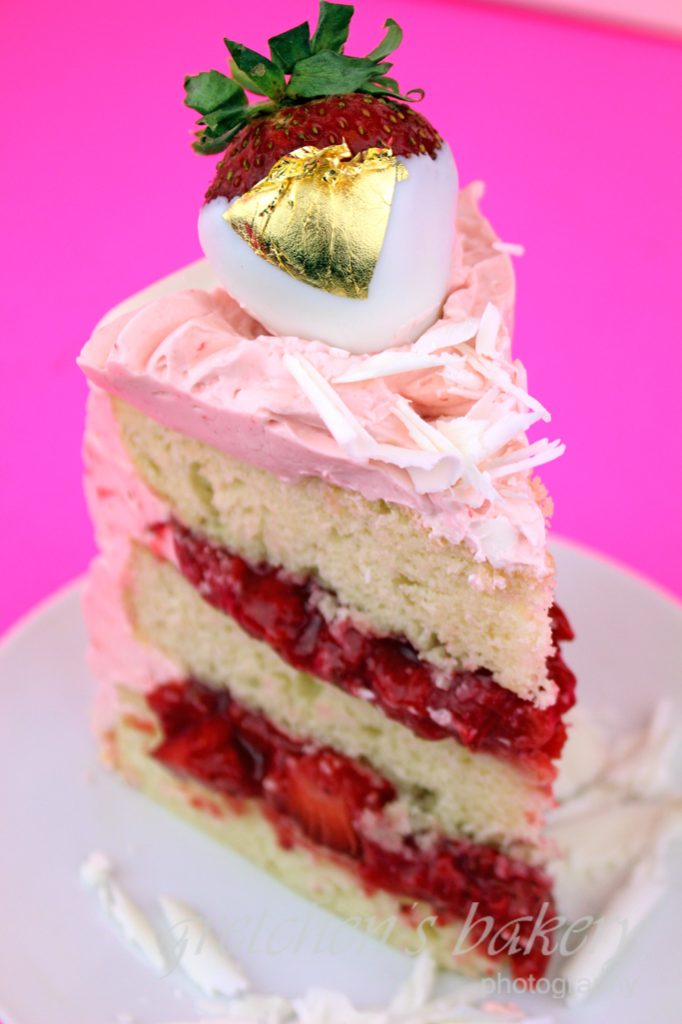 This is a building on recipes project as all great layer cake are; meaning we have to make several recipes to get to the final but it is well worth it!
Just follow along with my instruction and advice for making this easier: Prepare in advance!
You can make the strawberry compote, white chocolate drip ganache and even the cake layers several days ahead of time.
The buttercream too for that matter! I always work that way and then take just an hour or so on the day of the event to actually build the cake.
It just makes life so much easier and way more fun to bake with an organized plan.
White Chocolate Strawberry Cake
Reserve 6 of the best looking strawberries for the garnish
In addition to the white chocolate in the recipes listed below you will need about 4 ounces more to dip the strawberries and shave on top of the finished cake
The
Edible Gold Leaf
is optional garnish
Serves:
1-7" cake serves 10-12
Ingredients
For the Cake:
Cake Flour 3 cups (360g)
Granulated Sugar 1½ cup (300g)
Baking Powder 3 teaspoons (15g)
EnerG Egg Replacer 3 teaspoons (10g)
Salt ¼ teaspoon
Vegan Butter 9 Tablespoons (126g)
Soy Milk 1 cup (237ml)
Vanilla Extract 2 teaspoons (10ml)
Vegan White Chocolate 6ounces (approx 1 cup chopped) (168g)
For the Buttercream:
Grand Marnier *optional 1 tablespoon
Vegan White Chocolate 3 ounces
For the Strawberry Filling:
2 Lbs fresh or frozen
Sugar *optional to your taste
Grand Marnier *optional 1 Tablespoon
For the White Chocolate Drip:
Vegan White Chocolate 2 ounces
Soy Milk 2 Tablespoons (30ml)
Instructions
For the cake recipe:
Melt the white chocolate and set aside
Combine the flour, sugar, baking powder, EnerG egg replacer, and salt in a mixer bowl and sift it together or mix on low to combine.
Add the softened vegan butter and mix for about 1 minute until it resembles coarse meal and is evenly incorporated
Add the vanilla extract and then slowly pour in the soy milk while mixing on low to medium speed until it is all incorporated then increase the speed to medium-high for 1 minute to develop the batter
Add the melted white chocolate and mix to combine
Divide the batter into greased and parchment lined cake pans (I am using 7" cake pans but you can use 8" if that's all you have)
Bake in a preheated 350°F oven for 20 minutes then turn the oven down to 300°F for another 15 minutes or until they springy to the touch when you gently press the centers.
Cool the cakes while you prepare the strawberry compote
Reserve about 1 cup of chopped fresh strawberries and then cook the remaining strawberries stirring often over medium heat until boiling, the berries will break down and release their juices but if they seem too dry add a few tablespoons of water to avoid scorching.
Strain about ½ cup of the compote through a find mesh strainer to add to the buttercream for later
Add the chopped strawberries to the cooled compote for the cake filling.
Prepare the Aquafaba Swiss Buttercream as per the instructions on that recipe and add 1 -3 Tablespoons of Grand Marnier and 3 ounces of melted cooled white chocolate, then the reserved cooled puree.
Assemble the cake as shown in the video tutorial
The white chocolate drip is made by combining the white chocolate and soy milk together in a small saucepot over low heat and stirring constantly until it is melted and smooth, cool before pouring onto the buttercream cake.
Notes
Keep refrigerated but best served at room temperature.