Summer brings an abundance of fresh fruits and berries and what better way to use them up than with this
White Chocolate Strawberry Cake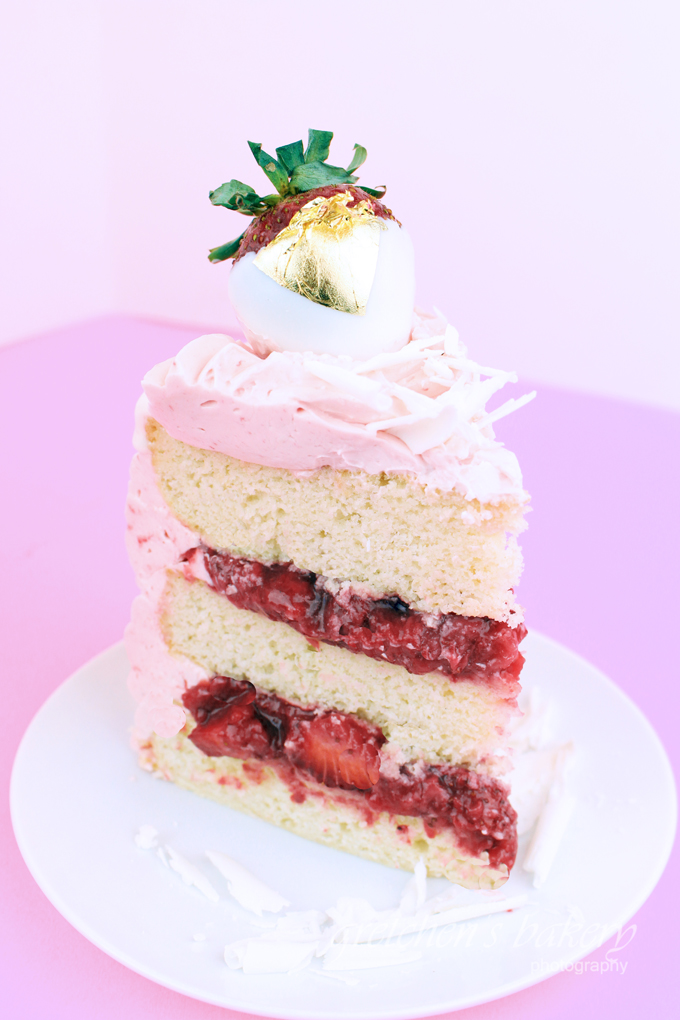 Many people have trouble finding vegan white chocolate but those who finally did
I would recommend your first white chocolate recipe to be something of a showstopper
King David Vegan White Chocolate is my favorite brand for both dipping and using inside of recipes *not sponsored
Moist layers of white chocolate cake and fresh strawberry compote for the filling
White Chocolate Strawberry Buttercream for the icing and fancy white chocolate drips to finish it off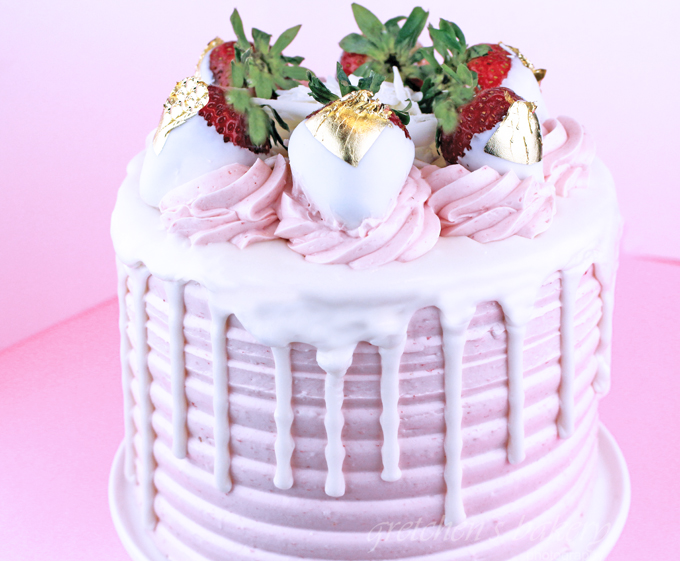 If you are feeling bougie you can get a few leaves of gold to add to your white chocolate dipped strawberries for the garnish
But of course that is totally extra
Secret admission, I have never been a big fan of white chocolate.
I will use it time and again for a dipping for cake pops or to make fancy edible cups for your next mousse dessert
But generally I don't love it; I just think it's just too sweet and honestly it's technically not even chocolate.
However I do love it in recipes like white chocolate mousse or baked into a cake, like this one!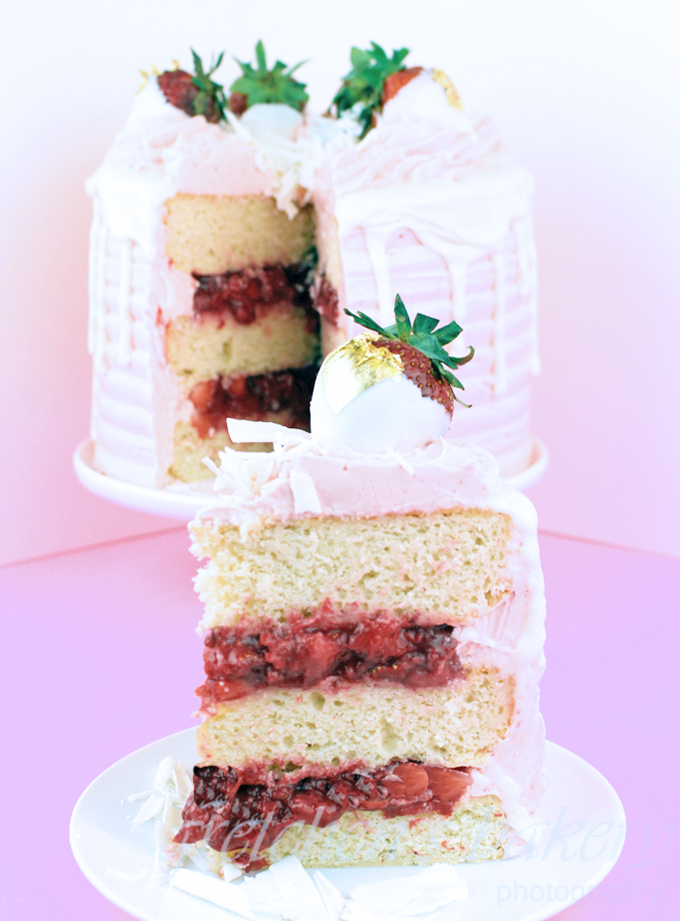 The moistness from the cocoa butter makes this more dense, pound cake style cake a real winner
It easily holds up the thick, chunky, fruity filling and white chocolate ~ strawberry buttercream.
This is a building on recipes project as all great layer cake will be
The best advice for making this entire project  easier, prepare in advance!
The strawberry compote, the white chocolate drip ganache and even the cake layers can all be made several days ahead of time.
I've always got tubs of buttercream hidden away in my refrigerator so turning it into white chocolate strawberry is a no brainer
You will notice in the video I used strawberry puree but I have since changed to freeze dried fruit powders for the best most intense flavor with no added liquid to the recipe
CLICK HERE FOR THE BEST ADVICE ON FLAVORING YOUR BUTTERCREAM RECIPES!
Notes for Success:
I am using cake flour exclusively in this recipe, but those who are not sure what that is CLICK HERE FOR MORE INFO!
The best way to get intense strawberry flavor for your buttercream is by using freeze dried strawberry powder, so be sure to read the article linked above for the best way to flavor buttercream!
The grand marnier in both the compote & the buttercream is optional and can be left out completely with no changes to the recipe
White chocolate cake recipe is a reverse creaming method, be sure to follow the instructions for mixing foe best results
It is helpful to use a scale when measuring your ingredients for the cake since a heavy handed measure of flour can be disastrous to this recipe.
You will notice in the recipe I say to use fresh strawberries for the compote
This could be confusing since you know I almost always use frozen berries for my compotes.
The reason I specify fresh this time, is because I like to add a portion of fresh, uncooked berries into my compote for cake fillings rather than straight cooked down compote.
This is a very user friendly recipe & you can experiment with the way you like it best, fresh or frozen is all great!
The egg replacer I used here is EnerGy Egg which I added directly to the dry ingredients
You can get equally good results with another egg replacer of your choice and substitute as the package directs for 2 eggs
CLICK HERE FOR THE FULL YOUTUBE VIDEO TUTORIAL FOR HOW TO MAKE THIS CAKE
For more White Chocolate Recipes, click the links below!
No Bake White Chocolate Blueberry Cheesecake
White Chocolate Pumpkin Mousse Latte
White Chocolate Cranberry Cake

White Chocolate Strawberry Cake
Reserve 6 of the best looking strawberries for the garnish
In addition to the white chocolate in the recipes listed below you will need about 4 ounces more to dip the strawberries and shave on top of the finished cake
Ingredients
For the Cake:
Cake Flour 3 cups (360g) *see notes in the text of the blog post section
Granulated Sugar 1½ cup (300g)
Baking Powder 3 teaspoons (15g)
EnerGy Egg Replacer 3 teaspoons (10g) *see notes in text above
Salt ¼ teaspoon
Vegan Butter 9 Tablespoons (126g)
Plant Milk 1 cup (237ml) * I use soy milk
Vanilla Extract 2 teaspoons (10ml)
Vegan White Chocolate 6ounces (approx 1 cup chopped) (168g)
1 Recipe Buttercream of your Choice *I am using the Best Vegan Buttercream American Style Recipe
Grand Marnier *optional 2Tbs
Vegan White Chocolate 3 ounces
Freeze dried strawberry powder ½ cup
For the Strawberry Filling:
2 Lbs fresh strawberries
Sugar *optional to your taste
Grand Marnier *optional 2 Tbs
For the White Chocolate Drip:
Vegan White Chocolate 2 ounces
Coconut Oil 2 teaspoons
Instructions
For the cake recipe:
Melt the white chocolate and set aside
Combine the flour, sugar, baking powder, egg replacer & salt in the mixer bowl of your electric mixer and mix on low to combine.
Add the softened vegan butter and mix for about 1 minute until it resembles coarse meal and is evenly incorporated
Add the vanilla extract and then slowly pour in the plant milk while mixing on low to medium speed until it is all incorporated then increase the speed to medium-high for 1 minute to develop the batter
Add the melted white chocolate and mix to combine
Divide the batter into greased and parchment lined cake pans (I am using 7" cake pans but you can use 8" if that's all you have)
Bake in a preheated 350°F oven for 15 minutes then turn the oven down to 300°F for another 10-15 minutes or until springy to the touch when you gently press the centers.
Cool the cakes while you prepare the fresh strawberry compote
Reserve about 1 cup of chopped fresh strawberries and then cook the remaining strawberries stirring often over medium heat until boiling, the berries will break down and release their juices but if they seem too dry add a few tablespoons of water to avoid scorching, the sugar will also help to break them down if you are using sugar.
Remove from the heat and then add the reserved chopped fresh strawberries and grand marnier liquor if using.
Cool to cold before filling the cake
Prepare the Buttercream of your choice as per the instructions on that recipe and add 2Tbs of Grand Marnier and 3 ounces of melted cooled white chocolate and the freeze dried strawberry powder
Prepare the white drip ganache by melting the white chocolate and the coconut oil over a double boiler or in the microwave until melted and smooth, reserve until needed, you may have to rewarm to drip consistency
Assemble the cake as shown in the video tutorial
The white chocolate drip is made by combining the white chocolate and soy milk together in a small sauce pot over low heat and stirring constantly until it is melted and smooth, cool before pouring onto the buttercream cake.
Decorate as shown in the video, edible gold leaf is optional
Notes
Keep refrigerated but best served at room temperature.
3.5.3226