Who doesn't love red velvet?
But there is just something about red velvet cupcakes that is so charming and appealing!
I knew some people who did not really like red velvet anything, but after they tried my recipe for Red Velvet Cake they changed their minds!
I swear!  I am not making that up!
Perhaps one of the best sellers when I owned my bakery would be these luscious cupcakes.
Now veganized for everyone to enjoy!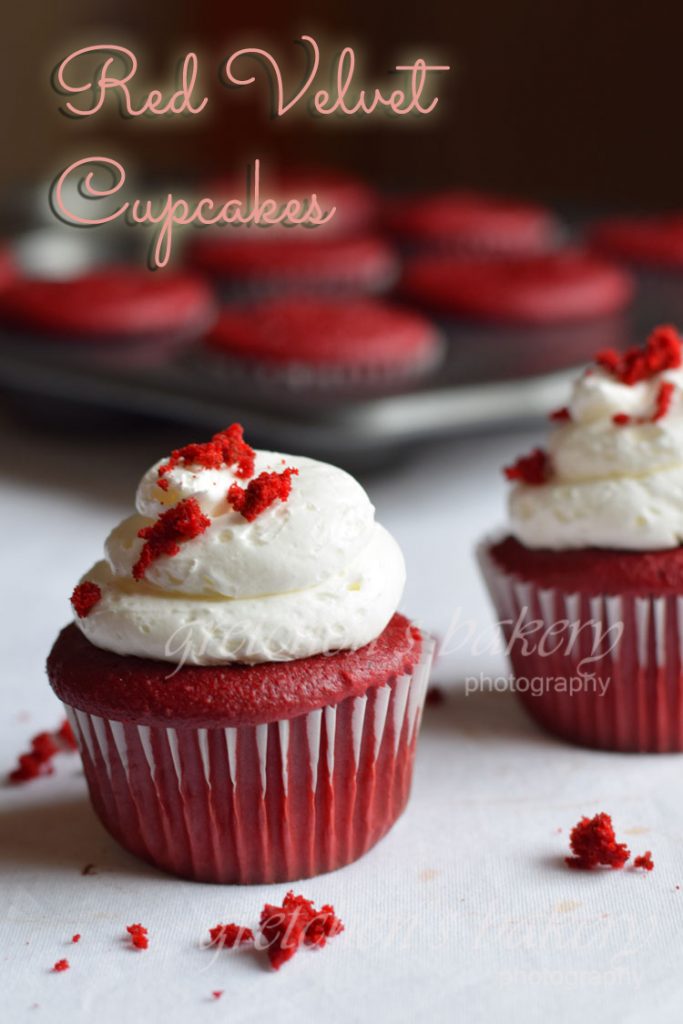 Red Velvet Cupcakes
Ingredients
For the Cake Batter:
All Purpose Flour 2½ Cups (312g)
Granulated Sugar 1½ cups (300g)
Baking Soda 1 teaspoon (5g)
Salt ½ teaspoon (3g)
Natural Cocoa Powder 2 Tablespoons (12g)
Vegetable Oil ½ cup (120ml)
Almond Milk 1 Cup (237ml)
Ground Flax Seeds 2 Tablespoon (16g)
Hot Water 6 Tablespoons (90ml)
Red Food Color 1-2 teaspoons *gel paste or liquid
White Vinegar ½ teaspoon
Vanilla Extract 1 teaspoon (5ml)
For the Cream Cheese Icing:
Vegan Cream Cheese 2 Tubs (2cups) (454g)
Vegan Butter 1 stick (½ cup) (112g)
Confectioner's Sugar 1½ cups (180g)
Vanilla Extract 1 teaspoon
Apple Cider Vinegar *optional 1 teaspoon - see note above
Instructions
First prepare the cupcake batter by combining the ground flax seed with hot water and whisk smooth
Let stand for at least 5 minutes to thicken to a paste
In a large bowl place the sifted flour, Baking Soda, Salt and Cocoa Powder together
In another bowl combine all of the wet ingredients including the sugar and the red food color whisk smooth
Add the flax paste and then the dry ingredients and whisk smooth
Pour the batter into the paper lined cupcake molds filling ¾ way to the top.
Bake immediately at 375° F for the first 10 minutes then lower the oven to 350°F and bake for another 10-12 minutes or until springy to the touch when gently pressed in the centers or a toothpick comes out with moist crumbs
While the cupcakes cool, prepare the cream cheese icing by mixing the sifted confectioners sugar with the vegan butter until smooth, add the vanilla extract, optional apple cider vinegar and then add the vegan cream cheese last and mix on low speed just until combined.
Be careful not to whip it or you will get a soupy mixture, as vegan cream cheese has a tendency to break down very easily.
I would even recommend to mix the cream cheese in by hand to avoid this possibility
Refrigerate until you are ready to ice cooled cupcakes
Notes
Cream cheese iced cupcakes must be stored in the refrigerator.

Store for up to 5 days

Un-iced cupcakes can be frozen wrapped well for up to 2 months