Perhaps I'm going a bit too crazy with my new No Bake Dessert craze!?
No way, never! I am obsessed with not turning on the oven this summer and I think you will be too once you try these new No Bake Desserts!
Next up: No Bake Vegan Lemon Bars.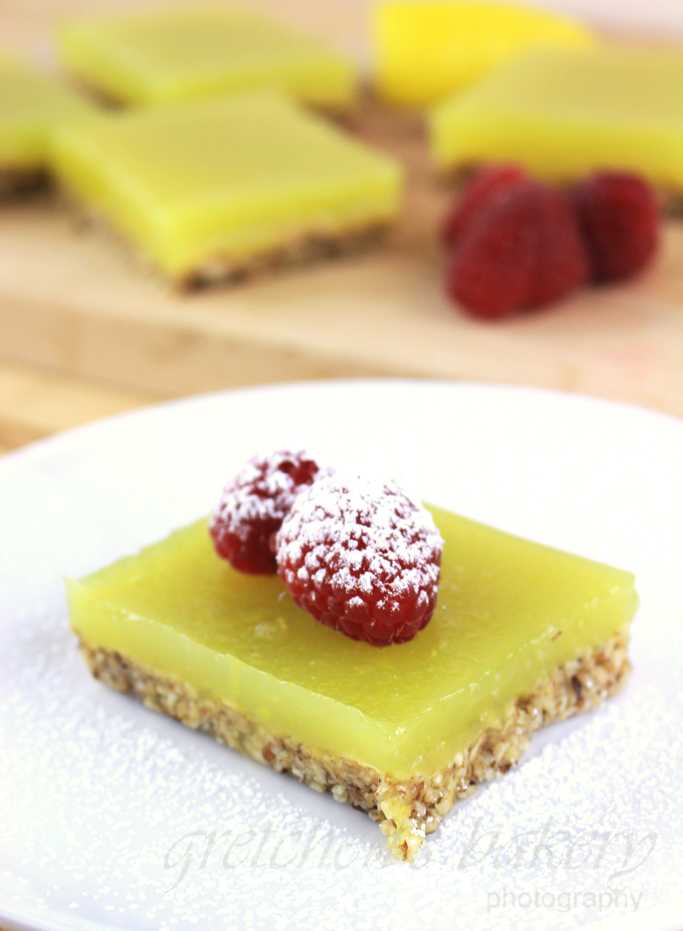 This is a new modern spin on the classic custard baked on top of a shortbread cookie version, and quite frankly I wasn't sure if I was going to like them!
And I'll be honest, I didn't just like them, I LOVED THEM!
This version is way less sweet, less calories and less fat than the original version but by no means does this recipe lack in flavor!
I'm not sure if it is crust or the filling I liked more, or the combination of the two together, but I was surprised that I ate so many of these!
I was supposed to give them away to a friend of mine who loves Lemon bars, but well… they never got to her! Woops!
Check out how to make these little lemon-y gems perfect for a hot summer day!
No Bake Vegan Lemon Bars
I am using an
8" x 8" brownie pan
for this recipe, be sure to line with parchment paper the way I show in the video or these will be next to impossible to get out!
*In the video I used more water for part of the liquid in the filling, but since filming I decided to make them again with a higher amount of soy milk and it was 100% better, the recipe written below reflects this change
Ingredients
For the Crust:
Oats 1 cup (90g)
Almonds toasted 1 cup (110g)
Salt pinch
Granulated Sugar 2 Tablespoons (28g)
Agave 1 Tablespoon (15ml)
Coconut Oil or Vegan Butter melted 5 tablespoons (75ml)
For the Lemon Filling:
Sugar ½ cup (100g)
Water ⅓ cup (78ml)
Agar ½ teaspoon
Soy Milk 1¼ cup (300ml)
Tumeric *for color ⅛ teaspoon
Lemon Juice Fresh Squeezed or Nellie & Joes Brand ⅔ cup (157ml)
Arrowroot 3 Tablespoons (21g)
Lemon Zest from 1 large lemon approx 2 teaspoons
Pure Lemon Extract 1 teaspoon
Instructions
For the Crust:
Combine all the ingredients for the crust in a food processor then press firmly into the bottom of a parchment paper lined8" X 8" pan
Combine the arrowroot and the milk and whisk smooth
Whisk the agar with the water in a medium sauce pot and bring to a boil, reduce to a simmer and cook for 2 minutes stirring constantly.
Add the sugar, tumeric, lemon juice & lemon zest and whisk smooth
Next add the milk/ arrowroot mixture and bring back to a boil.
Once it starts to bubble lightly remove from the heat, no need to boil for a longer time.
Add the lemon extract and then pour into the frozen crust gently and then refrigerate to set.
One it has set to firm cut into bars and serve with a sprinkle of powdered sugar and optional raspberries 🙂