My new and Improved Peanut Butter cupcakes recipe!
Makes the best Peanut Butter and Jelly Cupcakes you will ever try!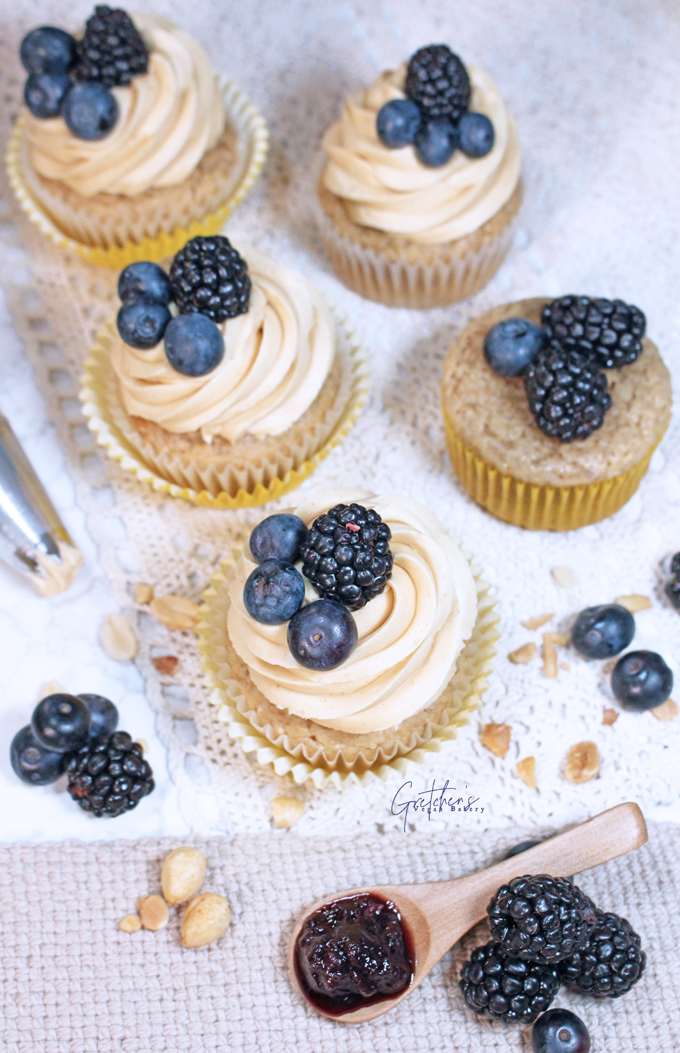 I never thought I would get on the peanut butter and jelly cupcake bandwagon
But this recipe for perfect peanut butter cake would not be complete without it's soulmate jelly! So I took the plunge! And I'm so happy I did!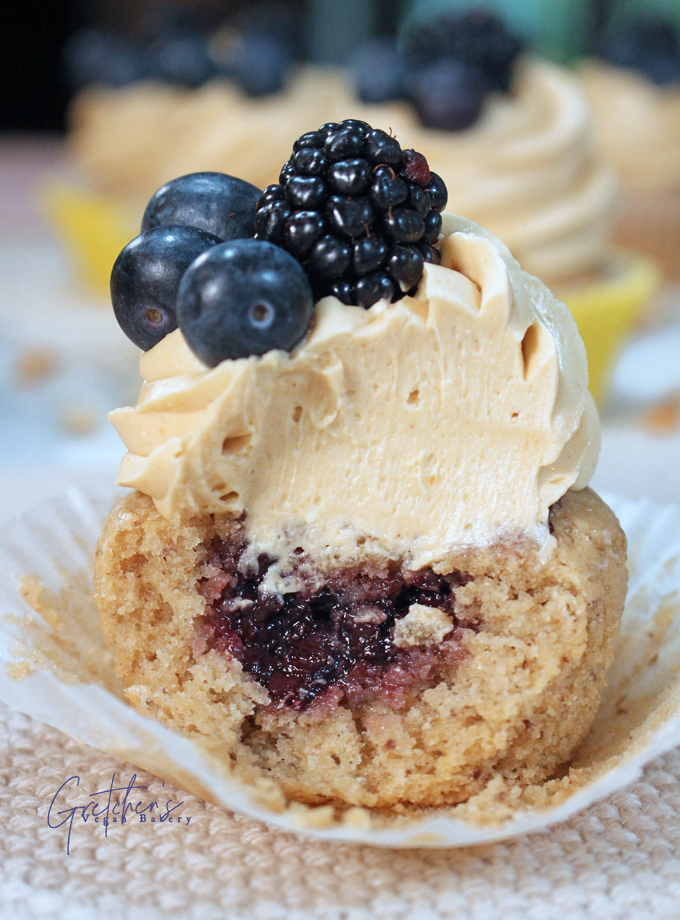 Not over sweet like most peanut butter cupcakes are!
With lower sugar peanut butter buttercream icing, these cupcakes blew me away!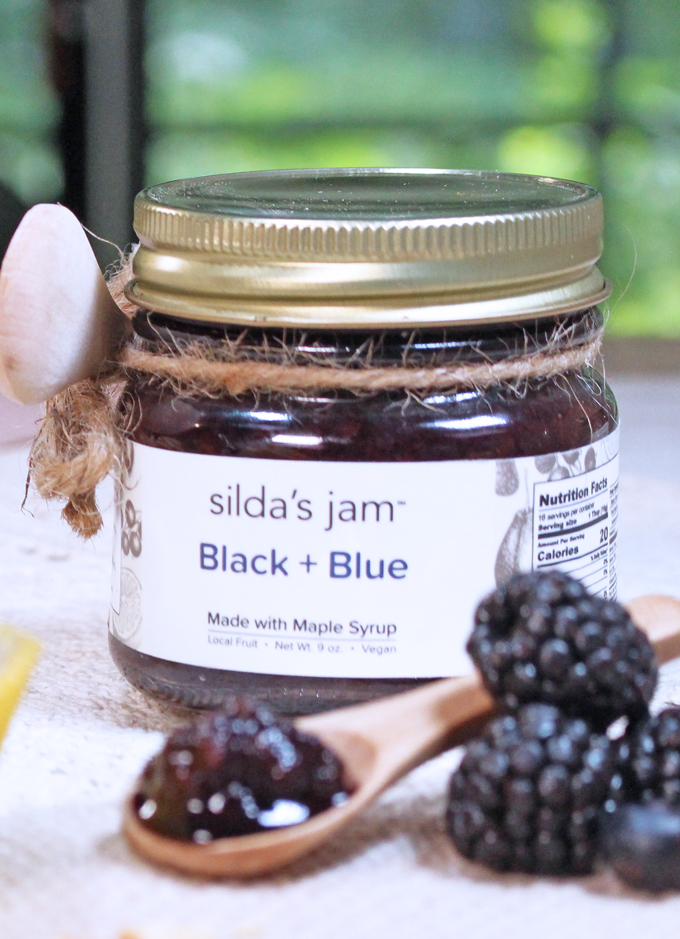 Another "food processor cake mix method" for the cupcake batter gets whizzed up in minutes
Prepare your buttercream icing while they bake and peanut butter and jelly cupcakes can be yours in about an hour! Don't worry if you don't have a food processor this cake recipe can all be done by hand!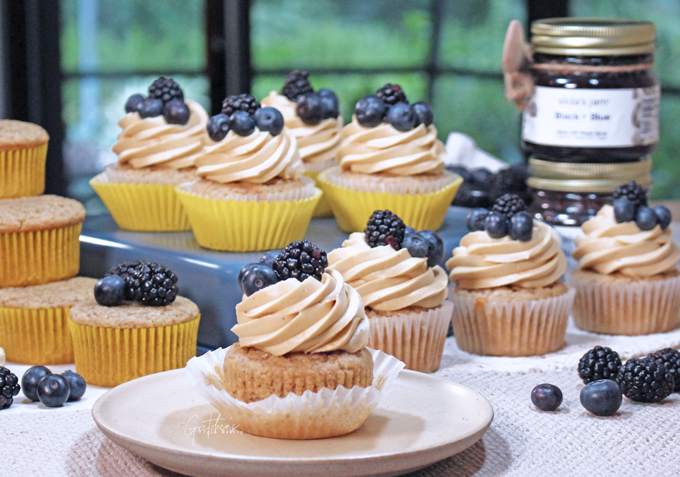 This peanut butter cake recipe is so light and fluffy
It is unlike any other peanut butter cupcake recipe you have ever tried!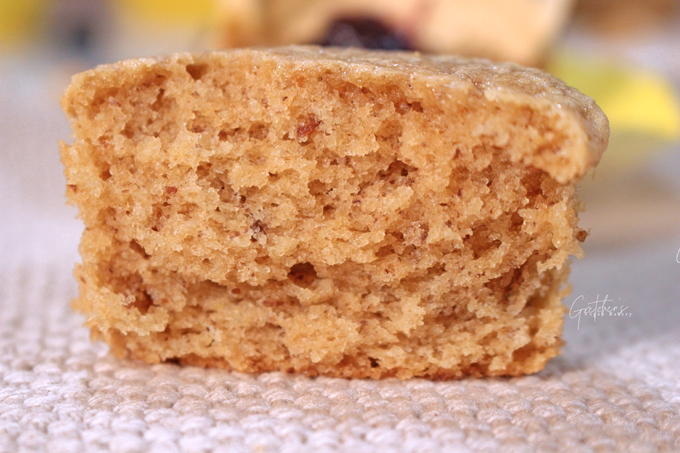 WATCH THE YOUTUBE VIDEO FOR HOW I MADE THESE CUPCAKES!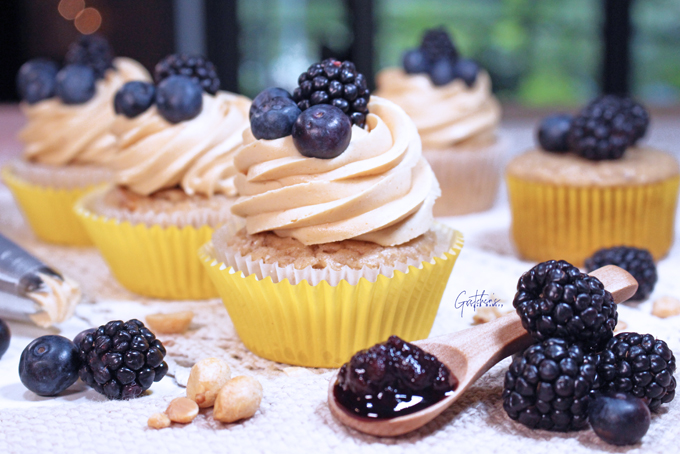 Notes for Success:
In the video for the peanut butter cake recipe I forgot to mention the oil! The recipe listed below is correct!
The recipe for the buttercream makes quit a lot, but it's always hard to say how much is sufficient for icing cupcakes since we all ice cupcakes differently!
For the photos I use much more icing than I would like to eat on my cupcakes, in which case you could definitely get away with making a half recipe of buttercream!
Granny Smith apples are my choice of apples for the buttercream, but feel free to use any apple you like the best!
Additionally you can use any buttercream recipe you prefer, just add the same amount of peanut butter powder at the last stage of mixing
Changing the sugars in this recipe is very forgiving since the majority of it is in the custard recipe which can accommodate any type of sugar/liquid/granula
CLICK HERE FOR MORE ABOUT SUGAR FREE BAKING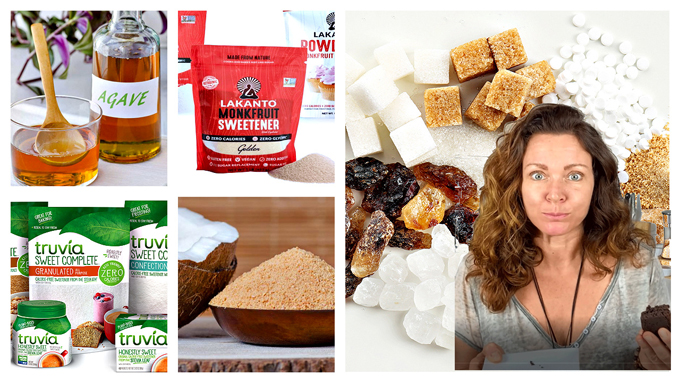 For more awesome cupcakes click the links below!
Yield: 16
Peanut Butter & Jelly Cupcakes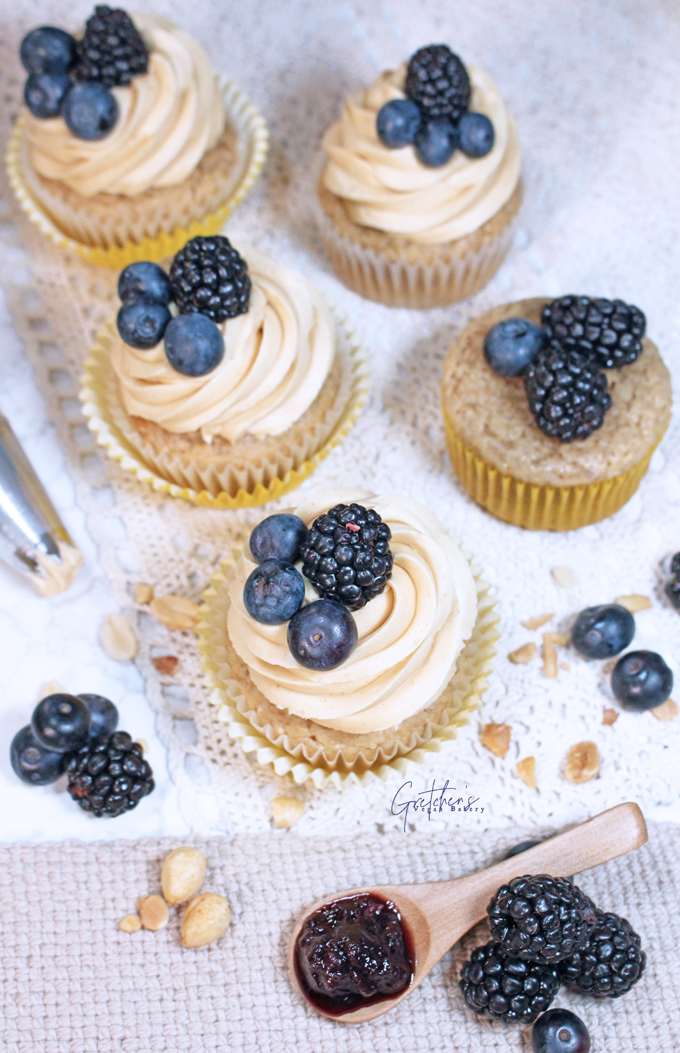 Total Time
1 hour
20 minutes
Ingredients
For the Peanut Butter Cake:
Vegetable Oil 8 Tablespoons (118ml)
Granulated Sugar 1¼ cup (250g)
Creamy Peanut Butter 2/3 cup (160g)
Flax Meal 3 Tablespoons (24g)
Warm Water ½ cup (118ml)
Vanilla Extract 2 teaspoon (10ml)
Soy Milk ¾ cup (177ml)
Vinegar 1 Tablespoon (15ml)
All Purpose Flour 2 cup (250g)
Baking Powder 1 teaspoon
Baking Soda ½ teaspoon
*salt optional pinch
For the Peanut Butter Buttercream:
Fresh Apples 3 large any variety (300g)
Water 4 Tablespoons (60ml)
Sugar of your choice 1 cup (200g)
Cornstarch 10 Tablespoons (80g)
Plant Milk 2½ cups (600ml)
Vanilla Extract 2 teaspoons (10ml)
Salt ½ teaspoon
Vegan Butter 6 sticks (672g)
Confectioners sugar 1 cup (120g) *see notes
Peanut Butter Powder ½ cup
Instructions
Preheat the oven to 350°F and line your cupcake tin with papers
Combine the flax meal with the warm water and set aside to thicken about 5 minutes.
Add the vinegar to the soy milk and then add the vanilla extract
Now place all the cake ingredients into the work bowl of a food process and whiz smooth, scrape the bottom & sides of the bowl and whiz again for 30 seconds
Or this entire recipe can be mixed by hand in a large bowl with a whisk
Portion into cupcake liners filling the batter slightly more than half full
Bake at 350°F for 19-22 minutes or until they are springy to the touch when you gently press the centers.
Cool completely while you make the peanut butter buttercream
First soften the vegan butter at room temperature so it is still firm, but pliable
Prepare the apples by peeling and coring them (*see video I like to use the apple skins in one long ribbon while cooking)
Add chopped apples & that ribbon of apple skin to a medium sauce pot with the water and sugar of your choice
Cook the apples over medium to high heat with the lid on for about 10 minutes to rapidly boiling, Take off the lid and reduce the heat to a simmer until the apples are translucent & mushy.
Remove from heat and remove the ribbon of apples skin(s)
Transfer the apples to a blender with about ½ cup of the plant milk and the cornstarch and puree smooth
Transfer the apple puree to the same sauce pot that you cooked the apples & add the remaining plant milk.
Return to the stove over medium to high heat whisking constantly until it comes to a boil.
Add the vanilla extract and then strain through a mesh strainer onto a sheet pan (no parchment paper or grease!)
Refrigerate the custard until it is completely cold & set
Meanwhile whip the vegan butter & salt with an electric mixer with the whip attachment until it is aerated & light and fluffy and starting to look whiter in color (about 5 minutes) scraping the bottom & sides of the bowl often
Add the sifted confectioners sugar and whip for another minute or two until smooth scraping the bottom & sides of the bowl often
Add the cold custard to the vegan butter while continuing to whip on high speed until all the custard is incorporated, scraping the bottom & sides of the bowl often
Continue whipping until the buttercream is smooth & silky then add the peanut butter powder and whip smooth
Hollow the cooled cupcakes and add 1 Tbs of jam to each then top with peanut butter buttercream
Notes
Peanut butter & jelly cupcakes can stay at room temperature for a day or two, since they will not go bad but rather soft.
For longer storage keep refrigerated for up to 5 days, I like to bring them to room temperature before serving.
Freeze (iced or un-iced) for up to 1 month wrapped well