If Peanut Butter is the thing you seek most, welcome; you have just found the holy grail!
My newest creation of Peanut Butter Fudge Brittle Cake is excellence on the scale of epic proportions!
Super moist peanut butter cake layered with a new recipe for peanut butter fudge filling combined with my classic fudge filling and of course no Gretchen's Bakery cake is complete without buttercream!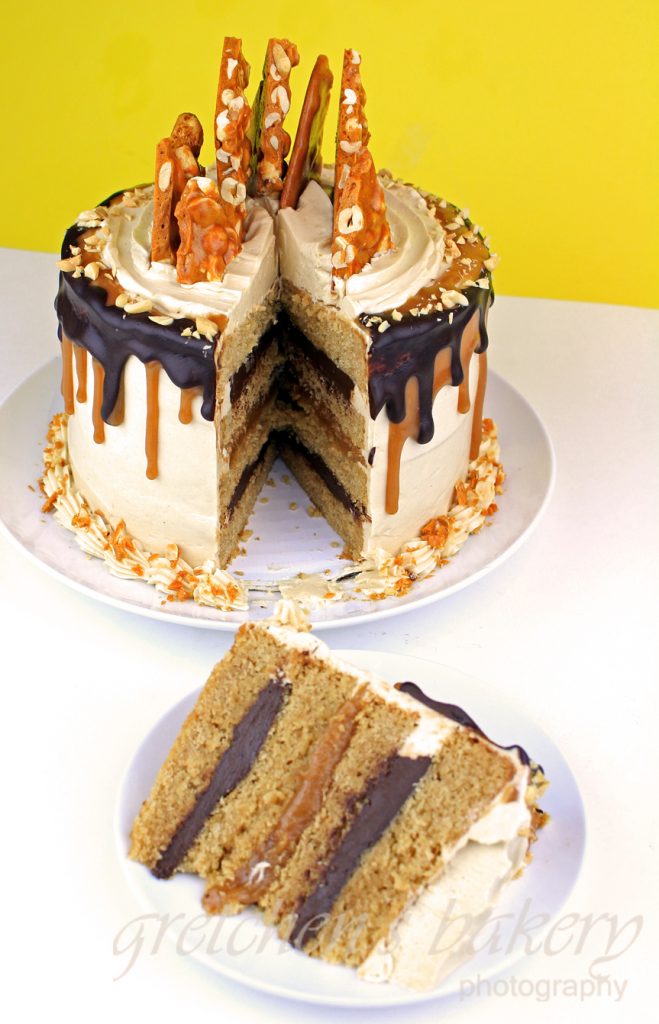 Here I have decided to go with my awesome Vegan Swiss Buttercream recipe made with aquafaba meringue for a not-too-sweet icing that I then turn into peanut butter buttercream!
Garnished with another new recipe for Peanut Butter Brittle and of course the trending drip cakes fit in perfectly with drips of peanut butter fudge and chocolate ganache!
I know it's a pretty grand project but the results are even more grandiose and well worth the effort!
Building on Recipes is easy when you organize yourself; so just plan ahead and make a couple of those recipes days in advance for an easy building job the day you assemble it all together.
I can't say enough about this cake recipe.
As I mentioned in the video when I shared it the first time in cupcake form for my Double Peanut Butter Cupcakes recipe some people still wanted to kno0w the egg equivalent for the flax, but I urge you to try it this way, not because I am forcing vegan, but because I am forcing awesome recipes!
The moistness that comes through when using flax meal in certain recipes is just unmatched!
I DID MAKE ONE MISTAKE IN THE VIDEO WHERE I SAID HARD CRACK STAGE FOR PEANUT BRITTLE IS 270°F – THE CORRECT TEMPERATURE TO COOK IT IS 300°F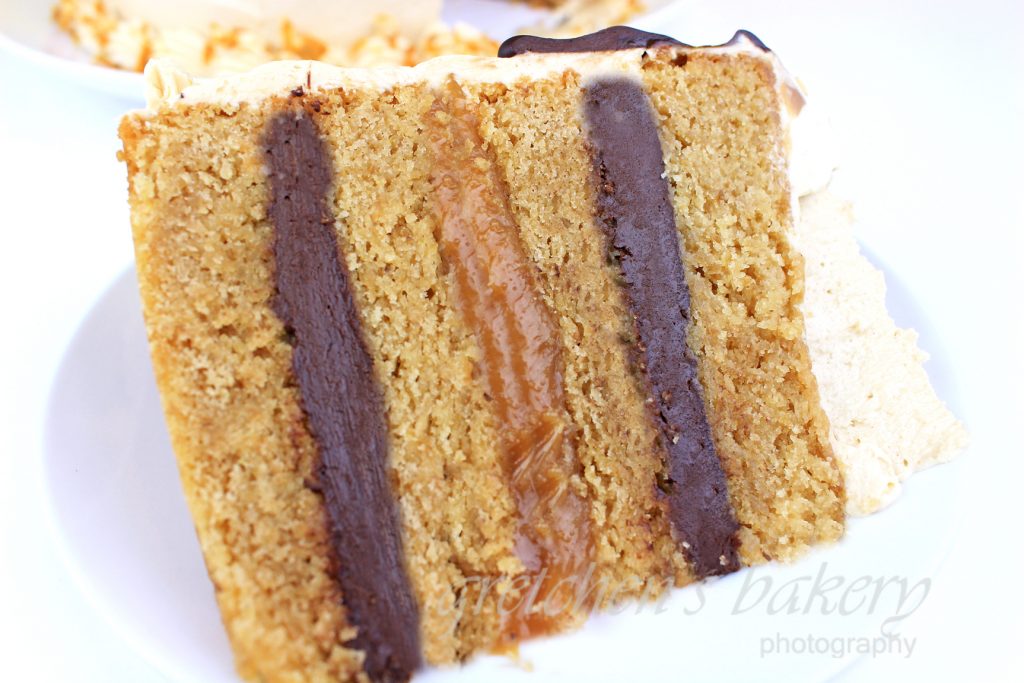 Peanut Butter Fudge Brittle Cake
As with any building on recipes project it is best to make a couple recipes in advance.
The classic fudge filling and aquafaba buttercream is a great way to save time by making it a day or two ahead
I am using Earth Balance vegan butter which is quite salty in my opinion, so I omit the salt in the cake recipe. You may add ½ teaspoon if you are using a less salty vegan butter
I DID MAKE ONE MISTAKE IN THE VIDEO WHERE I SAID HARD CRACK STAGE FOR PEANUT BRITTLE IS 270°F - THE CORRECT TEMPERATURE TO COOK IT IS 300°F
Ingredients
1 RecipeAquafaba Swiss Buttercream
1 cup Peanut Butter
½ Recipe Fudge Icing
[b]For the Cake:
Vegan Butter 1 cup + 2 tablespoons (255g)
Granulated Sugar 2¼ cup (450g)
Creamy Peanut Butter 1 cup (240g)
Flax Meal 5 Tablespoon (40g)
Warm Water ¾ cup (180ml)
Vanilla Extract 3 teaspoon (15ml)
Soy Milk ¾ cup (180ml)
Vinegar 1 Tablespoon (15ml)
All Purpose Flour 2½ cups (312g)
Baking Powder 1¼ teaspoons
For the Peanut Butter Fudge:
Peanut Butter 1 cup (240g)
Corn Syrup or Agave 1½ cup
Coconut Oil or Vegan Butter ¼ cup (56g)
Vanilla Extract 2 teaspoon (10ml)
For the Peanut Brittle:
Sugar 1 cup (200g)
Corn Syrup ½ cup (120ml)
Water ¼ cup (60ml)
Vegan Butter 2 Tablespoons (28g)
Baking Soda 1 teaspoon
Unsalted Raw Peanuts 1 cup (150g)
For the Ganache Drizzle:[/b]
Semi Sweet Chocolate 4 ounces
Soy or Almond Milk ¼ cup (60ml)
Instructions
Prepare the buttercream as listed on the blog post for that recipe and add the peanut butter at the last stage of mixing.
Prepare the fudge icing as well and reserve until needed
For the Cake:
Preheat the oven to 350°F and grease and parchment paper 4-7" cake pans or 2-8" cake pans
Sift the flour with the baking powder
Combine the flax meal with the warm water and set aside to thicken about 5 minutes.
Add the vinegar to the soy milk
Cream the vegan butter with the sugar on medium to high speed until fluffy about 3 minutes.
Add the peanut butter and mix well
Add the vanilla extract
Add the flax paste and cream well to combine
Next add about ⅓ of the flour mixture and mix just until it is incorporated
Then add about half of the soy milk mixture, mix to combine
add another ⅓ of the flour and then the rest of the milk mixture
Ending with the last addition of flour.
Divide evenly between the prepared pans and bake for approximately 30 minutes or when they are springy to the tough when you gently press the centers
For the Peanut Brittle:
Combine the peanut butter and agave or corn syrup in a heavy bottom sauce pot and bring to a boil stirring constantly.
Boil for about 1 minute then add the coconut oil and vanilla extract and transfer to a bowl to cool
For the Peanut Brittle:
Combine the sugar, cornsyrup and water in a heavy sauce pot and bring to a boil.
Once it boils, Insert a candy thermometer and continue to boil without stirring until it is 309°F (*See note above) it should just start to turn golden brown, then add the vegan butter, baking soda, vanilla extract and peanuts.
Spread mixture on a lightly oiled sheet pan and let cool
Assemble cake as shown in the video
Notes
This cake can be stored at room temperature for up to 3 days in a cool spot or for longer storage refrigerate in an airtight container for up to 1 week.

Best served room temperature