Today I have another highlight recipe for you from my new cookbook Modern Vegan Baking available now on Amazon!
Pink Lemonade Confetti Bundt Cake!
This recipe is like a pink velvet cake spiked up with lots of lemons and glazed with a confetti icing!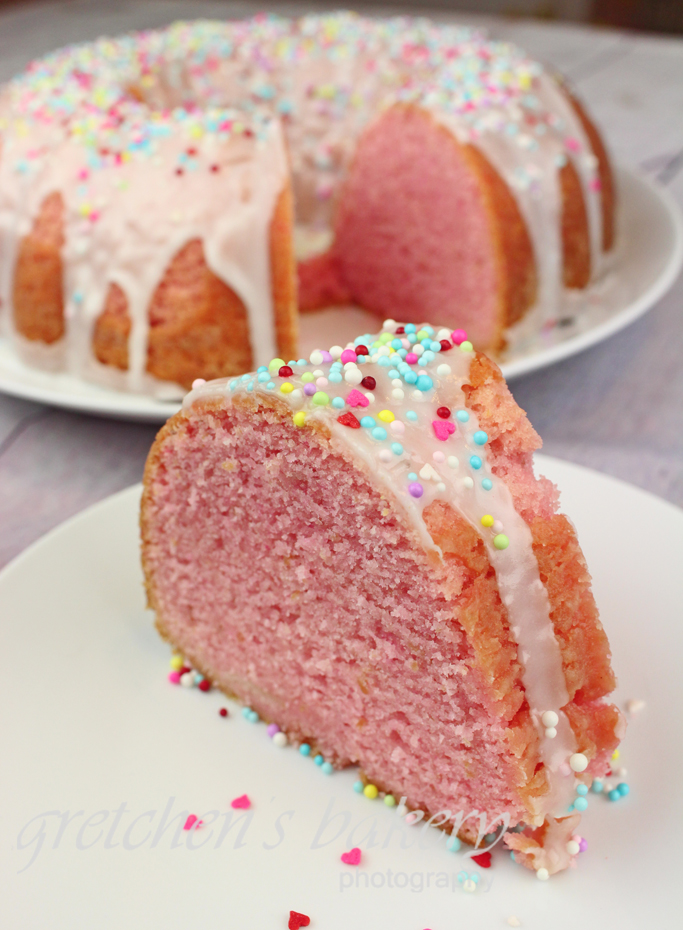 Perfect for a pretty in pink birthday party or no occasion at all!
You are going to love this finely textured cream cheese pound cake that is also great for making into cupcakes if you aren't feeling the bundt cake style!
Cake pans will also work for a traditional layer cake that would be amazing with my buttercream recipe!
Vegan confetti sprinkles really make this cake so fun!

Pink Lemonade Confetti Bundt Cake
Ingredients
For the Cake:
All Purpose Flour 1¾ cup (220g)
Granulated Sugar 1½ cups (300g)
Vegan Butter 9 Tablespoons (128g)
Vegan Cream Cheese ⅔ cup (170g)
EnerG Egg Replacer 2 teaspoons
Flax Meal 2 Tablespoons (16g)
Warm Water 2 Tablespoons (30ml)
Fresh Squeezed Lemon Juice ⅓ cup
Pure Lemon Extract 1 teaspoon (5ml)
Vanilla Extract ½ teaspoon
Lemon Zest from 2 lemons (approx 2 teaspoons)
Salt ¼ teaspoon
Baking Powder 2 teaspoons
Pink Food Color2 drops *optional
For the Glaze:
Confectioner's Sugar 1 cup (120g)
Almond Milk 1 Tablespoon (15ml)
Vegan Confetti Sprinkles 1-3 Tablespoons
Instructions
Combine the EnerG egg replacer with the warm water, whisk smooth then add the flax meal
Combine the lemon juice with the zest and extracts
Sift the dry ingredients together
Cream the vegan butter with the vegan cream cheese on low speed to combine then gradually add the granulated sugar while mixing on medium speed until light and fluffy, approximately 3 minutes
Add the egg replacer mixture and mix well then add the sifted dry ingredients while mixing on low speed until it is all combined well.
Slowly pour in the lemon juice while mixing on low speed until all is incorporated
Add the pink food color and mix well
Pour the batter into the prepared pan and bake in a preheated 350° oven for approximately 55 minutes or until a toothpick inserted into the center comes out clean
Cool completely and then glaze with sugar glaze by combining the confectioners sugar and almond milk, top with sprinkles
Notes
Cake will stay fresh at room temperature in an airtight container for up to 5 days

Freeze (un-iced cake) wrapped well for up to 2 months