I can't believe I'm saying this.
But this recipe for Pumpkin Cinnamon Buns is quite possibly even better than my regular Cinnamon Buns Recipe!
Complete with cream cheese icing, these gigantic, fluffy pillows of pumpkin heaven are the stuff dreams are made of!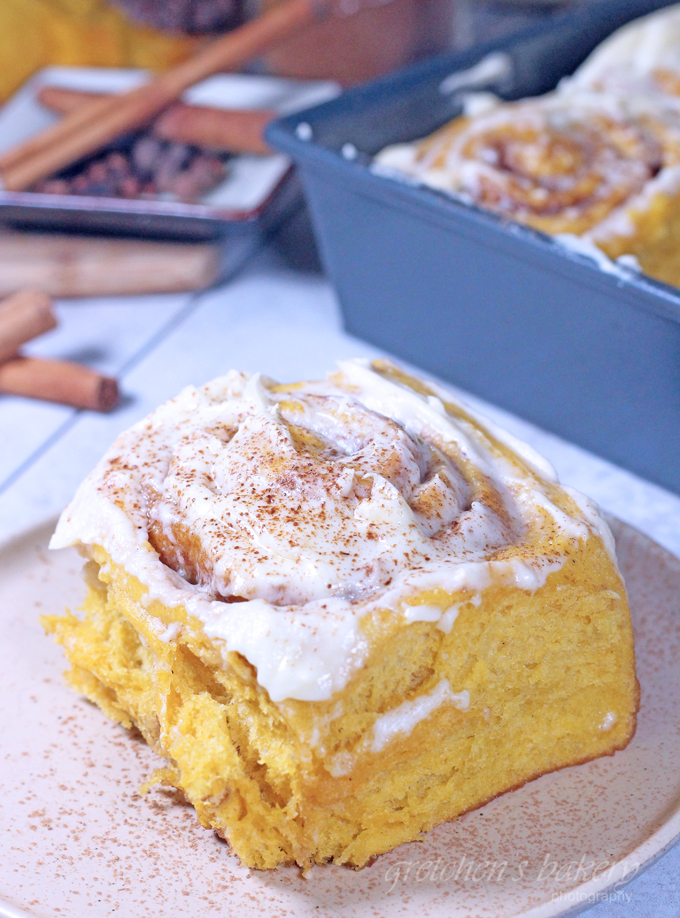 Make sure you have your friends and family waiting to take these off your hands or it could get dangerous pretty quickly!
Because I definitely ate way more than my share of these so don't say I didn't warn you!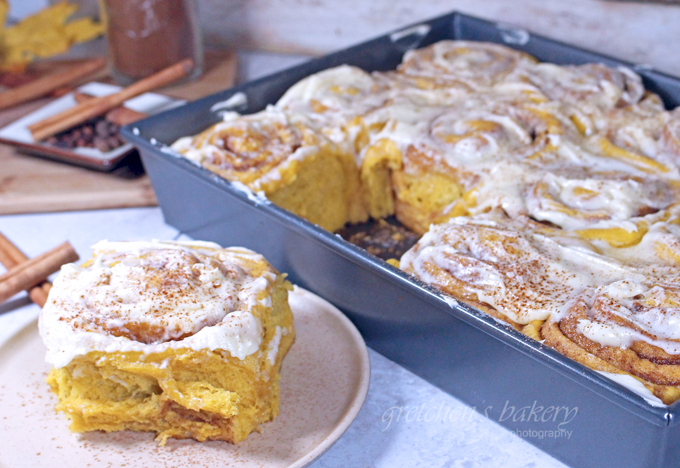 This recipe does not need eggs and I'm not even using an egg replacer!
So for those who are wondering where's the "non-vegan" version….. there isn't one!
In this version the traditional cinnamon bun dough is packed with pumpkin
And the brown sugar and cinnamon filling gets pumpkin spiced up
With extra cinnamon, nutmeg, ginger and cloves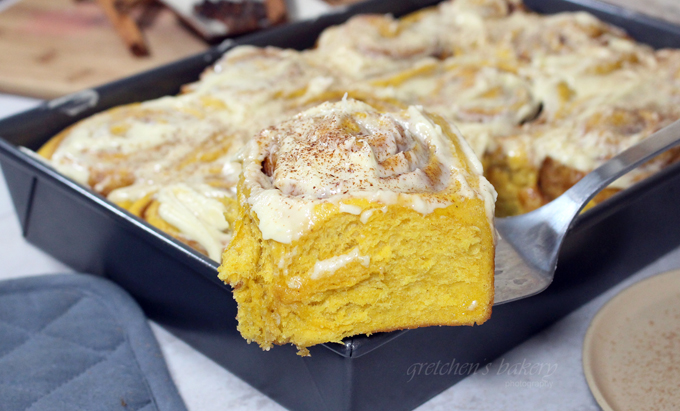 It's like eating a slice of pumpkin pie only in fluffy puffy bun form!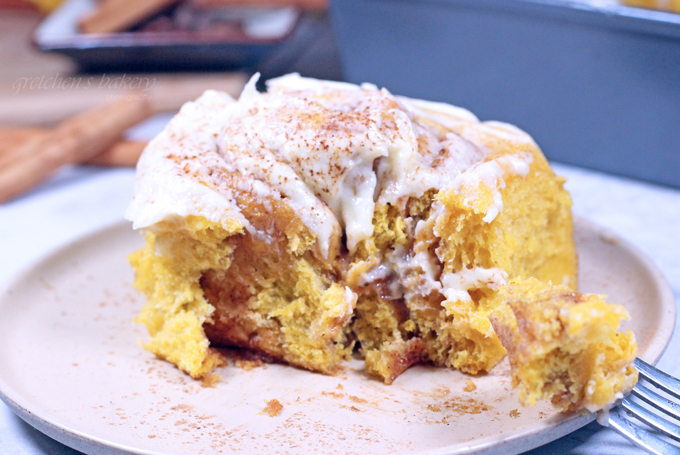 I love working with dough, there's something so therapeutic about it!
However you will need to give yourself some extra time to get it all done
Since you have to let the dough rise after mixing and you just can't rush the process
Beware of wild animals trying to steal your dough!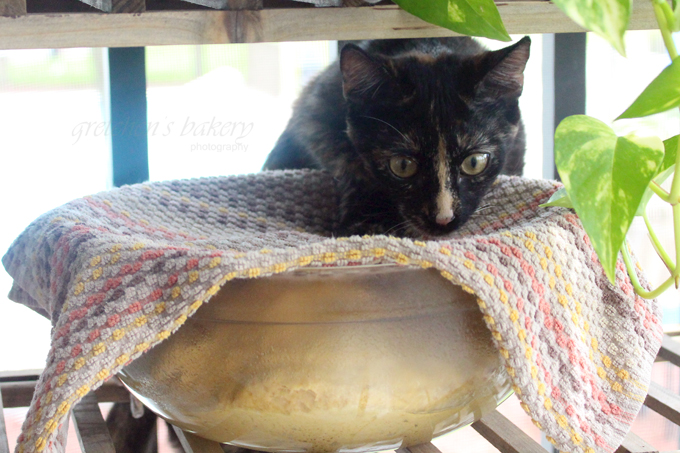 You will have to wait for them to rise again after forming them into those perfect little scrolls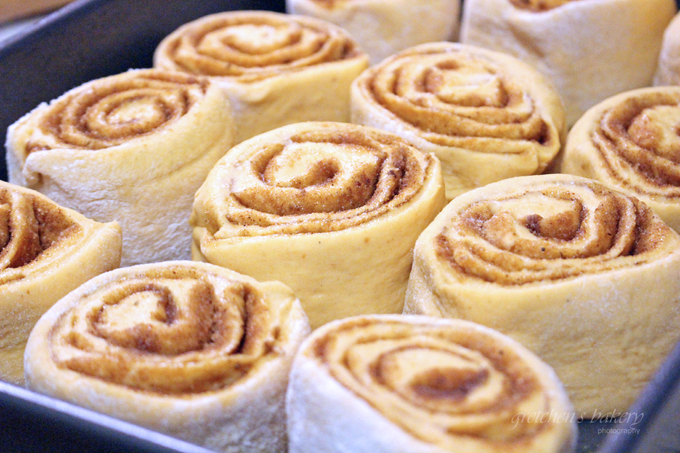 For those who are pressed for time, you can always refrigerate your formed buns for a slow rise overnight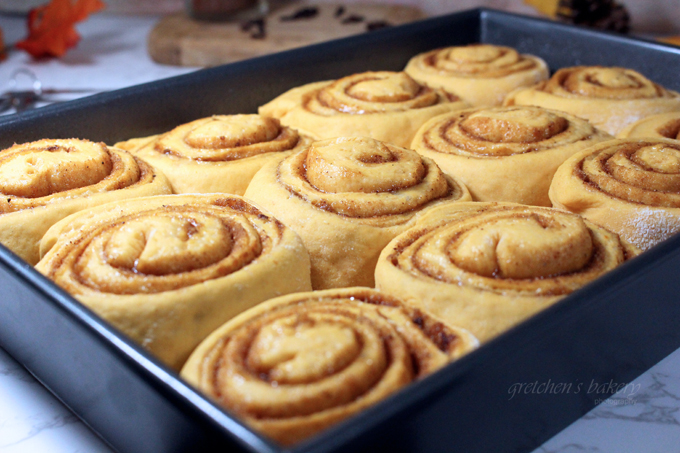 Then in the morning just pick up where you left off for fresh baked Pumpkin Cinnamon Buns with your morning coffee!
The dough can also be frozen at that same point and then defrosted on a pan in the refrigerator overnight *see more below
Once they come to room temperature same as I mentioned for the refrigerated ones, you will proceed just the same
Once your buns are fully baked and slightly cooled
Ice them down and gobble them up!
I used cream cheese buttercream for the icing with a sprinkle of cinnamon!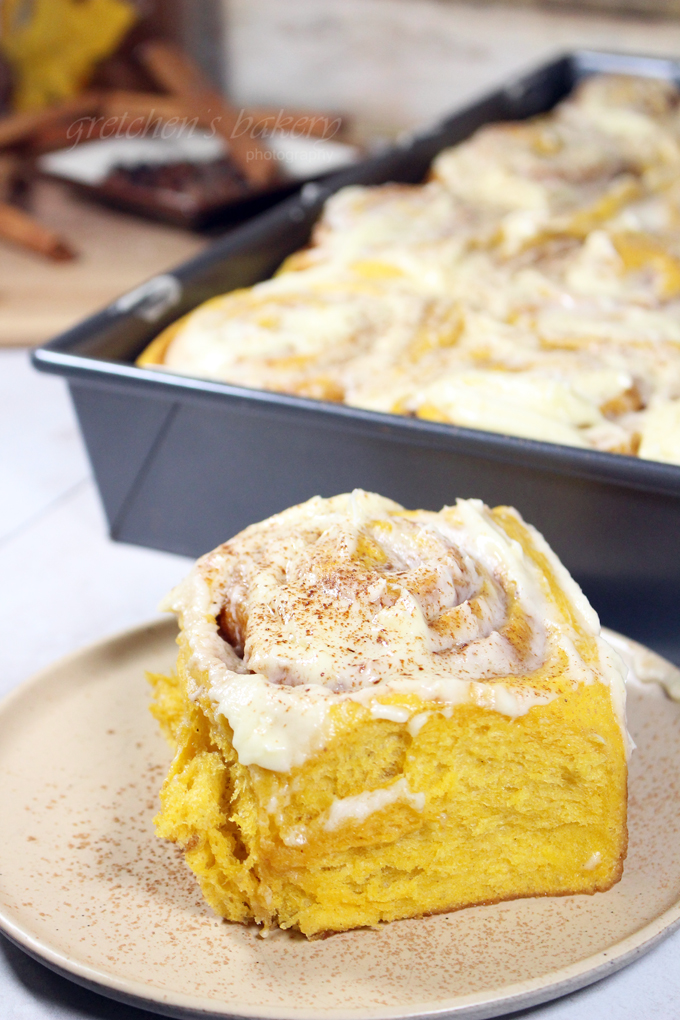 NOTE: Since making this recipe I have since come up with a No Cream Cheese~ No Refrigeration recipe for Cream Cheese Icing!
Click here for the 2-2-2 No Cream Cheese Icing recipe!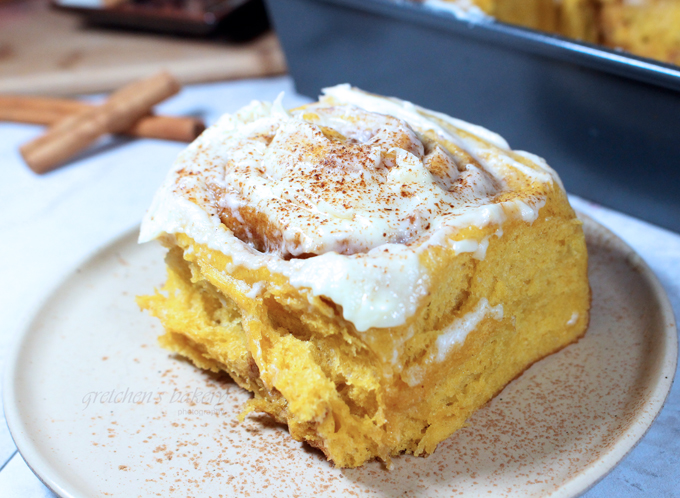 Notes for Success:
Pressed for time? You can bake the buns the next morning
Simply stop at the step in the instructions after you have formed the buns and then placed them into the greased pan.
Cover with plastic wrap and refrigerate overnight.
The buns will not have risen too much in the refrigerator so you will have to take them out and bring them back to room temperature and give them their second rise.
This could take an hour or longer depending on your room conditions
Once they have fully risen to fluffy *see video* preheat the oven to 350°F and pick up at the step below for baking
As with any bread and yeast dough recipe the amount of flour being used will vary based on a few variables
Often times in humid climates you will need much less flour than places that have drier and cooler temperatures
It is important to get a feel for making dough to determine if you will need to add more or not.
CLICK HERE TO WATCH THE FULL YOUTUBE VIDEO TUTORIAL FOR HOW TO MAKE CINNAMON BUN DOUGH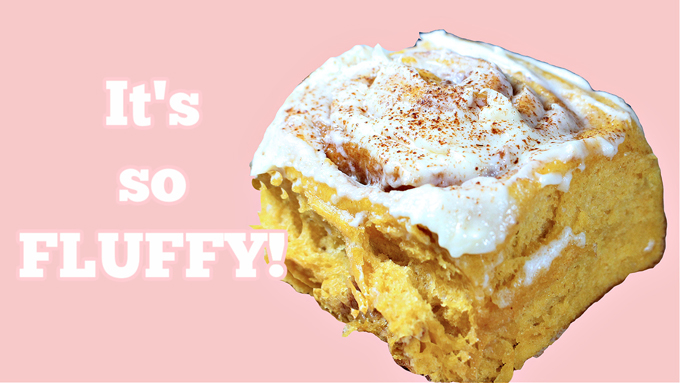 For more amazing yeast bun and sweet bread recipes click the links below!
Pumpkin Spiced Cinnamon Buns
Ingredients
Warm Plant Milk 1½ cup (360ml) *approx 115°F
Soft Vegan Butter ½ cup (113g)
Granulated Sugar ½ cup (100g)
Dry Yeast 3 teaspoons
Canned Pumpkin 1 cup (240g)
All Purpose Flour 5-6 cups (625g - 750g) *see note in text article notes for success
Cardamom 1 teaspoon
Salt 1 teaspoon
For the filling:
Light Brown Sugar 1 cup (205g)
Ground Cinnamon 1 teaspoon
Ground Nutmeg ¼ teaspoon
Cardamom ¼ teaspoon
Ginger ½ teaspoon
Cloves ¼ teaspoon
Melted Vegan Butter ¼ cup (60ml)
For the icing:
Vegan Cream Cheese 1 cup (226g)
Vegan Butter 1 stick ¼ cup) (56g)
Confectioner's Sugar 1 cups (120g)
Vanilla Extract 1 teaspoon
Cinnamon for sprinkling
Instructions
Grease a 9" X 13" X 2" cake pan, set aside for later.
Combine all the ingredients for the sugar filling together in a small bowl, reserve for later
Combine the yeast with the warm milk and a pinch of sugar and let stand for 5 minutes
In a mixing bowl combine all the dry ingredients and blend well
Add the milk with the yeast, the pumpkin and the softened butter to the bowl of your stand mixer and add all the sifted dry ingredients.
Mix with the dough hook ~ you may need to help it along with a spatula until it forms a soft mass, then let it knead for 5 minutes on medium speed
Add flour to adjust the consistency as needed *see video demonstration
Turn mixer speed to low and mix for another 3 minutes
Once it is to desired consistency and properly kneaded for a total of about 8 minutes
Turn out to a lightly floured surface and continue to knead until it is no longer super sticky to your hands of the table
Transfer to a lightly oiled bowl covered and let rise to double in a warm spot
Roll out on a lightly floured surface to 12" x 18" and about ½" thick
Brush with melted butter and then spread evenly with the sugar spice mixture
Roll up then cut into desired portions ~ cutting the log into 12 pieces for giant bakery size buns
Place them in a lightly greased 9" x 13" pan
Cover loosely and let rise again covered in a warm spot. 35 - 60 minutes depending on the conditions in your area
Once they are light and fluffy and puffy and almost doubled in size and the buns are almost touching each other, bake in a preheated 350°F oven for approx 35 - 45 minutes depending on the size of your buns * see video demonstration
While the buns are baking you can prepare the cream cheese icing recipe by mixing the vegan cream cheese with the softened butter by hand with a wooden spoon or spatula, to combine evenly
Add the sifted confectioners sugar and vanilla extract and mix well.
Cool slightly then top generously with Cream Cheese Icing and a sprinkle of cinnamon
Notes
Buns will stay fresh for a day or two, but like any yeast bread recipe they do go stale quickly.

Keep them wrapped well to prevent drying & rapid staling

If you do not plan to eat them all right away refrain from icing ALL the buns since the cream cheese icing will have to be refrigerated after an hour or so.