I can't believe I'm saying this.
Maybe it's just Pumpkin Everything Season that got me like….. 😀
But this recipe for Pumpkin Cinnamon Buns is even better than the original Cinnamon Buns recipe I shared years ago!
Complete with cream cheese icing I ate 3 of these jumbo buns before the pan was even cooled!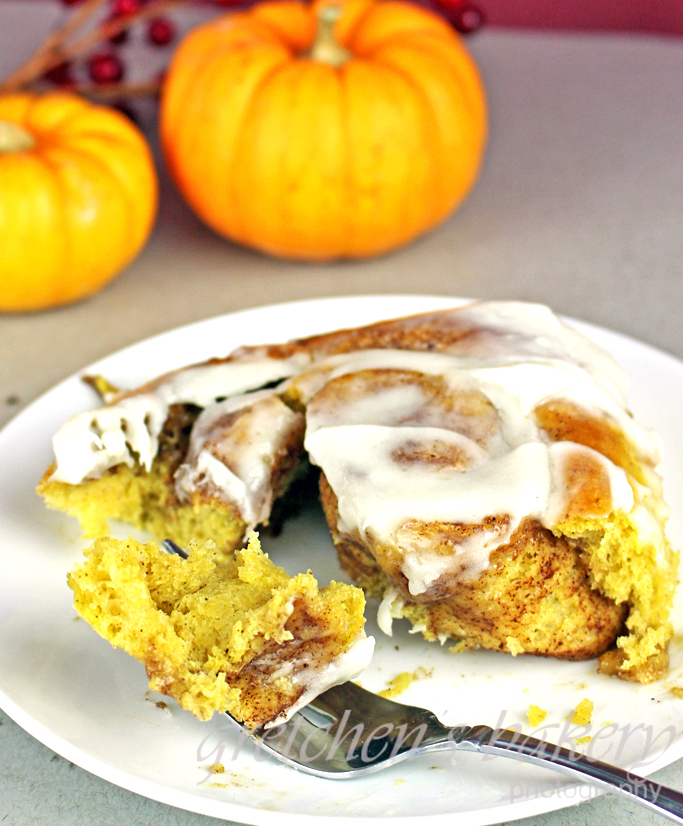 This recipe does not need eggs and I'm not even using an egg replacer!
So for those who are wondering where's the "non-vegan" version….. there isn't one!

Pumpkin Cinnamon Buns
Pumpkin Pie Spice: Makes ½ cup Ingredients • Ground Cinnamon 3½ tablespoons • Ground Ginger 2¼ teaspoons • Ground Nutmeg 2 teaspoons • Ground Allspice 1¼ teaspoon • Ground Cloves 1¼ teaspoon Instructions 1. Combine together with a sifter or whisk together in a mixing bowl Notes Store in a glass or plastic container with an airtight lid in a cool spot for up to 2 years
Ingredients
Plant Milk 1½ cup (360ml)
Coconut Oil or Vegan Butter melted ½ cup (120ml)
Granulated Sugar ½ cup (100g)
Dry Yeast 2¼ teaspoon
Canned Pumpkin or homemade Pumpkin Puree 1 cup
All Purpose Flour 4 - 5 cups (500g - 625g)
Pumpkin Pie Spice 2 teaspoons *see note above
Baking Powder ½ teaspoon
Baking Soda ½ teaspoon
Salt ½ teaspoon
For the filling:
Granulated Sugar ½ cup (100g)
Light Brown Sugar ¾ cup (158g)
Ground Cinnamon ½ teaspoon
Ground Nutmeg ¼ teaspoon
Coconut Oil or Vegan Butter ¼ cup (60ml)
For the icing:
Vegan Cream Cheese 1 cup (226g)
Vegan Butter 1 stick ¼ cup) (56g)
Confectioner's Sugar 1 cups (120g)
Vanilla Extract 1 teaspoon
Instructions
Combine the yeast with the warm milk and let stand for 5 minutes
In a mixing bowl combine all the dry ingredients and blend well
Add the oil, milk with the yeast and the pumpkin and mix with the dough hook (or by hand) for 5 minutes
Add flour to adjust the consistency as needed *see video demonstration
Turn out to a lightly floured surface and continue to knead until it is no longer super sticky to your hands of the table
Transfer to a lightly oiled bowl covered and let rise to double in a warm spot
Roll out on a lightly floured surface to 12" x 18" and about ½" thick
Brush with melted oil and then spread evenly with the sugar filling mixture
Roll up then cut into desired portions
Place them in a lightly oiled sheet pan spaced 2" apart and let rise again covered in a warm spot. 35 - 60 minutes depending on the conditions in your area
Once they are light and fluffy and puffy and almost doubled in size, bake in a preheated 350°F oven for approx 35 - 45 minutes depending on the size of your buns * see video demonstration
While the buns are baking you can prepare the cream cheese icing recipe by mixing the vegan cream cheese with the softened butter by hand with a wooden spoon or spatula, to combine evenly
Add the sifted confectioners sugar and vanilla extract and mix well.
Cool slightly then top generously with Cream Cheese Icing
Notes
Buns will stay fresh for a day or two, but like any yeast bread recipe they do go stale quickly. Keep them wrapped well to prevent drying & rapid staling & if you do not plan to eat them all right away refrain from icing ALL the buns since the cream cheese icing will have to be refrigerated after an hour or so.