Who doesn't love a cinnamon bun!?
Make it Pumpkin Cinnamon Buns and you are now at an entirely new level!
I can't believe I'm saying this, but this new recipe is even better than the original Cinnamon Buns recipe I shared years ago!
This time complete with cream cheese icing I ate 3 of these jumbo buns before the pan was even cooled!
They are dangerous so I will warn you to have an exit strategy for them before they finish baking.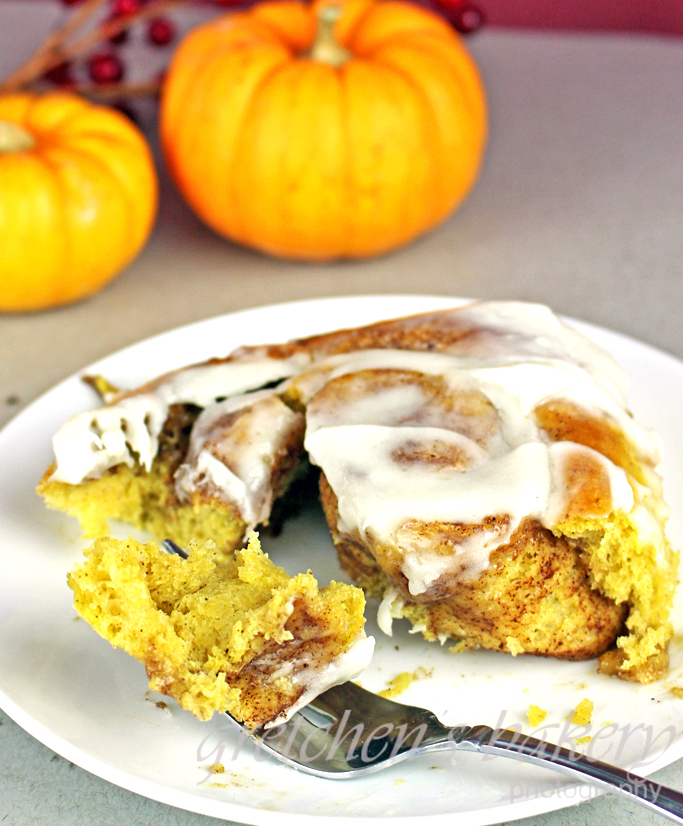 Since being alone with these bad boys may prove to be a disaster for the diet!
This recipe does not need eggs, so for those who are wondering the "non-vegan" version….. there isn't one!
So simple, minimal ingredients and if you don't have or use almond milk, use whatever milk you DO use! See how easy??
Pumpkin Cinnamon Buns
Ingredients
Almond Milk 1½ cup (360ml)
Oil or Vegan Butter melted ½ cup (120ml)
Granulated Sugar ½ cup (100g)
Dry Yeast 2¼ teaspoon
canned Pumpkin or homemade Pumpkin Puree 1 cup
All Purpose Flour 4 - 5 cups (500g - 625g)
Pumpkin Pie Spice 2 teaspoons
Baking Powder ½ teaspoon
Baking Soda ½ teaspoon
Salt ½ teaspoon
For the filling:
Granulated Sugar ½ cup (100g)
Light Brown Sugar ¾ cup (158g)
Ground Cinnamon ½ teaspoon
Ground Nutmeg ¼ teaspoon
Coconut Oil or Vegan Butter ¼ cup (60ml)
For the icing:
Vegan Cream Cheese 1 Tubs (1 cups) (226g)
Vegan Butter 1 stick ¼ cup) (56g)
Confectioner's Sugar 1 cups (120g)
Vanilla Extract 1 teaspoon
Instructions
Combine the yeast with the warm milk and let stand for 5 minutes
In a mixing bowl combine all the dry ingredients and blend well
Add the oil, milk with the yeast and the pumpkin and mix with the dough hook (or by hand) for 5 minutes
Add flour to adjust the consistency as needed *see video demonstration
Turn out to a lightly floured surface and continue to knead until it is no longer super sticky to your hands of the table
Transfer to a lightly oiled bowl covered and let rise to double in a warm spot
Roll out on a lightly floured surface to 12" x 18" and about ½" thick
Brush with melted oil and then spread evenly with the sugar filling mixture
Roll up then cut into desired portions
Place them in a lightly oiled sheet pan spaced 2" apart and let rise again covered in a warm spot. 35 - 60 minutes depending on the conditions in your area
Once they are light and fluffy and puffy and almost doubled in size, bake in a preheated 350°F oven for approx 35 - 45 minutes depending on the size of your buns * see video demonstration
While the buns are baking you can prepare the ]cream cheese icing recipe by creaming the vegan cream cheese with the soft butter on low speed just to combine.
Add the sifted confectioners sugar and vanillas extract and mix well.
Cool slightly then top generously with Cream Cheese Icing