One of the bakery's all time favorites just got veganized!
That's right the Caramel Apple Cake was one of my most popular layer cakes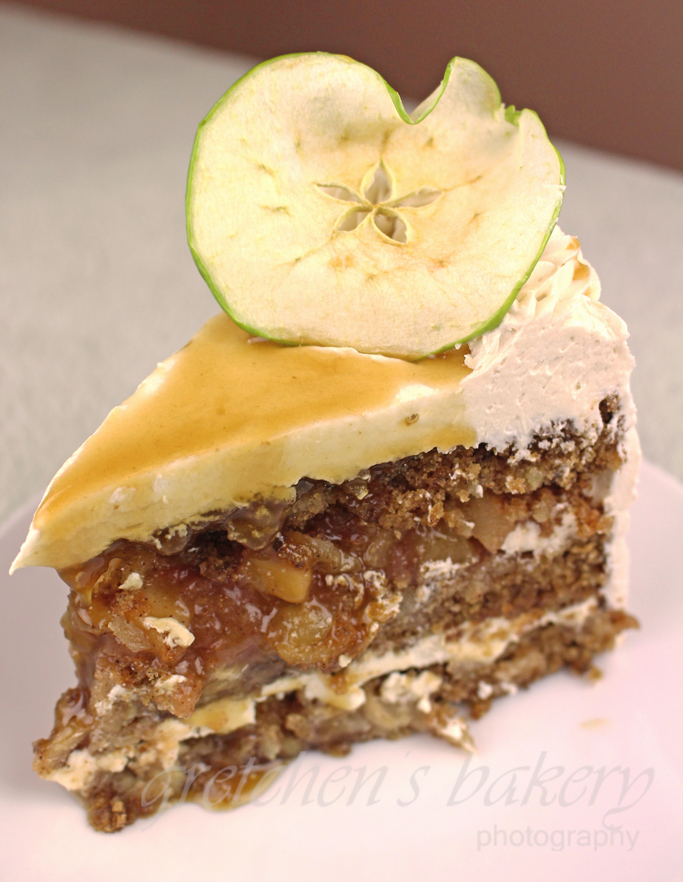 This is one heavy cake though, I will warn you!
And I'm talking weight-wise since it is packed with apples and caramel, caramel buttercream and more caramel sauce!
It's actually a very light cake by itself, super moist and light crumb
This is a pretty big building on recipes project though, so just be sure to organize yourself before you begin and it will not be a difficult task.
You will want to go ahead and make the Apple Compote and Buttercream Recipes ahead of time
And the caramel sauce as I show in the video below.
Vegan Caramel Apple Cake
Prepare your cake pans with pan grease and a parchment paper liner
I am using
3-7" cake pans
but you can make 2-8" layers instead
Ingredients
½ recipe Apple Filling
½ Recipe Buttercream
For the Cake:
Vegetable Oil 1 cup (240ml)
All Purpose Flour 1½ Cups (195g)
Cake Flour ¾ cup (90g)
Baking Powder 1½ teaspoons (7g)
Baking Soda 1½ teaspoons (7g)
Salt ¾ teaspoon
Ground Cinnamon 2 teaspoons (10g)
Granulated Sugar ¾ cup (150g)
Light Brown Sugar ¾ cup (158g)
Ground Flax Seeds 4 Tablespoons (32g)
Hot Water 10 Tablespoons (150ml)
Vanilla Extract 2 teaspoons (10ml)
Apples Shredded from 2 medium apples approx 2 cups (250g)
For the Caramel Sauce:
1 cup Light Brown Sugar (210g)
1 cup Granulated Sugar (200g)
1 cup Almond Milk or any milk alternative (240ml)
Salt pinch
Vegan Butter 4 Tablespoons (56g)
Vanilla Extract 1 teaspoon
Instructions
For the Cake:
Peel, core and then shred the apples
Combine the ground flax with the hot water and whisk smooth, set aside for 5 minutes to thicken
In a large mixing bowl combine both sugars with the salt, oil and vanilla & whisk smooth.
Add the thickened flax paste and whisk smooth
Sift together the flours, salt, cinnamon and the baking soda and baking powder and add to the sugar mixture
Add the shredded apples and mix well.
Pour batter into prepared cake pans and bake immediately in preheated 350° F oven.
Cake layers will take approximately 25 -35 minutes or when a toothpick inserted yields moist crumbs, or the best way to check is if it is springy to the touch when you gently press the center
For the Caramel:
Combine all ingredients except the vanilla and the vegan butter in a large heavy bottom sauce pot
Bring to a boil stirring over medium-high heat until the sugar is dissolved
Let it boil rapidly without stirring for approximately 10-15 minutes or until it is caramel in color
Remove from heat and stir in vegan butter and the vanilla extract
Pour into a heat proof container then refrigerate until thick and cold
Assemble the cake as shown in the video tutorial
Notes
The cake layers can be frozen wrapped well for up to 1 month

The entire assembled cake can stay at room temperature for up to 1 day, but will most likely need refrigeration for longer storage (up to 10 days) so it doesn't get too soft.
Nothing will go bad, so refrigeration is not completely necessary.