I wasn't sure what I was going to name this cake until I tasted it. Then the name came to me!
Raspberry Dream Cake because I thought I was dreaming!
Vanilla layers soaked with raspberry sauce, fudge brownies and cream cheese icing!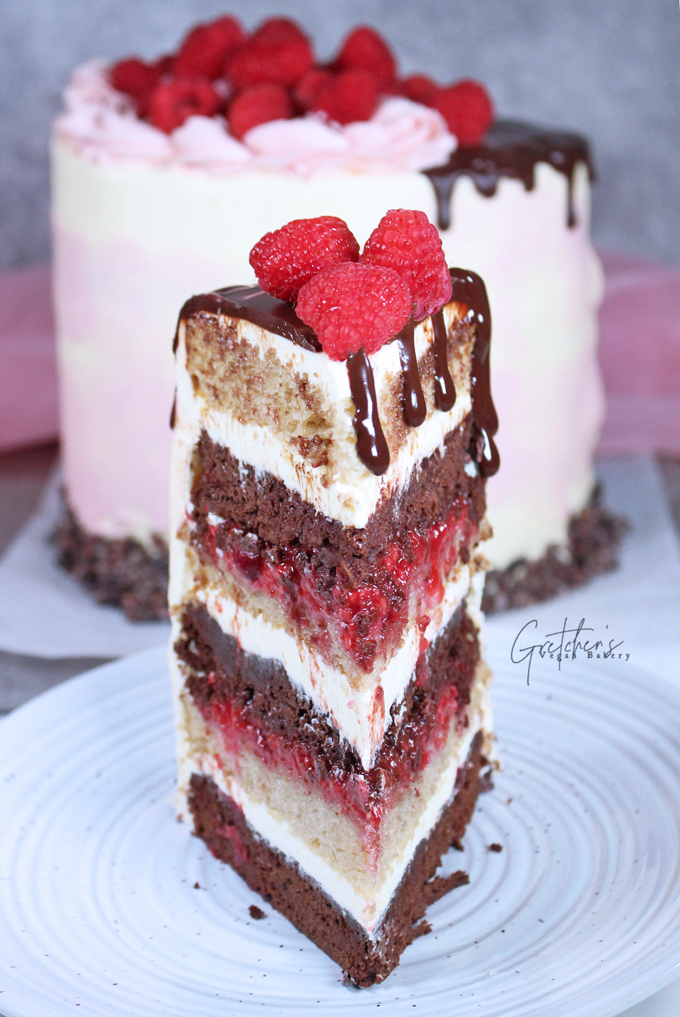 For a watercolor decor that is so easy and pretty too
I've added freeze dried raspberry powder to the excess cream cheese icing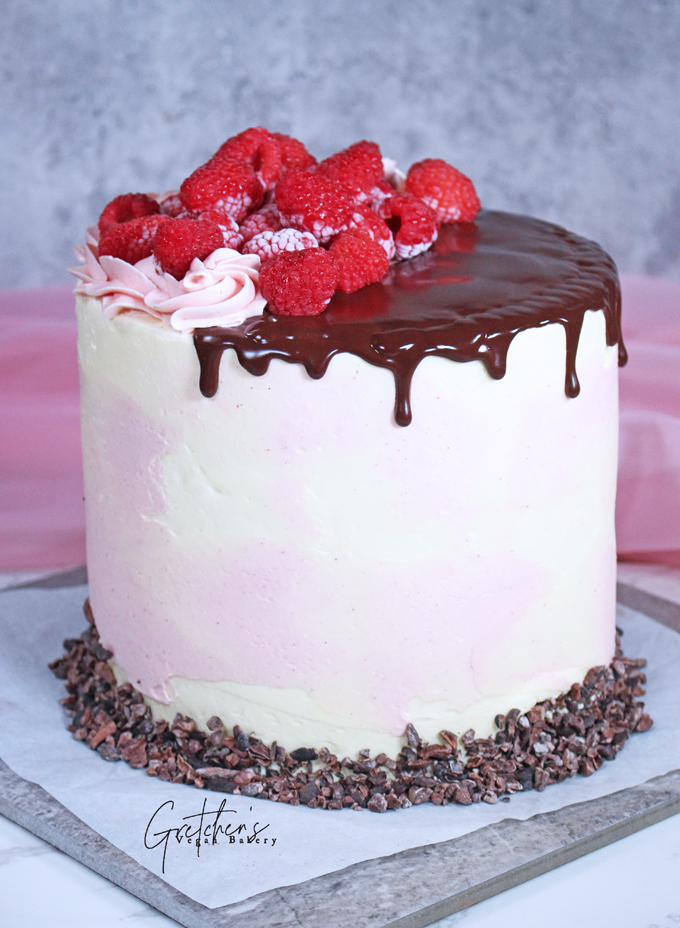 I'm not going to lie this is one epic building on recipes project
Which simply means there is quite a bit of preparation that has to happen before we even think about building a cake like this!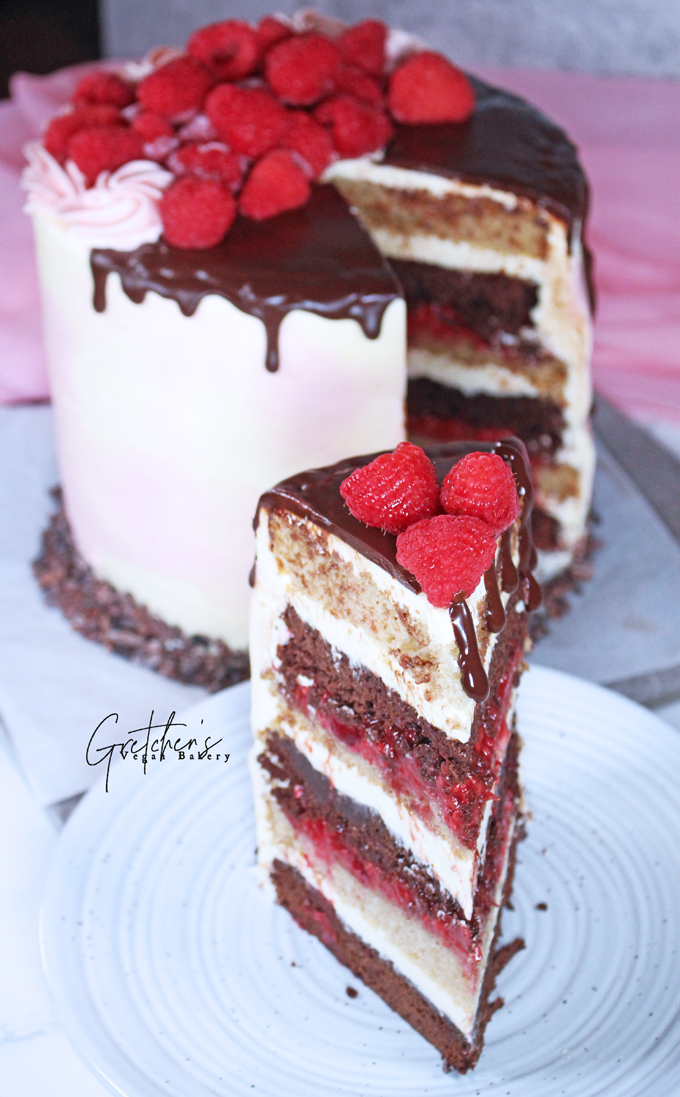 But every recipe can be made in advance so the day of your build it is a breeze!
The instructions below list out how to attack the Raspberry Dream Cake by planning ahead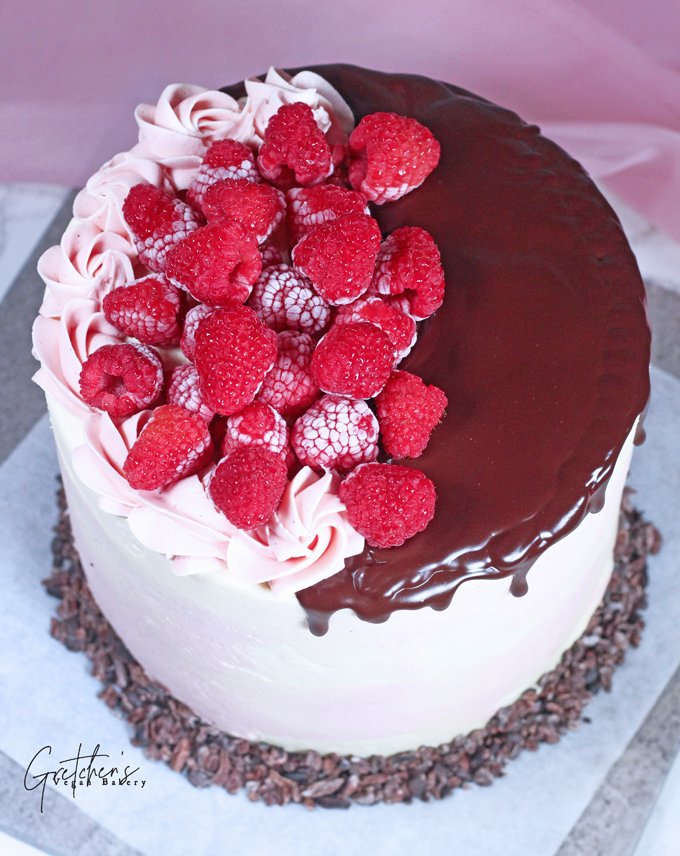 PLAN AHEAD:
Vanilla Cake recipe can be made even a month in advance but I like to bake it the day before and just leave it in the refrigerator to get cold.
Same goes for the brownie layers as these can be wrapped well and frozen perfectly for up to one month!
The raspberry compote can also be made in advance up to one week in the refrigerator is usually my max.
Whipping up a quick cream cheese icing is no problem so I always do that the day I am building the cake
Ganache is optional but who doesn't love the drip cake?
Notes for Success:
Since the brownie layers are very thin be careful not to over bake them or they will be dry.
In my oven they took 15 minutes and a toothpick test yielded moist crumbs not raw batter
Whenever I make a berry compote I like to add a small amount of cranberries to my recipe
Cranberries have the highest natural pectin and adds a beautiful natural thickener to berry sauces that is great for using as fillings inside cake, not to mention I love the tart contrast they lend to cakes that are going to be on the sweeter side
If you do not like cranberry or do not have them it is ok to leave them out and add more of another berry in it's place, but your sauce may be slightly thinner than mine.
WATCH THE FULL YOUTUBE VIDEO TUTORIAL FOR HOW TO MAKE THIS CAKE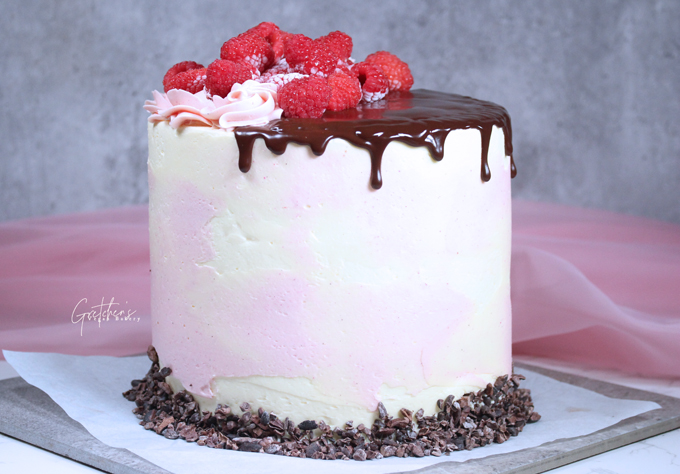 For more awesome layer cakes like this one click the links below!
Strawberry Vanilla Ruffle Cake
Yield: serves 16ppl
Raspberry Dream Cake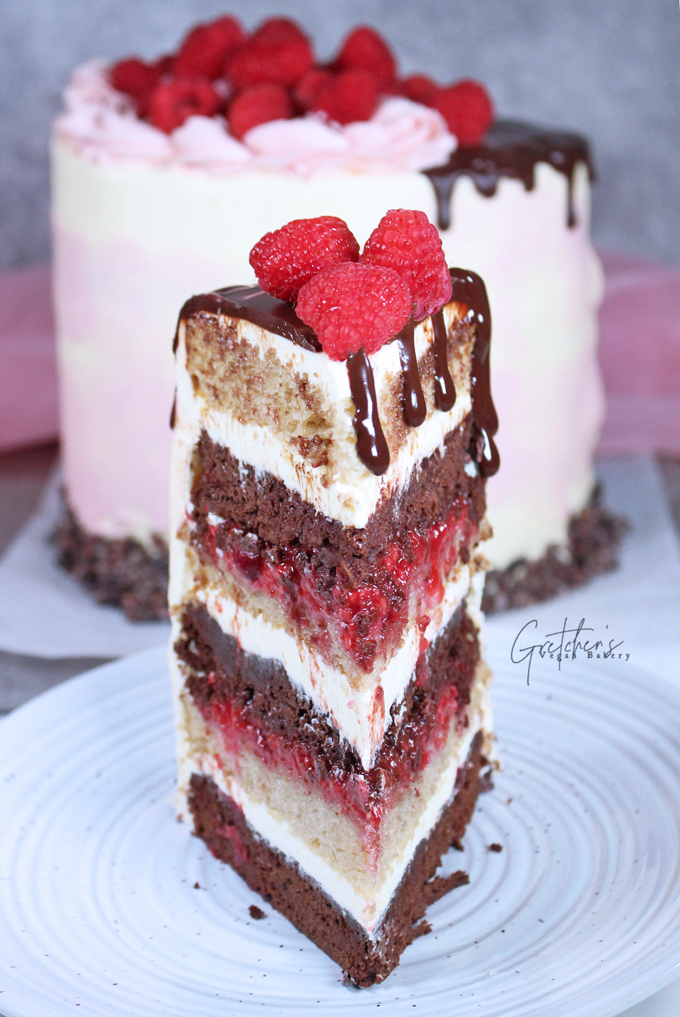 I am using 7" cake pans for all my layers & the recipes are worked out perfectly for that size pan.
If you don't have 7" pans you can divide the recipes evenly between 4- 8" pans for a 4 layer cake instead of a 6 layer cake
Total Time
4 hours
25 minutes
Ingredients
Ganache *optional 4ounces vegan chocolate + 6 tablespoons plant milk
Cacao Nibs for garnish *optional approx ½ cup
Fresh Raspberries for garnish 4 ounces
For the Raspberry Sauce:
12 Ounces Fresh or Frozen Raspberries
¾ cup fresh or frozen cranberries *optional see notes above
2 Tablespoons granulated sugar (28g)
2 Tablespoons water (30ml)
Instructions
Grease and parchment line your cake pans and preheat the oven to 350°F
Prepare the yellow cake as per the instructions on that recipe post and divide the batter equally between 3- 7" cake pans
Once the cakes are baked and cooled wash the pans and then re-grease & parchment line them so you can bake the brownie recipe
Prepare the brownie recipe as per the instructions on that recipe post and divide the batter equally between the prepared pans
Bake in the preheated 350°F oven for about 15 minutes ~ be careful not to over bake or they will be dry. The tops will be puffed & slightly shiny & a toothpick test will yield moist crumbs not raw batter
Cool the brownie layers and prepare the raspberry sauce.
Combine all the ingredients for the sauce in a medium sauce pot and cook over low to medium heat stirring occasionally.
The cranberries will begin to pop and the raspberries will start to break down to a puree.
Cook for just about 10 minutes and then transfer to a heat proof bowl to cool, reserve in the refrigerator until you are ready to build the cake.
Prepare the 2-2-2 Cream Cheese Icing according to the instructions on that page
And for the ganache combine the plant milk & vegan chocoalte together in a small sauce pt over medium heat, whisking constantly until melted & smooth & shiny- reserve at rrom temperature for later
Proceed to build the cake as shown in the video tutorial.
Notes
Raspberry Dream Cake can be left at room temperature for 1 day since the cream cheese icing requires no cream cheese.
Longer storage should be kept refrigerated for up to 10 days wrapped loosely to prevent drying.
Freeze for up to 1 month wrapped well