Strawberry Vanilla Cake is a great way to usher in summer and the abundant sweet strawberry season!
The Ruffle Decor is easy to achieve if you use my recipe for buttercream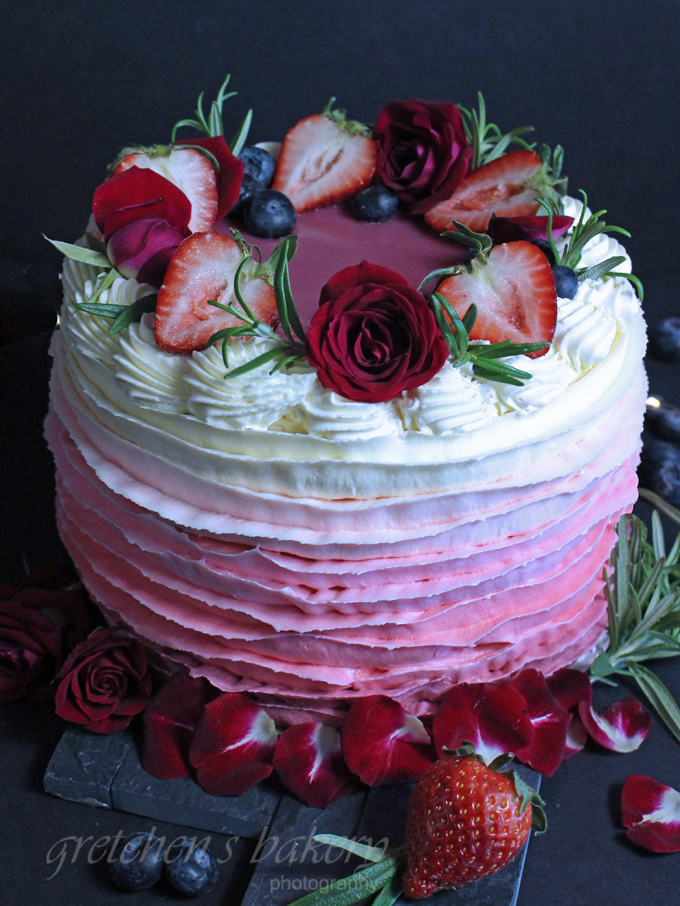 Then the only other thing you need is a large petal tip. I use Ateco Tips for the ruffle and this particular one is #128
You can keep the color all one shade or gradually color the icing as you go from white to shades of pink like I did, because I am obsessed with Ombre Cakes this year!
So far this is my third Ombre style cake for 2021!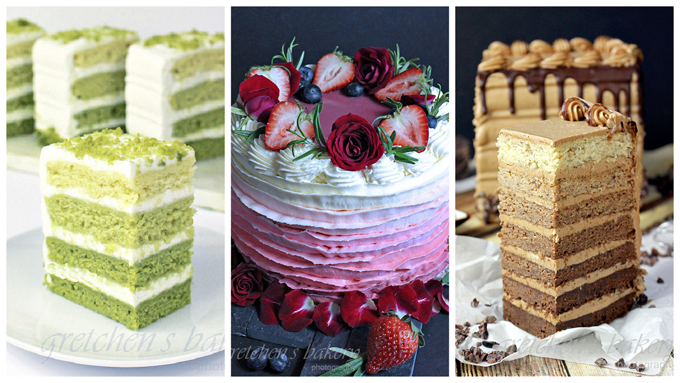 CLICK THE LINKS BELOW TO SEE THE OTHERS!
All three of them using a modified version of my Famous Vegan Vanilla Cake Recipe and let's just face it, it can't be beat so why bother looking elsewhere?
The vanilla cake is my winning recipe and it comes out so white, so fluffy and so perfectly vanilla with a secret tip that if you use Vanilla Soy Milk rather than plain you will get a huge boost in vanilla flavor that is incomparable!
Super moist and fluffy layers of vanilla cake are just begging for that luscious strawberry compote to soak into the layers.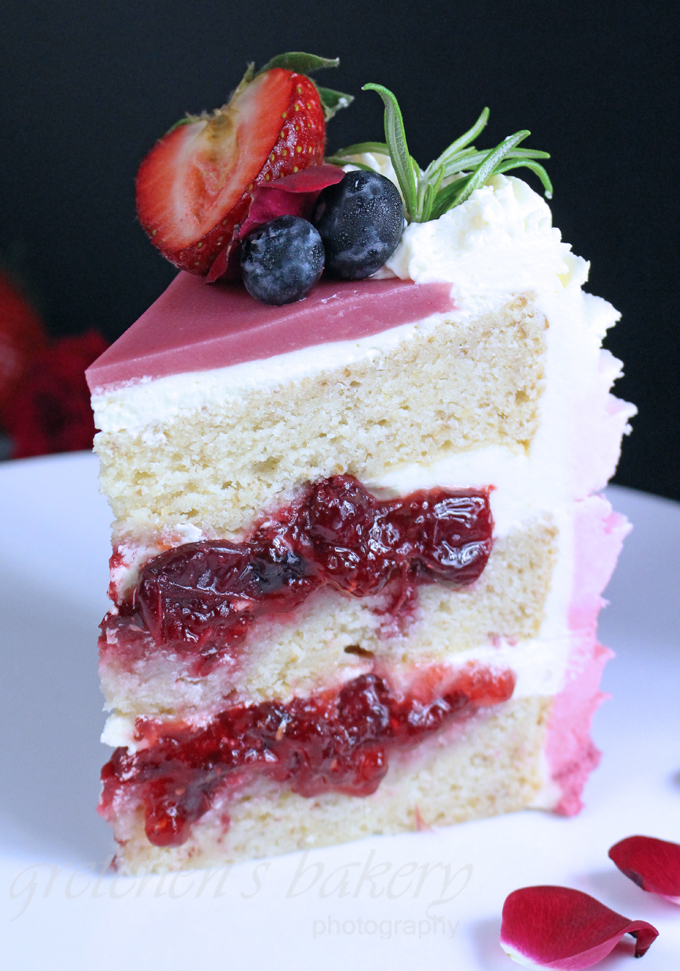 Notes for Success:
The recipe below makes 3-7″ cake layers but if you do not have 7″ cake pans just divide the batter between 2-8″ cake pans for a 2 layer cake instead
This is a building on recipes project where you will need several recipes ahead of time to get to this final cake. All of the recipes can be prepared well in advance of building the final cake.
The Vanilla cake can be baked, cooled, wrapped and then stored either in the refrigerator for 3 days or in the freezer for up to 2 weeks and the Buttercream can be prepared up to 5 days ahead and re-whipped before using
The berry compote can be made up to 5 days in advance and kept in the refrigerator until needed; even the mirror glaze *if you are making it, can be prepared up to 2 weeks in advance! Kept in the refrigerator until needed and rewarmed to pour able consistency
The fresh berry compote is so easy to make and I always use frozen berries because they are usually so ripe that they just had to go into the freezer to save themselves from impending doom. This means a super sweet berry that probably doesn't even need any added sugar.
You can of course use fresh berries but you will almost definitely have to add some sugar and a few tablespoons of water to help them cook down without burning.
I have another secret weapon for my berry compotes; no matter what berry I am using I always add a handful of cranberries to the mix. Cranberries are the highest in natural pectin so by adding them in with your other berries as it all cooks down together will guarantee a thick compote that doesn't need any help from things like cornstarch or arrowroot
I've used my Swiss Meringue Buttercream Recipe this time, but I actually have 5 recipes for Buttercream to choose from so just pick your favorite style
I am in love with natural food coloring too so by using beet root powder or better yet
Hibiscus Flower Powder Super Color you can get a stunning graduation of color without over saturating the buttercream with liquid or gel colors *not sponsored
I even had some leftover Strawberry Mirror Glaze from my Pistachio Rose Cake from last month
Everything about this cake is edible including the roses! Not that I really want to eat roses even though everyone thinks we vegans do! 🙂
Just make sure they are organically grown!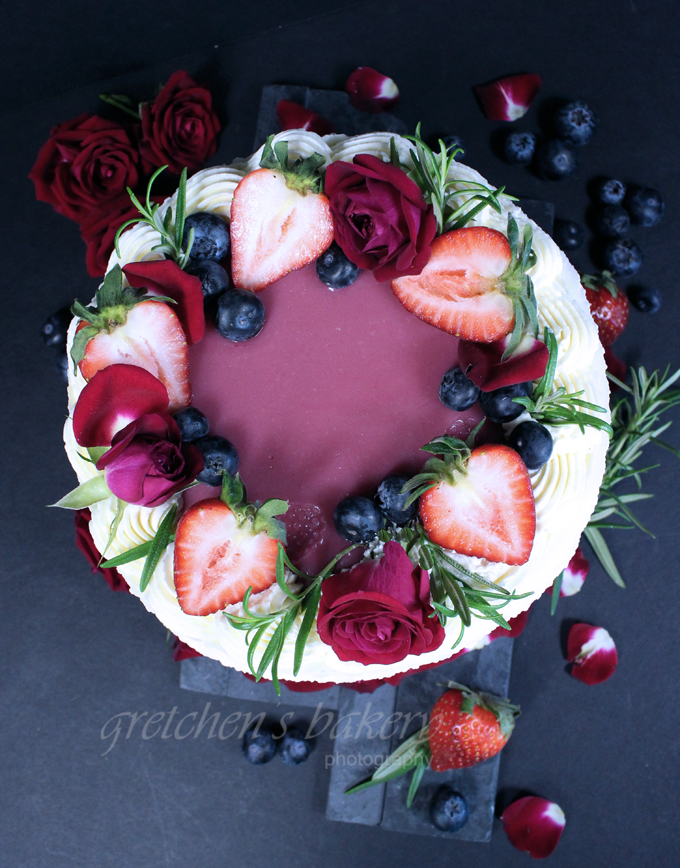 WATCH THE FULL YOUTUBE VIDEO TUTORIAL FOR HOW TO MAKE THIS CAKE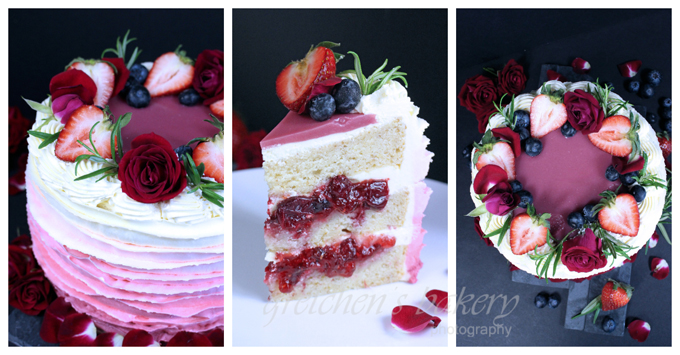 For more Valentine's Day Recipes click the links below!
Assorted Box of Chocolates ~ Mini Cupcakes
Yield: serves 10 people
Strawberry Vanilla Ruffle Cake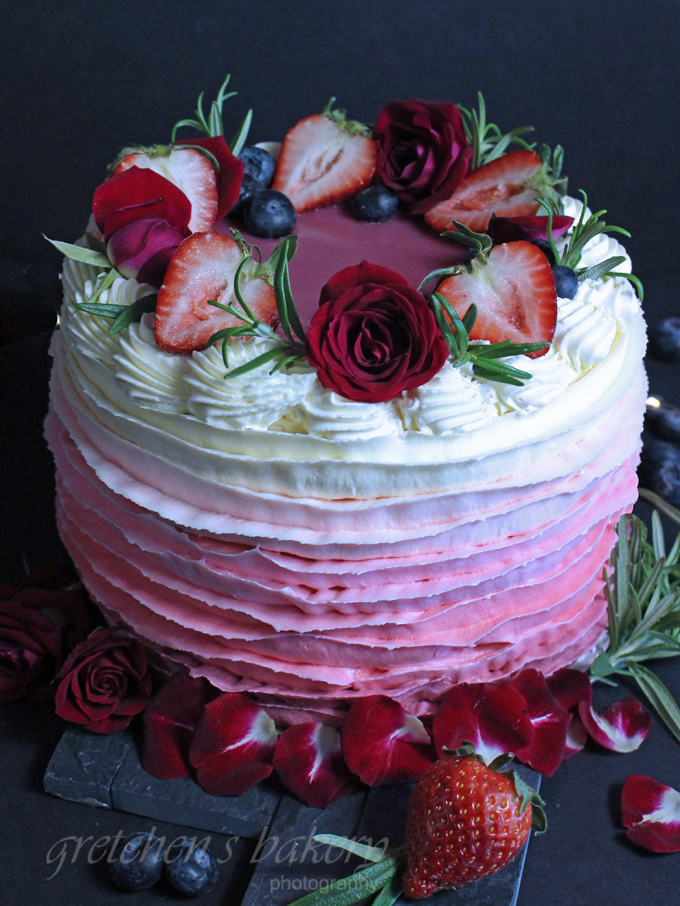 Total Time
3 hours
35 minutes
Ingredients
For the Strawberry Compote:
1 Package (12ounces) frozen strawberries *see notes
1 cup fresh or frozen cranberries
2-4 tablespoons Sugar *optional
Instructions
Prepare all of your recipes in advance and store according to the recipe instructions on each post.
If you are making everything fresh on the same day you are going to build the cake, be sure to bake the cake layers first to get them cooled and cold before assembling.
The compote is made by combining the berries, cranberries and sugar in a heavy bottom sauce pot and bring to a boil.
Turn the heat down to low and simmer for about 35minutes or until the berries break down and the cranberries begin to pop open.
Stirring often to avoid scorching the bottom, cook until it is to a stewed fruit consistency.
Cool off the heat then refrigerate until thickened.
Assemble the cake as shown in the video tutorial or decorate as you prefer!
Notes
This Strawberry Vanilla Cake can be stored at room temperature for 1 day, but for best results keep in the refrigerator for up to 1 week wrapped well after cutting to prevent drying.