Caramel stuffed into a brownie cookie!??? C'mon!!!
What else is there to say!?
I am definitely in cookie mode lately!
Probably because here in the USA we are full into Girl Scout season, so recently I made a couple Copy Cat Recipes for my favorite Girl Scout Samoas, Peanut Butter Patties and then I made Thin Mints too!
So I am rolling with that cookie theme and decided to replicate of my most favorite cookies from my non vegan days, Caramel Volcano Cookies!
It's almost like a brownie and a cookie all in one, with a homemade caramel candy in the center!
Once they come out of the oven they are ooey, gooey & chocolate-y just how I love my cookies to be!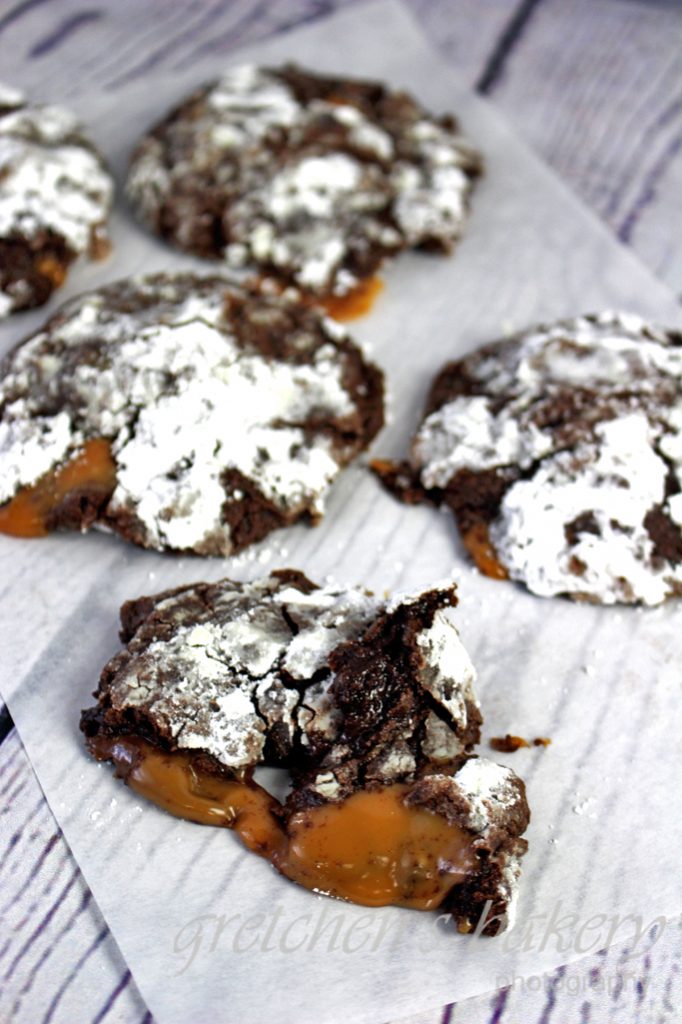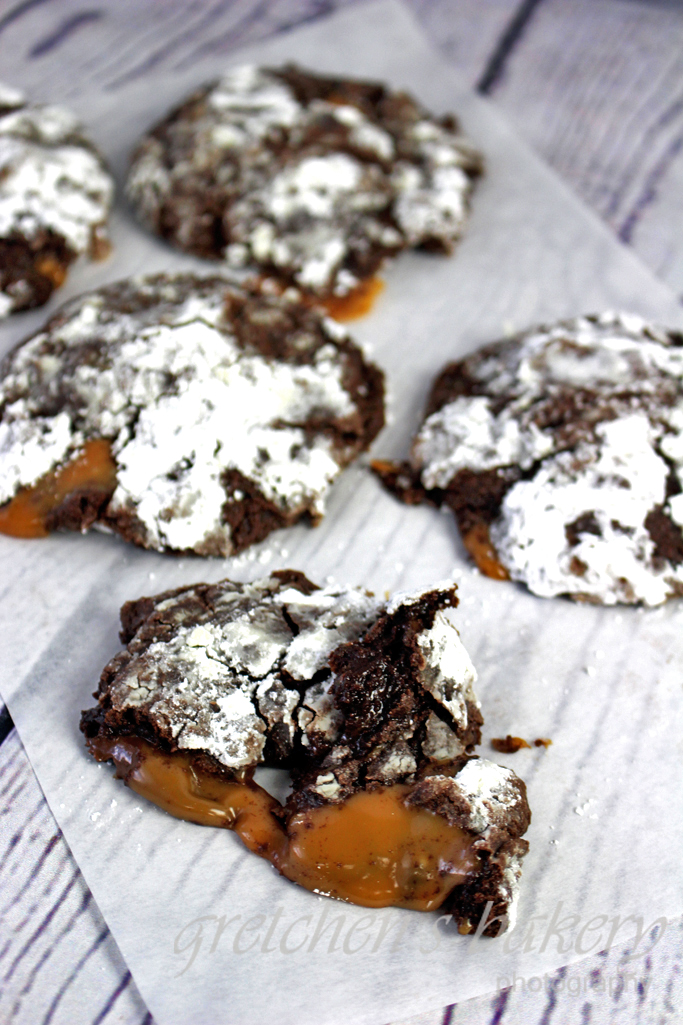 I used my friend Deborah's  Caramel Recipe from her blog at Vegan Kitchen Magick
Her recipes are always a hit and her instructions are so clear and concise that you just cannot fail!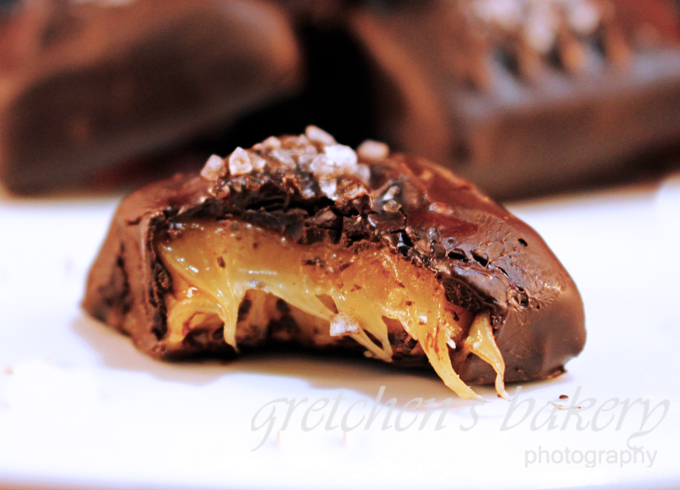 She is completely gluten free so if you need help in vegan + gluten free baking be sure to check her out, her blog is really awesome!
She is also the developer of the Plant Based Egg which has become my egg replacer of choice for just about 90% of my recipes now!
Be sure to check that out as well!
Ok now for the recipe!
*Oh by the way if you really don't want to go to all the trouble of making your own caramel candies (it is a hefty project all by itself I ain't gonna lie…) you can buy vegan caramels instead and cut out much of the time involved in this recipe!
You will notice in the video I had my caramels dipped in chocolate since I made her recipe for the candies from start to finish; and only afterward did I have the "aha moment" to recreate these caramel volcano cookies!
So the dipping of the caramels into the chocolate is not necessary for this cookie, but whoever complained about extra chocolate!? It will not affect the recipe either way you decide!
Vegan Caramel Volcano Cookies
I am using
the Plant Based Egg Egg replacer by Freely Vegan
(as I have been for most of my recipes lately) I think it is the best but if you do not want to buy it or cannot get it, you may use another proprietary blend instead, however I have not tested it with another egg replacer, so results may vary slightly.
Ingredients
Semi Sweet Vegan Chocolate finely chopped 2 cup packed (226g)
Vegan Butter 5 Tablespoons (70g)
Granulated Sugar ½ cup (100g)
Strong Brewed Coffee (cold) 4 Tablespoons (60ml)
Vanilla Extract 2 teaspoons
All Purpose Flour 1¼ cup (156g)
The Plant Based Egg Egg replacer by Freely Vegan 4 teaspoons *see note above
Baking Powder ½ teaspoon
Salt pinch
Confectioners Sugar approx 1 cup for dipping the cookies
Instructions
Melt chocolate with the salt and vegan butter- cool slightly
In a large mixing bowl combine granulated sugar, vanilla extract and cold coffee, whisk smooth.
Add melted chocolate & vegan butter mixture, whisk smooth
Add flour, egg replacer and baking powder, mix just until combined.
Refrigerate for at least 1 HOUR.
Scoop the cookie dough with a 2 ounce cookie scoop and insert a caramel candy in the center of the dough, then push the dough around the candy so it is encased and no longer showing
Roll the dough ball into the confectioners sugar and place onto a parchment lined sheet pan spaced 2" apart
Bake in a preheated 350°F oven for approximately 15 minutes, it is hard to tell when these cookies are done, since they are so chocolate-y, but be careful not to over bake them or they will be dry. *I like to test ONE cookie first, before baking the entire batch since all ovens are different and even 1 minute too much will make these cookies dry and un-gooey
Cool slightly before serving
Notes
Cookies will stay fresh in an airtight container at room temperature for up to 1 week

Freeze for up to 2 months