Today I am so excited to show you a highlighted recipe from my newest cookbook I just finished!
Yes I wrote a cookbook!
It's called Modern Vegan Baking~ The Ultimate Resource for Sweet & Savory Baked Goods!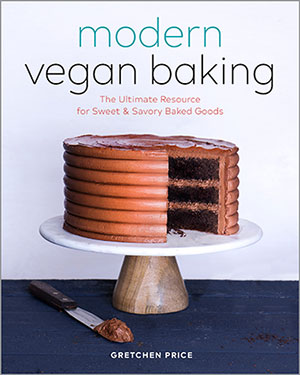 I can't wait for you all to see it, so I just had to give you a sneak peak of what's inside!
One of those recipes in the book of 125 all new recipes is this Bananas Foster Cake!
Layers of moist banana cake filled with rum-caramel buttercream, caramelized bananas and of course caramel drizzle!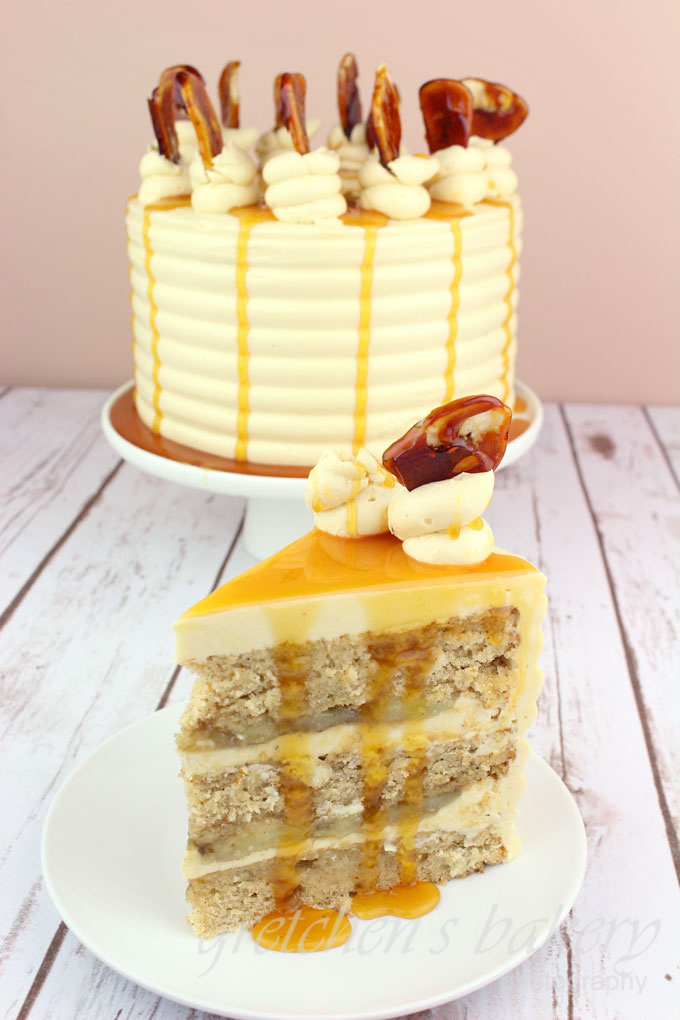 As with any epic cake creation, you will have to get a few recipes prepared ahead of time before the assembly of the final masterpiece
So with my building on recipes theory you can achieve this with ease.
The cake is a spinoff recipe from my famous Vegan Vanilla Cake
With sauteed bananas packed between each layer and of course caramel buttercream to tie it all together!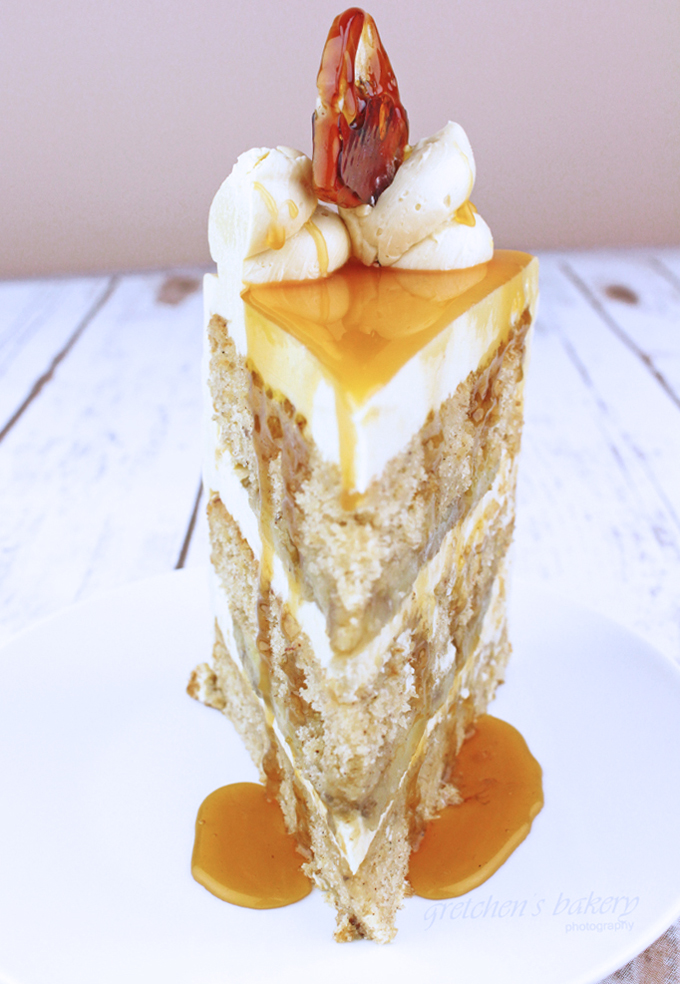 The caramel sauce for the drip is a true caramel so be very careful when cooking that sugar to 300°F !
Be sure to watch the video tutorial for how to do this and make a note that it is important to have an instant read thermometer for this as well.
Once you start to get close to caramel stage in cooking sugar there is no going back and in an instant you could have smoky sugar filling your entire kitchen!
I cannot express enough to proceed with caution!
For those who are intimidated by caramel (and rightly so!) you may want to try an easier, safer caramel recipe like the one I made here for my Caramel Apple Cake!
In the video tutorial below I show you step by step how to organize yourself and attack these recipes one by one and then get to the building of this amazing cake!
CLICK HERE FOR THE FULL YOUTUBE VIDEO TUTORIAL FOR HOW TO MAKE THIS CAKE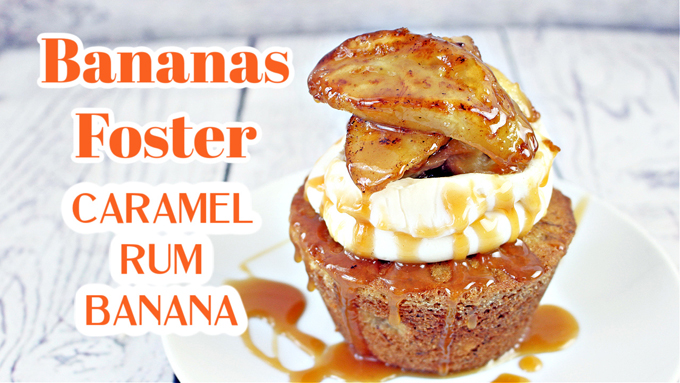 You will notice in this recipe I am using Vegan Egg by Follow Your Heart for the egg replacer *not sponsored
When I developed this recipe I was using many of the egg replacers available on the market and realize that is not the best practice since not everyone can get the same things.
This recipe will still work great by replacing the Follow Your Heart Vegan Egg with an equal amount of flax meal and the same amount of water as listed below but the water must be hot to reconstitute the flax.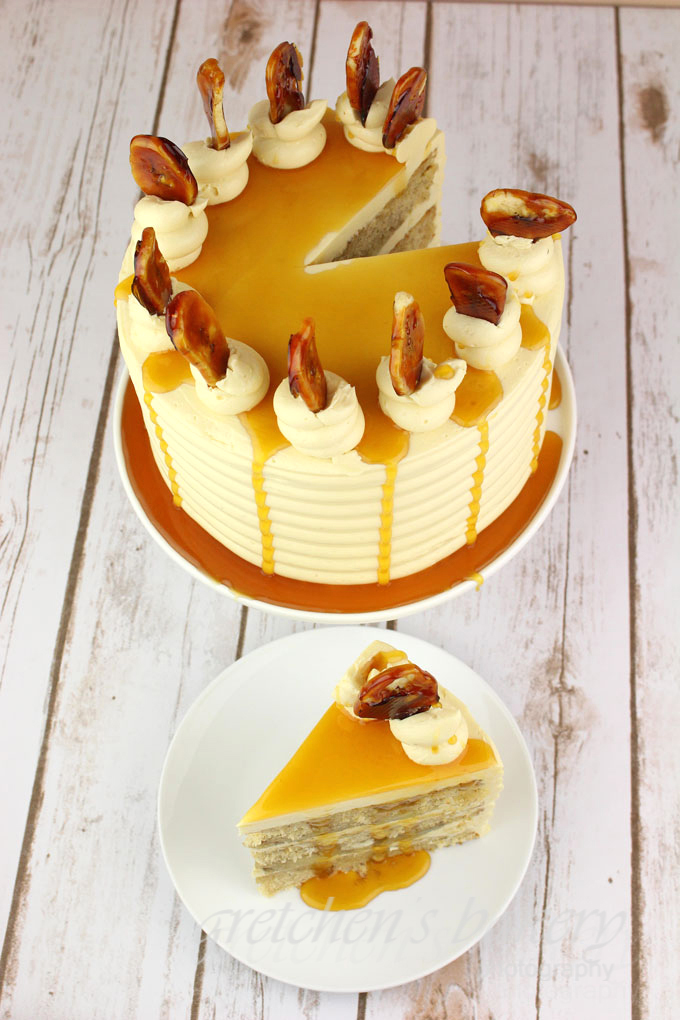 For more recipes with caramel click the links below!
Bananas Foster Cake
Prepare 3-
7" cake pans
(or 2-8" cake pans) with pan grease & parchment paper lining
Preheat the oven to 350°F
I understand not everyone can get the same Egg Replacers, specifically the FYH Vegan Egg. In which case you can use 4 Tbs Flax Meal and same amount of water - but the water must be hot to reconstitute the flax
Ingredients
For the Banana Cake Layers:
Vegan Butter 12 Tablespoons (170g)
Granulated Sugar 1¼ cup (250g)
Follow Your Heart Vegan Egg 4 Tablespoons **SEE NOTES IN TEXT ABOVE THIS RECIPE
Cold Water ¾ cup (177ml) **SEE NOTES ABOVE
Vanilla Extract 1 teaspoon (5ml)
Banana Puree 1 cup (from approx 2 medium bananas)
All Purpose Flour 2 cups (250g)
Baking Powder 1½ teaspoons
Salt ½ teaspoon
Ground Cinnamon 1 teaspoon
Ground Cardamon ½ teaspoon
For Carmel Banana Dip and Caramel Drip Sauce:
Granulated Sugar 1½ cup (300g)
Water ⅓ cup (80ml)
Vegan Butter 1 Tablespoon (14g)
Soy Milk at room temperature ¼ cup (60ml)
For the Caramelized Banana Filling:
2 Medium Bananas
Vegan Butter 2 Tablespoons (28g)
Light Brown Sugar 2 Tablespoons (28g)
Rum *optional 2 Tablespoons (30ml)
For the Rum - Caramel Buttercream:
½ Cup COLD Caramel Sauce reserved from above drip recipe
Rum Extract 2 teaspoons (10ml)
Banana Chips as needed for optional garnish
Instructions
For the Cake:
Combine the FYH Vegan Egg with the cold water and whisk smooth, add the vanilla extract
Cream the vegan butter with the sugar on medium to high speed until light & fluffy, about 5 minutes.
Meanwhile sift the flour with the baking powder, spices and salt
Add the vegan egg mixture to the creamed mixture and mix smooth
Add the sifted flour mixture while mixing on low speed until combined then add the banana puree and mix smooth
Divide the batter evenly in the pans and bake in a preheated 350°F oven for 30-35 minutes or until they are springy to the touch when you gently press the centers.
Cool completely while you prepare the caramel dip for the bananas and then the caramel drip sauce
For the Caramel Dip & Drip Sauce:
IN a medium heavy bottom sauce pot combine the sugar and water over medium to high heat and stir to dissolve the sugar, but do not stir once the mixture comes to a boil
Boil until the temperature reaches just under 300°F on an instant read thermometer or once you see the color start to change to a light amber.
Shock the pot in an ice water bath to stop the cooking then let it sit for about 5 minutes to cool down and thicken slightly
Dip the banana chips in the caramel then lay out on a silicon mat to set
At this point your caramel drip may start to harden, in which case return it to a low heat to melt the caramel then add 1 Tablespoon vegan butter and the room temperature soy milk, be careful as it may splatter, just whisk it out to a smooth sauce consistency
Cool completely before using in the buttercream recipe as follows (and the remaining will be the drip for the cake)
Next prepare the buttercream recipe (see video and recipe on Aquafaba Swiss Buttercream recipe post)
Add the last stage of mixing add in ½ cup of the reserved cooled caramel drip sauce from above recipe and then the rum extract
For the Caramelized Banana filling:
Melt the vegan butter with 1 Tablespoon of the brown sugar in a heavy bottom saute pan
Add the sliced bananas and fry until they are browned and then flip them over to cook the other side, sprinkle the other 1 Tbs brown sugar over top and cook until starting to caramelize.
Deglaze the pan with 2 Tbs rum *optional
Transfer to a tray to cool
Now you can assemble the cake as shown in the video tutorial.
Be sure to cake is chilled and the leftover caramel drip sauce is cooled before pouring over top.
Notes
Bananas Foster cake will stay fresh for up to 5 days in the refrigerator.
The bananas inside will not turn brown since air is what causes oxidation, but once the cake is cut the exposed banana filling may turn slightly. Use a piece of plastic wrap or parchment paper pressed directly against the cut side to prevent severe browning of the filling and drying of the cut cake.
Baked cake layers can be frozen
for up to 1 month wrapped well
3.5.3226