Whether you are a Pie lover or a Cake lover I've got you covered with the all in one dessert called the Pie Caken!
My first time making this it was known more commonly as a Cher-Pumple
Because it was a cherry pie baked into a pumpkin pie baked into an apple pie!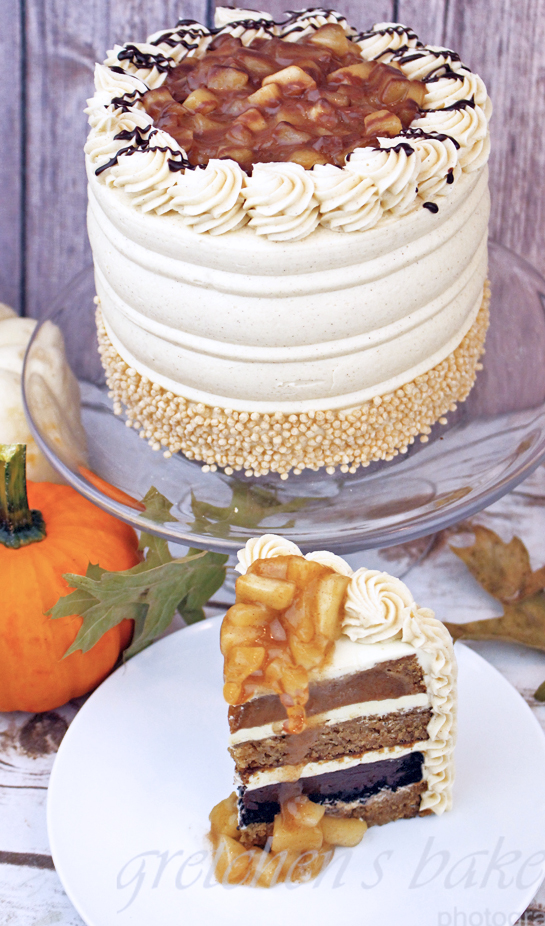 Well in my version for Pie Caken I'm not only baking pies but I'm baking them into cakes!
OK technically I'm not really doing exactly that….. because I found a work around
By baking everything separately and then building this "cake style" it's not only cleaner and easier to build but allows you to get more creative with the recipes you want to use
And the recipes I want to use are Chocolate Cream Pie, Pumpkin Pie and Apple Cake!
All put together with fall spiced buttercream, these three recipes work perfectly together
Not to mention they are my top three dessert recipes I would make every year for holiday dessert table anyway! Only now it's just all in one!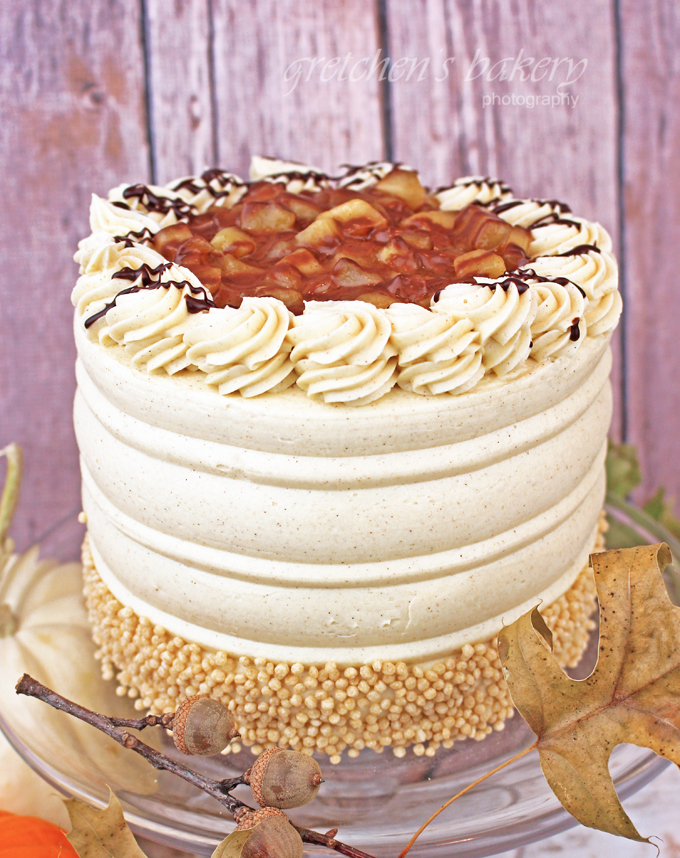 3 Reasons to Love Pie Caken
#1 This way is easier.
#2 This way is neater.
#3 You can get more creative with the recipes you want to use since they are all baked separately and then constructed and built into a final layer cake.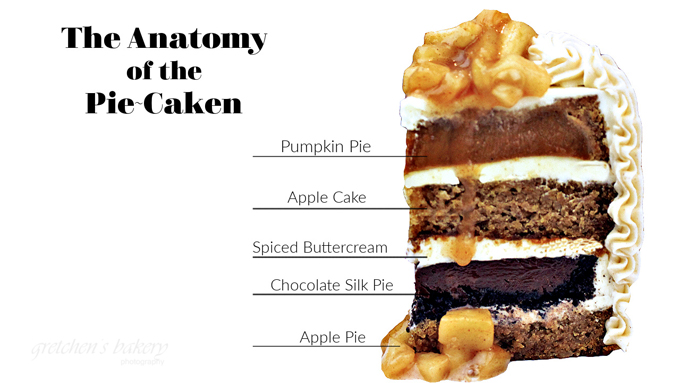 Homemade recipes for everything you need are linked below in the recipes section
Including my famous recipe for hot apple pie to pile on top!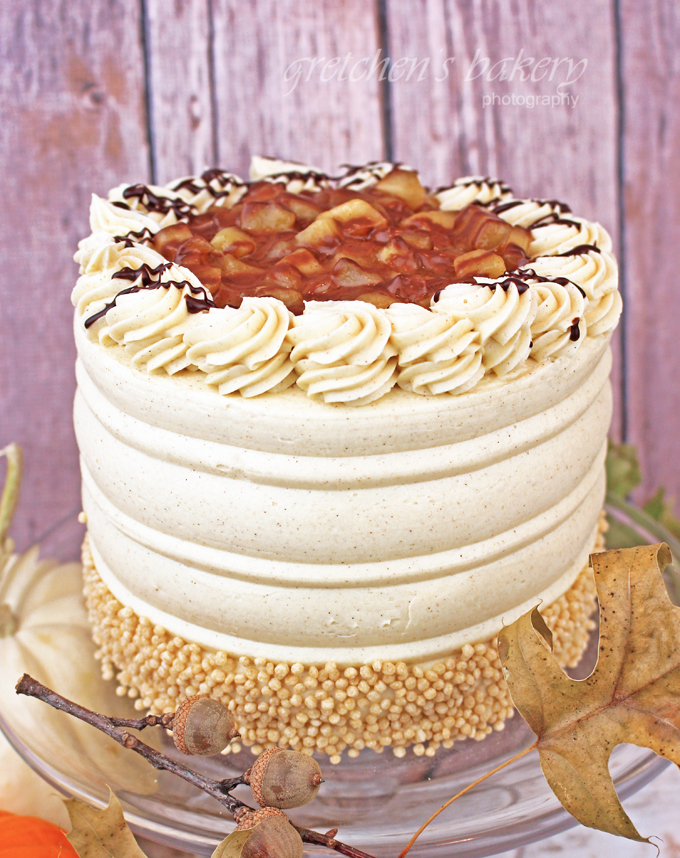 Notes for Success:
I would recommend a two day time period to prep and execute everything
As you will see in the video see I made my Pie Caken(s) into 2-finished 6 inch cakes, but if you prefer to make 1 larger 8″ cake, all the recipes below are the same
Just use 2- 8″ cake pans to bake the apple cake layers and the tart mold for the chocolate and pumpkin pie is going to be 6″ or 7″ whichever you have is fine
The recipe below lists all the recipes you will need with direct links to grab written printable forms.
Best to make the buttercream recipe ahead of time and leave at room temperature or refrigerate until needed.
American Buttercream holds up the best to added flavors as well as a heavy build such as the Pie Caken
Apple cake layers can be made a day ahead and wrapped loosely and refrigerated until you are ready to build.
The pies can also be made up to 3 days in advance as well as the apple filling.
Don't worry I have the full video tutorial with the step by step instructions on how to make this cake!
CLICK HERE FOR THE FULL YOUTUBE VIDEO TUTORIAL FOR HOW TO MAKE THIS CAKE!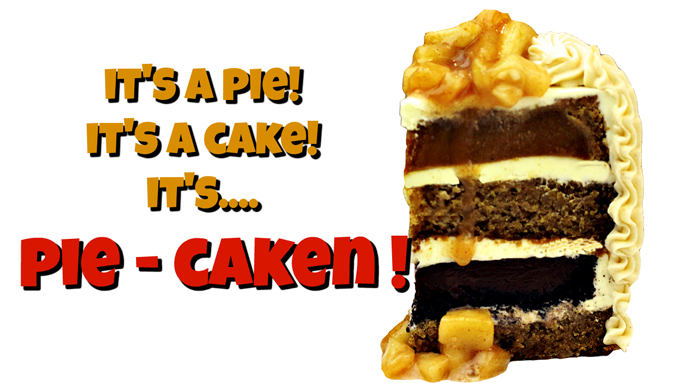 Yield: serves 12
Pie Caken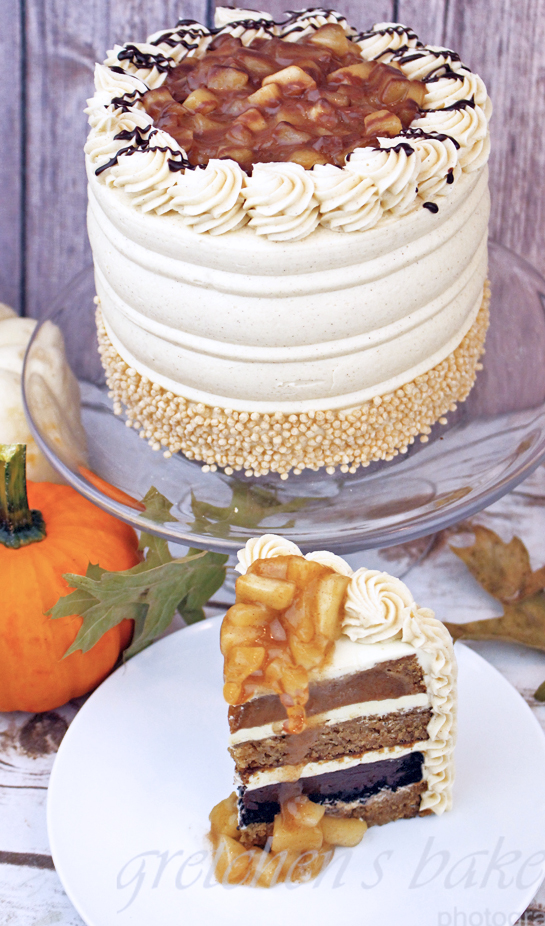 Total Time
1 day
35 minutes
Ingredients
Apple cake Recipe:
Vegetable Oil ½ cup (118ml)
Granulated Sugar 1/3 cup (66g)
Light Brown Sugar 1/3 cup (68g)
Cinnamon 1 teaspoon
Nutmeg ½ teaspoon
Cloves pinch
Ground Ginger ¼ teaspoon
Salt ¼ teaspoon
Flax Meal 2 Tablespoons (16g)
Hot Water 6 Tablespoons (90ml)
Vanilla Extract 1 teaspoon (5ml)
Baking Soda ¾ teaspoon
Baking Powder ¾ teaspoon
All Purpose Flour 1 cup + 2 Tbs (140g)
Shredded Apples from 1 medium apple, approximately 1 cup packed (125g)
Graham Cracker Crust For Pumpkin Pie
Graham Crackers 9 sheets (approx 1½ cups ground crumbs)
Melted Vegan Butter 5 Tablespoons (70g)
Chocolate Cookie Crust For Chocolate Silk Pie
Sandwich cookie (with the fillings) 7 ounces (approx 1½ cup ground crumbs)
Melted Vegan Butter 4 Tbs (56g)
Other Recipes
Instructions
For the Mini Pies:
Grind the cookies in a food processor with the melted vegan butter and then press into the bottom and sides of an UN-greased tart mold with a removable bottom.
Prepare the pumpkin pie & vegan ganache as per the instructions on those blog posts/recipes and pour into the prepared tart molds with the graham cracker crust.
Bake the Pumpkin Pies for approx 25 minutes and then refrigerate for at least 5 hours to cool & set.
The vegan ganache gets poured into the chocolate crusts and refrigerated for at least 4 hours to set.
Meanwhile prepare the apple cake: Peel, core and then shred the apples
Combine the ground flax with the hot water and whisk smooth, set aside for 5 minutes to thicken
In a large mixing bowl combine both sugars with the salt, oil and vanilla & whisk smooth.
Add the thickened flax paste and whisk smooth
Sift together the flour, salt, all the spices with the baking soda & baking powder and add to the sugar mixture
Whisk to a smooth batter
Add the shredded apples and mix well.
Pour batter into prepared cake pans and bake immediately in preheated 350° F oven.
Cake layers will take approximately 25 -35 minutes or when a toothpick inserted yields moist crumbs, or the best way to check is if it is springy to the touch when you gently press the center
Cool in the pans and then flip into a wire rack to cool the rest of the way.
Prepare the Buttercream Recipe and add the pumpkin pie spice last
Prepare the Apple Filling recipe & cool completely before using as the topping on the cake.
Notes
Pie-Caken must be refrigerated at all times, and will stay fresh for up to 7 days covered loosely to prevent drying