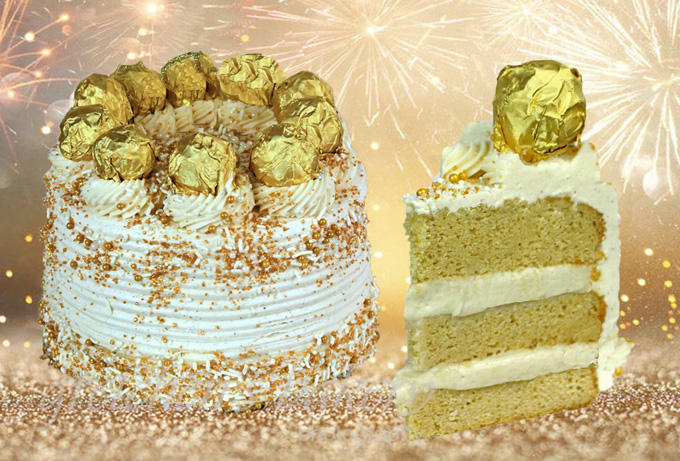 Well, we did it.
We've all weathered 2020.
Let's happily kick this year out with a smile and ring in 2021 with some class.
This Vegan Egg Nog Cake is a sure way to do just that!
Gold trimmed and perfectly spiked with a punch of rum & brandy in every bite for that authentic Egg Nog taste, all layered up into one spectacular cake!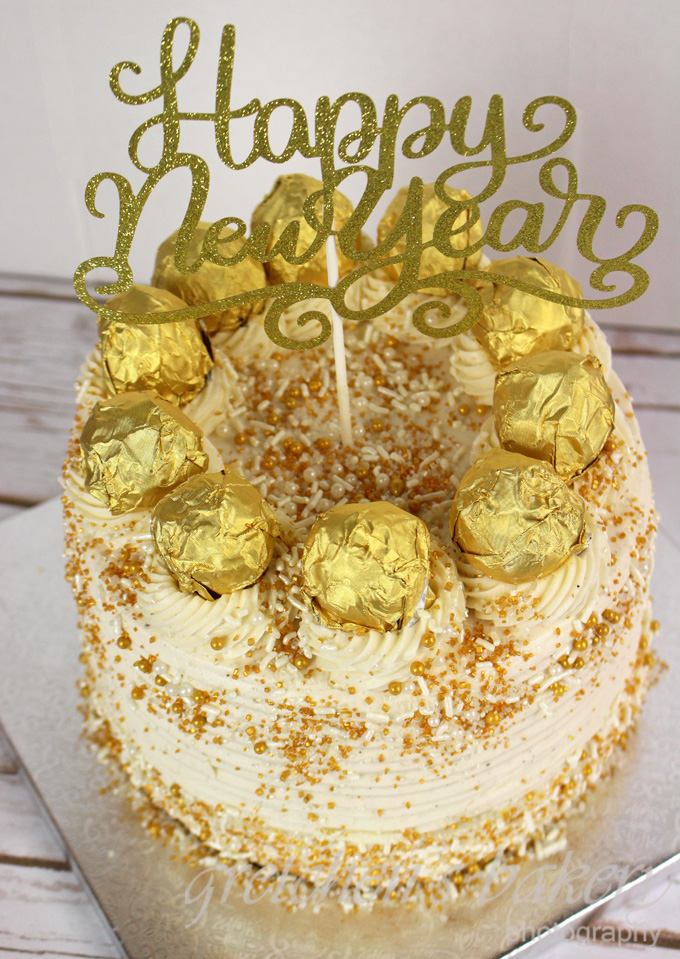 I'm finally showing you all how to make my most acclaimed recipe in my BakeBook from 2018 Modern Vegan Baking~ The Super Easy Vanilla Cake recipe!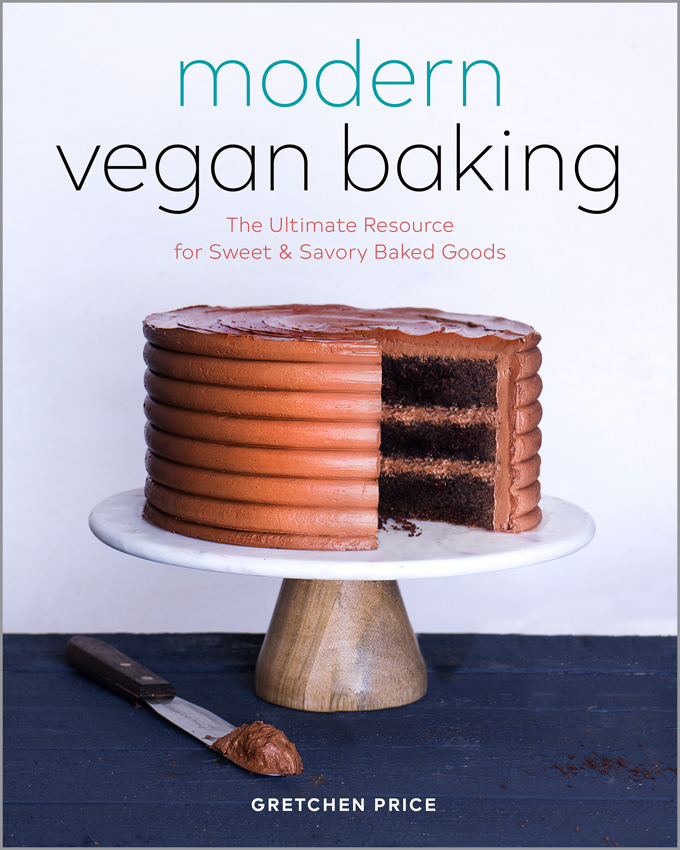 I'm not sure why it took me so long to show you all this particular cake recipe.
I guess because I was having a 3 year long love affair with my Best Vegan Vanilla Cake recipe from here on my website.
But with a year like we've all had I need the easiest possible EVERYTHING in my life, and this Super Easy Vanilla Cake recipe from my book is exactly that!
It's a one bowl mix that literally takes minutes to throw together, exactly 30 minutes to bake and the egg nog custard and buttercream can be whipped up while you wait!
By adding brandy & rum to my base recipe for vanilla custard, this cake quickly transforms into a New Year's Eve celebration cake to remember!
All sparkly & adorned in gold with a cinnamon & nutmeg spiced buttercream that's also been spiked up with a little bit of holiday cheer!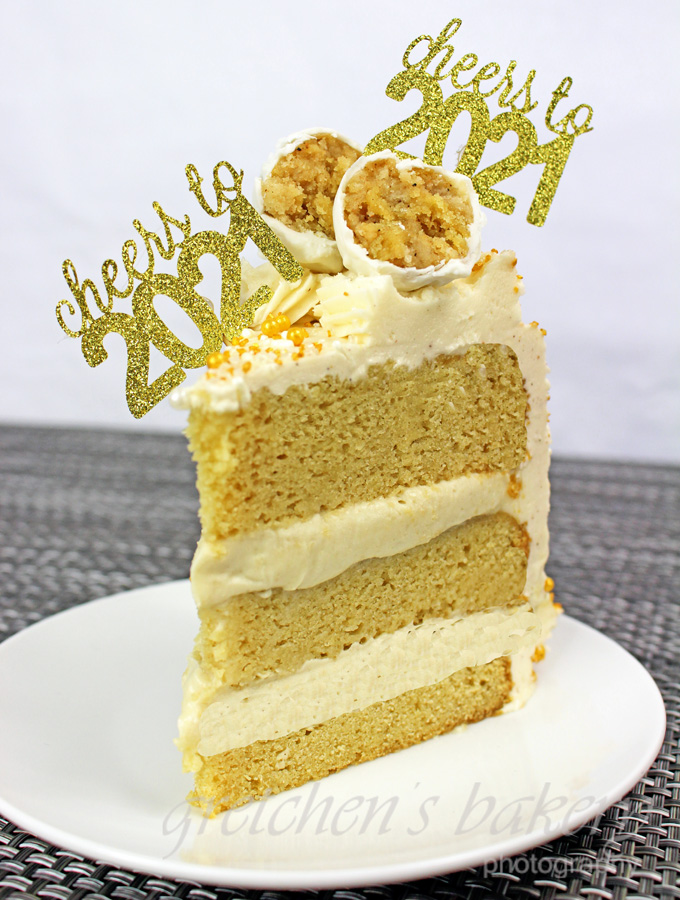 The combination of these three very easy recipes will have you almost wishing the holidays would stick around just a little but longer, because I have a feeling this cake won't last until tomorrow!
Oh and don't forget the Egg Nog Cake Balls!
I mean, in all honestly you could just make those and still be the hit of 2021!
All you need is an extra layer of cake and a spot of buttercream; some cinnamon, nutmeg, clove & that leftover brandy & rum you have yourself a garnish that can also stand alone as dessert!
Completely optional addition to this cake but well worth the tiny effort it takes to make!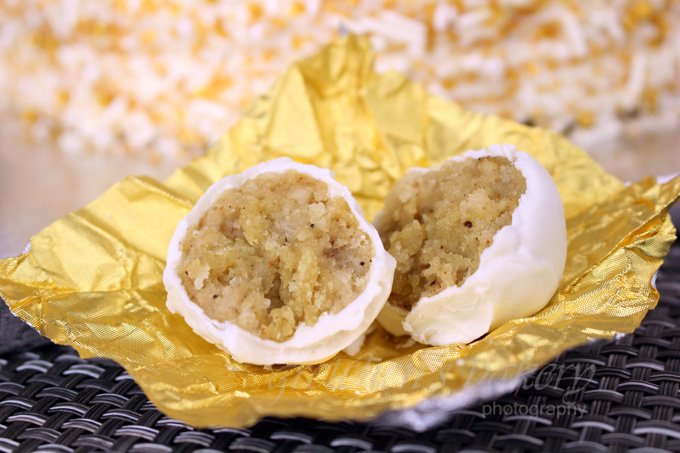 As I mentioned in my video introduction for this recipe, I sort of had a midnight moment where I got up out of bed, decided to dis-assemble this entire cake, pull out the custard recipe and mix it with whipped cream for a more bavarian cream style filling as opposed to just the custard that I originally intended.
Unfortunately I did not catch any of that midnight mania on video, but I will list below the 2 variations for the standard egg nog custard (*as shown in the video) or the lighter whipped cream addition which is simply folding in 1½ cups of whipped cream into the cooled prepared custard as listed below.
You can choose whatever filling you prefer as well as which cake style you may like better; since remember I am sharing a new recipe here which is more dense like a pound cake versus my original vanilla cake recipe you may already be familiar with.
The buttercream is my American style buttercream but don't forget I have 5 recipes to choose from here on my website!
Just be careful with the Swiss & Italian style buttercreams when you are adding more liquids (here we are using rum & brandy) it could have a tendency to make the emulsion break!
Which is often why I stick to the hearty, stable & delicious American style version!
Plus I'm super lazy!
Vegan Egg Nog Cake
Ingredients
For the cake recipe
Soy Milk 1½ cups (355ml)
White Vinegar 1½ Tablespoons
Vegan Butter ½ cup (113g)
Coconut Oil *Or any vegetable oil of your choice ½ cup (117ml)
Granulated Sugar 1¾ cup (350g)
Salt ½ teaspoon
Vanilla Extract 2 teaspoons (10ml)
All Purpose Flour 3 cups (375g)
Baking Soda 2 teaspoons
For the egg nog buttercream
1 recipe Buttercream of your choice *I recommend the American Style Buttercream *see note above in the text of the article
Ground Cinnamon ½ teaspoon
Nutmeg ¼ teaspoon
Cloves pinch
Brandy 1½ Tablespoons
Rum 1½ Tablespoons
For the egg nog custard:
Soy Milk 2¼ cup (533ml)
Granulated Sugar ¾ cup (150g)
Cornstarch 6 Tablespoons (50g)
Turmeric ⅛ teaspoon *optional for color
Vegan Butter 1½ Tablespoons (21g)
Vanilla Extract 1 teaspoon (5ml)
Brandy 1½ Tablespoons
Rum 1½ Tablespoons
*For the Bavarian Cream variation
1 cup SILK Heavy Whipping Cream *or 1 cup whipped cream of your choice
Instructions
Preheat the oven to 350°F
Prepare your cake pans with pan grease and a parchment paper liner.
First combine the coconut oil (*or vegetable oil of your choice) with the vegan butter together in a small sauce pot and gently melt over a medium heat.
Combine the soy milk with the vinegar and let stand for 5 minutes to thicken.
Add the vanilla extract to that and then add the melted vegan butter & coconut oil combination to the thickened milk mixture
Sift all the dry ingredients together in a large mixing bowl, including the sugar.
Pour the wet ingredients in and whisk smooth
Divide the batter evenly between the 3-7" pans and bake immediately in the preheated oven for approximately 27-30 minutes or when you gently press the centers they are springy to the touch.
Cool in the pans until you can safely touch without burning yourself then turn the cakes out onto a cooling rack to cool the rest of the way.
Prepare the buttercream recipe of your choice *I recommend the American Style Buttercream as per the recipe on that blog post/recipe and at the last stage of mixing add the cinnamon, nutmeg, cloves, rum & brandy.
Set aside.
Once the cakes are completely cooled, begin to prepare the custard by combining the sugar & cornstarch with the soy milk and turmeric *if using* in a medium sauce pot, bring to a boil while stirring constantly.
Once the mixture boils, remove from the heat and add the vegan butter, vanilla extract, rum & brandy and whisk smooth.
If you are making the bavarian cream style filling, be sure to cool the custard all the way before folding in the whipped coconut cream.
Build the cake as shown in the video