Gingersnap oh gingersnap…How do I love gingersnaps?
Well let's just say 40 cookies came out of the oven 10 minutes ago and there are only 35 left, and I'm the only one home right now.
Wait! They are small!
What!? it's like equal to 1 cookie really!
Don't judge me until you try for yourself! Then let's see who can only eat one!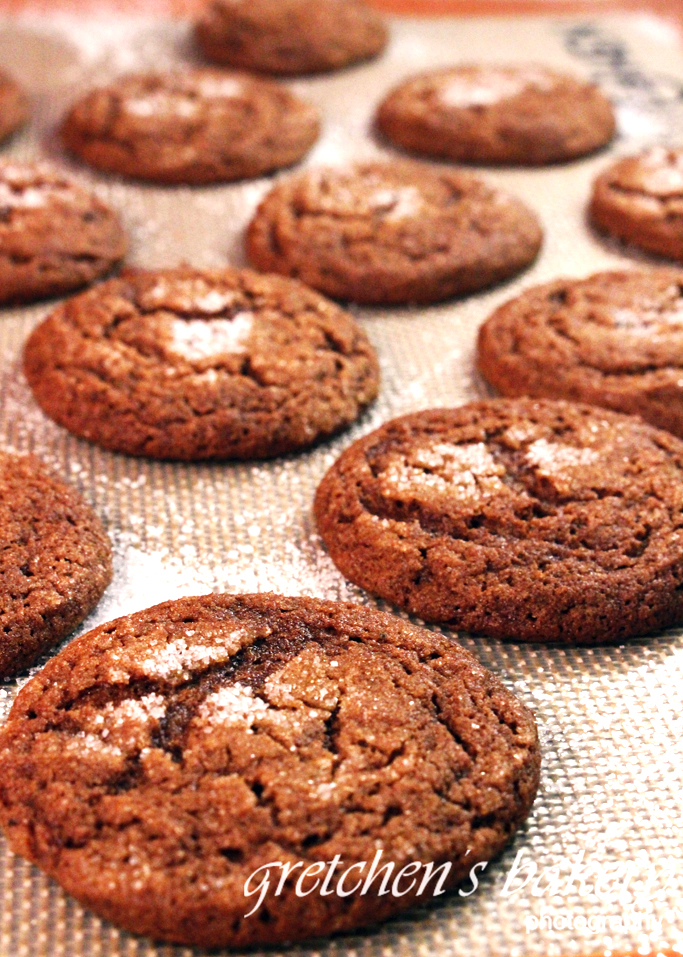 Fall flavors are hitting the scene and fast!
And I am gearing up for all my Pumpkin Desserts.
Who can guess what recipe uses a Gingersnap Cookie crust? Yes my friends Pumpkin Cheesecake is coming.
So be sure to make this recipe in it's entirety since you will eat a good portion of them, then the Pumpkin Cheesecake with Gingersnap Cookie Crust gets another grand portion and well….cheesecake or no cheesecake you will love love love this cookie!
They are crispy on the outside and chewy molasses-y on the inside!
Their characteristic crinkled tops and sugary coating is enough to make you welcome the snow!
Ok, maybe I've gone too far, but you catch my drift! (get it? Drift? Snow drift? LOL ~ Ok ok the sugar has officially seeped into my brain)
Oh and there is not video for this recipe, but it's just a simple creaming method cookie recipe

Vegan Gingersnap Cookies
Serves:
approx 40- ½ounce cookies
Ingredients
Solid Vegetable Shortening ¾ cup (150g)
Dark Brown Sugar 1 cup (210g)
Molasses ¼ cup (60ml) (85g)
Vanilla Extract 1 teaspoon (5ml)
Ground Flax Seeds 1 tablespoon (8g)
Hot Water 3 Tablespoons (45ml)
All Purpose Flour 2 cups (260g)
Unsweetened Cocoa Powder 1 Tablespoon (6g)
Baking Soda 2 teaspoons (10g)
Ground Cinnamon ½ teaspoon
Ground Cloves ¼ teaspoon
Ground Ginger 1 teaspoon
Instructions
Combine ground flax seed with hot water and whisk smooth
Let stand for at least 5 minutes or up to 30 minutes to thicken to a paste
Cream the shortening with the sugar until light and fluffy about 5 minutes
Add the flax "egg" and mix well
Add the molasses and mix well
Sift together the flour, cocoa powder, baking soda and spices
Add the dry ingredients to the creamed mixture all at once and cream to a smooth dough
Scoop the dough with a #100 Scoop onto a parchment lined sheet pan and sprinkle each dough ball with granulated or course sugar
Start preheating the oven to 350°F and place the scooped cookies into the refrigerator .
Once the oven comes to temperature, bake for 12 minutes