The pumpkin cake recipe that just won't quit! With so many variations possible from one easy recipe
Cranberry Stuffed Pumpkin Cupcakes with white chocolate buttercream icing!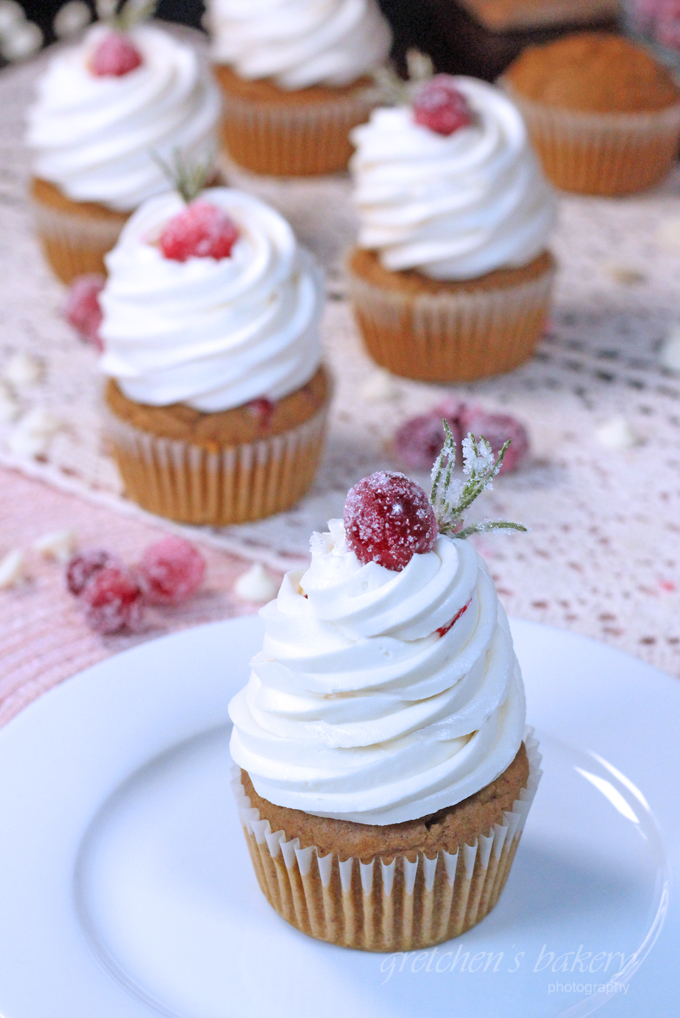 Cranberry and white chocolate go perfect together because white chocolate can be way too sweet for me
So that sweetness gets balanced by the tart cranberries!
And my cranberry compote recipe is always a winner and I make it every year for Thanksgiving
But mostly I like to stuff it into my cakes every chance I get!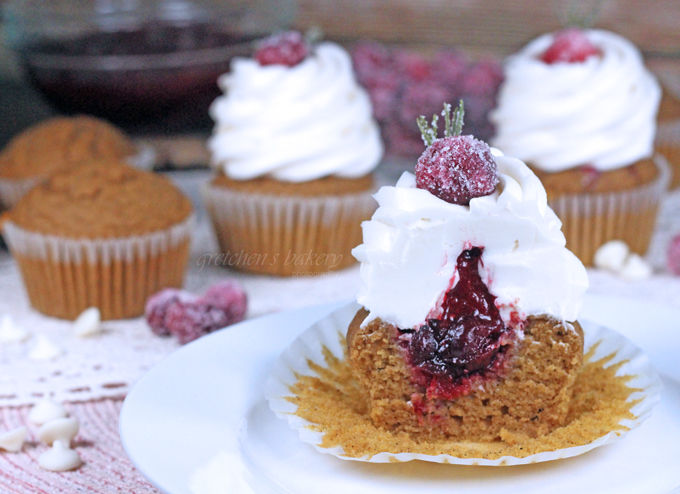 Pumpkin cupcakes are made from my best pumpkin cake recipe
Which happens to be a one bowl mix and then white chocolate is added to the buttercream recipe at the last stage of mixing
The candied cranberries and rosemary garnish are optional but so pretty and completely edible too!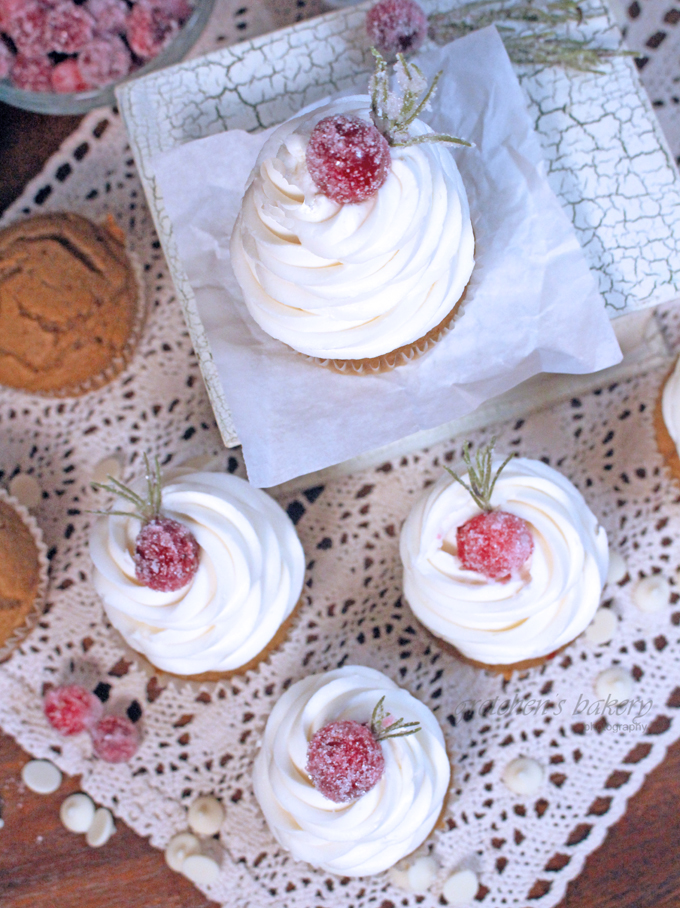 CLICK HERE FOR THE FULL YOUTUBE VIDEO TUTORIAL FOR HOW TO MAKE THIS CUPCAKE!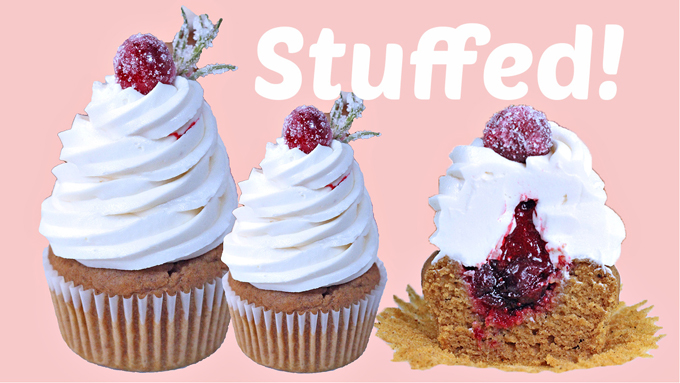 For more awesome recipes with cranberry click the links below!
Cranberry Apple Strudel Recipe
Notes for Success:
I am using my American Style Buttercream here but because I am adding in the white chocolate I took out approximately 1½ cups of the confectioners sugar so it wouldn't be so intensely sweet
You can use any buttercream recipe you like the best and adjust the addition of vegan white chocolate according to your taste, just be sure to add it in cooled at the last stage of mixing
The cranberry compote can be made up to a week ahead of time and stored in the refrigerator until needed
Candied cranberries makes more than you need but they are so good to snack on and will store in the refrigerator for up to a week and in the freezer for one month
CLICK HERE FOR MORE INFO ON RE-WHIPPING BUTTERCREAM
Yield: 18
Cranberry Pumpkin Cupcakes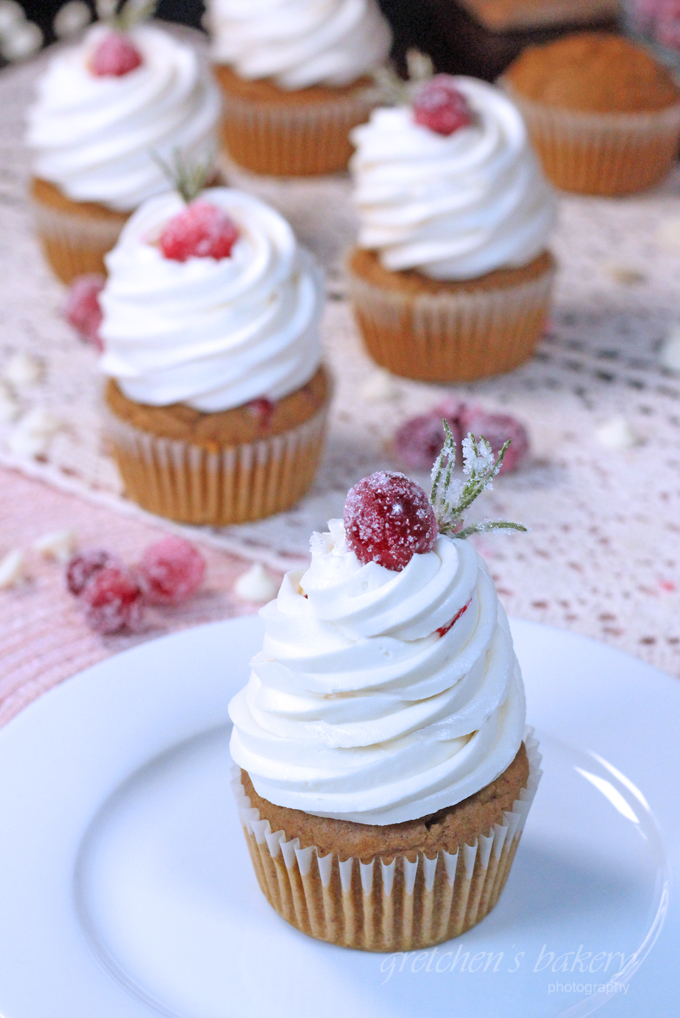 Total Time
2 hours
25 minutes
Ingredients
For the Pumpkin Cupcakes
Vegetable Oil 12 Tablespoons (180ml)
Light Brown Sugar 1 cup (210g)
Plant Milk *I use soy 1½ cup (354ml)
Vinegar 2 teaspoons (10ml)
Canned Pumpkin 1 cup (250g)
Salt 1 teaspoon
All Purpose Flour 1 cup (125g)
Cake Flour 2 cup (240g)
Baking Soda 2 teaspoon
Ground Cinnamon 1 teaspoon
Ground Ginger 1 teaspoon
Ground Cardamom ½ teaspoon
Ground Cloves pinch
Ground Nutmeg ¼ teaspoon
For the Cranberry Compote
1 -16ounce Bag Cranberries (fresh or frozen) (454g)
Granulated Sugar 1½ cup (300g)
Cranberry Juice or Cranberry Moscato Wine or White Wine 1 cup (237ml)
Vanilla Extract 2 teaspoons
Star Anise Pods 4
Cinnamon 1 teaspoon
Orange Zest and Juice from 1 large orange
For the White Chocolate Buttercream
1 cup Vegan White Chocolate
For the Candied Cranberries & Rosemary *optional
¾ cup water
¾ cup sugar + additional sugar for tossing them
2 cups cranberries
Springs of rosemary as needed *washed and picked of the best sprigs
Instructions
First prepare the cake batter
Preheat your oven to 350°F
Line your cupcake pan with paper liners
Combine the vinegar with the soy milk (soy milk is the only milk that will thicken with vinegar, but you can use another plant milk of your choice)
In a large mixing bowl combine the oil, brown sugar, salt, pumpkin, and then the thickened vinegar/plant milk and whisk to combine well
Sift the flour with all the spices and the baking soda and add it all at once to the wet mixture in the bowl
Whisk smooth
Scoop into your cupcake pans filling 3/4 full
Bake immediately in the preheated 350°F oven for approximately 25-30 minutes or when a toothpick inserted into the center comes out clean
Cool while you prepare the cranberry compote
In a heavy bottom sauce pot, combine all the liquids with the sugar and spices and bring to a boil over high heat.
Squeeze in the juice of that orange and the zest
Add the cranberries and then return to a boil.
Lower the temperature to a simmer for 15 -20 minutes, the sauce will begin to thicken and the berries will begin to pop.
Discard the anise pods and add the vanilla extract, then with a stick blender (or carefully transfer to a regular blender) puree to desired consistency. I like to leave my chunky.
Next prepare the buttercream recipe of your choice & at the last stage of mixing add in the melted & cooled white chocolate whip smooth
Prepare the candied cranberries & rosemary by combing the sugar & water together in a medium sauce pot and bring to a boil, boil for 3 minutes them remove from the heat
Add the cranberries & rosemary and leave them in for about 5 minutes to steep
Drain and then toss the cranberries & rosemary in a bowl of sugar then shake off the excess and place on a parchment lined sheet pan to dry for about an hour or overnight
Hollow out the cooled cupcakes and fill them up with cooled cranberry compote
Ice with white chocolate buttercream and garnish with candied cranberries and rosemary
Notes
Cranberry Stuffed Pumpkin Cupcakes can be kept at a cool room temperature for 2 days, but may need to be refrigerated to keep the buttercream from getting too soft.

Refrigerate for up to 1 week but bring to room temperature before serving.
3.5.3251