When there's vegan rugelach in the house you better hide them from me because I will eat them all!
One is the Chocolate Raspberry and the other is filled with Poppy seed spread.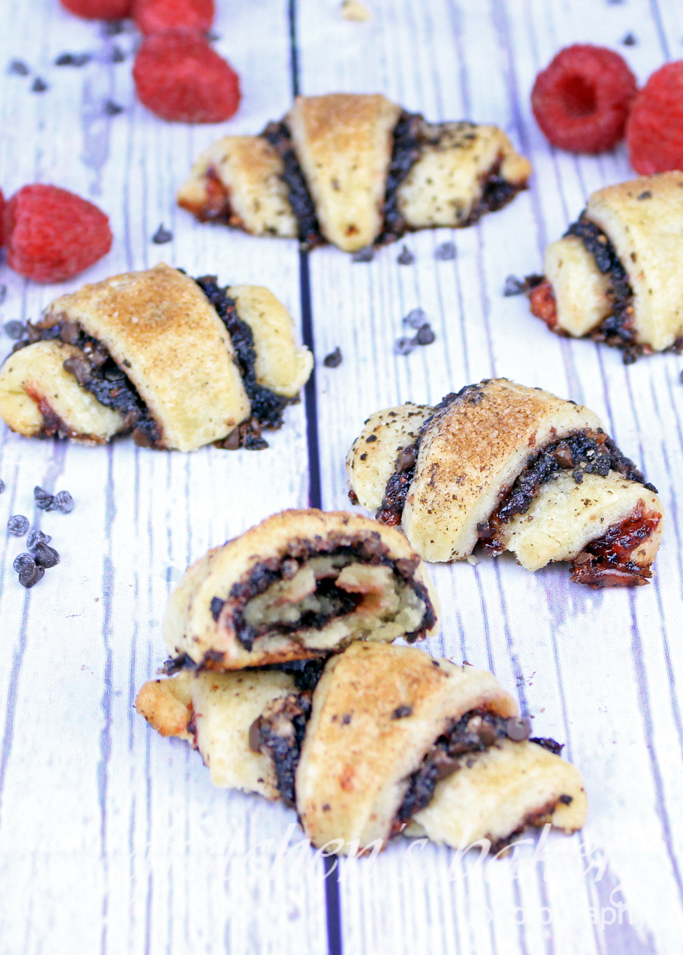 The poppy seed filled ones are my all time favorite even over the chocolate!
I can eat all the poppy seed filling right out of the can!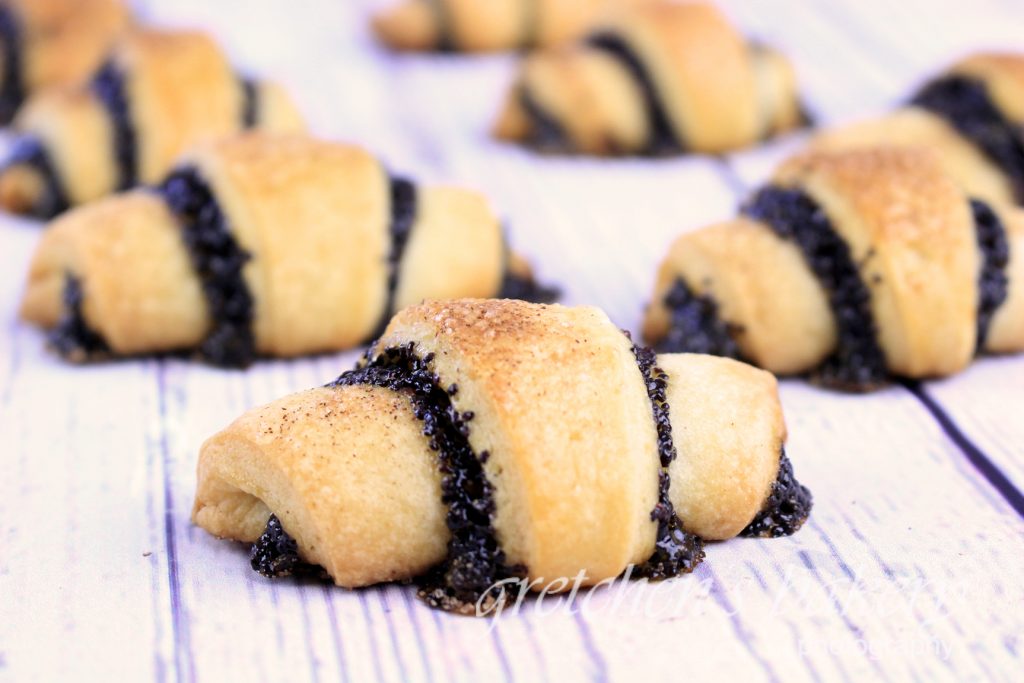 If you have never worked with Rugelach dough you are in for a treat.
It is super silky and really easy to work with.
The cream cheese in the dough makes it so soft and actually it is what makes this dough so unique.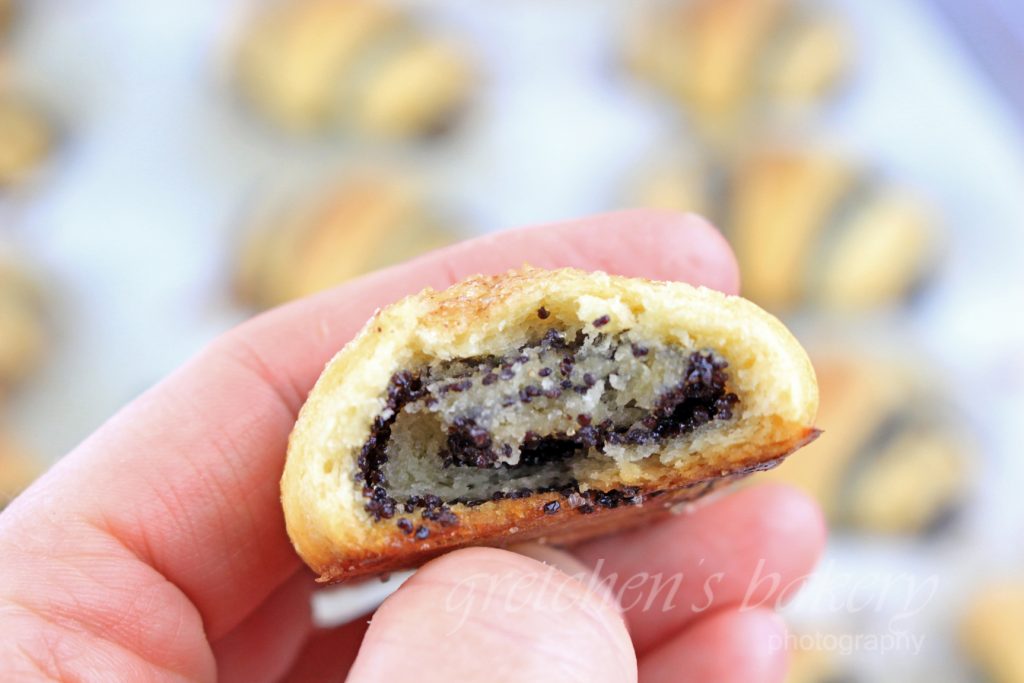 Check out how easy it is to make them and don't forget you can fill these cookies with anything you prefer!
I've also made them into Pecan Pie filled Rugelach for a holiday hit!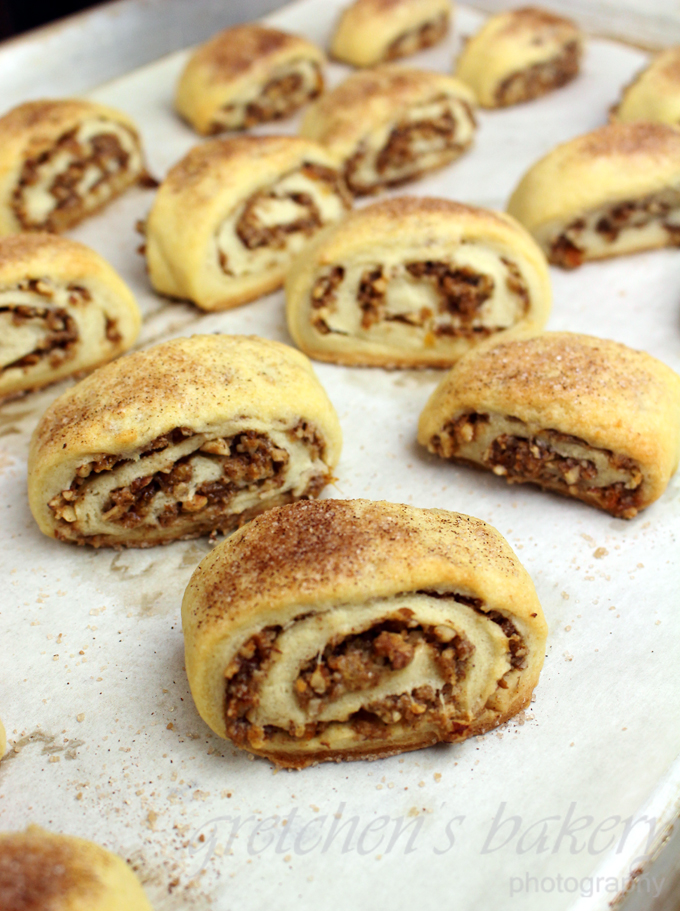 Notes for Success:
The vegan lactic acid is an optional ingredient that I use when I am working with vegan cream cheese to give it that signature tang of regular cream cheese
I use it in many of my recipes calling for cream cheese so you won't be sorry to grab a bag!
Silicone baking mat is recommended for the raspberry cookies since the jam will seep out slightly upon baking making it nearly impossible to get the cookies off the parchment paper
The original recipe for this cookie dough from my past life called for egg yolks which I replaced with Vegan Egg by Follow Your Heart.
Not everyone can get the same products so I also tested it with Bob's Red Mill with excellent results.
Simply substitute it in your favorite egg replacer in the same quantity as listed below for the equivalent of two eggs
I only use Tofutti Cream Cheese for my BAKED recipes (*not sponsored) I've not had success with any other brand in BAKED recipes
However more recently some of my viewers have commented on some of those other brands now seem to work in baked recipes, noting having success with Violife
CLICK HERE FOR THE YOUTUBE VIDEO TUTORIAL FOR HOW TO MAKE THIS COOKIE!
Yield: 48 cookies
Chocolate Raspberry Rugelach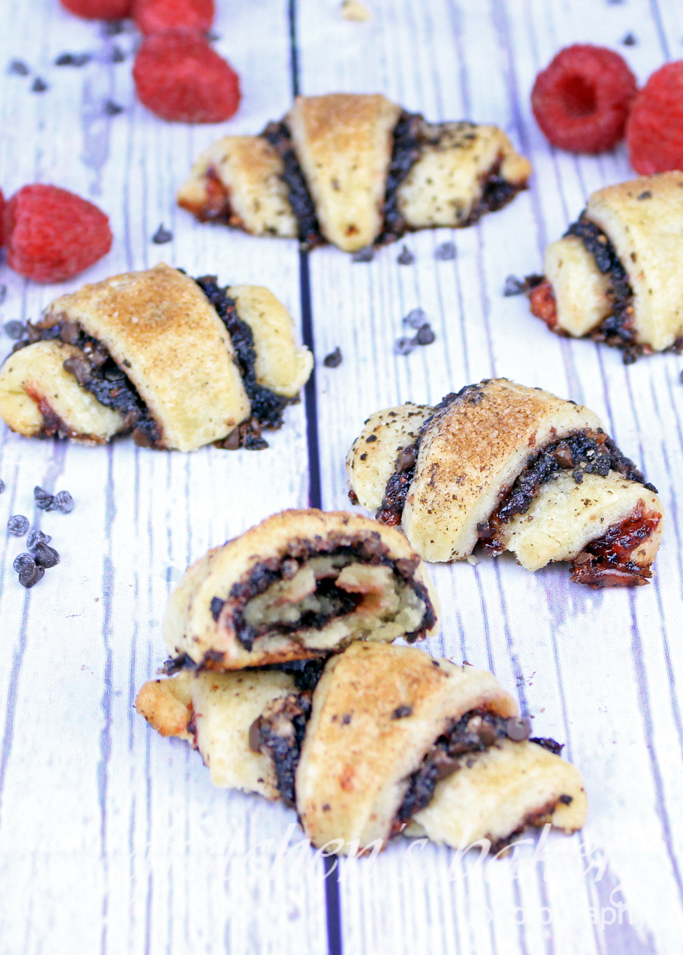 Total Time
4 hours
35 minutes
Ingredients
All Purpose Flour 2½ cup (312g)
Baking Powder ½ teaspoon
Salt pinch
Vegan Butter 1 cup (226g)
Vegan Cream Cheese 8 ounce package (226g) *see notes
Vegan Lactic Acid *optional ¼ teaspoon
Granulated Sugar ½ cup
Vegan Egg by FYH 2 Tablespoons (12g) *see notes
Cold Water ¼ cup (60ml)
Vanilla Extract 1 teaspoon (5ml)
Raspberry Jam 1½ cup
Mini Vegan Chocolate Chips ¾ cup
Vegan Chocolate Cookies crushed or cake crumbs 6 Tablespoons *optional
Aquafaba for brushing the cookies before baking
Cinnamon Sugar for sprinkling
Instructions
Combine the vegan egg with the cold water and whisk smooth then add the vanilla extract to that
Cream the softened vegan butter with the sugar with an electric mixer using the paddle attachment (or by hand) until light & fluffy
Add the vegan cream cheese and mix just until smooth and combined well
Add the vegan egg mixture to the creamed butter mixture and mix well, scrape the bottom and sides of the bowl for an even mix
Sift the flour with the baking powder then add it all at once to the mixer and mix on low speed to combine.
Wrap the dough into 3 separate equal discs (rounds) and refrigerate for at least 2 hours or overnight.
Once the dough has relaxed and is chilled, knead it lightly on a floured surface to form a round disc then roll it out to 12" diameter
Spread with about ½ cup of the raspberry jam then sprinkle with about ¼ cup of the mini chips and 2 Tbs of crushed cookies or cake crumbs
Cut the dough circle first by quartering the entire piece (like you are cutting a pie), then each quarter gets cut into 4 pieces for a total of 16 wedges
Roll up each wedge from the fat edge into the center as shown in the video
Place the cookies on a silicone baking mat or parchment paper on a sheet pan, brush with aquafaba then sprinkle with cinnamon sugar and bake in a preheated 375°F oven for 30-35 minutes until golden browned
Notes
Store cookies in an airtight container for up to 2 weeks at room temperature
Freeze for up to 2 months