Billionaire Banana Pudding Cake is exactly what you would expect
If you love Banana Pudding you are going to love this one!
Fluffy caramel cake and vanilla pudding with fresh bananas bursting in every bite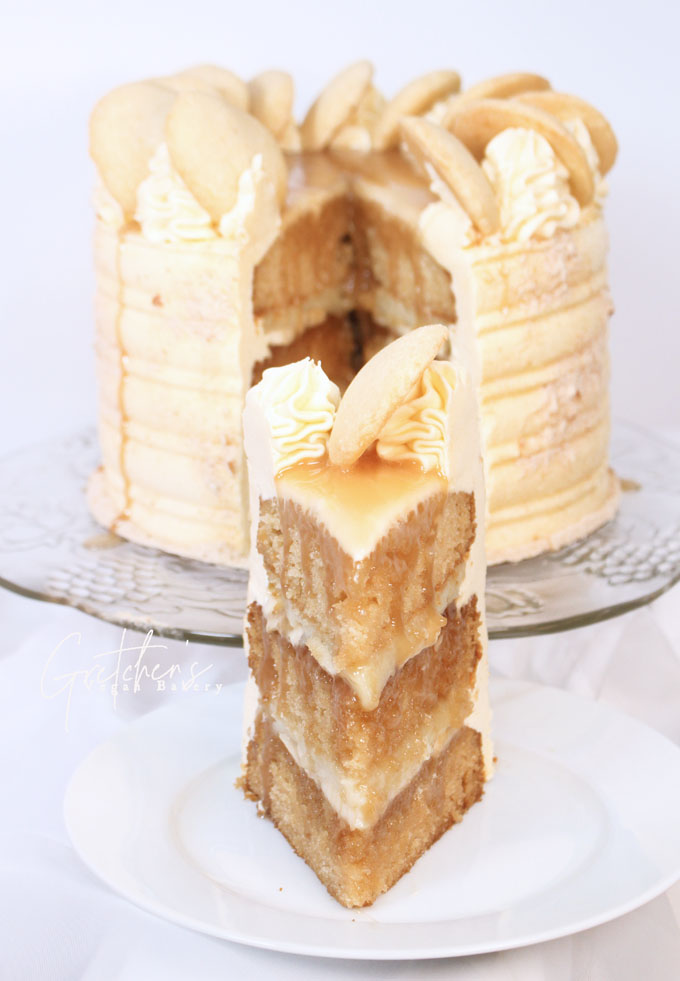 The billionaire addition is a layer of caramel as well as in the cake sponge itself!
I love me some caramel any chance I can get so for me this was a total win!
A perfect combination of flavors with the vanilla and banana of traditional Banana Pudding Cake and silky caramel buttercream icing seals the deal!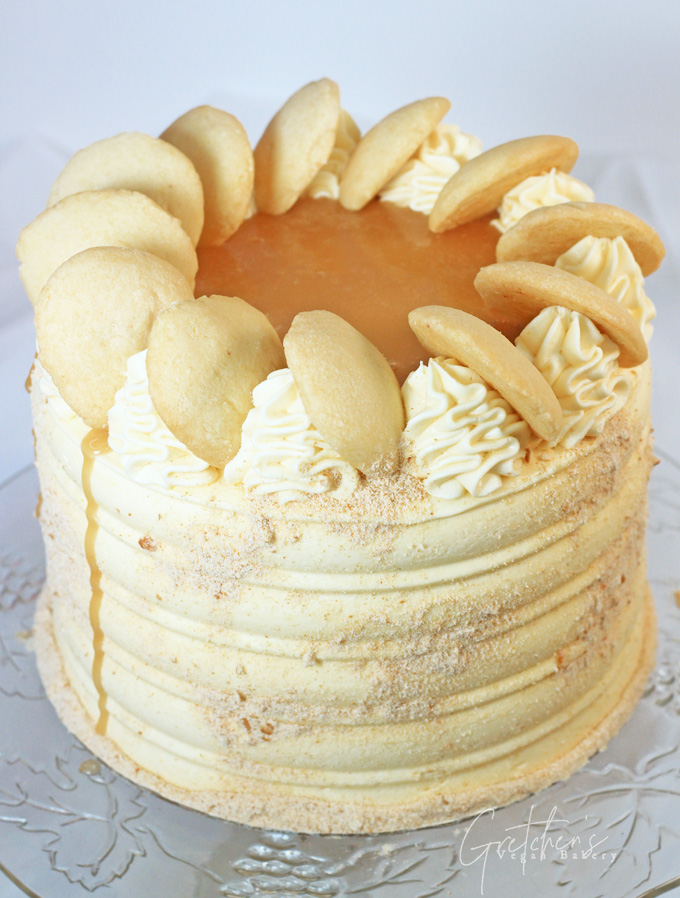 Nilla Wafers are the signature touch in every traditional banana pudding recipe
But unfortunately they are definitely not vegan so I had to create my own recipe first!
It's a really simple creaming method recipe with only four ingredients
But of course the cookies are simply added garnish and not completely necessary for this cake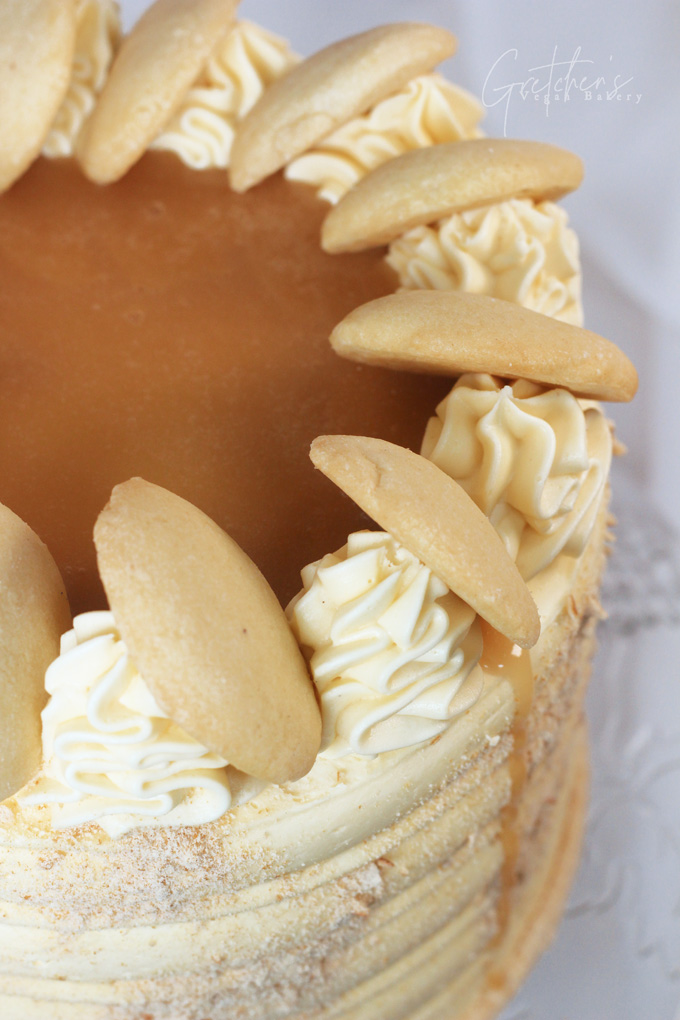 CLICK HERE TO GO GRAB THE NILLA WAFERS RECIPE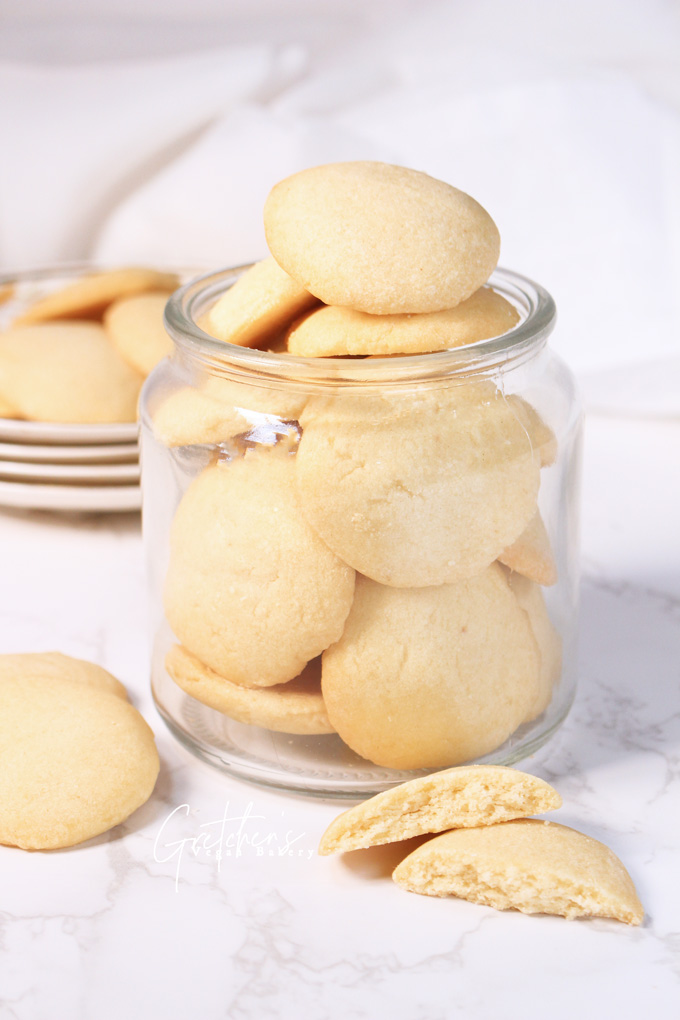 This Banana Pudding Cake is a building on recipes project
Which simply means we have to made a few things in advance to make your life easier the day you want to build this cake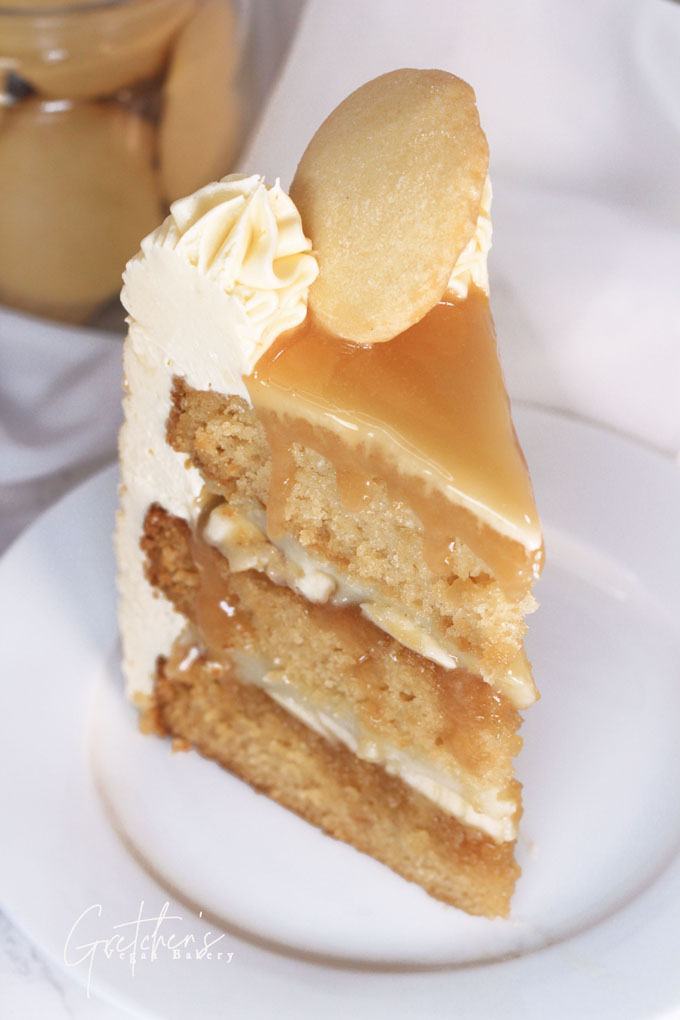 The caramel recipe can be made as far as a week ahead of time!
Honestly if you are not a fan of caramel you can totally leave it out of this recipe altogether!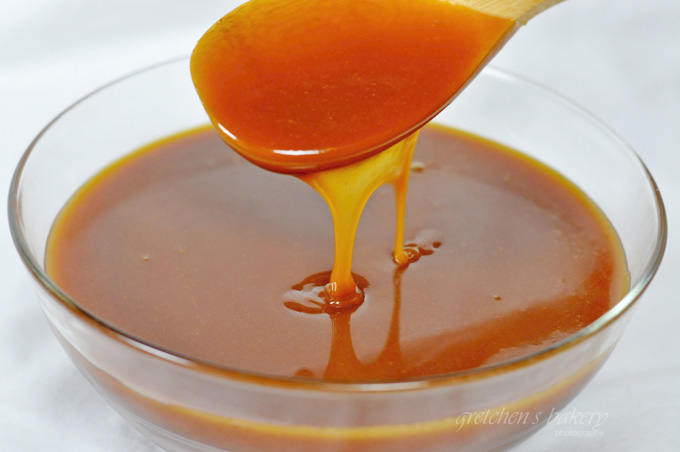 Notes for Success:
Caramel Cake layers can be baked and refrigerated for a couple days as long as they are wrapped well to prevent drying
You can also freeze the cake layers for up to a month!
I am using a combination of cake flour and all purpose flour in the cake recipe, but if you have trouble getting cake flour you may use all ~all purpose flour instead, just take out ¼ cup of the total amount of flour
CLICK HERE FOR MORE ABOUT CAKE FLOUR
Prepare the custard on the day you are ready to build the cake though, so the custard is able to set more firmly INSIDE the cake, rather than scooping it into the cake later
I almost always have tubs full of buttercream for that "whenever cake project" so for me that's a no brainer
Buttercream recipes can be easily whipped back to workable consistency after being stored in the refrigerator
CLICK HERE FOR HOW TO RE-WHIP A COLD BUTTERCREAM
When measuring cornstarch for the custard I cannot stress enough that a kitchen scale is the best way to go.
Cornstarch is a very difficult ingredient to measure consistently with a volume/spoons measure
So while I list both measures below I cannot stress enough how the grams measure with a scale is going to give you the best results.
Many times people have complained that their custard is like rubber and they don't know why!
This is from a heavy measure of cornstarch when using volume measuring spoon vs the 100% accurate scale measure in grams.
There is no video tutorial for how to make this cake but each recipe component has it's own video tutorial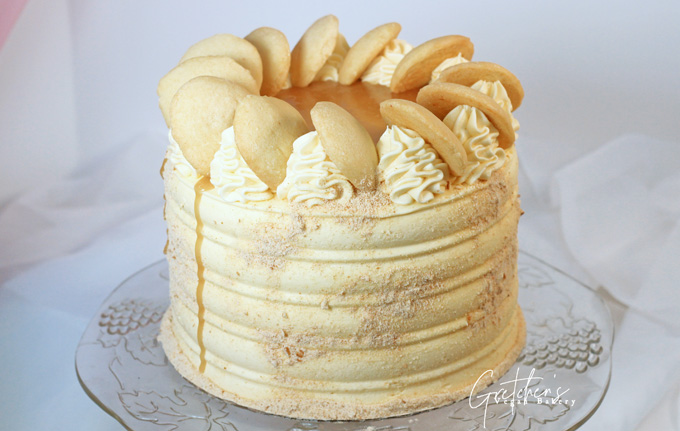 Of course you can decorate this cake any way you like but I used these standard cake decorating tools to achieve this look!
Ateco Cake Turntable I've had this same one since I was in high school! So they literally last forever!
Lastly! The Cake Pans!
I almost always bake 3-7″ layers for my cakes versus 8″ cakes
It's just my preference but if you only have 2-8″ pans that totally fine
Just divide the batter between 2 -8″ pans, greased & parchment lined
For more awesome layer cakes like this one click the links below!
Yield: serves 10ppl
Billionaire Banana Pudding Cake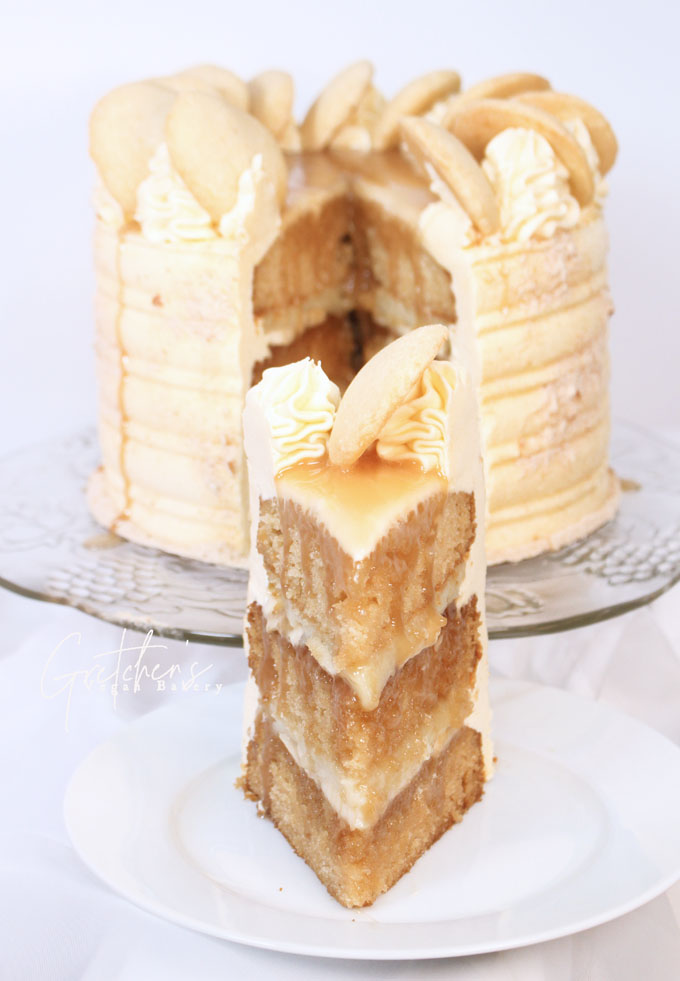 The cake recipe makes 3-7" cake layers or 2-8" cake layers Grease & parchment line the cake pans
Total Time
3 hours
30 minutes
Ingredients
For the Caramel Sponge Cake
Soy Milk 1½ cups (355ml) *soy milk is the only plant milk that will thicken like buttermilk, but you can use whatever plant milk you prefer
White Vinegar 1½ Tablespoons
Vegan Butter ½ cup (113g)
Vegetable oil of your choice ½ cup (117ml) *or more vegan butter melted
Granulated Sugar ¾ cup (150g)
Caramel Sauce *from recipe listed below 1 cup (237ml)
Salt ½ teaspoon
Vanilla Extract 3 teaspoons (15ml)
All Purpose Flour 2 cups (250g)
Cake Flour 1 cup (120g) *see notes in body of the text article for more info on cake flour
Baking Soda 2 teaspoons
For the Vanilla Custard
Soy Milk 2¼ cup (533ml)
Granulated Sugar ¾ cup (150g)
Cornstarch 6 Tablespoons (48g)
Turmeric ¼ teaspoon
Vegan Butter 1½ Tablespoons (21g)
Vanilla Extract 1 teaspoon (5ml)
For the Caramel
Granulated Sugar 2 cups (400g)
Water 6 Tablespoons (90ml)
Lemon Juice or Vinegar 1 teaspoon
Plant Milk *highest fat milk works best 1 cup (240ml)
Vegan Butter 2 Tablespoon (28g)
Sea Salt l ½ teaspoon
2 Medium Bananas
Instructions
First prepare the caramel sauce recipe by combining the sugar, vinegar and water in a medium heavy bottom sauce pot stirring only until is dissolved not after it starts to boil or you will get crystals in your caramel!
The acid helps to prevent this, but it can still happen if you stir after it starts boiling
Watch it carefully as it turns from a light amber to medium amber, take it off the heat when it is medium amber as it will continue to cook and get darker even after you remove it from the heat
Slowly & carefully pour in the room temperature plant milk & add the vegan butter stirring slowly & carefully.
Once the bubbling subsides stir it to a smooth sauce
Stir in the salt if using
Pour into a heat proof container and refrigerate until needed *it will thicken as it sits!
Next preheat the oven to 350F
Prepare the cake batter by combining the vegetable oil with the melted vegan butter, add the vanilla extract and set aside
Combine the soy milk with the vinegar and let stand for 5 minutes to thicken.
Sift all the dry ingredients together in a large mixing bowl, including the sugar.
Pour the wet ingredients this will be the plant milk mixture and the butter/oil mixture including the cooled caramel sauce into the dry ingredients and whisk smooth about 50 strokes to develop the batter
Pour the batter into the greased and parchment lined pan(s) and bake immediately in the preheated 350°F oven for 15 minutes, then turn the open temperature down to 325°F to bake the rest of the way, approximately 20 minutes more or when you gently press the centers they are springy to the touch. Or do the toothpick test for moist crumbs.
Cool in the pan(s) until you can safely touch without burning yourself then turn the cake(s) out onto a cooling rack to cool the rest of the way.
Meanwhile prepare the buttercream recipe of your choice and at the last stage of mixing add in ¼ cup of that COLD COOLED caramel sauce
Reserve until needed
Next prepare the vanilla custard by combining all the ingredients except for the vanilla extract and the vegan butter in a medium sauce pot over medium to high heat and bring to a boil stirring constantly to avoid scorching the bottom .
Once it starts to bubble let it boil on low heat for about 20 seconds.
Remove from the heat and add the vegan butter and vanilla extract and stir until melted and smooth.
Let it cool before attempting to build this cake by layering with sponge cake/½ cup caramel 1 sliced banana then about ¾ cup custard.
Repeat that same layering with the remaining ingredients then ice the cake with the caramel buttercream & garnish with the last of the caramel sauce and Nilla Wafers Cookies
Notes
Because of the custard filling this cake must stay refrigerated. It will be OK at room temperature for up to 2 hours.

Refrigerated, this cake will stay fresh for up to 6 days