Finally the top secret recipe for the World Famous Gretcherinos has gone public!
Yes that's right, only here at Gretchen's Vegan Bakery will you get all the secret recipes, pro tips and tricks of the commercial bakery industry all brought you by Gretcherino herself!
For those of you who came here direct from my latest vlog video on youtube, Woot Woot! high five!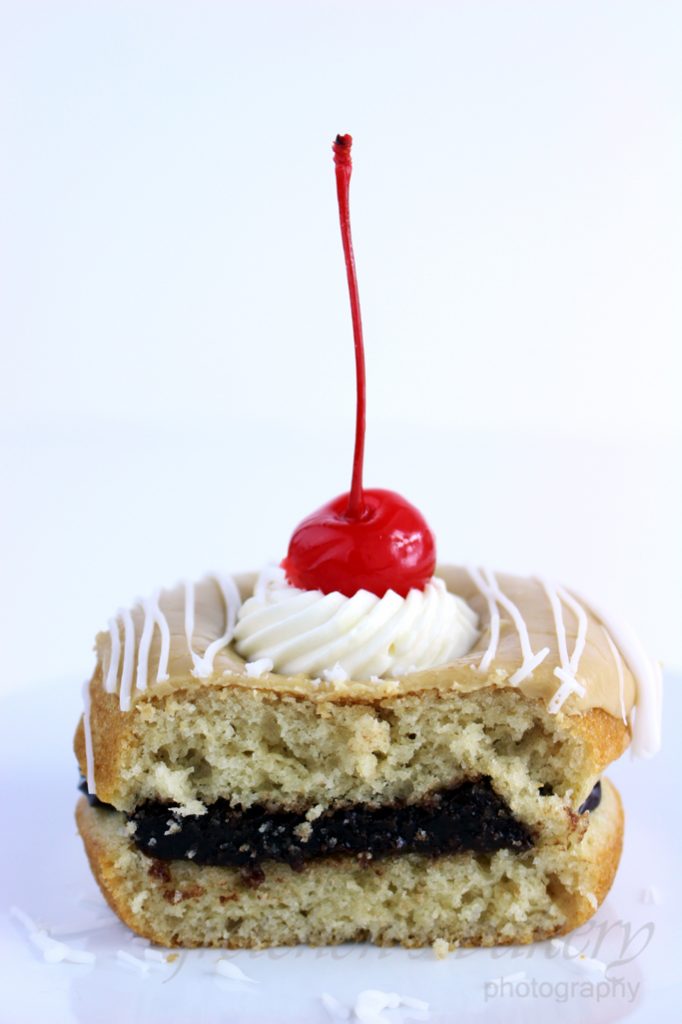 Yep we can sure have some fun in the bakery every so often!
And the invention of the Gretcherino shows you just how much delicious fun can be had!
What are some of your inventions that ended up on the "most wanted list"?!
Well let me tell you the Gretcherino was invented in about 3 seconds as I made the Metropolitan Cupcakes, I was thinking about what kind of dessert would be my signature dessert?
And this is what I came up with: My newest recipe for Vegan Vanilla Cake (yes I have several! LOL) it is baked into a Donut Mold because I LOVE DONUTS!
Filled with Fudge Icing because of course there has to be chocolate somewhere in there and that icing is hands down the best recipe ever!
Coffee sugar glaze for just the right hint of coffee flavor, because well, if you have been with me for years you know coffee and chocolate is my all time favorite combo!
So this is sort of like a "donut-y, cake-y, cupcake-y thingy"which is exactly how it would be explained by an irate customer who SWEARS you must know what she is talking about!
Let's keep having fun with this idea so hit me up on my facebook page to share with me your signature creation!
But first be sure to try this recipe for the World Famous Gretcherino!
I have to say, I am delicious! LOL
World Famous Gretcherinos
I am using
the large Donut Mold
for 12 donuts that will get sandwiched together to make 6 finished Gretcherinos
Ingredients
¼ Recipe Fudge Icing
For the coffee sugar glaze:
Confectioners Sugar 1½ cup (185g)
Instant Coffee Granules 1 teaspoon
Hot Water 1 teaspoon
Hot Water 4 - 6 Tablespoons *adjust consistency to your liking
For the cake:
All Purpose Flour 2¼ cups (282g)
Vegan Granulated Sugar 1 cup (210g)
Salt ½ teaspoon (3g)
Baking Pwder 1½ teaspoons (7g)
Baking Soda ¾ teaspoon (4.5g)
Coconut or Vegetable Oil ½ cup (120ml)
Soy Milk 1½ cups (360ml)
Unsweetened Applesauce ½ cup
Vanilla Extract 1 teaspoon (5ml)
White vinegar 1 teaspoon (5ml)
The Plant Based Egg egg replacer 3 teaspoons
Instructions
Prepare the fudge icing recipe in advance
For the coffee glaze combine the teaspoon of hot water with the teaspoon of instant coffee, whisk smooth
Add the other hot water to the confectioners sugar and adjust to desired consistency
Add the coffee paste
For the cake:
First combine the vinegar with the soy milk to sour, let stand for about 5 minutes.
Add the applesauce, sugar, oil and vanilla to the milk
Sift all the dry ingredients including the egg replacer together in a large mixing bowl.
Add and the other liquids to the dry ingredients and whisk smooth
Scoop into paper lined cupcake molds and baker in a preheated 350° F oven for approximately 12 - 15 minutes or until lightly golden and springy to the touch when you gently press the centers
Once they are baked and cooled, ice as shown in the video
Notes
Gretcherinos can be stored at room temperature in an airtight container for up to 3 days.

For longer storage keep refrigerated for up to 7 days