This new Brownie Cheesecake recipe is giving the most popular Oreo Cheesecake a run for it's money!
If you have not yet tried my famous vegan cheesecake recipe
Today is a great day to start!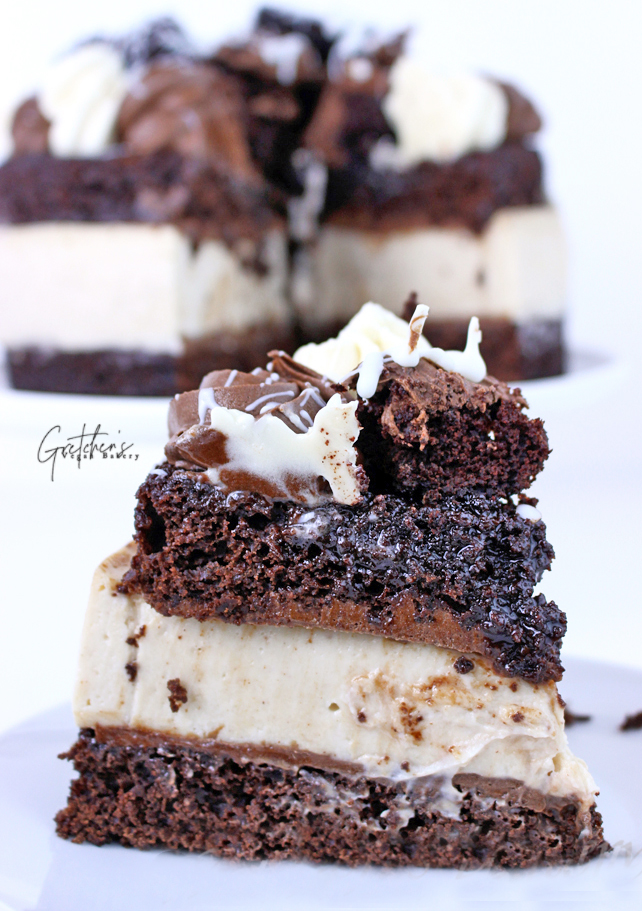 It's never been easier since there are no mixers required
All you need is a food processor or a blender!
However for this brownie cheesecake recipe you will have to make the brownies of course!
A double layer of fudge brownies and creamy New York Style Cheesecake!
It's almost like a giant brownie cheesecake sandwich!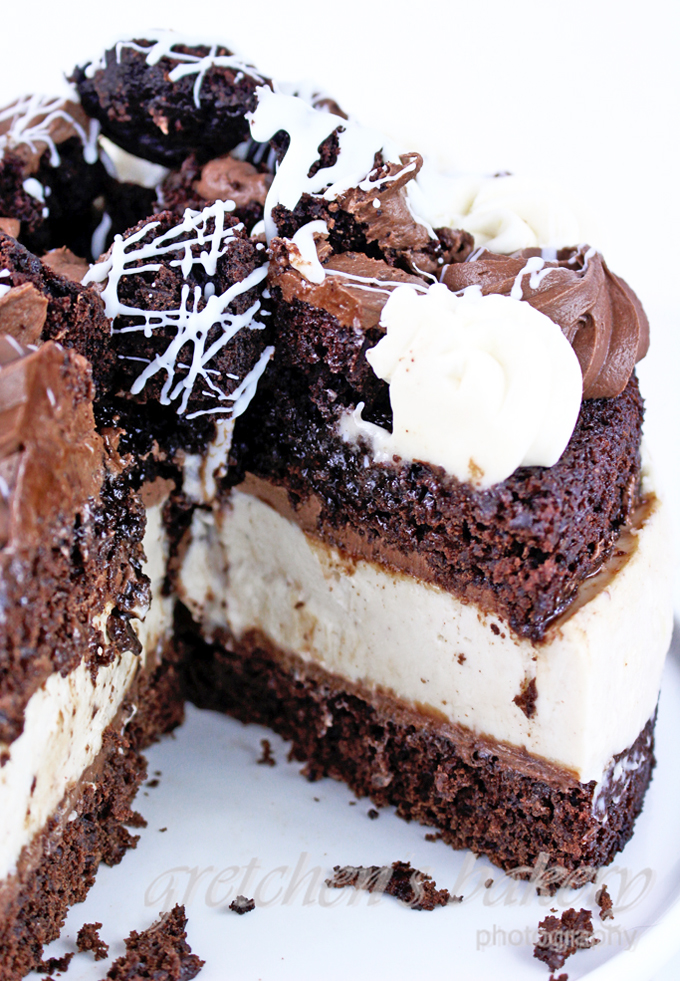 Notes for Success:
Since the creation of this fudge brownie cheesecake recipe I have perfected my cheesecake game!
So if you watch the YouTube video tutorial you may see a slight discrepancy of the ingredients on the video compared to the new and improved recipe listed below
Some slight tweaks to perfection but essentially it's the same!
Cornstarch is a very difficult ingredient to measure consistently with a volume/spoons measure
So while I list both measures below I cannot stress enough how the grams measure with a scale is going to give you the best results.
Many times people have complained that their cheesecake is like rubber and they don't know why!
This is from a heavy measure of cornstarch when using volume measuring spoon vs the 100% accurate scale measure in grams.
You may notice that my base recipes for cheesecake are always the same with some slight variations to the sugar or an added spice depending on what flavor I am making.
At times I add a small addition of firm tofu in place of some of the cream cheese for a lightened up version and to cut some of the fat calories.
By all means you can use all vegan cream cheese if you prefer
Additionally I only use Tofutti Cream Cheese for my BAKED recipes *not sponsored
I have not had success with any other brand in BAKED recipes; for some reason the other more expensive brands I've tried have broken down into an oily mess when baked.
UPDATED VEGAN CREAM CHEESE DISCUSSION:
Some of my viewers have reassured me that some other brands now work in BAKED recipes.
One viewer said, "Tofutti gives the best texture in my opinion, but I've had success with Violife too! It's a little less perfect but still delicious."
Another viewer said, "I used Miyokos original and it turned out divine!!"
Another viewer said, "I used Treeline cream cheese in the baked pumpkin and chocolate recipes and it worked really well."
In UK there is a cream cheese brand found in the regular supermarket called Asda. 
CLICK HERE FOR THE ORIGINAL YOUTUBE VIDEO TUTORIAL FOR HOW TO MAKE THIS RECIPE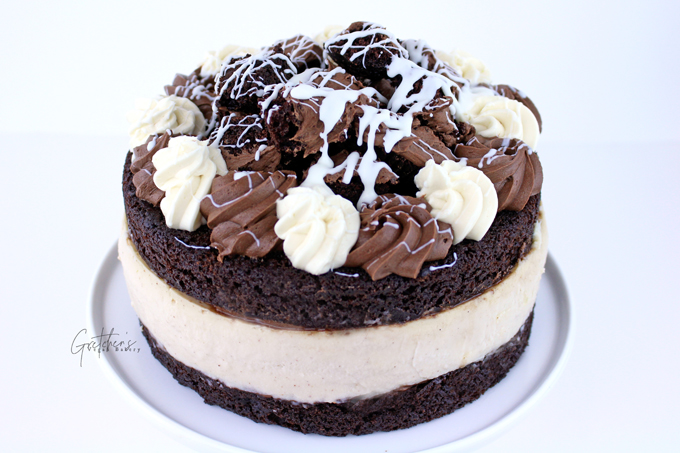 Vegan Brownie Cheesecake
Prepare your
7" cake pan
with grease and a parchment paper circle
Ingredients
For the Cheesecake:
Vegan Cream Cheese *see notes 12ounce (339g)
Firm Tofu 4ounces (113g) * see notes
Vegan Butter melted 2 tablespoons (28g)
Granulated Sugar 1 cup (200g)
Cornstarch 4 Tablespoons (32g) *see notes
All Purpose Flour 3 Tablespoons (24g)
Plant Milk *I use soy milk 6fl oz (177ml)
Vegan Lactic Acid or apple cider vinegar 1 teaspoon
Salt ¼ teaspoon
Vanilla Extract 3 teaspoons (15ml)
¼ Recipe Fudge Icing *optional
¼ Recipe Buttercream Icing *optional
¼ Recipe Ganache *optional
Instructions
For the cheesecake batter:
Place all of the cheesecake ingredients into the work bowl of your food processor and pulse to blend to a smooth batter
Scrape the sides of the bowl to ensure an even mix then blend again to a smooth mixture
Pour the batter into the crust and bake in a water bath in a preheated 350°F and bake for 60 minutes
After 60 minutes turn the oven off but leave the cheesecake in the oven with the door cracked open to cool slowly for another 60 minutes
Remove the cheesecake & cool completely at room temperature and then refrigerate for at least 2 hours to set or overnight before un molding.
Prepare the brownie recipe as per the instructions on that recipe post but divide the batter evenly amongst 3- 7" cake pans (greased & parchment line)
Bake the brownies in a preheated 350°F oven for about 18 minutes or when a toothpick inserted into the center comes out with moist crumbs not raw batter
Cool the brownies in the pan then when you can safely tough them without burning yourself flip them out onto a parchment lined sheet pan
of the brownie layers will become the sandwich for the cold/set cheesecake and the other layer will get chopped up into chunks for the topping.
Prepare the ganache, buttercream & fudge icing recipes *ALL OPTIONAL RECIPES!
As this will be the rosette decoration for the cheesecake.
Affix the brownie layers onto the cold cheesecake after you have un molded it and use some of the fudge icing as "glue"
Assemble the cake as shown in the video tutorial
Notes
Brownie cheesecake must be kept refrigerated at all times and will stay fresh for up to 1 week in the refrigerator loosely wrapped to prevent drying out