Easy is my new middle name!
This recipe is my newest "go-to" when I need a fast dessert option!
Apple Cream Pie is a no bake recipe that can be made in minutes!
Apple Cream Pie is a staple on the Thanksgiving dessert table
And it's so easy to make especially when we are stressed for time to make everything else!
Creamy vanilla custard and sauteed cinnamon apples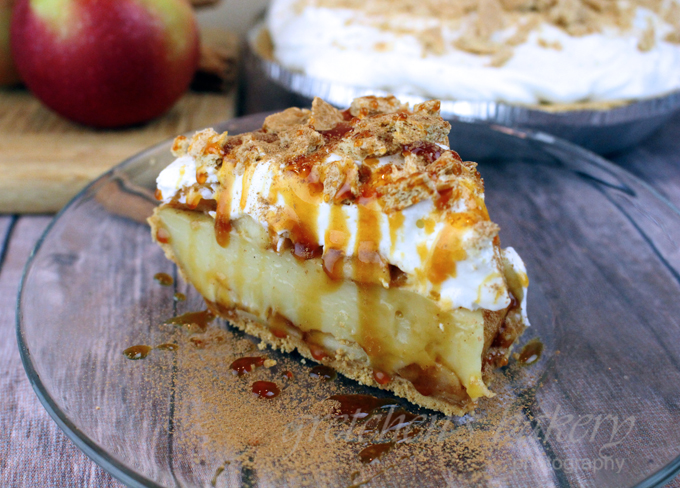 I have several options for Vegan Whipped Cream here on my website
Or go the lazy route and just buy a tub of  CocoWhip Topping for an even easier time with this entire recipe!
The caramel sauce is completely optional but totally awesome!
If you  are pressed for time just use a store bought crust!
I won't tell anyone!
MiDel brand makes a gluten free vegan one too!
*not sponsored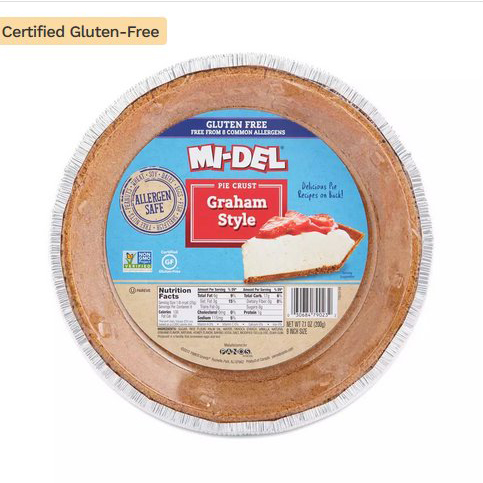 But otherwise follow the recipe below for the authentic graham cracker crust recipe
CLICK HERE TO WATCH THE FULL YOUTUBE VIDEO TUTORIAL FOR HOW TO MAKE THIS APPLE CREAM PIE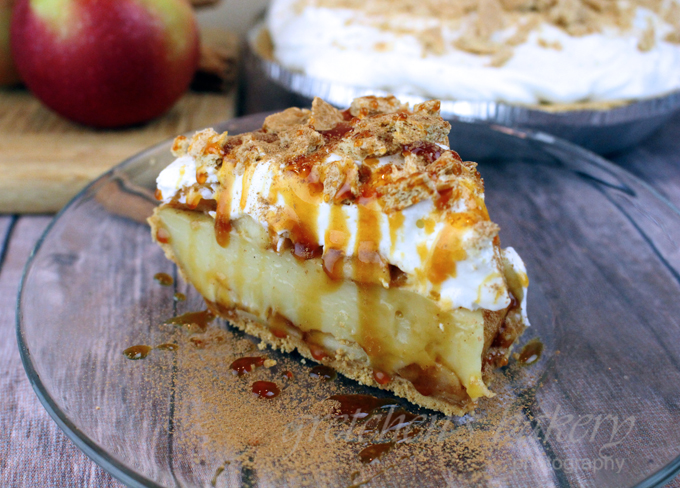 For more awesome Thanksgiving Pie recipes click the links below!
Apple Cream Pie
If you are making my recipe for
homemade vegan whipped cream
, read that article in full first and
prepare the base liquid
for the whipping cream a day in advance
Serves:
serves 8-10 people
Ingredients
For the crust:
Crushed Graham Crackers or sandwich cookies like Oreos 1½ cups
Granulated Sugar 2 Tablespoons (28g)
Ground Cinnamon 1 teaspoon (5g)
Vegan Butter 8 Tablespoons (113g)
Salt pinch
For the apple filling:
5 Baking Apples- choose your favorite variety (I used Macintosh) Approx 2- 2½ cups sliced apples
Cinnamon 1 teaspoon
Nutmeg ½ teaspoon
Granulated Sugar ¼ cup (50g)
Vegan Butter 2 Tablespoons (28g)
White Wine, Brandy or Rum *optional - approx 2 Tablespoons
For the custard filling:
Soy Milk 2¼ cup (533ml)
Granulated Sugar ¾ cup (150g)
Cornstarch 6 Tablespoons (50g)
Turmeric ¼ teaspoon
Vegan Butter 1½ Tablespoons (21g)
Vanilla Extract 1 teaspoon (5ml)
For the whipped topping:
CLICK HERE FOR THE RECIPES or Use 1 Tub CocoWhip Whipped Topping
Instructions
First prepare the crust by combining the fine ground graham crackers or cookies with the sugar and cinnamon and a pinch of salt
Add the melted vegan butter and mix to combine well, it will resemble wet sand.
press this into the bottom and sides of an un-greased 9" pie plate.
Refrigerate until needed.
For the apple filling, peel and core the apples and slice them to ¼" thickness, toss them in a large bowl with the cinnamon, nutmeg and sugar
Melt 1Tbs vegan butter in a saute pan over high heat, then add the apples in a single layer cooking for about 2 minutes to brown on one side then flip them or shake the pan to toss them around to cook the other side. (You may have to do this in 2 batches depending on the size of your pan)
Add the other tablespoon vegan butter while cooking (keep heat to high) and add a splash of rum, brandy or white wine is so nice! *Optional.
Cook for about 5-7 minutes total until the apples are cooked through, tender and flexible but not mushy.
Pour HALF the apples into the bottom of the prepared cookie crust
Now prepare the custard by combing all the ingredients except for the vanilla extract and the vegan butter in a medium sauce pot over medium to high heat and bring to a boil stirring constantly to avoid scorching the bottom .
Once it starts to bubble let it boil on low heat for about 10 seconds.
Remove from the heat and add the vegan butter and vanilla extract and stir until melted and smooth.
Pour over the apples in the pie plate and then refrigerate for about 30 minutes to slightly set, then top with the remaining apples, refrigerate to cool & set completely.
Prepare the whipped cream a day in advance as per the recipe instructions OR top the cooled set pie with 1 tub CocoWhip Topping.
Sprinkle with cinnamon and crushed graham crackers and serve!
The drizzle of caramel sauce is optional, but if you are interested, I used the recipe from my Bananas Foster Cake CLICK HERE
Notes
Apple Cream Pie must be kept refrigerated and will stay fresh for up to 1 week